Reading Time:
13
minutes
There are 3 main types of soil pH testers on the market that employ various methods to provide you with a visual reading of the soil pH in your garden.
It is difficult to say which soil tester is best there are many, I would suggest the best soil pH tester is the one that suits your own needs, budget and that provides the accuracy that you require, based on your own growing requirements.
This could be a simple test strip carried out at home or a professional soil test and report from a laboratory.
Several options for pH testers
Some pH testers are electrical (digital or analogue)  that can also be multi-functional, in that they can measure other criteria like light and moisture in the soil in addition to pH.
Other methods employed are coloured dyes and dip in indicator strips, all of which are methods employed to provide the user with the soil pH reading.
Below I have provided 6 of the best soil pH testers currently on the UK market that use these various methods to provide you with the visual pH results.
I have considered value for money, accuracy and ease of use in this review which I hope you will find useful.
Are soil pH testers accurate?
In terms of accuracy, this can be a complicated question, let see what we can discover.
With the digital/analogue probe devices, many of the cheaper meters suggest that the probe is placed directly in the soil. While this may be an easier option I would advise that this method will not provide accurate results.
My advice, and to give any of your soil pH testers the best chance of getting the best 'accurate' results is by providing a 'solution' of the soil sample/water mix as described in my post (pH testing of soils – Method 1).
This 'solution' can and should be used for all pH testing methods irrespective of the tester used in your garden or allotment.
Now that is out the way lets try and see if anyone type of 'tester' is more accurate than others. To understand accuracy we should perhaps understand the pH scale a little deeper.
The pH scale measures acidity on a logarithmic scale. Each whole number on the scale is 10 times more acidic than the next highest number. For example, 5 is 10 times more acidic than 6. Therefore understanding this, let's look at actual testers accuracy.
The most accurate pH tester
Electrical meters (digital/analogue) with a calibration feature that can be calibrated within a known solution (buffer solution) should provide accuracy within +/- 0.1 pH unit. Besides a laboratory report, this will be the most accurate way of testing pH at home.
If you consider the 10 x statement above, the next best accuracy tester will be those that provide figures between the whole numbers, for example,  4.5 or 6.5.  these perhaps should be considered next based on your budget and needs of accuracy.
Lastly, testers that provide 'whole' number ranges 1,2,3,4, etc… would prove to be the least accurate due to the fact you have a 10x factor of 'inaccuracy' between 'whole' numbers as mentioned above.
The question are soil pH testers accurate, comes down to the individual and the degree of pH accuracy required for you and your garden. One thing is for sure though, for all gardeners, you MUST have some knowledge and indication as to the pH of your soil, irrespective of being 'exact' in the degree of accuracy.
In a hurry?
If you don't have much time, use the link below to quickly find my 'Top Pick' for 'Best Soil pH Testers' available for you on Amazon. You can be assured we only recommend products based on their quality, usability and value for money...
- 'Top Pick'- Bluelab PENSOILPH Soil Tester
6 Best Soil pH Testers - Comparison Table
6 Best Soil pH Testers For Your Garden
These premium multi-purpose soil test strips provide quick and accurate results over the complete pH range from 0 – 14 and are suitable for both professional and amateur gardeners alike.
The manufacturer provides 100 test strips that can be used to analyse soil types for outdoor and indoor plants, gardens, allotments and grass lawns, fruit, flowers, vegetables and shrubs. 
These soil pH test strips provide the gardener with a general overview of the soil condition of their growing area. 
Very portable and with easy to understand user instructions, these test strips offer an easy to read, calibrated 4 x colour match 'pads' which when placed against the manufactures pH colour pallette, will provide an instant pH reading of the soil.
Soil pH analysis is undertaken by mixing a small amount of the soil to be tested with distilled water. Waiting a short amount of time (30 mins) and then dip a test strip into the 'water solution'. Remove the strip and match the strip against the manufactures colour table on the side of the test strip pot.. (Follow manufactures instructions for the exact process).
Possibly the only improvement in my view though for these test strips, is that they could be better calibrated to consolidate the pH ranges. 
For example, it's difficult to distinguish the colour differences and hence the difference between pH 2 and 3 or pH6 and 7. Check out the (Most Accurate pH Tester) paragraph in the general description above and the 10x factor to better understand this comment..

Accuracy 
Ease of Use
Portability

Price

Strips Already Calibrated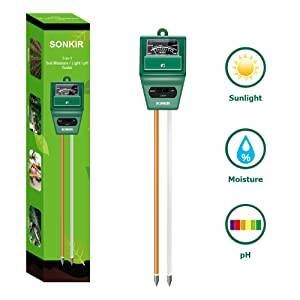 The Sonkir pH meter MS02 is a 3-1 analogue 'double probe' soil tester. 
The meter is capable of measuring not only the pH of the soil in the ranges of 3.5 – 8 but also the soil moisture content from dry 1 – 3, moist 4 – 7 and wet 8 -10. Light can also be measured in lux from 0 dark – 2000 light.
The Sonkir pH test meter utilises double-needle detection technology. This technology passes 'detailed information between the 2x conductors' to show you accurate metering values. The double sensor probes are 8in (20cm) long and are 1 x copper, 1x aluminium.  
This technology strongly enhances the speed and accuracy of detecting and analysing soil moisture and pH acidity in both outdoor and indoor soils.
The meter is fairly lightweight, robust and portable measuring only 29cm (11.5in) long. The letters and numbers are easily legible on the screen. 
The Sonkir pH meter operates without batteries. To operate it, follow the manufactures instructions carefully and simply insert the probe into the soil you wish to test, approximately 2 – 4in (5 – 10cm) and toggle the switch to the desired 'value' on the meter, based on your metering requirement. Then, simply read off your desired value after about 10 minutes once inserted. After use simply wipe the 'probes' clean and store away safely. 
The manufacturer states that the Sonkir does not need calibration as its been factory set, and therefore there is no means to calibrate the meter after each use. However, I find this a little strange as by the mere nature of this meter, periodic calibration should be needed.
This is a special note directly from the manufacturer which is worth noting
"Since soil most often is in/close to a neutral state (with pH value of 7), it is highly likely that you find the needle in display window stay still (because the default pH value is set at somewhere between 7 and 8) when you use it to test the pH value of soil. Customers sometimes are misled by this appearance and hence regard the tester as a defective unit by mistake"
In this above respect and particularly for pH readings the meter may be slightly inaccurate for some gardeners but for most, it will be fine. 
Finally, it should be stressed that the Sonkir pH meter is a SOIL pH tester, not water or a liquid pH tester. This tester can ONLY be placed in soil. 

Double Needle Detection
3 in 1
Ease of Use
Portable
Slightly Inaccurate Readings
No Means of Calibration
Abafia pH Tester (4 in 1)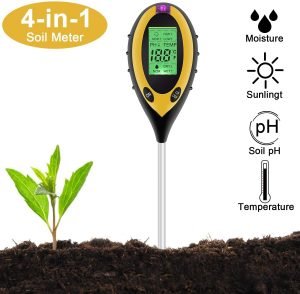 The Abafia 4 in1 soil pH tester is a 'single' probe digital tester, that can provide accurate and reliable measurable results across a variety of garden conditions.
Suitable for both indoor and outdoor use, and capable of accurately measuring 12 levels of soil pH, ranging from 3.5 – 9.0 the Abafia can also measure soil moisture, sunlight and temperature.
Soil moisture can be determined to 5 levels, sunlight intensity to 9 levels and the Abafia provides temperature ranges between -9°C to 50°C; (16°F- 122°) .
The Abafia requires a 9v battery (not provided) for operation. This battery is easily inserted and removed at the back of the unit. Once the battery is inserted,  simply press the 'on button' on the front of the meter, remove the protective cover/sleeve from the probe tip and your good to go. The meter has a large LED-backlit display, suitable for those of you with a little difficulty in reading smaller figures or numbers.
The green 'backlit' LED screen (for darker conditions if needed) shows all the meters values which include, temperature, moisture, pH, and sunlight as well as low battery.
Insert the probe about 4in – 6in /10-15cm into 'moist' soil to get an instant  'moisture' reading and or sunlight reading. If you require a soil pH reading or a temperature reading simply 'slide' the toggle switch, found at the back of the unit to the desired position. All readings are instantaneous, except soil pH, where you will need to leave the probe for about 1-2 minutes in the soil to get a reading.
A great little feature of this meter is for the pH reading, the reading will stay on the meter's screen for a short while once the probe is removed from the ground. This helps those that have difficulty in bending for any length of time. Also, there is an auto power-off function which helps to save battery life. 
The Abafia is light and portable and measures a mere 12in or 30cm in length and can be transported around easily. Most users find that this unit is accurate and with acceptable limits for all 4 measurable scales.
Finally, it should be stressed that the Abafia pH meter is a SOIL pH tester, not water or any other liquid. This tester should ONLY be placed in soil. Please follow the manufacturer's instructions.

Backlit LED Screen
Multi-Purpose
Large Numbers
Auto-Off
Indoor/Outdoor Use
Quick Readings
Bluelab PENSOILPH Soil Tester pH Pen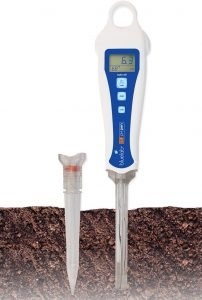 Made in New Zealand the Bluelab PENSOILpH soil tester is a high-end pH tester for the professional or serious amateur gardener. This tester is capable of accurately measuring both pH and temperature in soil and other growing solutions.
This pH soil tester measures pH in small increments of 0.1 and is fully temperature compensated, so you can rely on getting accurate readings every single time.
This waterproof versatile pen tester is suitable for soils, coco coir, potting mixes, solutions and a variety of other growing media.
The soil pen requires 1 x AAA battery (not provided) which normally lasts between 2- 4 months dependant on the use or 6 months if in total standby.
The Soil pH probe on your pen is not replaceable! As such, the pH probe that is attached to your current Soil pH pen needs to be taken great care of; this is the only soil pH probe that this pen will be used within its lifetime! It is important to clean, store and calibrate your pen correctly and it will provide accurate measurements over its lifetime.
To use the pH soil pen to take a direct soil pH reading make an indent into the soil using to dibber/probe cover. This cover acts as a 'dibber', allowing you to first 'press' your pen into the soil, remove the cover and then take a pH reading from the 'indentation' you just made in the soil. This 'dibber' cover also protects your pen's probe, reducing the risk of wear and tear.
Alternatively, you can place your probe directly into your soil/water mix as described in my post  pH testing of soil 4 easy ways – Method 1
Cleaning, storing and calibrating the Bluelab pen is fairly straight forward and easy to undertake. Calibration and re-hydration should be carried out every 30 days as per the manufactures recommendations using the Bluelab probe care kit.
Successful calibration can be confirmed on-screen via a successful pH calibration indicator.
With a great 'backlit' display with large legible numbers, this SoilpH pen should you need it, carries a 12-month warranty and great after-sales support from Bluelab which should give you total peace of mind.

Auto-off Function to Extend Battery Life
Two-Point Calibration 
Easy Callibration
Hold Reading Function 
Waterproof
12-month Warranty
Accurate
Temperature Compesation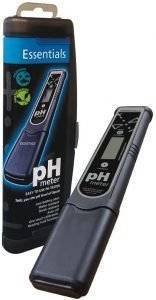 The Essentials pH meter is an electronic digital soil pH meter, ideal for the professional and amateur gardener alike.
This reasonably priced pH meter has a few features only seen in more expensive electronic digital pH soil meters.  
These include 'easy' self-calibration, energy-saving 'shut off 'after 15 minutes, low battery alert, water-resistant; and a memory function that allows the user to see the past 10  pH readings, so gardeners are able to keep track of their past readings with ease. 
Once switched on, pen calibration is easy using the buffer solutions pH4 & pH7 combined with the 'calibration' button on the unit.  Simply dip the probe in the prefered solution and press the CAL button until CAL appears on the screen, it's as simple as that. Simply follow the manufactures instructions to 'set' the perfect calibration every time.
There is however, only one calibration point on this pen unfortunately, which is either 1pH, 4pH or 7pH, with a 'solution' temperature of anything between 0 DegC – 50Deg C (32 F –  122 F) being possible to be measured.
Once calibrated though, the Essentials pH meter works by dipping the pen into any solution, waiting 20 seconds for pH 'stabilisation to take place, then simply take the pH reading from the pen screen.
In a 'gardeners' case, the soil/water solution is as described in my post pH testing of soil 4 easy ways – Method 1, is the ideal solution to use in conjunction with this Essentials pH meter to get an accurate soil pH reading, within the region of +/- 0.2 pH over the full 0-14 pH range.
Using just 4 x 1.5v button batteries (included) the Essentials meter will last for about 150hrs of normal use on one set of batteries, or about 350 tests.
The Essentials pH pen is very portable pen measuring only 17cm L x 3.2 cm W (6.6in x 1.4in W) so would easily fit in your pocket, so remember its there!
Finally, it is essential that you store the pen in a cool place and not allow the 'cap' to be removed during storage. The pen's 'probe' needs to be stored in a 'storage solution' which fills the 'cap'. 
This is to ensure optimal life expectancy and pH accuracy.  It is recommended that 'calibration' and the 'storage solution' is checked every 30 days and or after each use.

Memory For 10 Readings
Water-Resistant
Low Battery Alert
Simple Calibration
Energy Saving
No Direct Soil Reading
Single Calibration Point
If you are looking for a quick uncomplicated simple way to test the pH of your soil then look no further than this Rapitest pH soil test kit.
This test kit will provide you with the capsules required for 10 pH soil tests.
Soil pH tests are simply carried out by placing a  small amount of soil taken from between 5cm – 10cm (2-4in) below the soil surface you wish to test in the test chamber of the comparators (Rapitest pH tester).
Once the soil sample has been added, add the provided 'powder' from one of the 10 test capsules to the soil in the soil chamber of the comparator.
Then fill the comparators test chamber to the prescribed line with with 'distilled water' via the dropper provided.  Fit the 'comparators' cap and give the water/soil sample a good shake then let it settle for about 1 minute or so so colour can develop in the solution.
Then just compare the 'colour' of the solution against the pH chart on the side of the comparator for a pH reading of your test soil sample.. For best results allow daylight (not direct sunlight) to illuminate the solution. That's its quick simple and easy.
The Rapitest is a quick method of pH testing of soils and I suggest that you take a soil sample from several parts of the area you wish to test and mix them together in a bowl, removing all the 'organic' material. Once mixed then place a 'small mixed' sample in the comparator and avoid touching the sample directly with your hands as this may skew the results.
The soil pH range (4.5 – 7.5) is a little limited perhaps for the more serious or professional gardeners wanting a broader pH range, but suitable for most amateurs or part-time gardeners wanting to get a quick, idea of their soil's pH.
Once used, cleaning and safe storage should be undertaken by disposing of the tested solution by rinsing it down the sink. Remove the colour chart. Wash
the 'comparator' and cap in warm, soapy water immediately after each use and place clean and dry back in the blister packet.
With no experience necessary, most users find the Rapitest to be easy to use and generally accurate for there needs.
The Rapitest pH tester is often used by gardeners as a 'first test' to establish there soil's PH and the corroborated by using an analogue or digital soil tester to firm up or hone in on a more accurate set of parameters.
Easily portable measuring a mere 5 x 13 x 20 cm (2in x 5in x 8in) so small enough to fit into a gardeners pocket or gardeners utility belt.
Currently, I am unable to determine if 'additional capsules' can be purchased for this product, therefore once the 10 capsules have been used a new test kit will need to be purchased.

Quick and Easy to Use
Inexpensive
Generally Accurate
Portable
No Experience Required
pH Range a Little Limited
Can't Buy More Capsules
As you can see from the reviews above, finding the best soil pH tester is not as straight forward as it may seem on the surface.
Much depends on your own requirements and the degree of pH accuracy you require in your own garden, of course, your budget also has its part to play.
All the products reviewed above, will provide a gardener with some knowledge of the your soils pH level, just how much is up to you.
For soil queries and questions take a look at our FAQ page which may assist you with further information about soils and other garden-related queries.
Our buyer's guides are also a wealth of information on a variety of subjects related to gardens, outdoor living and much more.