Reading Time:
17
minutes
Buying one of the best grass strimmers for your garden and the size of the tasks ahead can be a daunting and expensive exercise if you don't undertake some research first. However, armed with some knowledge about this great garden tool and the techniques required to use your strimmer correctly, you'll find it much easier to make those informed decisions.
For example: did you know that most of today's modern grass strimmers are designed for easy use? That means many are lightweight which is especially helpful if you have any physical limitations. 
Ergonomic handles offer less stress on the body when using them! In this guide, we'll take a look at the best garden strimmers for the UK market. I've compared power, weight, cutting diameter and cost to give you my top recommendations.
Before Buying a Garden Grass Strimmer - Things You Should Consider
Choosing the right garden strimmer is crucial to maintaining your lawn and gardens. But if you don't choose the best garden strimmer for your needs, unfortunately, many of us do not, we find ourselves unwilling to use our favourite tool as frequently as we would like.
If a strimmer is easy to use and feels comfortable in your hands – then there's more chance that it will be used often.
When shopping around for a new one, consider these factors before making any purchase; they should help make an informed decision much easier too:
Firstly – get familiarised with what features are available on different models so that when push comes to shove (sooner than later), you will know which model suits you best.
Then consider these five tips before making your decision:
Know what type of material can be strimmed.
Decide on power.
Think about the noise levels.
Figure out whether or not cordless will work.
Consider how much time/money you want to invest.
How Does a Garden Strimmer Work?
A garden grass strimmer is a tool that makes cutting the grass an easy task. It works by spinning a line at such high speeds, it becomes stiff and blade-like like any other knife or saw would be while in use.
This means you'll need to replace the string as needed because there are no blades or teeth to sharpen on this power tool; instead, it cuts where its rotating lines touch down on the grass or path/lawn edge!
The Benefits of Using a Garden Strimmer
The best way to get your garden looking in shape is by using a garden strimmer.
These handy tools make light work of cutting grass, weeds and some top-end models will even cut brambles. These garden tasks would normally take hours to do manually, so using a 'garden strimmer' lets you work more efficiently and gives you time to do other things. I am sure your 'back' will also thank you for it!
Another bonus is that many of the best strimmers come with an 'edging' attachment that makes cutting straight lawn edges easy, so there's no need for any hard manual work when landscaping the outdoors space around your home.
Tips for Strimming - Good advice on how to use a 'Garden Grass Strimmer' correctly.
How to Use a Grass Strimmer
Petrol and cordless strimmers will have different start-up procedures. Electric and battery-powered grass strimmers will have a 'start' button, while a petrol strimmer usually requires the 'pulling' on a cord. Carefully follow the manufactures start-up procedures and safety instructions, when starting up any grass strimmer.
Safety First
In order to operate a grass strimmer safely, avoid getting too close to the cutting end of it at any time during its start-up and or operation. Blades and or nylon lines are rotating at 1000's of rpm's, so be very careful. 
If you are using a strimmer with an electrical cable, always ensure the trailing cable is behind you as you 'start up' and work and not in front of you as you move forward, this ensures you avoid potentially 'cutting' through the cable. 
In addition, if you are using a 'corded' (electrical cable) grass strimmer, I always advocate using an additional earth leakage plug, that can be plugged into your electrical socket outlet, then plug your strimmer plug into that.
This will cut the power immediately if there is an electrical problem like a 'electrical short' 'electrical surge' or similar. Use this as an extra safety precaution with any garden electrical appliance, as this is good safety practice.
Another cause of injury with a strimmer is from flying 'debris' shooting out of the front of the strimmer. Make sure that the cutting area is 'free' of potential hazards like stones and small sticks.
Also, try and ensure that there are no people or pets in your vicinity. Strimmers can be a little on the 'loud' side so it's best not to take any chances!
Finally, always wear eye/face protection (I recommend a full face shield) stout gardening shoes or boots and a good pair of gardening gloves when operating any grass strimmer. 
Strimmer 'noise/sound' is also a thought worth considering. UK safety regulations dictate that the sound pressure (measured in dB(A) ) should not be above 85 dB(A) without the use of protection. Therefore please take note of the dB(A) levels of any garden strimmer you have or may purchase. In some cases, particularly with petrol trimmers, ear protection should always be worn.
The Best Grass Strimmers - Are they Cordless or Corded?
Corded strimmers, tend to be the least expensive grass strimmer option and they plug directly into your electrical outlet. This can be a great way to power your device without worrying about running out of battery life! 
However, they're not perfect: some people have been known to accidentally cut their electrical cable with disastrous results (see 'how to use a strimmer' above) when using these corded devices. A good alternative is a model that has no cord at all – there's nothing for you to worry about cutting.
I have written a separate post about cordless or battery-powered strimmers. Generally, they tend to be much safer than corded ones because you don't have to worry about those hazardous electrical cords. You're also free from any 'restrictions' when it comes to movement since there are no awkward electrical lines getting in your way!
Cordless units generally last around 30-45 minutes, which is still an ample amount of time normally for most garden strimming jobs.
Versatility
Like a corded strimmer, a cordless strimmer is a versatile tool that can be used for strimming the edges of your lawn, clearing weeds around fences or walls, and even doing some light landscaping.
Although a battery-powered device with 'limited' running time needs recharging after 30 to 45 minutes depending on what it's being used for may seem like an inconvenience. However, a battery-powered strimmer could also come in handy if you only need one power source (battery) for your own 'multiple' battery power tools! 
Each manufacturer tends to have their own 'battery system' which can be used with your other power tools, like battery-operated hedge trimmers, lawnmowers, power washers and power drills, the list seems endless these days.
Petrol Strimmer or Electric Strimmer?
There are two common types of strimmers: petrol and electric. Petrol strimmers tend to be more powerful than their electrical or battery-operated counterparts, but as a result, they're more expensive, noisier and heavier polluters.
Petrol strimmers can't really match the great portability offered by most electric models either.
On the plus side though, petrol strimmers tend to be more powerful than electric ones. They're great tools for cutting down some serious undergrowth or overgrown brambles. Even cutting through small bushes and the like with the correct 'head' attachment.
Electric units come in varying 'power levels' for different garden jobs. If you simply want to cut grass, edge paths and lawns or even more arduous tasks like tackling thick weeds head-on, depending on the model, then an electrical strimmer will do the trick.
What About Design and Comfort?
As mentioned a strimmer is a remarkably versatile tool that can be used for anything from cutting your grass to taking care of those dreaded weeds. The type and model you buy will depend on the job/s you are required to carry out, but there are some features that make certain ones better suited than others. Here are a few things to look out for.
Some of the best garden strimmers have 'telescopic shafts' this helps you find your perfect working position/height and balance and will definitely save on a backache.
To complement the shaft, the handle should be comfortably ergonomic, with an additional 'shaft' handle for balance.
An adjustable harness with shoulder pads and hip strap attachment is a must-have for any 'weighty' strimmer so you don't have to strain your arms while using it at different angles or heights. The more comfortable the better, as you may have to wear it for a long time while using your machine.
Auto-feed spooling systems are also handy in this regard because they make releasing line much easier when the existing line gets worn down, snaps or gets tangled up with perhaps overgrown shrubs and bushes. This is because unlike the 'manual' feed option, where one needs to manually pull line off the reel by hand in order to get more line, with an automatic attachment like bump-feed spools all one needs to do is 'push' down or 'bump' the ground with the spool. Although these auto systems do sometimes have their faults as we shall see.
The best grass strimmers can be great tools for maintaining your garden, but the 'cutting line' may pose a threat to some of our gardens wildlife.
Never use a strimmer in an area where you cannot see the 'cutting path' as it might catch animals who would rather 'curl' up than risk being harmed by its rotating line or blades.
Always rake through long grass or undergrowth first before going for your strimmer! This opens up a quick 'escape' route for many creatures of our native fauna such as frogs, hedgehogs, and mice.
Raking through will also enable you to see what the 'cutting line' looks like, ensuring your line is without 'obstructions' like damaging and dangerous stones and or sticks that may 'fly' once you start your strimming as they are normally obscured from overgrown grass and weeds.
In a hurry?
If you don't have much time, use the link below to quickly find out my 'Top Pick' for 'One of the best grass strimmers on the UK market ' available for you on Amazon. You can be assured we only recommend products based on their quality, usability and value for money...
- 'Best Overall'- Bosch 06008A9070 AFS-23-37 Electrical Strimmer
Best Grass Strimmers - Top 3 Comparison Table
Product Image
Best Overall
Best Runner Up
Best Budget
Model/Make
Bosch 06008A9070 Grass Strimmer
ParkerBrand Garden Brush Cutter
Best Overall
Product Image
Model/Make
Bosch 06008A9070 Grass Strimmer
Best Runner Up
Product Image
Model/Make
ParkerBrand Garden Brush Cutter
Best Budget
Product Image
Last update on 2022-06-21
The 7 Best Grass Strimmers to Consider
ParkerBrand 52cc Petrol Grass Strimmer & Brush Cutter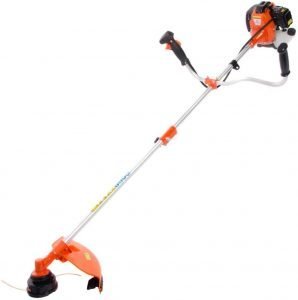 It's been a long time coming, but one of my favourite well-priced petrol strimmers is the ParkerBrand 52CC Petrol Strimmer.
If you need a 'petrol' grass strimmer, then this strong, reliable 52cc 2 stroke petrol engine grass strimmer might be just what you are looking for!
This powerful machine is perfect for trimming your grass and garden pathways.
In addition, it has some great features and accessories, making it a sure winner.
One of the best features of the machine is the steel bladed 'brush cutter' attachment that is included with the strimmer.
Simply remove the nylon ' twin line' head and replace it with a steel 'brush cutter' head and you are ready to make 'short thrift' of those thick brambles, dense annoying weeds and thin spindly woody bushes that need trimming from time to time. This petrol strimmer makes it easy to keep your garden looking neat and tidy with minimal effort.
The strimmer has a compact 'split' shaft (not an 'adjustable' telescopic, which is a shame) making transportation of the unit a breeze. 
Weighing in at 10.7 kg (23.5lbs) the unit is not light but the 'bull horn' handles and 'included' adjustable 'strong' harness does compensate for the lack of a 'telescopic' shaft, and the unit is comfortable and balanced when adjusted, thus taking all the strain off your arms and more importantly your back.
Hopefully, nothing major goes wrong with this garden strimmer, but if it does the manufacture includes a 'tool kit' with the strimmer, as well as a fuel mixing bottle, which is always a bonus as the user no longer need to hunt around for various spanners and bottle to mix the oil and fuel.
Disappointingly, only a standard 1 year (12months) manufactures warranty is provided for this garden strimmer, where other manufacturers of similar garden strimmers provide 2, 3 and even a 5-year warranty.

Black + Decker GL9035GB Electric Strimmer Grass Trimmer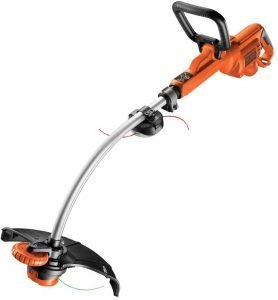 The Black + Decker's GL9035GB electric strimmer is not a lightweight, (3.2kg – 7lbs) grass strimmer but it does have a large motor (900w) that rotates the spool line at around 7000rpm, which in turn makes 'light work' of tidying up your garden.
The large 35cm  (13.7in)  cutting width allows you to cut more grass at any one time and the wheel edge guide ensures that you can get an even finish on your lawn or path edge, allowing neat edging and protection of your plants.
This strimmer does not sport a 'telescopic' shaft, but a simple 'cliplock' which when unfastened allows users to simply rotate the shaft through 360° to suit alternative working positions.
To help further with user comfort, this Black + Decker strimmer features B+D's superior ergonomics for increased balance. It also comes with a 'mid-mount motor' for greater comfort and control, as well as an adjustable 'second' handle for added machine balance. 
The GL9035GB also features E-Drive technology (high torque gear system), this high torque gear system actually gets the job done faster according to the manufacturer, with an improved rate of cut in comparison to other standard power grass strimmers.
The GL9035GB has an AFS (Automatic single Feed System), which feeds the B&D 2mm spool line out when required, which works efficiently according to many users, so no more refilling or bumping the ground to feed out additional line. Although it should also be said some users also found the system a little difficult and cumbersome at times.
A 2 year (24months) manufactures warranty for this garden strimmer provides purchasers with total peace of mind and confidence in the product.

Blue Ridge Electric Grass Strimmer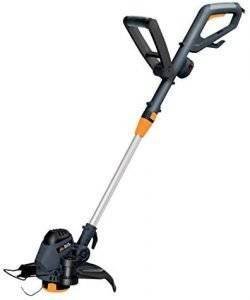 The Blue Ridge Electric Grass Strimmer is a 600W, 10,000rpm corded grass & edge strimmer and one of the best grass strimmers in its class.
This strimmer is not necessarily lightweight at 2.85 kg (6.2lbs), especially after extended use. However, it has low noise when in use, the levels of which are far less than the 85 dB required by UK safety standards, but don't be fooled it is a 'powerful' machine.
As an 'added' bonus from the manufacturer, this Blue Ridge strimmer ships with 2 spools – 2 x 1.6mm x 5m 'helix cutting lines'. One (1) spool is assembled on the machine the other spool is 'attached' to the strimmer shaft via a 'spool' holder.
With a 32cm (12in) cutting diameter, this strimmer provides the users with great cut quality and facilitates both fast and clean grass cutting.
The automatic line feed system is also a good feature of this machine. The 'automatic feed' system provides the optimum 'strimming line' length at any time. Although some users report that they have had some difficulty with the line feed.
Another couple of great features of this strimmer is the telescopic (adjustable) aluminium shaft. The shaft can be adjusted between 60cm and 98cm (24in – 38in) in height making it suitable for tall gardeners.
The 90° pivot head is also adjustable to suit the users cutting height and posture position, providing the user with total control over the 'cutting position' for both user and machine.
The adjustment of the 90° pivot head also converts the strimmer to a wheeled-edger or grass trimmer in seconds.
Finally, once these adjustments have been made the 'multi-position quick release auxiliary handle ensures a comfortable and easy to use strimmer that will alleviate the strain on your back and arms for most users when strimming.
A 2 year (24months) manufactures warranty for this garden strimmer provides purchasers with total peace of mind and confidence in the product.

Bosch 0600878M70 ART 35 Electric Grass Strimmer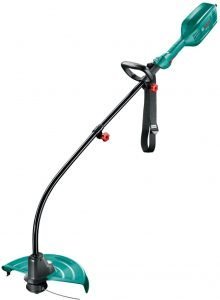 The Bosch 0600878M70 ART 35 electric grass strimmer is a great tool and one of the best grass strimmers for clearing up parts of your garden that need that extra bit of muscle if you are looking for an electric corded model.
Weighing in at quite a heavy 4.6 kg (10lbs) This powerful grass strimmer with a 600watt motor, which rotates at a speed of 8000rpm is built for heavy garden work.
The large 35cm (14in) 'cutting' width of this electric strimmer, makes this an ideal strimmer for larger gardens, easily tackling some of the toughest garden jobs. The Bosch ART 35 can cut through most thick weeds and other tall troublesome grass with ease.
The ART 35 boasts an ergonomically designed handle and 'shoulder strap' for user comfort and easy grass trimming, thus reducing muscle strain on the body, which is a major concern when using any strimmer for extended periods.
The line feed system is Bosch's own 'pro tap' or 'bump feed' system that provides more spool line (1.6mm) when required during the strimming process.
Unfortunately, Bosch has not provided a full 'telescopic shaft' or a 90 ° rotating head as provided in the smaller Bosch models, like the corded ART 30 strimmer for instance, all of which I find strange. 
However, the Art 35's shaft extends just 30cm (12in) and may not suit taller gardeners (over 6ft – 1.8m) it is reported. 
But with some shaft length flexibility, transporting the unit does become a little simpler.
Bosch provides their standard 2-year warranty for this grass strimmer, but the warranty can be extended to 3 years by simply registering your product at mybosch.

Flymo Contour 500E Electric Grass Strimmer and Edger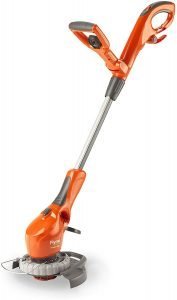 The Flymo Contour 500E Electric Grass Strimmer is a lightweight and easy-to-use grass strimmer. It's designed for use in small gardens, but can also be used in smaller areas of larger gardens.
The Flymo Contour 500E has an electric motor with a 10m – 32ft electrical cord a respectable 500w motor with a 25cm (9.8in) cutting width. The weight should not be a problem for most as the machine is only a mere 3.1kg (6.8lbs).
The Flymo Contour 500E is a popular choice amongst gardeners across the UK wanting a corded grass strimmer.
One of the features of this machine is its automatic 1.5mm 'double line' cutting head, which cuts grass quickly and easily, without the need to stop every few minutes to feed out more line.
However, some purchasers found that the line would tangle and snap, which is a shame. It should be said that these issues are in a minority, but potential buyers should be aware of this. This seems to be a re-occurring problem with all 'automatic' line feeds though what ever the brand.
In addition, the 'adjustable' telescopic handle, make the Flymo 500E comfortable to use for nearly any height user. Which is great for one's posture, arms, and back when strimming for long periods.
Want to convert from strimming to edging? Then by simply 'twisting' the cutting head, this Flymo allows you to easily switch from a 'strimming cutting' head to a short, close-cutting edging blade for paths and lawns.
Another great little feature is the 'plant guard'. This protects trees and plants and offers a 'unique' wheel for easy edging.
The Flymo Contour 500E also has a 'shrubbing' facility that allows awkward areas to be tackled, such as under garden furniture, or around the edges of driveways and paths. This makes this strimmer more versatile than other similar grass strimmers on the market!
With an adjustable 'steady' handle, just below the 'soft grip' gives the user greater control and comfort, the Flymo Contour 500E is also very easy to manoeuvre.
The unit comes with assembling instructions that some found hard to follow. But most assembled the unit without to many difficulties.
Just to give purchasers that little bit of extra comfort B&D provides a 2 years warranty for this product.

BOSCH 06008A9070 Strimmer AFS 23-37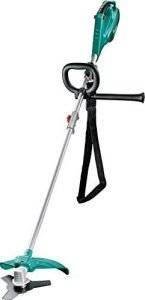 Not wanting a petrol strimmer? Want impressive cutting results from an electric strimmer? Then look to the BOSCH 06008A9070 Strimmer AFS 23-37. This Bosch is one of the best grass strimmers on the UK market today and in my view comes top of its class.
While weighing 5.3kg (11.6lbs) it's not particularly light but it's not super heavy either. This Bosch strimmer combines power, (a huge 950w motor) as well as cutting excellence with a 3 bladed 'brush cutting' attachment (supplied) suitable for those tough nettles, thistles and brambles. The 'cutting blade' has a cutting radius of 23cm (9in).
With so much power available from the motor, the Bosch comes well within the 85 dB required by UK safety standards for noise levels,
Line cutting utilises the 'fixed' extra strong 'double' cutting lines (3no supplied) which are 3.5mm wide and are suitable for long course grass and weeds. No more entanglements and far fewer lines snaps. The cutting radius for the line is 37cm (14.5in).
Additional lines can be stored in the 'safety bar' (the bar at 90° to the shaft) which is a good place for easy access should they be needed while strimming.
Using the Bosch is easy, especially the interchangeable head, so you can quickly switch between line and blade, without the need to remove the guard.
Operator comfort while strimming for long periods is of primary importance. Although the Bosch does not have a 'telescopic' shaft it does have an adjustable belt and handle that goes a long way towards making up for the lack of a telescopic shaft, making the unit well balanced and comfortable to use for most users.
To make potential purchasers feel secure in their purchase, Bosch provides their standard 2-year warranty for this grass strimmer, but the warranty can be extended to 3 years by simply registering your product at mybosch.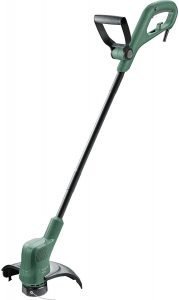 The Bosch EasyGrassCut 26 is a no-frills corded grass strimmer. The cord itself is (6m – 6.5 yards in length). Great to use, it simply does what it says on the tin.
Not built for anything remotely heavy-duty, it's a straightforward little strimmer that weighs just 1.9kg (4.1lbs) making it light, well balanced and easy to work with. This strimmer helps reduce fatigue during extended use.
The strimmer is easily put together as the comes in two (2) halves. In 2 steps, simply insert one inside the other and hear the 'click snap' then slide on the 'rotating line guard' and you are good to go.
If strimming your 'slightly' overgrown grass and nicely edging your lawn or pavement, then this little Bosch is all you need and will no doubt fit the bill.
With a 280w motor that turns at 12,500rpm, it packs quite a punch for its size. The 26cm (10in) cutting radius, which is not the largest cutting radius of the strimmers we have reviewed in this post, is more than adequate for the jobs you will need to undertake with this garden strimmer.
Using 1.6mm line and utilising a semi-automatic feed system that feeds the line at every 'trigger release', eliminating the need to manually adjust the spool or bumping the head. This ensures an optimal cutting line length for uninterrupted and worry-free trimming.
To make potential purchasers feel secure in their purchase, Bosch provides their standard 2-year warranty for this grass strimmer, but the warranty can be extended to 3 years by simply registering your product at mybosch.

Above you will find the UK markets best grass strimmers buying guide for 2021. This guide will help you find the right grass strimmer to suit your needs.
Whether you want a petrol or electric model, we have it covered! We also provide advice on which features are important when purchasing a new one.
In our guide, we have outlined what each model has to offer so that you can find one that suits your needs perfectly. You may have noticed a few things missing from this list; namely, the battery-operated models. That is because I have separate buyers guide covering 'battery-powered strimmers' for 2021.
If this article has helped you in any way then please share it amongst your family and garden-loving friends or anybody who might be looking at getting their own grass strimmer soon. 
Finally, you can always pop over to our FAQ page to find out more about grass trimmers, strimming and a whole host of other answers to your gardening questions and queries.