Reading Time:
17
minutes
A 'strimmer' is a shorter version of the word 'grass trimmer' and a word mostly used here in the UK. There are various other words such as brush cutter, line trimmer, edge trimmer and string trimmer, these are words mostly coined by various manufactures for the same thing a strimmer.
So, a 'strimmer' is a garden tool that can be used for cutting grass, low-level weeds and or ground cover.
A strimmer utilises a 'single' nylon filament line to 'cut' instead of a blade. The nylon line is 'protruded' from a 'rotating' spindle, which is fixed to a long shaft with has a motor sitting on top, which powers the rotating spindle.
The strimmer motor can be powered by petrol, electricity or a battery.
What should I look for in a strimmer?
Strimmer's are ideal garden tools, for those wanting to keep overgrown grass, shrubbery and weeds under control. However, not all strimmer's are created equal.
Although some of these listed points may apply to petrol and or electrical strimmer's, below are points you should certainly look for when buying a battery powered strimmer.
The length of the shaft (telescopic)
Type of hand grips
Suitable application for the user
Rotating head
Line feed system
Included accessories
The power of the battery
Type of hand grip
Harness
Are battery powered strimmer's any good?
There are a few battery powered strimmer's that pack enough punch to enable the strimming of even the toughest of areas. You will see in our buyers guide below that we provide plenty of information on the strimmer's battery life and recharge times for example. Hopefully, you will be armed with enough information to make an informed choice to suit your needs when buying a battery-powered strimmer.
This guide 'The 7 best battery powered strimmer's' as all our guides is based on practicable usability, technical information, value for money and customer satisfaction ratings
Note: Always wear eye protection when using any form of garden machinery.
In a hurry?
If you don't have much time, use the link below to quickly find my 'Top Pick' for the 'Best Battery Powered Strimmer' available for you on Amazon. You can be assured we only recommend products based on their quality, usability and value for money...
- 'Top Pick'- Black and Decker 36v Battery Powered Strimmer
The 7 Best Battery Powered Strimmers - Comparison Table
| | | | |
| --- | --- | --- | --- |
| | | | |
| | | | |
| | | | |
| | | | |
| | | | |
| | | | |
| | | 2-1 Strimmer/Brush Cutter | |
| | | | |
Battery Powered Strimmers - 7 of the Best
Battery Powered Strimmers - Black and Decker 36v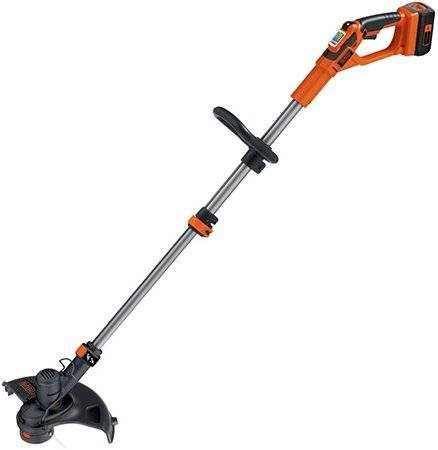 The 36v Black and Decker battery powered strimmer is my battery-operated strimmer 'top pick' for a good reason.
Although quite a reasonable investment for domestic homeowners, the ergonomically-designed, 'monofilament' strimmer is 'sleek' looking and offers dual handles for easier manoeuvrability and comfort. A telescopic shaft also allows users to adjust the height of the 'strimmer' so that it can be adapted and made comfortable for all users use.
This Black & Decker strimmer offers would-be owners plenty of power to, with a 36v Lithium-Ion 2.0Ah battery (included) to power its enhanced E-drive technology motor.
This technology provides the strimmer with 2 power modes, ECO for lighter cutting tasks and extended battery life of about 50 minutes, or will cut up to 3750 linear metres (3429 yards) in one charge.
Easily switch over to the TURBO mode and you will crank up the high torque system, powering up the motor to 8500rpm for tackling much longer grass for example or those overgrown weeded areas of your garden.
However, it should be noted that continued use in the TURBO mode will exhaust the battery a lot quicker than if you used the ECO mode, and honestly, TURBO is not really required for normal everyday grass cutting and edge trimming. The 'fast' battery charger (included) takes around 90min to fully charge a depleted battery.
With quite a large 'cutting swathe' of 30cm (12in), this strimmer is certainly suitable for the 'larger' gardens and can be strimmed reasonably quickly. Another feature that will help those with the 'larger garden' and a feature which is often forgotten is the weight of this strimmer. Weighing in at just 3.5kg (7.7lbs) makes this strimmer really comfortable to hold for longer periods. In fact, quite possibly this strimmer could be held comfortably for one 'complete' battery charge.
Those wanting to 'edge' their lawn/pathways have a simple wire 'guard' close to the motor that can be brought forward and locked into place to act as a 'guide' when users require path/grass edge cutting.
The strimmer uses a 'single' monofilament line, 1.5 mm in diameter wound on a spool and utilises an 'automatic' feed system (AFS) which automatically feeds out the 'line' from the spool when needed, for example, if the line breaks while cutting, no bumping is required. Although some users find the AFS troublesome and have to 'manually' pull line from the spool. Additional spool lines can also be purchased separately if required.
The 36v battery Lithium-Ion battery is also interchangeable and can be used with other Black and Decker power tools using the 36v system. 
Warranty for this product is 24months (2 years) from Black and Decker so users can purchase with a high level of confidence.

36v Battery
Interchangeable Batteries
Eco/Turbo Modes
Telescopic Shaft
Lightweight
Suitable for Larger Gardens
Turbo Mode, Battery Drain
Auto Line Feed Issues
Single Line Cutting
Battery Powered Strimmers - Bosch Advanced Grass Cut 36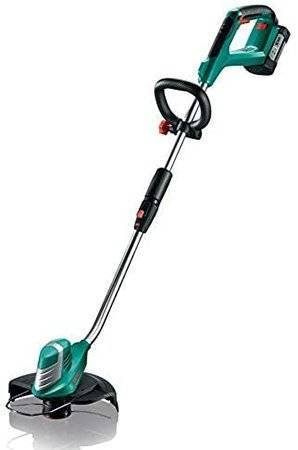 The Bosch Advanced Cut 36 is a battery-powered strimmer weighing 4.1kg (9lbs). Lighter than most, but still being slightly on the heavier side, as most battery strimmers are when used for long periods.
So, with that said the Bosch Advance may or may not be suitable for users who may have some difficulty manoeuvring and or holding any garden machinery for any length of time without some sort of support.
Relieving strain on your arms during the strimming process could be a problem without some sort of shoulder strap (not supplied). There is however a solution at hand. Users say there is a 'facility' on the handle to secure a shoulder strap if required to help support the arms when using the machine for longer periods.
Assembling the strimmer is easy and straight forward and takes just a few minutes with no special tools required.
The Bosch Advanced utilises a 36v lithium-Ion battery (battery and charger included) which is easily interchangeable and can be used or swapped out on any of the Bosch Powerline 36v range of garden tools. The battery also provides a 'visual' indication of the 'battery state' by a mere push of a button, indicating  from 100% (full) – 0% (Recharge).
The battery utilises the 'Syneon' chip. The Syneon chip is an intelligent electronic control system for Bosch cordless tools. It controls the performance ratio of current and voltage which is output to the 'motor' according to what the demands of the equipment are.
Using a double 1.6mm monofilament line system for efficient cutting, with an automatic feed which is handy for an uninterrupted workflow and eliminates the need for manual adjustments, no bumping of the head required. 
Boasting a large cutting swathe of 30cm, the strimmer provides outstanding cutting power, combined with both comfort and ease of handling. Position the adjustable auxiliary handle to a up/down and or left/right position and angle for comfortable strimming in any position and relive some of the weight..
Path or lawn edging becomes is a breeze, simply press the button on the strimmer, located halfway down the shaft and 'twist' the shaft 180° to turn the strimmer to 'edging' mode.
The 2 position trigger can be switched from high to low or vice-versa for lighter strimming tasks (low) or heavier tasks (high) like long grass or weeded undergrowth.
Warranty for this product is 24months + 1 year (3 years) from Bosch so users can purchase this strimmer with a very high level of confidence. The extra year is free but just requires that users extend online with Bosch directly.

36v Battery
Interchangeable Batteries
Syneon Technology
Adjustable Handle
Suitable For Large Gardens
3 Year Warranty
Battery Powered Strimmers - DeWalt DCM561P1S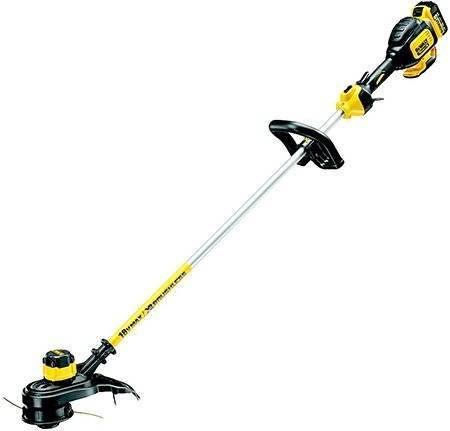 Are you looking for professional performance and cordless convenience in your strimmer? Then maybe take a look at the DeWalt DCM561P1S battery operated strimmer.
This machine is not to 'heavy' considering a beast of this magnitude. The strimmer weighs in at just 3.6 Kg (7.9lbs) without the 18v 5.0Ah Lithium-Ion battery. The battery and charger are included with the 'strimmer', the battery and strimmer are also part of DeWalt's 18v Max tool range. 
The 18v battery itself utilises a 3-LED gauge system, which provides the user with an immediate 'state of charge'  for the battery, which can provide up to 40 minutes of runtime on a single charge, dependant on use. Re-charge time is about 75mins (1hr 15mins) from depleted to 100% full.
Being part of the DeWalt 18v XR tool range, the batteries are also 'interchangeable' with other tools in the range, if you own them. If not, spare compatible batteries can be bought online if needed.
The DeWalt DCM561P1S sports a patented gear drive design, which means that the  torque and cut speed can be maintained, even under a heavy load.
Additionally, DeWalt offers a 400w 'brushless' motor for superior efficiency and performance over the normal 'brushed' motors type. The DeWalt also has a '2 speed' variable trigger, offering head speeds (high/low) ranging from 0 – 4500 and 0-6000 rpm for the heavier tasks that you may undertake, like strimming long wet grass, overgrown weeded areas or even shrub pruning.
Absolutely super for 'large gardens' with the DeWalt's huge 33cm swathe cut and auto 'bump feed' system which provides the strimmer's 2.0mm monofilament line quickly and effectively for no nonsense strimming/cutting in the toughest of conditions.
This DCM561P1S strimmer is fitted with a professional style guard, (some users say its difficult to attach) for increased 'cut' access and better visibility, this combined with a 'padded' handle with integrated over mould, ensures optimal user comfort during operation.
There are however a couple of things to point out, maybe the lack of an 'adjustable shaft'. While it may suit most, very tall operators may find they need to bend over slightly to strim, thus causing some back discomfort if using the strimmer for any length of time. Shorter/smaller operators may find the strimmer to long and challenging to handle, an adjustable shaft would be a good selling point. 
The other missing feature is a specific 'method of edging', which is a large part of what a strimmer does. What I mean by this, is that in many other strimmer's, one can 'click' a button and or rotate a shaft 90° to edge. Unfortunately, its not the case with the DeWalt, users will have to 'physically' rotate the machine 90° themselves to edge. Users say doing this though is not a problem for them  and 'edging' is undertaken extremely well, by just 'rotating' the machine itself.
Like a lot of the top brands, DeWalt offer a 2 year warranty with there equipment + a further 1 year when users register online. 
All in all a great solid all round workhorse of a strimmer, a semi professional model suitable for large and small gardens and perhaps an alternative to a petrol strimmer for some? 

18v 5.0Ah Battery
Brushless Motor
 2 Speed Trigger
Quiet Sound
3 Year Warranty
Large Cutting Swathe
2mm Cutting Line
No Telescopic Shaft
No Edging Mechanism
Battery Powered Strimmers - Greenworks GD40BC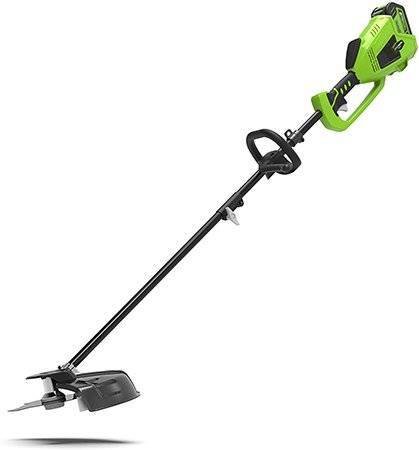 Another option for those looking for some versatility is the 2 in 1 Greenworks GD40BC strimmer and scythe. 
This battery-powered strimmer utilises a Greenworks 40v Lithium-Ion battery, either the  2.0 Ah or 4.0Ah option is suitable, which can power over 25 different Greenworks models.
Unfortunately, though the battery or the 'charger' are not included with the GD40BC. These can be purchased separately either the 2.0Ah or 4.0 Ah option.
The 40v battery charger also purchased separately is suitable for both size battery sizes.
With this in mind, unless you are an owner of other Greenworks tools with the same batteries, buying the GD40BC and battery/charger can work out quite expensive initially, but potentially cheaper in the long run if you intend to purchase other Greenworks tools in the range.
With a variable 2 speed trigger, giving 'full control' over the 'power' sent to the strimmers 5300rpm rotating head, user can determine and control exactly the amount of power required for the task at hand.
With a charging time of around 65 minutes for a 2.0Ah battery and a runtime of around 20 minutes dependant on use, the GD40BC measures up quite well against most other battery-powered strimmer's in this class.
The GD40BC as the Dewalt above offers a powerful 'brushless' motor for superior efficiency and performance over the normal 'brushed' motors type and this motor really gets the best power out of the 40v battery system.
Where the Greenworks GD40BC does excel is in its huge 40cm cutting swathe, which is larger than most other strimmers of this class on the market. This battery-powered strimmer will make short work of almost any domestic garden's grass cutting or edging requirements, whether your garden is small, medium or large. 
The GD40BC utilises a 2.0mm monofilament,  'double' line cutting action, using a 'bump' feed so you don't have to repeatedly pull the line from the heads 'line spool' by hand. You can also easily buy additional replacement line and spools for this machine as and when required.
Have tough weeds? Long wet grass, or tall shrubs that need cutting? Simply swap out the 'line head' for the scythe blade (brush cutter) with a 25cm (10in) swathe cut and you can cut through these tougher jobs with some ease.
Although the Greenworks GD40BC does not have a 'telescopic' shaft, it does have a 2 piece aluminium 'split' shaft with steel connection and rotating handle. This allows the 'shaft' to be loosened and 'rotated' 90° when you want to carry out any 'edgeing' activities and or be 'dismantled' in 'two' pieces for ease of storage or transportation.
The unit weighs 5.7 kg (12.5lbs) so not the lightest of machines, especially if using for any length of time.
However, Greenworks have addressed this possible weight problem with the provision of an integrated and adjustable D-Grip handle, which gives the user a choice of working positions. The addition of a 'shoulder harness' which is included (a shoulder strap in reality) makes the GD40BC easier to use for longer periods. Users can also purchase a full harness if prefered for even more comfort, and it can be attached at the provided point on the unit.
Greenworks provide a 3 year warranty on the GD40BC so potential purchasers can be assured of the quality of this product. Another good powerful workhorse and a battery powered strimmer alternative to a petrol strimmer.

2-1 Strimmer/Scythe
40cm Cutting Swathe
Shoulder Strap
3 Year Warranty
No Battery
No Battery Charger 
No Telescopic Shaft
Battery Powered Strimmers - Murray 1697120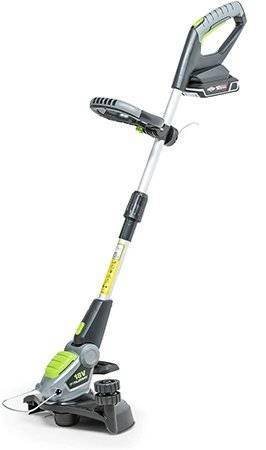 A 5-year product warranty and a 3-year battery and charger warranty. This is what the Murray 1697120 battery powered strimmer offers the purchasers of this product.
The Murray 1697120 is powered by a 2.5Ah Briggs and Stratton 18v Lithium-ion battery (the battery and charger are included). The battery has a LED display, which shows the current state of the battery.
Another nice little 'battery feature' is the provision of a USB connection, which will allow users to recharge their phones when out in the garden and or away from the house.
The Briggs & Stratton 18V Lithium-Ion batteries can be used across the entire Murray 18V range. So potentially a great money saver for those who have other tools in the 18v garden range.
The supplied 2.5Ah battery provides around a 30-minutes runtime (dependant on use) and a recharge time of around 60 minutes, which is very good in comparison to most others in this battery class. Additional 2.5Ah batteries are available to purchase also.
Should you want a longer runtime? The Murray 18v battery system also has a 5.0Ah battery available at additional cost.
An exceptionally light battery powered strimmer, the Murray 1697120 weighs a mere 1.9 kg (4.1lbs) without the battery. Even with the 2.5Ah battery attached the weight only rises to a mere 2.1Kg (4.6lbs) so using the strimmer for extended periods in your garden should not be too tiring for most and generally the strimmer is easy to handle.
Besides its weight, and to assist the user with some 'additional' comfort when in use, a 'fully adjustable' and rotatable 'D' shaped handle sits at the top of the shaft.
Additionally and probably most importantly the Murray also has a 'telescopic' shaft, which can be 'adjusted' to change the 'working height' to suit the user. This should 'eliminate' the back discomfort some experience, especially with 'taller' users who usually have to 'bend' slightly to strim or edge. Shortening the shaft will possibly suit those who are wheelchair-bound and prefer to strim their own grass.
With a large 30cm swathe cut and a single on/off trigger, the Murray 1697120 motor produces around 800rpm, which is a lot slower than most, but performance does not seem to be affected. The Murray 1697120, also uses an 'auto' fed 'single' nylon line (1.6mm) for cutting and edging. This auto-feed system automatically feeds the line out when the line gets too short when cutting. The 'auto' system also eliminates the need for the user to 'bump' on the ground the 'cutting head' when additional line is required.
A spare spool of line is also provided by the manufacturer and can be found in a handy storage location below the D handle, where it will 'clip' in. However, additional spools with 5m of the line can be purchased separately as and when required.
Edging is a is undertaken very easily by a simple 'click 'of a button and a 90° 'rotation' of the pivoting head. The provision of a permanently attached 'edging wheel' assists greatly when moving along any edge.
All in all, a very good battery powered strimmer, lots of additional features, (USB battery connection for example) but I would suggest only suitable for the 'smaller' garden (up to 200m2) and 'light' strimming and edging tasks. The Murray 1697120 will start to struggle with the more arduous tasks, like strimming of heavy weeds or long wet grass, so be advised if you have such tasks to undertake.

5 Year Warranty
Lightweight
Telescopic Shaft
Battery USB Connection
Bonus Strimmer Spool
East Edging
30cm Swathe Cut
Battery Powered Strimmers - Ryobi OBC1820B 18v

Another 2-1 battery powered strimmer and brush cutter that is worth considering for those tougher tasks is the 18v Ryobi OBC182OB 18v One Brush Cutter.
Certainly, a professional-looking machine, with its comfortable soft-grip 'bike' type handle design with a 'variable' speed control switch for extended run time and full control over the 'cutting' head speed.
This 18v Ryobi OBC1820B is sold without a battery or charger. There are, however, several sized batteries available from Ryobi, ranging from 1.5Ah – 5.0Ah.
Considering the 'work' to be undertaken by this machine it would seem sensible to opt for the Ryobi 5.0Ah battery when considering a battery purchase, thus ensuring more power, longer runtimes and increased durability.
This 5.0Ah battery like all Ryobi 18v one+ batteries offers a 'visible' four-stage battery indication level from 25, 50, 75 and 100%. This ensures you are always aware of the status of the current battery.
Runtime for a 5.0Ah battery is around 20-30 minutes dependant on the task undertaken, with around 60 minutes to recharge the battery completely using the quick charger.
This 5.0Ah battery (part of the 18V one+ system) is compatible with all the garden cordless tools, as are all the battery sizes in the Ryobi 18V one+ system, according to the manufacturer. The one+ system has over 40 cordless tools for the home & garden in its range.
The compatible battery charger that is recommended by Ryobi for the 18V one+ system is the Ryobi RC18150 which again must be purchased separately, as is the battery. Once you have bought a battery and a charger (unless you already possess Ryobi 18v one+ equipment) it makes the whole purchase quite expensive. However, the multitude of tasks one can undertake in all size gardens with this machine may surely negate the initial expense over time.
Weighing just 4.7kg (10.36lbs) without the battery pack and 5.1kg (11.24lbs) with battery the Ryobi is comfortable to handle. Especially if you clip on the 'Vertebrae' comfort shoulder harness which is supplied by the manufacturer with your purchase. Longer arduous tasks become easier and more comfortable to tackle, with less stress on the arms and shoulders you will find you are able to operate the Ryobi for much longer periods.
With a 30cm (12in) cutting swathe or cutting path, the 'strimmer' head uses a single 1.6mm nylon line for 'strimming' and 'edging', and produces (controllable via trigger) a fast 7600rpm (rotational speed) which is very good. The line is fed, not automatically but by 'bumping' the cutting head on the ground to extend the line. However, some users find that line has to be extended manually, which is not ideal. Additional 1.6mm x 15m Ryobi line is available to purchase as and when it's required.
Users wanting to undertake heavier tasks, like cutting brambles or thick weeds simply need to swap out the strimming head for the supplied 'tri-arc' hardened steel, brush cutting blade. The blade provides a 20 cm (8in) cutting swathe and can make short work of those demanding tasks gardeners often find themselves needing to undertake.
Although not having a 'telescopic shaft' (which is disappointing) the Ryobi is fairly easy to assemble and disassemble following the supplied instructions. Once fully 'assembled' simply unscrew the 'large thumb screw' on the shaft and the 2 sections can be taken apart for storage and or transportation.
Ryobi's warranty as many of the more recognised brands, is 2-years product warranty, however, this can be extended to 3 years with online registration.

2-1 Strimmer/Brush Cutter
Supplied Harness
3-year Warranty
Trigger Control
Interchangeable Batteries
No Battery or Charger
Non-Telescopic Shaft
Battery Powered Strimmers - Worx WG163E.3 20v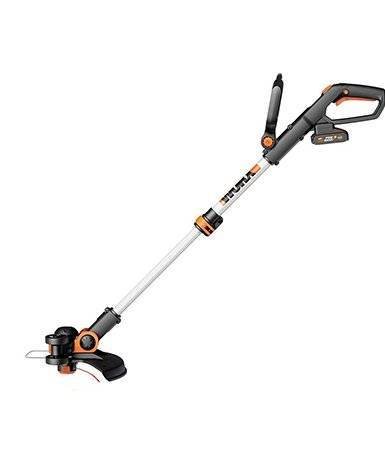 If you undertake a lot of path 'edging' in your garden then the Worx 20v WG163E.3 could be the right strimming/edging combination that may suit you.
The manufacture states that these battery-powered strimmers easily convert from a strimmer to a wheeled 'edger' in just seconds.
This is undertaken by simply 'flipping' open the orange clip halfway down the shaft and turning the shaft and strimmer head through 90°, then 'flipping' the clip back again locking the shaft into its new position. 
The strimmer 'guard' is also simply pulled back into the 'edging' position and you are all set to go. 
Edging is comfortably carried out utilising the 'onboard rubberised wheels' that support and guide the edger, for various terrains,  giving you straighter lines and cleaner cuts even on sloped terrains.
Undoing the orange 'clip' that allows you to prepare the strimmer shaft and head for edging, also allows the user to adjust the 'shaft length' (telescopic shaft) as well. This shaft 'adjustment' allows for individual maximum balance and user comfort, providing less stress on the arms and shoulders. The 'telescopic' shaft combined with the additional adjustable 'D' handle provides maximum comfort to users, especially those using the strimmer over longer periods.
Quite a 'lightweight' strimmer as far as battery-powered strimmers are concerned weighing just 3kg (6.6lbs) with the battery.
Provided by the manufacturer are  2 x 20v batteries and a  fast charger. The batteries are 20v 2.0Ah Lithium-Ion, part of the 20V power share system by Worx. These batteries are interchangeable and can be used on other garden and home tools that are in the 20v and 40 v max range. If you already have other Worx tools in this range, then 2 additional batteries will come in very handy.
The 20v WA3880 fast charger will re-charge your 2.0Ah battery in 60 minutes. The manufacturer states that 75% of the charge is completed in half of the charging time ie.. 30 minutes. However, with the supply of 2 batteries and a run time of around 30 minutes (dependant on use) 'downtime' should be virtually zero. 
The battery-powered Worx WG163E.3 strimmer uses a 'single' 1.65mm (cutting nylon) line, with a cutting head speed of 7600rpm (dependant on load), which will make short work of most general grass cutting or edging tasks. Additional spools of the 1.65mm line are available at an additional cost, should users require them.
The battery-operated Worx WG163E.3  has a large 30cm (12in) cutting swathe and a high/low 2 speed trigger to suit the workload being undertaken. In addition, this strimmer has the 'innovative'  'command feed' button technology included on the handle. 
This top 'command feed button' allows users to determine how much cutting line they require to be let through at anyone time. This is an easy and efficient method to extend the line when broken, or if you just need that extra length of nylon,  no more bumping the 'cutting head' on the ground to get an 'undefined' length of nylon off the spool. 
A 3 year warranty from Worx should put the consumers mind at rest. The Worx WG163E.3 is generally ideal for small to medium gardens and general light to medium strimming and edging. With the 2 batteries included its great value for money albeit not the most powerful of strimers we have written about.  
For larger gardens and those needing a bit of extra strimming power, then with these requirements potential users would probably need to look at other alternatives I have mentioned in this buyers guide.

Lightweight
Telescopic Shaft
Batteries (2) and Charger
Easy Edging
Command Feed Technology
Two Cutting Speeds
3 Year Warranty
30cm Cutting Swathe
Battery powered strimmers, like all battery-powered tools today, have come on in leaps and bounds, thanks in the most part to better battery technology, particularly around the lithium-Ion battery (FAQ). 
However, as you will see from our 'buyers guide' above, not all battery-powered strimmers are created equal. Much will depend on your budget and particularly your intended strimming tasks and size of the garden where strimming is required to be undertaken. 
That said, there are certainly battery powered strimmers on the market for you and your garden, and you should be able to buy with confidence, safe in the knowledge that there are great battery  alternatives to electrical strimmers and in some respects even petrol strimmers.
Be sure to check out our various buyer's guides which are a wealth of information on a variety of subjects related to gardens, outdoor living and much more.