Reading Time:
15
minutes
There are 3 basic types of pressure washer that come under a variety of names like cordless jet washers, pressure washers and power washers just to name a few variants. With various models and brands that are primarily used for consumer, semi-professional, and professional use.
Some models use only cold water, others hot water with 'detergent' bottles mounted on them, these are however almost entirely reserved for commercial use.
Although all are either washers that are driven by a petrol engine which produces the electricity to operate them, plugin electrically operated at 240v in the home or commercially via a 3phase electricity supply. Some, however, as we show here are cordless jet washers, functioning via an 18v/20v Lithium-Ion battery see (FAQ)
So, what is a cordless jet washer? Cordless jet washers can be categorised broadly as 'handheld pressure washers' which don't have an 'electrical cord' attached to them and take their water supply from water buckets, taps, streams, water butts, or swimming pools for example.
Not a Pressure Washer
We must state at this point jet washers are NOT pressure washers in the traditional sense and do not deliver the performance or pressure of a mains connected pressure washers.
All 'jet washers' need 2 basic elements to make them function correctly, water and electricity.
Cordless jet washers function in much the same way as 'corded' jet washers with the only exception being that the 'electricity' used is normally from an 18-20v lithium-ion 'battery' located on the jet washer and not via a 240v 'electrical cable' plugged directly into the electrical socket in the wall.
The cordless jet pressure washers water supply can also vary. The 'pressure' washers water supply can be taken directly from a tap or hose connection, some models allow users to draw the water through a large water reservoir like a large bucket as stated above.
What Cordless Jet Washer is for me?
As with any consumer purchase, each type of cordless jet washer has its own advantages and disadvantages, it can be difficult trying to understand all the pros and cons to choose the best cordless jet washer for your needs.
My advice would be to just ask yourself which cordless jet washer will accomplish most of your tasks with the least amount of effort, this should give you a good starting point for making any decision on a purchase.
Cordless Jet Washers Guide
This buyers guide will concentrate only on the cold-water, consumer-type cordless jet washers currently on the UK market. These cordless jet washers are for occasional use around the house and garden and are not suitable for semi-professional or professional use.
With this guide, I look a washer's performance, power, value for money as well as the user experience.
In a hurry?
If you don't have much time, use the link below to quickly find my 'Top Pick' for the 'Best Cordless Jet Washer' available for you on Amazon. You can be assured we only recommend products based on their quality, usability and value for money...
- 'Top Pick'- Worx Hydroshot WG629E.1
Best Cordless Pressure or Jet Washers - Comparison Table
| | | | |
| --- | --- | --- | --- |
| | | | |
| | | Variable Pressure Control | |
| | | Variable Pressure Control | |
| | | | |
| | | 40V Lithium Battery (Req) | |
| | | | |
| | | Adjustable Pressure Modes | |
| | | | |
| | | | |
Our 8 Best Cordless Jet Washers - 2022 Buyers Guide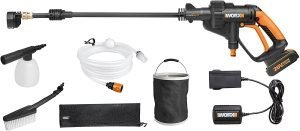 With a multitude of 'cordless jet washers' on the market, it can be difficult to choose which one is right for you and for the tasks you want to undertake. 
If you have chosen the Hydroshot Worx WG629E.1 however you can rest assured you have made a good choice. 
This 'portable' pressure washer utilises a 20v 'power share' lithium-ion battery system, (battery  & charger included) meaning it is 'inter-changeable' and thus compatible with the entire line of WORX 20V power tools.
A single fully 'charged battery' (2.0Ah) lasts around 20-30 mins dependant on your use, with around 3- 5 hrs required to 'fully' recharge your battery after full depletion.
Light and portable for pressure cleaning and watering on the go, the Hydroshot can draw water via a garden hose connected to an outside tap, or any other water sources such as buckets, bottles, swimming pools and tanks. This opens up a whole new world of portable pressure jet washing. 
Perfect for countless applications around the home and garden while on the go, including cars, bikes, sports equipment, decks, patios, windows, gutters and outdoor furniture to name a few.
The Hydroshot has a dual system design, capable of both 'watering' and 'power cleaning' with a variable pressure range between 6 – 22bar (100 – 320psi). High-pressure cleaning is achieved by  'adding' the 'long' lance to the 'short' lance both of which are supplied, and activating the 'high/low' power button.
By adding the 'long lance' the Hydroshot combined with various 'settings 'produces enough pressure for most stubborn dirt to be removed around the home and garden, although some purchasers indicated they would have liked more pressure for some of the tasks undertaken.
In addition, gardeners pay attention, this cordless jet washer can also be used to water plants (via H/L power switch set to low) quickly and safely without mess. By using the short lance only and using the adjustable multi-spray head, which provides various spray angles of between 0°, 15°, 25°, 40°  the Hydroshot can provide a gentle light mist or sprinkle, to allow the watering of the most delicate of plants.
The Hydroshots jet stream intensity can be set through the 'H/L' pressure setting. In addition, a 'rotating head' as described above ( 0°, 15°, 25°, 40° angle of spray)  allows for the 'switching' from a 'mist' stream through to a 'pulsating sprayer' capable of eliminating caked-on dirt.
There are various options for this model available from Hydroshot Worx, including a 40V battery model (2x 20v),  brushless motor model, all designed to give you extended battery life and more power, and with or with accessories.
Finally, with a simple online registration, purchasers of the Hydroshot Worx WG629E.1 will receive a 36 month (3 years) warranty. 

Charger & Battery Provided 
Many Accessories
Variable Pressure
Dual System Design

3 – Year Warranty

Multiple Water Sources
4.0ah Battery Available
Battery Life Could Be Better
Pressure Could Be Improved
Battery Charging Time Could be Improved
Bergman 20v Pressure Washer
The Bergman cordless jet pressure washer allows complete mobility and freedom to clean anywhere.
With a built-in filter, the Bergman ensure the delivery of 'clean water' to your jet washer every time.
Utilising a 20v (2000mAh) rechargeable battery (battery and charger supplied) the Bergman has 3 active modes that can be switched. 
Auto mode will deliver a flow of around 120 litres of water per hour at 22 bar (319 psi).  This is for general use, ideal for washing the car, caravans, bikes, windows, gutters and outdoor furniture.
Switch to ECO mode and the unit will deliver a flow of around 65 litres of water per hour at 5 bar (73 psi). This option is ideal for watering of plants, flowers, trees etc.. and lasts for about 30 minutes.
Switch over to HIGH power mode and the Bergman kicks in to deliver a 23 bar (333 psi) jet wash delivering 120 litres of flow per hour for around 18 minutes. Ideal for the more stubborn of dirt and grime found on paths and decks and patios.
The Bergman has several interesting features, like the LED remaining battery time indicator. Battery charging can take anything from between 1-5 hrs.
The jet washer can be equipped with an extension pipe (included) and a variety of jet pipes such as rotary, multi-function and foam high-pressure pipe which is included in the package. 
The foam dispenser bottle/nozzle (included) when filled with car washing liquid, is ideal for cleaning cars. Windows can also be cleaned using the foam dispenser for example or attach the 360° rotating nozzle (included) and tackle those tricky-to-reach places around corners, in gutters and under wheel arches. 
Generally, the Bergman 20v cordless jet washer a good all round machine suitable for a whole host of cleaning tasks around the home and garden.

Charger & Battery Provided 
Water Filter
360 Degree Nozzle
Soap Dispenser
3 Modes
Battery Indicator
No Bag For Accessories
No Additional Warranty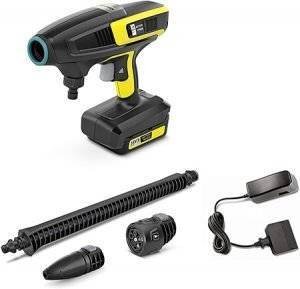 The German manufacturer Karcher is synonymous with power washers and cleaning worldwide. Therefore it should be of no surprise that Karcher has entered into the ever-growing cordless jet washer market. 
The all-new Karcher KHB 6 is a 18v 2.5 Ah, Lithium-Ion battery operated cordless jet washer. The jet washers convenient size and weight make it easy to carry for quick everyday jobs.
The battery is interchangeable with other Karcher 18v equipment, such as the Karcher cordless grass trimmer or the Karcher cordless hedge trimmer so the possibility of saving some money on extra battery purchases if you are already an 18v Karcher system owner is an added bonus. 
Runtime for the jet washer according to the manufacturer is 14 minutes on a full charge. The standard charger (supplied) recharges the supplied 2.5Ah battery in just over 4 hrs.  However, an 18v/5.0 Ah battery is available at extra cost which will provide the user with additional run time if required. 
Alternatively, some users may opt for the Karcher quick charger, which will recharge the 2.5Ah battery in just over 60 minutes and the 5.0Ah battery in just 120 minutes, which is considerably quicker than the standard charger.
It should also be noted that an adaptor for UK plugs will be required, as the supplied charger comes with a continental 2 pin plug.
The KHB 6 provides the user with a maximum pressure of 24 bar (348 psi)  which is suitable for a whole host of uses and is perfect for quick, everyday outdoor cleaning tasks. 
Without the need for mains power, this portable cordless jet washer gives you total freedom – perfect for cleaning anything around the garden and driveway. With an integrated water filter, users just need to just connect a hose (sold separately) to the 3/4in adaptor (provided) and you're ready to get to work right away. 
No matter what you are doing, whether you're watering the plants, cleaning mud off your bike or shifting stubborn dirt off the patio, five different spray modes give you just the right pressure for the job. 
As you clean, you'll always know how much time you have left thanks to the 18V Interchangeable battery LCD display, which will tell you both how much battery charge time and running time you have remaining.
The Karcher KHB 6 Multi Jet comes with a 24-month warranty and several other accessories like a detergent dispenser for cleaning windows or the car.

5 Different Spray Modes
Battery Life LED Display
Interchangeable Battery 
24 Month Warranty
Battery & Charger Provided
European Plug
No Accessories Bag
On the Expensive Side
Not Enough Accessories
Greenworks GDC40 High Pressure Cleaner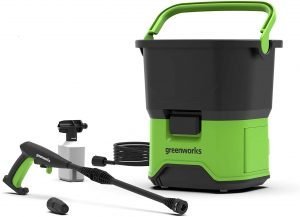 Are you are looking for a cordless jet washer that provides extremely powerful jet pressure washing? Similar to that provided by some electrical pressure washers. Then the Greenworks  GDC40 could be for you. 
This cordless jet washer provides a maximum and impressive 70 bar's (1015 psi) of pressure and is of lightweight construction with many functions such as the horizontal pump for better performance and reliability.
With a 20L 'onboard' water tank, mobility 'pressure jet washing' is simple and easy. 
Alternatively, you can connect a garden hose directly to the washer lance itself, if you prefer not to use the 20L water tank. 
With a 650-watt motor, delivering a flow rate of up to 300L an hour or (5L a min-max) the GDC40 enables you to clean easily and efficiently.
Suitable for jet washing garden patio's, caravans, windows, bikes, cars, outdoor furniture, wellingtons boots, BBQ grilles, well just about anything you can think of really.
The jet washer utilises the Greenworks 40V lithium-Ion battery system with LEDs built into the batteries show the remaining battery charge at the push of a button.
However, the Greenworks battery and charger for this cordless jet washer model are not included in the price. When you add the cost of a Greenworks 40v 4Ah battery and Greenworks battery charger it can make the Greenworks GDC40  seem quite expensive to purchase as a complete unit compared to some other makes. 
Battery runtime at the maximum pressure is approximately 16 mins (or 80 L) utilising a 40V 4Ah battery. Charging time is about 60 minutes for a 2Ah battery and 120mins for a 4Ah battery.
This GreenWorks GDC40 model comes complete with a six-metre (20ft) high-pressure hose, which can be fitted with a foam spray nozzle. The foam sprayer bottle provided can be used to feed plants, apply detergents or antibacterial agents so has multiple uses. In addition to the foam sprayer, a turbo nozzle and a vario pressure nozzle allows you to 'angle' the water flow for a precise, powerful clean.
It should be noted, as well as the cost, users have also highlighted the need for 'wheels' to be attached to the onboard 20L tank, thus making it easier to move around for some. Battery time some users suggest, could also be improved.
However, the powerful Greenworks GDC40 in addition to the many accessories that come with it, provides purchasers with a 2 year (24months) warranty. This gives Greenworks purchasers peace of mind, in that indeed a quality product has been purchased. 
Update: Since writing, this original guide, Greenworks have brought out the cordless jet washer model GDC40K25. This model is technically the same as the GDC40 but has a 2.4Ah battery and charger included in the price, but is without any accessories except the six-metre (20ft) high-pressure hose.

Good Water Pressure
24-Months Warranty
Various Accessories 
20L Water Tank
Battery LED's
No 40v Battery or Charger
On the Expensive Side
Battery Life Could Be Better 
Norse SK25i Pressure Washer
If you're looking for a lightweight cordless jet washer that will not be difficult to 'hold' and 'carry' around, then the Norse SK25i cordless jet washer fits the bill. The Norse  weights in at just 1.5kg (3.3lbs) similar to a bag of flour you purchase from your local supermarket.
This professionally Norwegian designed jet washer offers several features and a huge range of accessories, all of which are included with this jet pressure washer.
A 20v lithium-ion battery and charger (with UK 3 pin plug), 6m (20ft) filtered inlet hose + 6m (20ft) extension hose, hose connection, detergent bottle, twin extension lances, which provide outstanding reach for the 4-in-1 nozzle, capable of a wide and medium spray, and a super-efficient 'cyclone turbojet' to produce constant high pressure.
Delivering a maximum pressure of 25 bar (363 psi) via a 'double tap' patented trigger, the Norse jet washer is capable of receiving its water supply from multiple sources, which can include a garden hose or via the filtered inlet hose, from any standing water source like a bucket, water butt or even a swimming pool if you have one. Water is delivered quickly and efficiently via the rapid auto self-priming feature (8 seconds according to the manufacturer) of the jet washer.
The 20v battery lithium battery lasts around 10-15 minutes dependant on use. The unit has an LED indicator highlighting the current state of your battery, with around 1 hour of charging time required once fully depleted. 
At the time of writing, it would seem purchasers of the Norse are unable to purchase spare batteries which is quite unusual for battery-operated equipment like these jet power washers. Although it is rumoured that spare batteries should be available from January 2021.
With so many 'accessories' already included in the price from Norse, the manufactures also provide purchasers with a 24-month warranty for their jet washer product which will further provide comfort to any would-be purchaser, this also includes free to call UK based technical support. 
Generally this is great all-round customer service form Norse.

Multiple Accessories
24 Months Warranty
Easy Assembly
Customer Service
UK Plug
No Spare Batteries Available
Bosch Fontus Outdoor Pressure Washer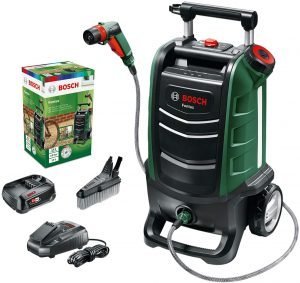 For those who were put off the Greenworks GDC 40 jet pressure washer above, due to the absence of 'wheels' on the water tank. Then the Bosch Fontus 06008B6070 jet pressure washer comes to your rescue. 
This Bosch unit reminds me of an overhead locker case one might use when flying. The Bosch Fontus is robust neat and tidy, has transportable wheels, a pull along 'extendable' handle and plenty of storage room.
Delivering 15 bar (217 psi) of pressure and powered by a Bosch 18v 2.5Ah Lithium-Ion battery, (supplied) which is part of the Bosch Home and Garden 18 V range. So those who already own any machines from the Bosch 18v home and garden range will have spare batteries for the Fontus if required, which of course will save you money.
The Fontus is truly a fully portable on the go, take anywhere jet pressure washer due to its 15L onboard tank and 18v battery.
Included with the Fontus from Bosch is 18v battery and charger, a 4 m hose, spray gun, water filter, Fontus outdoor cleaner and smart brush. These accessories can be stowed away in the Fontus and the in-use gun holder will hold your current tool.
The unit is 'filled' with water via a large screw cap at the top of the unit itself. Once filled its ready for use, just 'push' the button to switch on once you have your attachment fitted.
The Fontus spray gun has four (4) different spray patterns that can be used and the Fontus itself has three (3) adjustable pressure modes, low, medium and turbo. Ideal for mountain bikes, cars, caravans, windows, watering plants, suitable for a whole host of home and garden tasks.
The innovative 'smart brush' attaches directly to the 'spray' gun, allowing you to brush and spray at the same time. Ideal when you are cleaning a car for instance.
The 18v 2.5Ah Lithium-Ion battery lasts very, very well, compared to most other cordless jet pressure washers, anything from 20 minutes to an hour dependant on which setting is chosen. Charging time for the supplied 18v 2.5Ah battery once depleted is 105mins to 100% full.
Bosch provides a 24 months (2 years) warranty for this product. However, it is possible to extend this by registering online taking your warranty from 2 to 3 years (36 months).

Very Portable
Great Battery Life
Tool Storage
24/36 Months Warranty
Multi-Use
Smart Brush
15L Tank Could be Larger
Little Expensive
Pressure Could Be Better
WESCO High Pressure Washer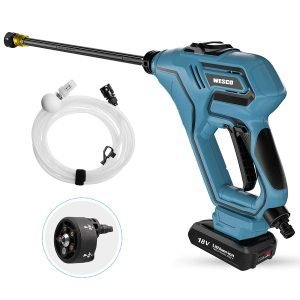 The Wesco cordless jet washer is another popular pressure washer which offers great value for money.
Providing quick installation and very easy operation the Wesco ships with several accessories. Suitable for small to medium cleaning tasks.
These might include tasks like cleaning the car or caravan, mountain bikes, pets, garden furniture or even watering the plants.
Accessories include an 18V 2.0Ah  Lithium-Ion battery, (used by other Wesco 18v battery tools) battery charger, 6m hose, 4-way multi-spray nozzle and extension lance.  This is all nicely put away in an accessories bag which is included.
18v battery power enables the delivery of a maximum 22 bar (320 psi) of water pressure, with a maximum flow rate of 120L an hour. This equates to around 15 – 30 minutes run time on a full battery, dependant on settings used. Charging your depleted battery takes about 1hour 20mins (80 minutes) to fully charge the battery again. There are 3 indications on the back of the battery, low, medium, or full showing the current battery status.  
Battery depletion when charging is indicated by means of red light (depleted) on the charger, and a green light 100% when fully charged. Currently it would seem purchasers are unable to buy spare 18V batteries from Wesco. 
The Wesco jet washer has a 6m high-pressure hose to allow users to take water from any standing water source, such as a bucket or water butt. The Wesco also allows for the connection of a garden hose pipe should one wish to do so. It can even be used with 'seawater' according to the manufacture, providing the unit is rinsed properly with fresh water after use.
The multi-purpose spray nozzle has spraying nozzles that can be adjusted to  0°,(single jet) 15°, 25°, 40° and sprinkler modes which are suitable for cleaning large areas of patio, decking and block paving, car/bicycle washing, garden watering, home cleaning, pet washing and spraying detergent fluid.
A manufactures 24-month warranty (2 years) is also provided, which is a nice added bonus to would-be purchasers.

Good Battery Life
Accessories
Mobility 
Value For Money
Multi-Purpose
Unavailable Spare Batteries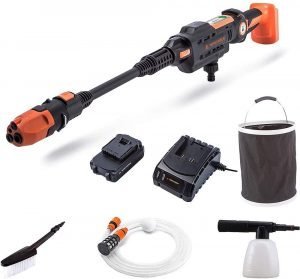 Sometimes things just don't sit comfortably in the 'hand' when attempting certain tasks and there is usually not a lot one can do about it.
The Yardforce 20V Aquajet cordless jet washer has the answer maybe. This cordless jet washer sports an ergonomically designed, two-position rotary rear handle.
This allows for the Aquajet to manoeuvre into 2 different positions, making the hard to reach places and higher-level cleaning tasks a lot easier.
Utilising a Samsung 20v 2.5Ah Lithium-Ion battery with digital charging level indicator (included) and battery charger (included) which takes just 60 minutes to fully recharge. With a full battery charge, users get about 20 minutes usage dependant on settings used.
Spare batteries are not currently available on Amazon. However, 2.5Ah batteries can be purchased from the manufacturer directly.
The Yardforce is shipped with several accessories, besides the battery and charger mentioned. One can expect to find an extension lance, 3-in-1 adjustable nozzle, brush, foaming bottle, six-metre (20ft) hose, and a storage bag which doubles up as a bucket. 
The jet washer delivers a maximum pressure of 22 bar (319psi) and 270 litres an hour. The pressure can be easily controlled by an adjustable pressure control switch which has a 2-speed setting. In the Eco mode, the Aquajet allows you to quickly switch to use less water and power for a lighter clean and watering.
In addition, when using the 3-1 adjustable jet nozzle, additional settings of jet, turbo and low are also available to the user, creating even greater cleaning flexibility. Use jet – for a wide, fan-shaped spray, low pressure – for a lighter clean and turbo – for a higher-pressure spiral spray.
The Aquajet is truly portable, by using the 6m hose (20ft) all one needs to do is place one end in a bucket (provided) of water, you can even use hot water. Try placing the hose in a water butt, stream, or swimming pool or attach a garden hose, the Aquajet has great flexibility when it comes to mobility and jet washing.
Like many cordless jet washers, the Yardforce Aquajet can be used for many cleaning tasks around the home and garden. Clean cars, caravans and windows when using the foaming attachment and clean using the brush attachment, bikes and patios, even water your plants all with ease and efficiency. 
A manufacturers warranty of 24 months (2 years) comes as standard with you Aquajet and you can register for an additional 1 year free making a warranty of 3 years in total which is tremendous and shows a company has great faith in its product.

Accessories
Mobility
36-month Warranty
Eco Mode
E

rgonomically Designed
 Spare Batteries Not Readily Available
The cordless jet washers are a fairly new addition to the home and garden armoury only really being on the market for a few years. As such they are very much still in development with improvements continually being brought in, in particular to water pressure.
Although the pressure of the cordless jet washer is suitable for many many home and garden cleaning tasks, many people still expect these cordless machines to perform as their old corded electrical pressure washers, and they will not.
Cordless jet washers will probably do 95% of the cleaning tasks you can do with your corded pressure washer. What they do offer you though, is total freedom and mobility to undertake various home and garden tasks which you would not normally be able to do with a pressure washer.
I hope the above The best 8 cordless jet washers guide gives you some food for thought and assists you to make an informed choice you when you are looking to purchase one. They make a great addition to your home and garden amoury.