Reading Time:
16
minutes
Good gardening shoes for women and men are an essential 'tool' like a garden fork or gardening shears for many of us these days. 
Gardening shoes protect your feet from getting dirty and keep you comfortable while gardening. However, it can be difficult to find the perfect gardening shoe that fits all of your needs. 
In this blog post, we will particularly identify what elements to look out for when buying gardening shoes to ensure you get the best gardening shoes for women out there!
It should be noted, although this post is generally aimed at gardening shoes for women, a lot of the general points raised here will equally apply to men's gardening shoes and or boots.
If you spend a lot of time in your garden or allotment, sensible gardening shoes will protect your feet and to some extent your back, from a variety of potential problems.
We all want gardening shoes that are comfortable to wear and work in. It is difficult to enjoy your gardening if your feet start hurting and you have pain from wearing the wrong shoes all day.
That said there are many different aspects of gardening that may require specific footwear, so finding suitable gardening shoes can be a challenge.
The best gardening shoes for women and men should also have a wide toe box and good arch support.
A gardening shoe should be durable for those tougher jobs around the garden, but also have good traction, with a strong grip; particularly if you go near ponds or wet areas often, gardening shoes with a good grip are important to have.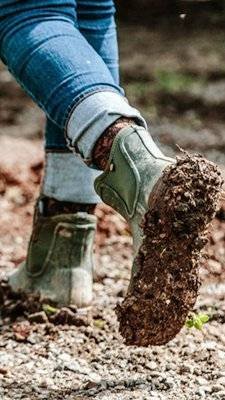 Gardening Shoes For Women - A good grip is important
Your feet are also likely to swell slightly while gardening, so it is important to find gardening shoes that provide enough room in the shoe for your feet if they do expand and are made from breathable materials perhaps.
Ankle height maybe something else to consider as well. You may want gardening shoes that will stay on your feet, but also go up to the ankle so they protect your entire foot!
Do not worry about your foot fashion either, these days, there are some pretty stylish gardening shoes for women and men that will keep your feet dry and protected — without compromising on your style.
Are Wellies Good for Gardening
Wellies are probably the best-known type of gardening shoes for women or men.


Wellies provide some ankle support; however, they don't offer much foot cushioning so you might want to wear thick socks inside your wellies and take off your wellies when resting to give your feet a break.


Wellies are not made from breathable materials either, but they do offer a good foot grip and are waterproof, as they are made of synthetic rubber.


Wellies are ideal when you garden in generally wet muddy areas, where grip and protection from the wet are paramount.
Are Crocs Good for Gardening?
Crocs are a type of shortened slip on wellie often called 'Gardening Crocs' or 'Gardening Wellies'. Gardening Crocs come in both men and women's sizes, and their appearance these days tend to be quite stylish.
Gardening Crocs are light and cushion the feet well, therefore comfortable to wear over long periods of time.
These types of gardening shoes are not suitable for wet/damp conditions or where physical gardening like digging, lawn mowing and or strimming are concerned, as there may be some protective safety issues with this type of footwear.
Gardening Crocs generally have good grip and are rather cheap compared with the other types of  gardening shoes for women that are available.
How Do I Choose a Garden Shoe - Points to Look Out For
Points to Look Out for When Buying Gardening Shoes
Depending on what type of gardening you are undertaking look for these important points when buying gardening shoes:
Comfort and Support (especially ankles and foot arches)
Soft But Firm Non- Slip Soles.
Fully Enclosed Shoe/Boot for More Intensive Gardening
Waterproof
Breathable
Durability
In a hurry?
If you don't have much time, use the link below to quickly find out my 'Top Pick' for 'Garden Shoes For Women ' available for you on Amazon. You can be assured we only recommend products based on their quality, usability and value for money...
- 'Best Overall'- Joules Wellibob Wellingtons
Gardening Shoes For Women - Top 3 Comparison Table
Product Image
Best Overall
Best Runner Up
Best Under £20
Best Overall
Product Image
Best Runner Up
Product Image
Best Under £20
Product Image
Last update on 2022-06-21
The 11 Best Gardening Shoes For Women
Joules Wellibob Wellington Boots
Our best overall pick for our garden shoes for women goes to the Joules Wellibob Boot.
These stylish ankle-high, hand-drawn, printed Wellibob's are a comfortable and durable gardening shoe/boot.
The Wellibob has almost everything one would look for in a women's gardening shoe/boot.
Lightweight and available in 6 colours/styles the boot is crafted from 100% hardwearing natural rubber. 
This very comfortable gardening boot features strong flexible 'water dispersing' outer soles for better grip in wet conditions.
Water-resistant rubber uppers ensure your feet stay nice and dry all day long, no matter what the weather or the environment. Being made of rubber ensures these boots can be easily cleaned and then 'wiped off' with a damp cloth.
With an 'elasticated' side gusset, these boots are also easy to 'slip on' and off via the use of the large 'finger loop' at the back of the boot. Unfortunately, this does not give much ankle support.
Available in 'true sizes' from UK 3 – UK 12, unfortunately, there are no half sizes available. The Wellibob's carry a 1-year 'welly guarantee' from the manufacturer. 

Muck Boots Women's Muckster II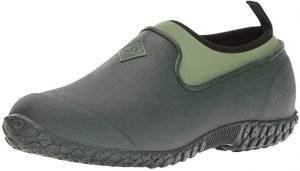 When gardening, the most important thing you need to equip yourself with is quality gardening tools and gardening clothing.
Quality gardening clothing not only makes gardening more comfortable but can also be a lifesaver in extreme gardening conditions.
Muck Boots Women's Muckster II is a gardening shoe for women which provides excellent comfort and protection from any gardening challenge you may face.
Made by the Muck Boot Company and available in 4 colours/styles, are the only gardening footwear company to be endorsed by the RHS (Royal Horticultural Society) in the UK.
With this type of endorsement, we are pleased to include the Muckster II amongst our top ten women's gardening shoes.
Whether you're pulling the weeds, walking your dog or just nipping to the shops these garden shoes are ideal for the unpredictable British weather and perfect for slipping on and off with ease.
Fully lined with 4mm neoprene for flexibility, the neoprene uppers will keep your feet dry while staying 'lightweight' so that it doesn't feel like lugging around a wet towel all day long!
A 'breathable' air mesh lining keeps the shoe cool on warmer days by regulating the air circulation assisted through the shoes NZYM™ odour control and moisture management.
Flexible rubber soles (a substantial sole for digging) make this shoe versatile enough to handle any garden situation from heavy mud to puddles of water, yet the shoes are still able to grip and shed dirt quickly and efficiently. This can be done without damaging the shoes protective qualities of being waterproof and 'breathable' due to the 'neoprene' stretch-fit binding at the top, which also prevents unwanted dirt entry. 
This shoe however does not provide any ankle support due to it being a shoe and not a boot. They do provide good arch support though for even more comfort.
Available in 'true to fit sizes' from UK 2 – UK 11,  there are also half sizes available. The Muck Boots unfortunately only seem to carry the UK standard 12-month warranty for returns of faulty goods. 

Dunlop Short Leg Half-Height Wellies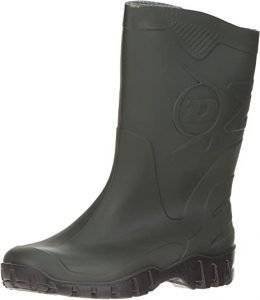 Our budget garden shoe/boot comes in the form of the Dunlop Short Leg Wellie, with extra-wide calf.
The short-leg wellie is available in 3 colour styles and is simply made from a synthetic upper and hard-wearing 'hi-grip' rubber sole, providing exceptional grip and durability in the wettest of conditions.
Reasonably light and 100% waterproof, the Dunlop Short Leg wellie is just 12in (30cm) high including the 1.1in (3cm) heel.
The man-made inner will provide the wearer with a lot of comfort, due to both the boots 'soft' tops and 'insole' and gardeners can easily wear this boot with a good thick sock. 
The Dunlop also offers some, but not the greatest of support/protection for the ankle, or arches which is often an important feature in a good gardening boot.
Available in women's 'true fit' sizes, which are UK sizes from 2.5 to 11, half sizes are also available. The manufacture advises/suggests that these boots are only suitable for those with a 'medium/narrow' shoe width. 
Most users advise the boot is an easy pull-on/pull-off type of boot, however, some have had difficulties putting the wellington boot on and taking them off. One can always buy a 'Welly Boot Remover' if you have difficulty
It should be said that this is one of, if not the top-selling Dunlop boot and we can see why as it is 'Dunlop' quality and terrific value for money for a garden boot/shoe.
These boots carry the normal UK consumers warranty, should you find there is a problem with the manufacture of this boot. 

AmojiI Unisex Garden Clogs
The Amojil Garden Clogs are one of the best garden clogs on the market!
Available in 11 colours, these multi-use lightweight clogs have a 'pull-on' closure and are ultra-lightweight!
They're made from a super-lightweight synthetic material and have a cushioned insole and arch support for extra comfort, with the EVA (resin) sole providing a non-slip design, and exceptional grip.
The outer is also made from durable synthetic material – they'll last you for years!
These shoes are great because they're so versatile; you can wear them in the garden, on camping trips, or even on rainy days when you don't want to get your nice shoes wet. They're also easy to clean; simply hose them off with water and leave them out to dry.
With lots of ventilation holes, these breathable clogs are specially designed for any outdoor activities or even working around the house while your feet stay cool. The 'strap' can be 'flipped' to the back for added stability. 
Available in 'true to fit sizes' from UK 3 – UK 11,  there are no half sizes available, unfortunately. The manufacturer advises the clogs are suitable for 'normal' width feet. Being clogs there is no ankle support, which some may require in a garden shoe/boot.
Thinking about buying a great gift for a gardener? Then the Amojil unisex clogs would certainly make any gardener very happy male or female.
Warranties fall under the UK consumer regulations for these types of goods, which is around 30 days from the date of purchase.

Crocs Women's Jaunt Shorty Boot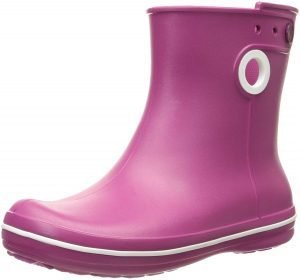 The Jaunt Shorty Boot made by Crocs is one of the lightest rain and or gardening boots around. 
Its Croslite foam (TM) foam construction gives you plenty of cushion, offering you all-day comfort and support, which helps make this the perfect women's gardening shoe.
However, potential purchases should be aware that there is no insole with this boot, should there be a need for an insole, potential buyers should purchase them separately. The boots are also unlined.
The Jaunt Shorty Croc rain boots are available in 9 striking colours, all with 'pull holes' at the top of the boot to allow for quick and easy fitting and removal of the boots. The rubber outsole and the 'racing stripe' design also make this a stylish footwear choice. 
These rain boots are 'fully moulded' with a rubber outsole which improves traction in wet and or muddy conditions, like all Crocs cleaning is a simple matter of washing them after use, and allowing them to dry naturally. The Jaunt provides some ankle support/protection, and arch support which is always a good feature in any boot. 
Available in true to size UK 2 -10 (no half sizes unfortunately) the Jaunt Shorty rain boots are big enough to accommodate gardening trousers that are worn over the boot or for those who like to have their trousers inside there boots they can.
The warranty on Crocs™ footwear applies to defects in materials and workmanship for 90 days from the date of product receipt. If a defect occurs within this time, please contact our Customer Service.

Womens Backdoor Garden Clogs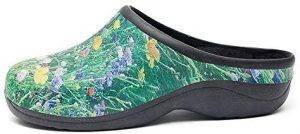 Garden clogs are becoming ever more popular as the footwear of choice for the gardener. 
These waterproof comfortable slip-on women's clogs by 'Backdoor' are made and designed in the UK.  These clogs come in 8 attractive bright and colourful garden/animal print designs. 
Comfortable, non-slip, wide and roomy, and weighing a mere 10oz (200g) these gardening clogs are extremely lightweight and it is possible that you will forget you even have them on.
Suitable for a multiple of uses besides the garden, these practical clogs will undoubtable be your go to 'shoe' around the home , ensuring the user all day comfort. 
Easy slip on/slip off and available in 'true to size'  fitting, UK  2 -10.5, we are sure you will find a size that will fit you perfectly.
One nice little 'feature with these clogs is the removable and washable white/black textured insoles, ensuring freshness inside your clogs all day.
This insole can be washed in the washing machine on a max 30 degree cycle. The clogs themselves just need a wash in cold or warm soapy water occasionally and or when muddy. Just don't use hot water as this may damage the foam material.
The manufacture offers a 12 month guarantee on every pair of Backdoor clogs from the date of purchase, based on normal wear. The company also provides an 'exchange' policy for those purchases who may have ordered the wrong size.
This policy however only applies to UNWORN shoes.  You will be expected though to pay the postage back it would seem.

Joules Women's Molly Welly Wellington Boots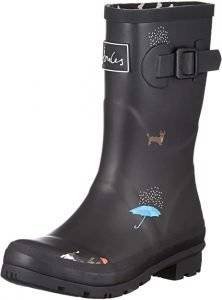 The Joules 'Molly Welly' Wellington Boots are suitable for a wide range of ages and sizes, so you can be sure that Joules have something to fit everybody if you're looking for a sturdy boot to provide some ankle support when in the garden and or outdoors.
With removable insoles and made from high-quality natural rubber sole and outer, the Joules rubber boots are a good choice as a women's gardening boot. These quality boots are mid-height, (good for bigger calves) 100% waterproof with 'seams' that have been securely sealed to make sure water doesn't get in.
The water dispersing rubber sole is especially good as it was carefully designed to provide better grip in wet and muddy conditions.
If you get them dirty, simply wipe them clean with a damp cloth and ensure they are dry before storing them away.
The boots have an adjustable side strap and buckle that ensures a comfortable fitting. With a great fashionable design, you will certainly not go unnoticed.
Joules boots come in a selection of stylish colours and designs, a staggering 25 in total!! So you can be sure that Joules will cater for your tastes as well as your own personal expression.
The good news is these boots are flexible and lightweight, and Joules offers a 12-month 'welly guarantee' on this product.
Available in 'True to Size UK 3 – 11, unfortunately though, these boots do not come in half sizes.

Eagsouni Breathable Mesh Garden Clogs
The Eagsouni women's breathable mesh gardening clogs are perfect for gardening, and multiple other outdoor pursuits.
The unique breathable mesh structure provides incredible air permeability and fast-drying performance while keeping your feet cool and dry.
The lightweight clog design provides exceptional comfort enabling you to wear them all day long.
The EVA rubber outsole maximizes traction on any surface.
These carefully crafted, simple mesh gardening clogs are made with high-quality materials for a comfortable and breathability. Another small feature is an adjustable strap for a more customised fit.
Inside, a comfortable and breathable lining design with a removable insole, moisture-wicking are antibacterial and will keep your feet dry.
If you are in the garden a lot and over long periods, even if you wear them all day, 
"your feet won't feel tired". Which is quite a statement from the manufacturer.
Available in half sizes and are true to size fit – UK 2 -10 and with over 20 stylish designs and colours available, these Eagsouni's 'pull on' gardening clogs will certainly make you stand out in a crowd.
The manufacture has however stated that prospective purchasers should purchase a size larger than their actual foot size as "the slipper are a little small"
Should they get dirty these Eagsouni garden clogs are fully machine washable. 

Sloggers Women's Waterproof Garden Shoe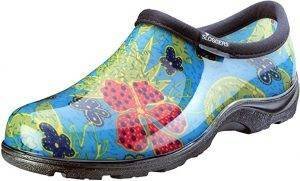 Made in the USA, the Sloggers Women's Waterproof Garden Shoe are the original all-weather, waterproof garden shoe. They have been helping gardeners keep their feet dry for over 20 years. While the classic rain boot look has become a favourite among gardeners everywhere!
The Sloggers garden shoe is one of the most comfortable and practical shoes you can own. The upper is made from a durable, waterproof synthetic material that will keep your feet dry and protected all day long.
Just slip into 'waterproof comfort' with the 'Flower Power' print and get noticed in your garden and be the envy of your friends.
These shoes are non-latex and vegan friendly with moulded arch support for comfort. They have an outer sole of rubber with a tread pattern that provides excellent traction on wet, muddy or slippery surfaces. The upper is synthetic, and the shoe has a pull on closure. A durable sole with a heavy-duty lug tread contains up to 100% recycled material 
An exclusive "All-Day-Comfort" insole with great arch support adds extra cushioning underfoot for all-day comfort. 
Available in 14 different beautiful, original colours and styles with UK true fit sizes from 4 – 10.
Finding the correct size can be difficult base on foot size and width. For example, if you are medium width size 7, order a 7  if you are a 7.5 order an 8. If you have wide width feet then if you're an 8  or 8.5 order a 9  and finally if your narrow width, if your a 6 order a 6, if your 6.5 order a 7. 
In all half-size cases, it is advised to purchase separately a 'half sizer insole' for a more perfect fit.
Warranties are in line with UK requirements with no extended warranty advised by the manufacturer.

Sloggers Women's Garden Boot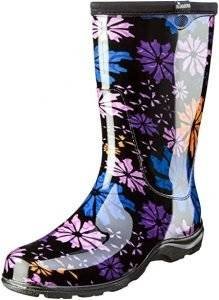 Sloggers Women's  Spring Floral Collection Garden Boots are the perfect footwear for gardening.
Made in the USA, these 'Sloggers' are a great choice for gardeners or anyone who spends time outside in wet, damp and or muddy conditions. 
Sloggers mid-calf 10″ (25cm) rain and garden boot uppers are made from 100% recyclable, medical grade material, so they have a soft feel and produce no odour, and will last for years.
The built-in insoles provide all-day comfort, while the heavy-duty lug tread provides traction on wet surfaces. 
The boots can be easily hosed off to clean them, making them ideal for use in muddy conditions. 
The durable heavy-duty sole contains up to 50% recycled material and when you're finished with your boots, you can send them back to Sloggers and they'll turn them back into a new pair! How's that for "reuse and recycle"?
These 'waterproof' boots have a full-length, cushioned footbed that will keep your feet comfortable all day long. As it's a wellie 'boot' some support is also given to the ankle, but not that much.
These garden boots come in 13 different styles, so you're sure to find a pair that fits your own expressive individual style!
Finding the correct size can be difficult base on foot size and width. For example, if you are medium width size 7, order a 7  if you are a 7.5 order an 8. If you have wide width feet then if you're an 8  or 8.5 order a 9  and finally if your narrow width, if your a 6 order a 6, if your 6.5 order a 7. 
Available in whole sizes only, UK 4 -10  fits 'true to size'. Half sizes order up.  In all half-size cases, it is advised to purchase separately a 'half sizer insole' for a more perfect fit.

Ladies Peak Lace Waterproof Boot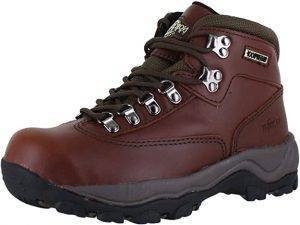 The Peak Lace Up Waterproof Boots by NorthWest Territory is an ideal choice for gardeners who undertake more 'intensive' gardening and require a tough no nonsense boot/shoe to stand up to the vigour's of what your garden can throw at you.
This boot has been designed to keep your feet dry and comfortable while working in harsher British  conditions. 
The uppers are made from premium full grain leather, and are 100% waterproof, which will "only get better with age" according to the manufacturer.
The uppers also feature an 'adjustable' classic 4 eyelet, 2 hook fastening, lace hook and loop strap, for added comfort and tightened support around the ankle.
This lightweight boot has a 'fully padded' insole, and 'hydry' membrane lining offering great 'support' and cushioning for all-day comfort.
The fully breathable membrane allows air to circulate in order to keep your feet cool throughout the day. 
This 'Ladies Peak Boot' has been finished off with a sturdy rubber tread sole, making it perfect for use on wet, muddy or slippery surfaces.
Available in 'true to fit' sizes (unfortunately no half sizes) UK 3 – 8 and 3 (Brown) colours. Spare laces are included with the purchase the manufacturer advises.
Warranty is based on UK standard warranties for such a product.

The 11 best gardening shoes for women are all listed on this page. If you're a woman looking to buy your first pair of comfortable, fashionable and durable garden shoes or boots then be sure to start with these fantastic products!
We've done the hard work so that you don't have to, gathering ten of the best options in one place. Each shoe/boot here has been recommended according to quality, style and value for money based on individual needs of gardeners – we hope our buyer's guide will help make choosing your new garden footwear an easy task.
Which boots/shoes do you prefer?
If this article has helped you in any way then please share it amongst your family and garden-loving friends or anybody who might be looking at getting their own grass strimmer soon. 
Finally, you can always pop over to our FAQ page to find out more about garden shoes, boots, and a whole host of other answers to your gardening questions and queries.