Reading Time:
18
minutes
New to the UK market, robot lawn mowers are becoming increasingly popular as a hands-free alternative. 
A robotic lawn mower is a great alternative to traditional petrol and or electric options because it's fully automatic. It can be particularly helpful for those who have mobility or time concerns and or lack interest in mowing the lawn or garden chores generally.
A robotic lawnmower allows gardeners the opportunity to continue using their preferred method of cutting grass without having the more physical labour side and time constraints on their plate while also being able to remain hands-free throughout this process and do something else in the home and or garden. 
Powered with rechargeable Lithium-ion batteries these robot lawnmowers work by simply laying a 'boundary cable' around the edges of your lawn or area to mow. This helps these machines to identify obstacles such as flower beds, trees etc., making sure they stay out of harm's way so nothing gets damaged during there use.
To help you find the best robot lawn mower, we've done some extensive research on a variety of brands. We considered value for money, battery life and cutting lengths to make it easier for you to decide which one is right.
Best Robot Lawn Mowers
If you don't have much time, use the link below to quickly find out my 'Top Pick' for the 'Best Robot Lawn Mowers' available for you on Amazon. You can be assured we only recommend products based on their quality, usability and value for money...
- 'Best Overall'- The Stihl RMI 422 Robot Lawn Mower
Best Robot Lawn Mowers: Using a robot lawn mower allows gardeners more freedom to do other things
Robot Lawn Mowers - Our Top 3 Picks
Product Image
Best Overall
Runner Up
Best Under £600
Model/Make
Gardena Smart SILENO Life
Lawn Size Suitable For m2
Best Overall
Product Image
Lawn Size Suitable For m2
Runner Up
Product Image
Model/Make
Gardena Smart SILENO Life
Lawn Size Suitable For m2
Best Under £600
Product Image
Lawn Size Suitable For m2
Last update on 2022-05-20
How do Robotic Lawn Mowers Work?
Robotic lawn mowers work by detecting perimeters and obstacles through sensors or boundary wires. They change direction to avoid leaving the lawn when they sense a perimeter wire, many have collision sensors so that if it bumps into an object, it will turn around and head off in another direction.
For thorough lawn coverage, most mowers move in a random pattern. Some models use GPS technology to program-specific paths and allow users to monitor the device's progress from an app on their phone or tablet. 
When it is finished cutting grass, or if its battery starts running low, the robotic lawnmower will automatically return back home where it recharges itself at its docking station before starting up again for another round of work.
Best Robot Lawn Mowers - Buyers Guide
Stihl iMow 422P - Robotic Lawnmower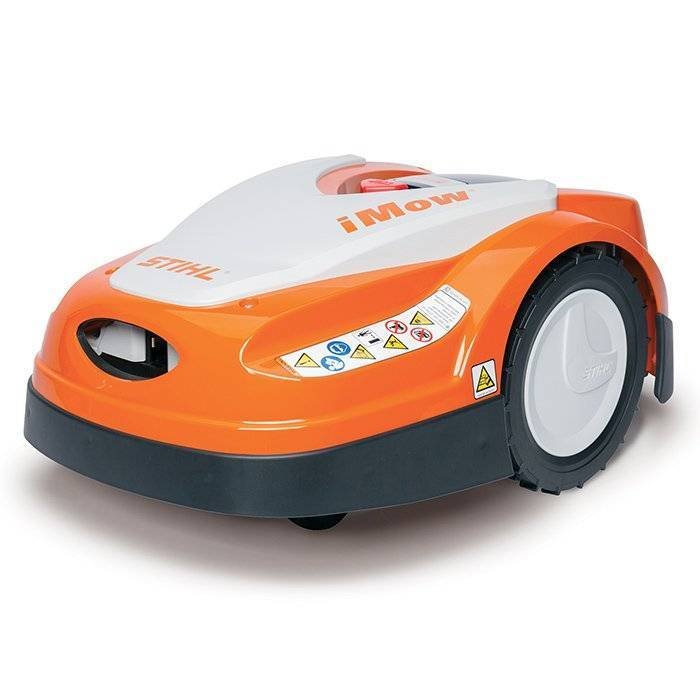 Considering the price the Stihl iMow 422P comes with many great features and a long warranty.
Firstly to get started with your new robot mower, we strongly advise that the installation and set-up process is carried out by a professional in your area conversant with either Stihl or robotic mowers generally.
Your local specialist will assess your lawn and boundaries to help you lay wire around any features such as a tree, flowerbeds or a water feature perhaps. You should request that they talk through programming with you, so that the iMow cuts exactly when and where you want to do so!
The mower is simple and intuitive to use with clear instructions on the keypad. With a cutting width of 20cm and fifteen different cutting heights between 20 – 60mm that can be easily set by adjusting a 'rotary knob' at the top of the machine.
Once programmed though it requires little adjustment thanks to its autonomous adaptive system.
The iMow is a nifty and quiet lawnmower (around 60dB) with one steel rotary blade that's excellent for mulching. It cuts well, but it can occasionally get stuck on wet ground or tall grasses. The self-adjusting speed depends upon the conditions of your yard – even slopes up to 22° (40%)
This model has no app connectivity. However, its features include its 'intelligent performance' which allows it to remember how much area it has mowed and what is still left to do – if the battery runs low then it will quickly recharge itself at the docking station and return to complete the job it started.
On returning to the docking station after completion it will charge at a slower more economical rate, which saves energy while prolonging the life of the battery.
Lightweight around 20lbs (9kg)  with a battery recharging time is around 90mins, cutting time is around 75 mins on a full charge.
The iMow can vary its cutting time to determine the best time for mowing within a programmed week and sensors help it avoid the rain while ensuring that there is minimal additional programming needed once set up. 
The iMow provides security against theft via a PIN code system. The mower will stop working if picked up while in motion by unauthorised persons
With a 5-year warranty, this is an excellent mower for its price. It's well made, cuts to a high finish, and is easy to use. 

Gardena Smart SILENO Life - Robotic Lawnmower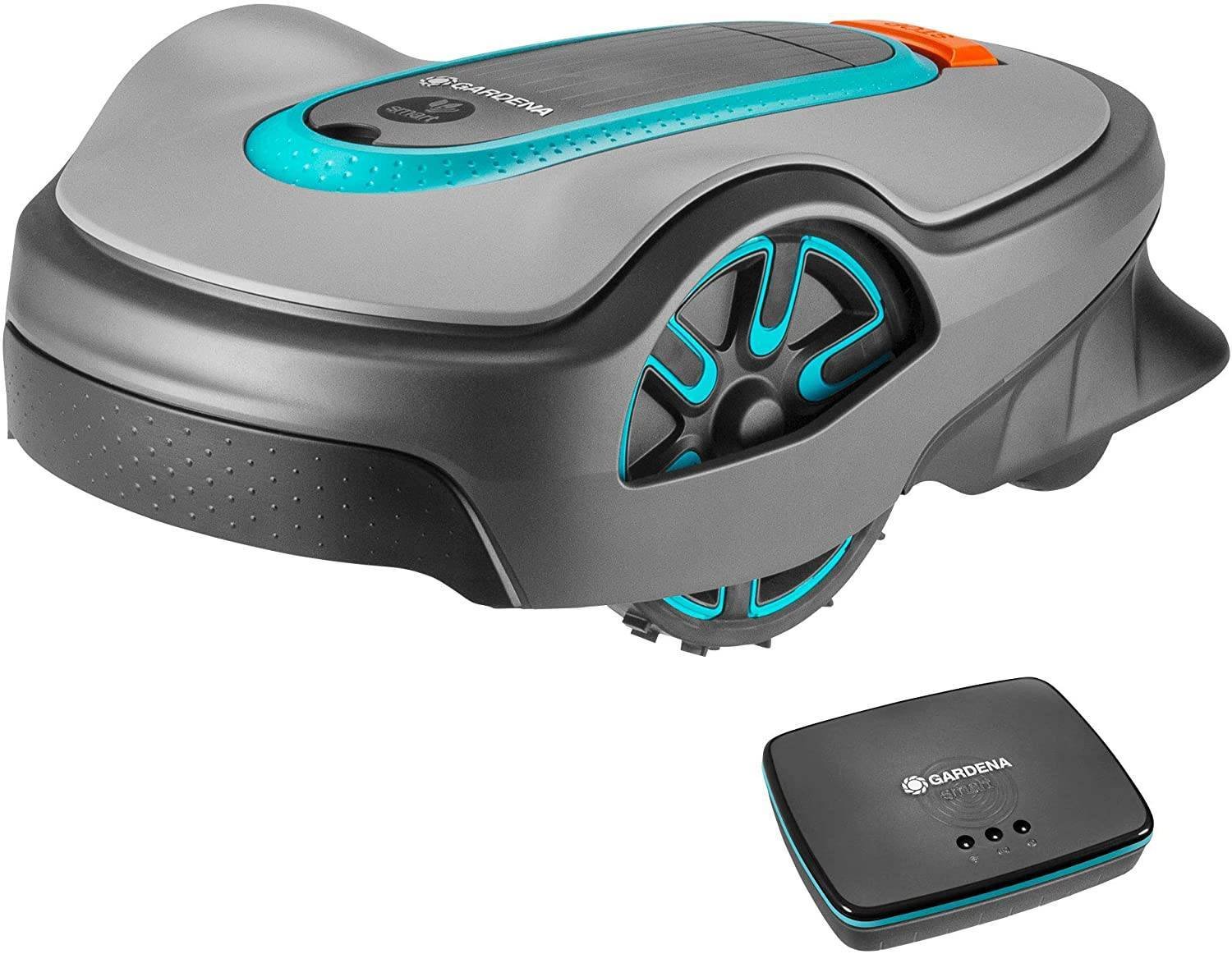 The installation of the Gardena Smart Sileno is fairly self-explanatory and comes with a helpful guide, as well as plenty of video guides online.  This robot mower works well if you take the time to read through the guides slowly and carefully.
With the Sileno, there's already added work and potential stress compared to other DIY models due to additional wiring.
If you lay the wires wrongly even slightly, then you may have to redo laying them again because it has both a boundary wire (which defines the perimeter of your lawn) and a guidewire to help the mower get back when finished or needs recharging.
To better protect the boundary wire and avoid it being cut by the lawnmower or other tools, you should bury your wires instead of 'pegging' them down. For example, you may cut them when 'trimming' the grass if the mower has missed some edges during its operation.
The docking station also needs to be placed on a wide clear space, but this may limit your options for where you can place it, which can be frustrating.
The Sileno is easy to program though using the keypad, with step by step instructions to follow and answer, but it's even easier using 'Smart Connectivity' via Gardena's app. It takes just a few minutes to set up and saves you from bending over the mowers keypad- it's so simple!
Changing the height of the cut (4no) can also be done on top of the mower by turning the rotary dial.
The mower is quiet, (58dB) and lightweight 16lbs (7.3kg) smooth and efficient. Battery run time is around 65minutes and 'charging' up the battery has a similar amount of time at around 60 minutes.
It leaves a clean finish and has a 9in (22cm) cutting width, but it does leave 'wider' edges than other models which need to be trimmed by hand yourself. If your lawn has an incline the unit can handle slopes up 19° (35%) and fit through narrow passageways of about 24in (60cm).
The Sileno is an intelligent lawnmower with a 'sensor control function' that adjusts cutting according to the rate of grass growth. The 'spiral mowing' function allows it to cut clumps of lush grass, such as under a garden trampoline or around trees without leaving any uncut areas in its wake. 
For security, there are 'lift sensors' and PIN code operation along with an alarm system for added protection against theft.
The Sileno has a great cut, is simple and easy to use, and gives you the potential for 3 years of warranty coverage (given after registration online), and covers up to medium-sized lawns. 
Its good value for money given its amount of features and capabilities!

WORX WR130E S300 Landroid - Robotic Lawnmower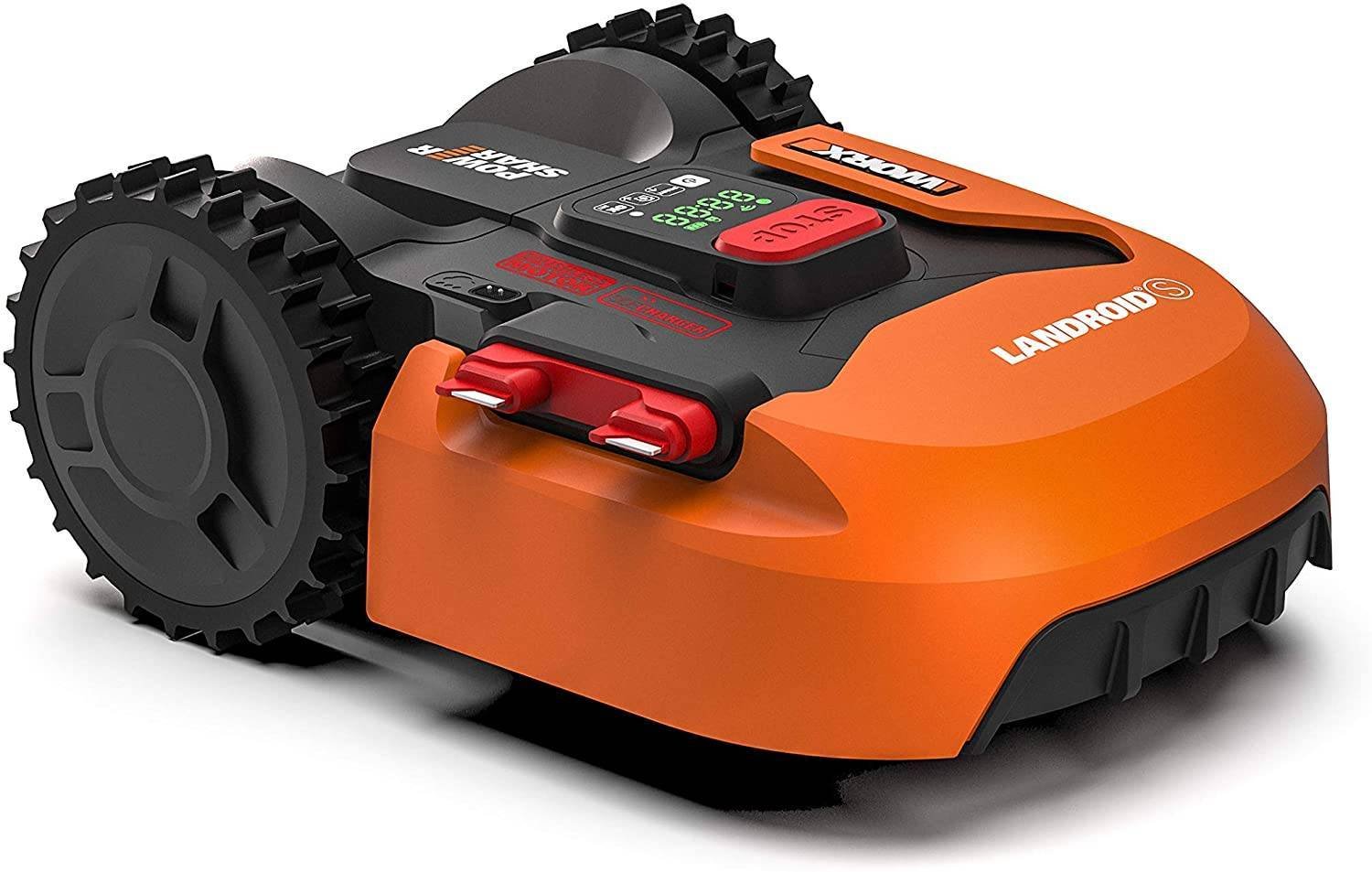 With a sleek appearance, the Worx Landroid S300 WR130E is one of the cheapest robot lawnmowers on the market.
It's easy to use and lightweight at 17.6lbs (8kg) and comes with some useful features, but it has its limitations. This compact machine works quietly (65dB) and efficiently in your absence. 
After getting the boundary wire and charging unit set up, you will find a green light that signals your boundary is ready to use. The installation isn't hard if you follow the instructions carefully. A red light shows if there is a break in the boundary wire, so you can check for any issues with it at the time of installation.
After following the installation instructions, it should take about 2 hours to set up this robot lawnmower on a 300m2 lawn. One of the most important things about installing your own robotic lawn mower, is ensuring you read the instruction manuals before beginning. I recommend taking the time to reading through each step in order to avoid any problems further down the line even if this means slow progress at first!
One tip and one of the most important things, is leaving enough space between the edge of your lawn and any boundary wire for proper performance.
The docking station must be located on the lawn giving the mower a clear 31in (80cm) straight path into it and a 12in (30 cm) path out, which limits where you can place it.
There are two options for programming this robot lawnmower: either by using the QuickStart instruction manual and inputting all of your settings to a programmed keypad on top of the machine or through an app that works with 'smart connectivity'.
To get started, simply put in the battery and turn it on. Enter a pin code to start using your mower's app! You can change general settings via the keypad or phone, regular software updates are available either through Bluetooth and or Wi-Fi connections.
The cutting height (between 20-50mm) can be adjusted by rotating a knob on the side of the unit. Also, when charging, there is a green light that flashes and turns continuous when fully charged.
The Worx Landroid S300 WR130E robot lawnmower features three small pivoting blades on the cutting disc, which give it a very quiet 18cm-wide cut. The mower comes with nine spare blades for convenience.
This mower also has intelligent programming, which means it continuously maps your lawn until the 2Ah battery gets low, at which point it will return to the charging base and recharge before continuing from where it left off.
The Worx S300 is able to handle lawn inclines up to 15° (25%), and cuts in a zig-zag pattern that looks neat and stripe free. It's able to navigate through narrow passages, which is one of my favourite characteristics of this mower.
The mower also turns efficiently, rather than constantly reversing which results in a quicker cut and protects the lawn from too much wear-and-tear. This is another great feature that not all mowers have.
One drawback, the Worx S300 is not efficient in cutting to the edge of your lawn, so you will need to do that separately. It has a 90-minute runtime and takes a whopping 240 minutes for its lithium battery to charge up again.
This robot mower ensures your safety with a responsive stop button next to the keypad and will automatically shut down if it's lifted off of the ground. 
Not only does this unit have a locking system and alarm, but the mower also has rain sensors that send the mower back to base until there is no more rainfall. After this delay, however, the countdown for when it will go back out begins at 180 minutes; though you can change or override this on your phone app.
Another small but nice feature is the charging base which has holes, which allows grass to grow through and blend with the lawn. 
The WORX Landroid is an entry-level model with limited features, but it's considerably cheaper than many robot lawnmowers in the marketplace. For this reason alone, we think this robot lawnmower represents excellent value!
The interchangeable batteries are compatible with other Worx tools like the battery-powered strimmers or their cordless jet washers as well, so you get all the benefits that come along without breaking your bank. It also comes with a 3 year warranty which makes us confident that it won't be disappointing to buy at its current cheap price tag either.

Flymo 1200 R - Robot Lawn Mower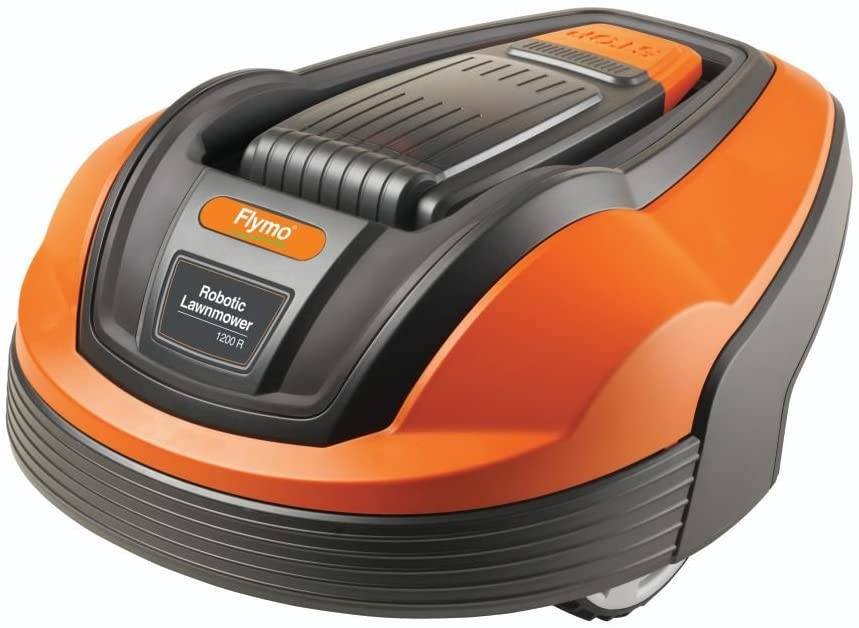 The Flymo 1200 R robotic lawnmower is a quiet (58dB) simple but efficient mower that is suitable for any garden up to  about 400m².
With the help of a clear instruction booklet and video guides online, setting up your 1200R mower is not difficult. However, it's important to follow each step exactly in order for this lawnmower to work properly.
With this robot mower, there are 2 wires to install. The 'boundary wire' defines the perimeter of your lawn, while the 'guidewire' helps it find its way back to the docking station when its finished or needs recharging – so installing them is already more work compared with other DIY models.
Battery run time is around 65 minutes and recharging is quite quick at around 50 mins for a full charge.
The docking station is larger than most and bright orange/black in colour, which can bother some people. Also, the large 'clear' area that this unit demands around 36in (90cm) means you will have to find a place for it on your lawn, which may not be ideal.
The 1200R has no smart connectivity, but manuelly programming this mower is easy as it only has a few features. The height of the cut can be 'adjusted' by rotating the rotary dial on top of the machine once programmed, and there's not much future input needed thereafter either, unless you wanted to change settings or add more.
This simple robot mower only has few features but this reflects in its price. Some of these features include PIN code operation, security alarm with a 'lift sensor system' in case of unauthorised removal. 
There are 3 free-hanging blades that move smoothly and quietly over most edges, giving a cutting width of around 6.5in (17cm). The cutting heights (4 no) for this mower can vary between 3/4in (22mm) – 2in (50mm) but cutting can leave a 'strip' of about 5in (12cm) around 'raised beds' and the like that will need trimming by hand.
This mower is capable of mowing slopes up to 15°, (25%) also the narrowest mowing lawn width at around 36in (90 cm) is far wider than some other models available on the market.
One of the cheapest robot mowers out there, the 1200R is an efficient entry-level option with a 2 year warranty.

Landxcape LX799 - Robotic Lawnmower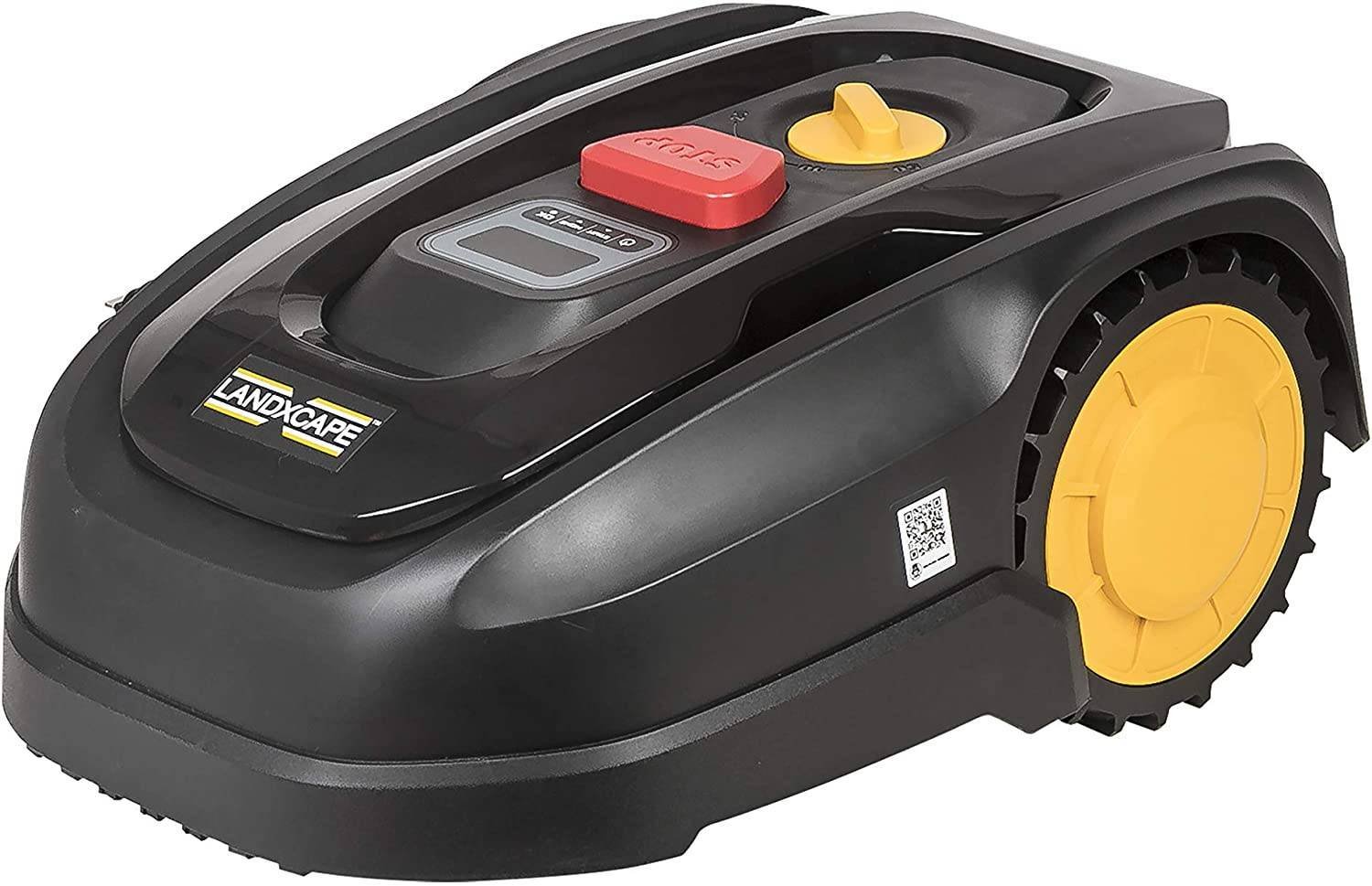 The Landxcape LX799 Robotic Lawn Mower is the perfect economical solution for small gardens up to 300m².  
It cuts your lawn with a single push of a button and automatically returns to its charging station when the battery is running low.
The robots various settings are changed and the Landxcape is controlled via the keypad as there is no smart connectivity via an app for this mower.
The 'waterproof' LX799 has a three-blade mulching system and that can mow the lawn, and adjust the cutting height of between 20-50 mm via a touch of a button.
The blade disks rotate in both directions so that the blades are worn evenly on both sides. This is a 'self mulching' mower, meaning that the grass falls to the lawn and serves as a natural fertiliser, resulting in a healthy green lawn. 
The cutting width of this mower however is quite narrow at 6.25in (16cm) compared to other machines. The mowers cutting gradient is not too bad though for a budget robot mower and is a capable 15° (25%).
The Landxcape has a PIN code that protects against unauthorised mower activation, which is an important feature. In addition to the 'rain sensor '(which will stop the mowing in the event of rain), the Landxcape also has 'lifting and tilting' sensors, which offer additional safety and security, as the blades will stop immediately if the mower is lifted once started.
In this scenario the mower will need to be started again via the pin code, these lifting and tilting feature certainly prevent injuries to children, animals or any other people who may be in its path while it's working its way around your lawn! With bump sensors, it can even navigate narrow or tricky paths easily. 
As with all robotic mowers, the Landxcape LX799 automatically returns to its docking station (docking station is also waterproof) when it finishes cutting, and or to recharge when the battery power is low.
With no programming needed and starting at the simple press of a button, the Landxcape LX799 is great value for money for those with small to medium-sized gardens. 
Besides the 130meters of boundary wire which is included, the Landxcape LX799 has a 3-year warranty, which should make this great budget mower even more attractive to potential purchasers. 

McCulloch ROB S400 - Robot Mower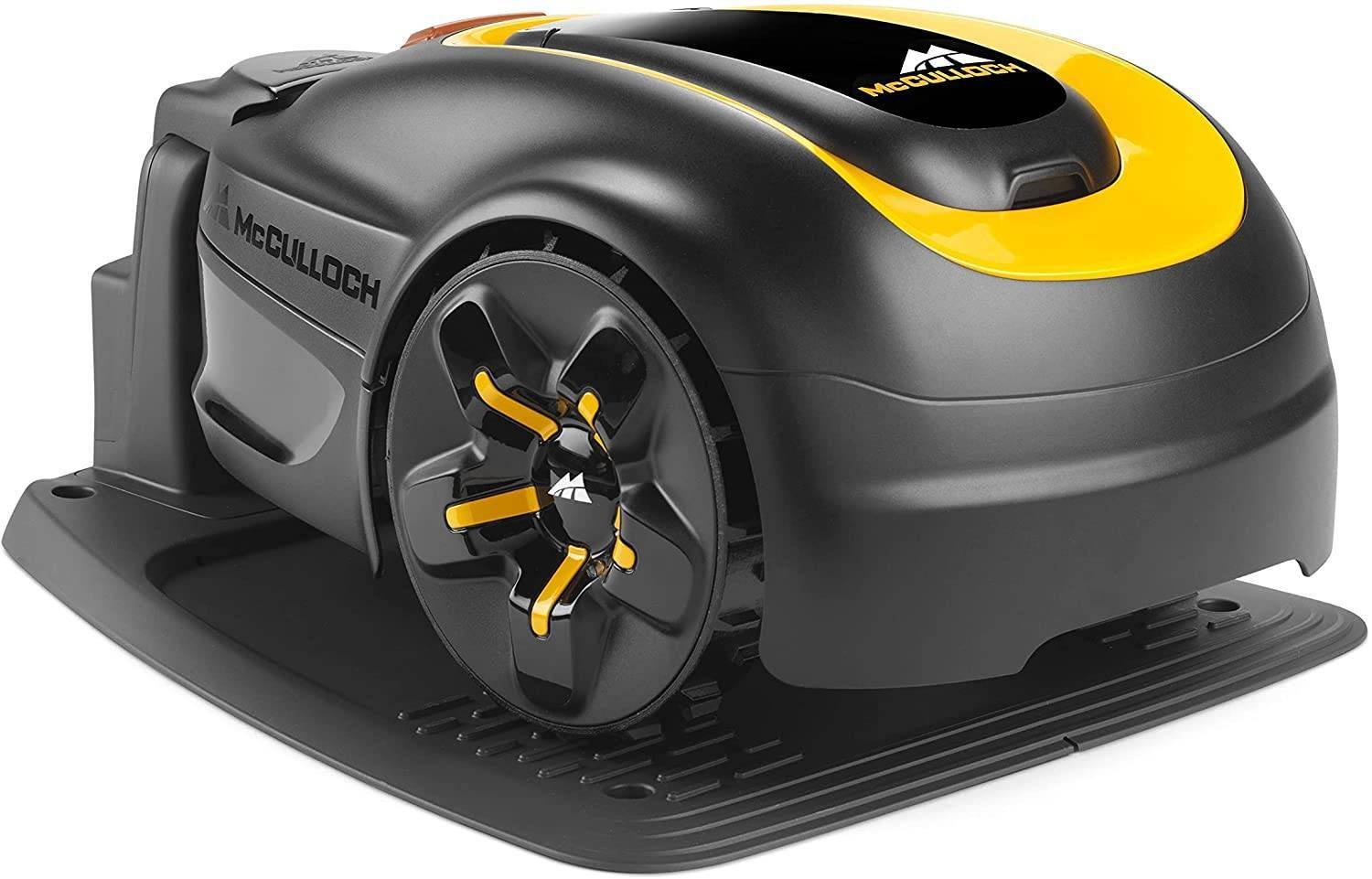 The McCulloch ROB S400 is built for small lawns where the slopes aren't steeper than 19° (35%). 
The ROB S400 robotic lawnmower is designed specifically for gardens up to 480sq yards (400 sqm), although 2 more models in the series are available for larger areas.
This mower is quieter than most when in use, only emitting 57 dB, which is well below acceptable noise level standards in the UK.  That's about the noise level of a normal conversation and can be compared to a regular motorised push mower which reaches around 110 decibels.
With its 'flexible charge station' positioning, (which gives you the freedom to position the charging station anywhere around your lawn) a setup wizard and an intuitive keypad and or smartphone app it is easier than ever to install. 
However easy, many users find robot mowers difficult to set up correctly, we advise you to seek local professional help with the installation if you are not confident in your abilities to install this or any other robot mower.
The ROB S400 is an intelligent mower that will find its way back to the 'docking station' when it needs recharging. The mower can also be controlled and programmed by a dedicated smartphone app, this Bluetooth connection allows users to control the ROB S400 functions and troubleshoot any issues.
This robot mower also features time-saving preset cutting functions as well as schedules for the automatic operation of the lawnmower itself. With 'adaptive technology', you can easily change between day or night cutting modes. Or use special functions such as 'spot-cut' and 'power cut' to help ensure a perfect lawn.
The ROB S400 is a 'self mulching' robotic lawnmower, which produces fine clippings of grass that start to fertilise your garden as you mow. A security pin/ alarm adds an extra layer of protection for your lawn and allows you to leave him unattended as it cuts.
Using an 18 V 2.0 Ah lithium-ion rechargeable battery and utilising a 3 blade rotating disc cutting system: the ROB S400 has a 6.25in (16cm) cutting width and can maintain your lawn evenly by keeping its cut between ¾in – 2in (20mm – 50 mm). Battery life is around 60mins both for charging and actual mowing time.
The mower comes supplied with 165yds (150 meters) of boundary wire and 200 pegs; an installation manual and all the necessary connectors for a quicker, professional installation.
A 2-year warranty is also provided by the manufacturer, this provides users with total peace of mind in their purchase, should you find that something goes wrong along the way..

Lawnmaster L10 - Robotic Lawn Mower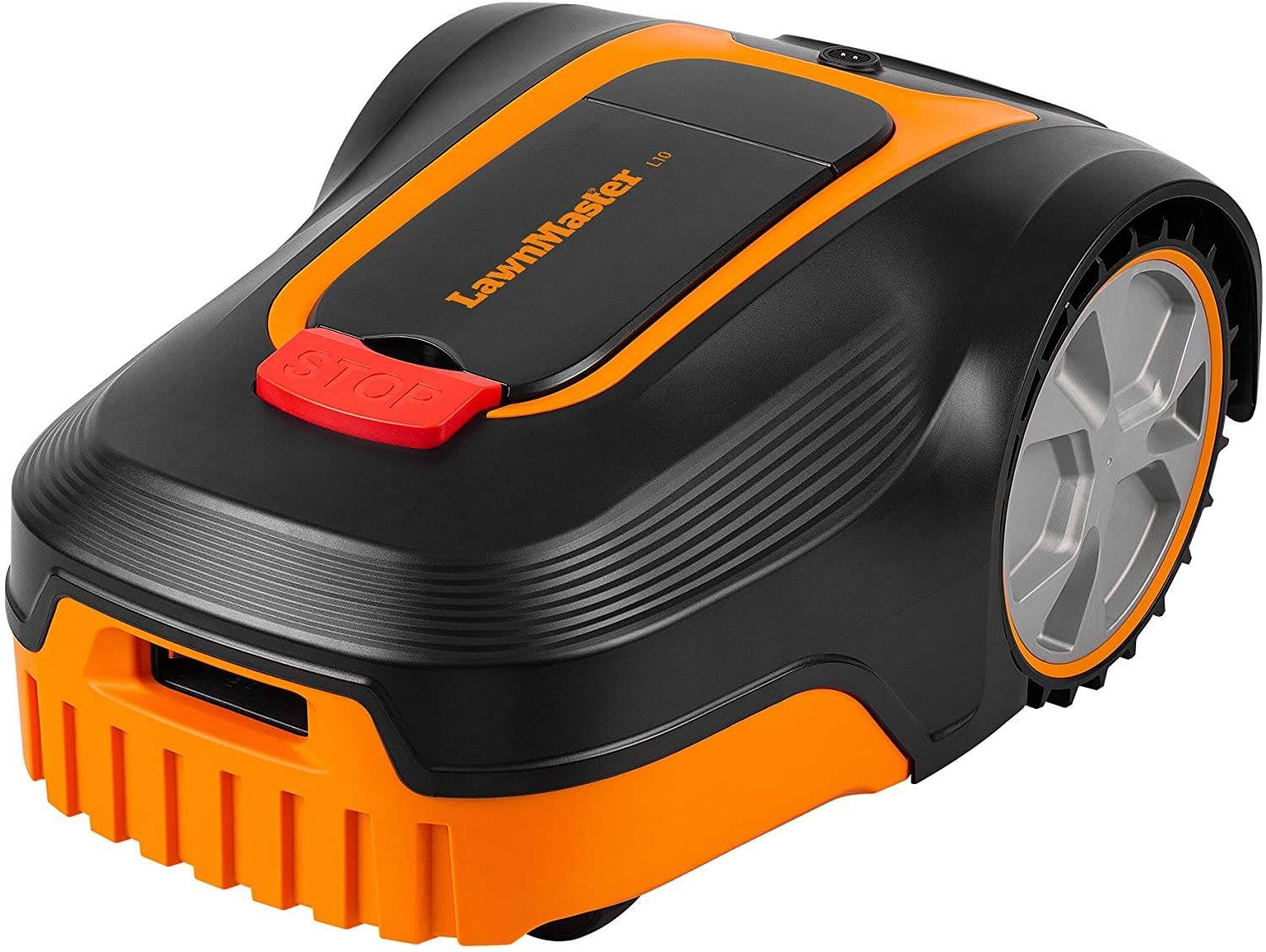 The LawnMaster L10 is unusual among robot lawnmowers, this mower gives you less control than most other makes/models. It will however cover slopes that aren't steeper than 19° (35%) which is comparable with many other makes and models.
The L10 mower uses the principle that if it keeps moving, it will eventually cover every inch of your lawn.
This process is random and difficult to predict since there are no markers or specific patterns for this model of robot mower to follow. However, it works well by just mowing.
Although the L10 doesn't offer a 'smart app' like most robot mowers, you can still control it by using its 'built-in keypad' on top of the mower. After selecting how long you want to run/mow for, and or turning it off completely, all that's left, if in mowing mode is waiting for your lawn to be taken care of!
The LawnMaster L10 is basic then, I hear you say but the price certainly reflects the lack of some more automatic and smart app functionality. Like most other mowers though, once you set the boundary wires the mower will mow but leave around a 30cm strip around the lawn's edge which has to be trimmed by hand. This seems to be a general limitation for all robotic mowers.
Because the mower doesn't connect to a network, nor does it need to be paired with a phone; instead, you simply set the desired length of time based on how long it should operate per day- there are 4,6,8 and 10 hour settings.  The L10 will cut grass until that time limit is 'finished' then return home to charge itself overnight. In the morning its starts work again at whatever point on your lawn it last left off, unless it's raining, in which case its 'rain sensor' detects the 'moisture' of the rain and cancels the mowing.
Like other makes and models the L10 is quiet (62dB) and utilises a 3 blade rotating disc cutting system: the mower has a large 'cutting width' 7in (18cm), which is wider than many other models. The Lawnmaster L10 can also maintain your lawn's height evenly, by keeping its cut between ¾in – 2.3in (20mm – 60 mm).  This is adjusted via a rotary dial on top of the mower.
Battery life for the L10 is around 40mins mowing time which is not particularly good, but charging time (once returned to the charging station) is comparable with other mowers at around 60 minutes. 
As far as safety and security go the L10 has similar features to many other mowers. If the mower is lifted, tilted or bumps into objects it will immediately stop its blades because of the different lift/tilt and bump onboard sensors. 
Simple but effective PIN code protection prevents any unauthorised users from using the mower if it is removed without permission. 
This robot lawnmower is not difficult to set up, as complete step-by-step instructions are provided. Simply mark out the cutting area (up to 400m²) with the boundary wire and pegs that are supplied, position the docking station and you should be good to go. However, I can't reiterate enough that this part of the whole operation is crucial when installing robot lawn mowers.
To provide further comfort to purchasers the manufacturer of the Lawnmaster L10 provides a 2-year warranty on all new purchases.

What are the Benefits of a Robot Lawn Mower?
A robotic lawn mower is an excellent alternative to the typical petrol or electric models. With a robotic mower, you get:
Once installed, you can program it yourself so that the machine cuts the grass as much or as little as you require and as often as you require, so much less work for you.
It's battery-powered, so zero emissions.
Quiet when it runs.
Requires little maintenance from you once installed and programmed to cut your grass regularly.
How to Choose the Best Robot Lawn Mower
Robotic lawn mowers are expensive, but a great investment if you have the money to spare. Prices start at £350 and more, premium models can cost easily more than £2000. 
The smallest robotic lawnmowers are best suited for small or medium-sized gardens. There is also a range of sizes available for larger gardens and the more powerful robotic lawnmowers have blades that can handle even bigger areas up to around 5000m² in size very quickly without any help from humans!
Robotic Lawn Mowers also come with warranties ranging between two years all the way up to five which should give people peace of mind when they make such an important purchase decision like this one!"
Robot Lawn Mower Features
The features of the best robot lawn mowers can vary, but they all have additional benefits beyond being fully automatic.
They may include weather sensors and GPS navigation to help your machine adapt to changing conditions while navigating around obstacles so that it cuts more areas in less time with a single pass.
It is also possible for you to communicate remotely using smart connectivity from any mobile device as long as the model has this feature built-in; you'll be able to track where your robotic lawn mower goes if it's stolen or when checking on how much work it's done during the day without having been home yourself!
Machines in this price range require good security features to ensure the safety of your investment. Some machines only need a PIN code, while others have lift sensors that will sound an alarm if they are picked up and moved without authorisation. Some models have GPS trackers that provide additional protection by letting you know where on earth it is at all times!
Robotic Lawn Mower Requirements
In comparison to traditional, petrol, electric and cordless mowers a robotic lawn mower is a lot more complex to set up.
The very first thing required for a robotic lawn mower is an outside power source to connect the docking/charging station. The mower will then dock and recharge when necessary.
When it comes to the docking station itself, there are several requirements. Ideally, they should be in an area that's out of direct sunlight and level. Most also require a clear space around them – typically two meters in front and one meter on each side.
These requirements can limit where you can place your docking station and may not be possible or ideal when considering small garden spaces.
Before purchasing a robotic lawnmower, it's important to make sure your garden can accommodate one. Some models struggle with narrow passages, uneven ground and steep slopes so if you have some or all these issues in your garden then it's best to choose a model that will suit your layout best.
To get your robotic lawn mower running properly, you will need to follow the installation instructions precisely. The cheaper models can be installed without any professional guidance but it is always better to have a dealer or gardening professional lay out the boundary wire and show you how everything works for trouble-free operation in future.
How do you Clean a Robotic Lawn Mower?
To keep the robotic lawn mower in good condition, it should be checked every few weeks and cleaned regularly. A robotic lawn mower might be automated, but it needs periodic cleaning to stay in top shape.
Ensuring the machine is turned off, turn it over to inspect the blades for damage. Use a small brush and or garden hose on stubborn dirt if needed before wiping down all surfaces with a damp cloth.
Check that there aren't any clumps of grass stuck between wheels while also inspecting its body frame for signs of wear. Also, make sure that all of the wheels can rotate freely and that any damaged blades have been replaced by new ones.
As you now know, there are many considerations to take into account when looking for the perfect robot lawnmower. You should consider your budget and size of the property before buying a new robotic machine.
Not all models will be right for every person's needs, so it is important that you do some research on which type would be best suited for your specific situation.
We hope this buyers guide helped answer any questions you may have had about selecting a model! 
Finally, you can always pop over to our FAQ page to find out more about robot lawn mowers generally, and a whole host of other answers to your gardening questions and queries.