Reading Time:
13
minutes
Leading up to and during the festive season a front-door wreath is essential for every home. Outdoor Christmas wreaths with lights especially, give that extra bit of a Christmas 'wow' factor. Whether you go all out, or just keep it simple, the first thing people notice when they come to your home is what's hanging on the entranceway and this can make a lasting impression! A light-up Christmas wreath will start things off with a bang.
A Christmas wreath with lights is the perfect way to illuminate your home for the festive season.  Outdoor Christmas wreaths with lights come in a variety of styles and colours.
Christmas wreaths are made from many types of materials; including greenery, (natural or artificial), pinecones, ribbons, nuts, coloured baubles, berries and twinkling LED lights of various colours or cool and warm white are also popular to see on a Christmas wreath.
When selecting outdoor Christmas wreath lighting, there are several factors to take into consideration; including wattage and the number of lights the wreath contains. LED's (Light Emitting Diode) are the most popular used today,  Do you want battery-operated LED's or not? What about colour and the mode of operation.
These are some of the questions you should ask yourself, and then choose accordingly. There are a plethora of outdoor Christmas wreaths with lights out there, I have listed 10 great wreaths below to get you going.
Outdoor Christmas Wreaths With Lights
If you don't have much time, use the link below to quickly find out my 'Top Pick' for the 'Outdoor Christmas Wreaths With Lights' available for you on Amazon. You can be assured we only recommend products based on their quality, usability and value for money...
- 'Best Overall'- The Village Lighting Company - Scarlet Hydranga
Best Outdoor Christmas Wreaths With Lights: Wreaths that are battery operated, can be hung anywhere, used as indoor Christmas wreaths or outdoors.
Outdoor Christmas Wreaths With Lights - Our Top 3 Picks
Product Image
Best Overall
Runner-Up
Best Under £100
Model/Make
Valery Madelyn Sweet Candy Red
National Tree Company – Norwood Fir
National Tree Company – Elegance
Wreath Size (Inches/Centimetres)
Best Overall
Product Image
Model/Make
Valery Madelyn Sweet Candy Red
Wreath Size (Inches/Centimetres)
Runner-Up
Product Image
Model/Make
National Tree Company – Norwood Fir
Wreath Size (Inches/Centimetres)
Best Under £100
Product Image
Model/Make
National Tree Company – Elegance
Wreath Size (Inches/Centimetres)
Last update on 2022-05-20
Outdoor Christmas Wreaths With Lights - Buyers Guide
Valery Madelyn - Sweet Candy Red
The Valery Madelyn pre-lit Sweet Candy Red Wreath with 40 LED's battery-powered warm white lights, is a beautiful decoration for your home during the festive holiday season.
This 30in (76cm) wreath is durable and hangs effortlessly.
In addition, the wreath has life-like artificial branches that are made from the highest quality PE and PVC materials to give you a realistic look that will last all season long. 
These 'Sweet Candy' wreaths are crafted from durable materials that won't break in cold weather. They're also UV-resistant to maintain their colour year-round, so you don't need to worry about them fading during the holiday season for years to come.
This wreath is pre-lit, richly decorated and ready to be hung. The wreaths unique design is with the traditional red and white theme, which will make Christmas feel like a winter wonderland. Trimmings with 'joy signs 'in vibrant colours bring holiday sentiments of warmth, happiness and generosity.
This artificial Christmas wreath is combined with different Christmas elements; red and white Christmas balls, berries, and pine cones; with exquisite gift box packaging for your friends and family.
The Sweet Candy Red artificial wreath can be used both indoors and outdoors, allowing you to hang your wreath above your fireplace mantle or display it on your front door.
Using 3 AA batteries (not included) the wreath is shipped with a 'timer' that allows the wreaths lights to be controlled easily once the battery pack has been fitted on the wreath. The controller itself provides 8 modes; steady on, combination, in wave, sequential, slo glo, chasing/flash, slow fade, twinkle flash with a timer mode for 6 hours on and 18hrs off. These light effects 'auto cycle' to create a bright yet warm festive atmosphere.

National Tree Company Christmas Wreath - Norwood Fir
This simple yet beautiful Norwood Fir outdoor Christmas wreath with lights has lots of festive appeal.
It's perfect for indoor or covered outdoor use  the wreath is also fire-resistant. The sturdy metal frame will support your wreath for many holiday seasons to come.
A large wreath (36in – 91cm) with a huge count of 550 individually crafted branch tips.
Note: There is an alternative wreath size of 24in-60cm provided by the manufacturer should you be looking for something slightly smaller.
This is a full, lush wreath that will look great on the front door of your home. The wreath is decorated with fresh-looking green pine needles and has an appealing natural shape.
This artificial light up wreath also features 100 battery-operated LED lights (Batteries not supplied) which give off a warm white light when lit. These lights are integrated into the wreath so you won't need to worry about untangling wires.
The wreath has a timer, which is very nice, but above and beyond that it also has multiple settings for the lights, themselves. 
The LED lights illuminate for 6 hours on and 18 hours off with an integrated 6-hour timer. The LED light system lets you change from warm white to multi-colour with 10 different functions; You can select from colour, flashing, steady, and solid white to name some.
All in all a simple but effective holiday wreath for multiple locations.

National Tree Company Christmas Wreath - Elegence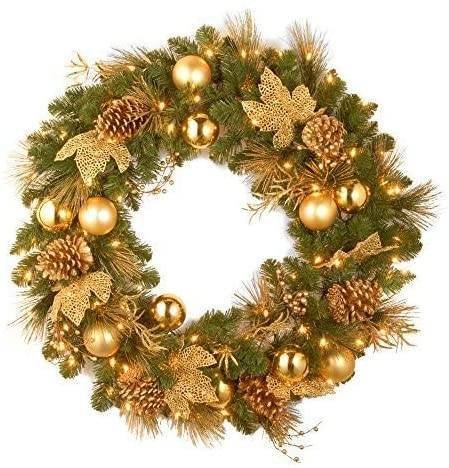 This pre-lit National Tree Company Elegance artificial Christmas wreath with its 64 individually crafted fire resistant branch tips, which are made of high quality, realistic artificial foliage.
It looks just like the real thing and will withstand the harshest of weather conditions. Although the manufacturer does state that if sited outdoors it must be in a covered or protected location.
The built-in lighting illuminates this wreath with 50 pre-strung battery operated          (batteries not supplied)  white LED lights that are integrated into 6 hours on/18 hours off timer. 
Flocked with mixed gold glittering twigs, leaves, pine cones and ball ornaments, which gives this wreath a beautiful 'golden' glow when lit.
The wreath comes in one size only and measures 24 in (60cm) in diameter and is suitable for most homes. Given the gold theme throughout, it makes for a slight variance on the traditional Christmas theme usually seen during the festive holiday season. 

Showvigor - Pine Light Up Christmas Wreath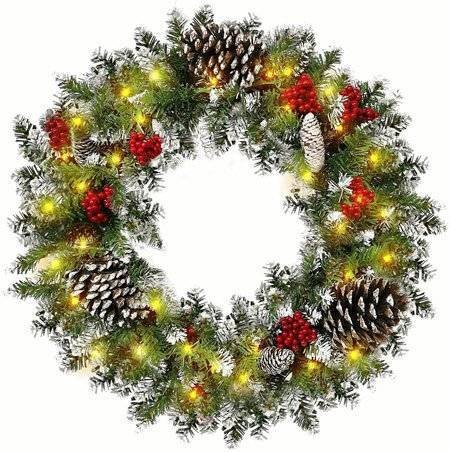 This pre-lit 24in (60cm) artificial pine wreath from Showvigor, can be used either indoors or outdoors.
Uniquely designed with 6 pine cones and 9 red berries clusters, making this wreath thick, lush and fluffy looking.
This delightful wreath has 50 'warm' yellow LED lights powered by 3 AA batteries (batteries not supplied) 
The LED lights are also waterproof, so you can use it both indoors and outdoors.
The included 'timer control' will allow you to set the wreath lights to turn on/off automatically, with 6 hours on and 18hrs off program.
Amply decorated with 120 fire retardant branch tips in total, this wreath once teased out, looks so natural and beautiful!
For those wanting a smaller version of this wreath then Showvigor provide a 20in (50cm) wreath with 80 branch tips, 5 pine cones and 5 berry clusters.

Nisoger - Art Deco Christmas Wreath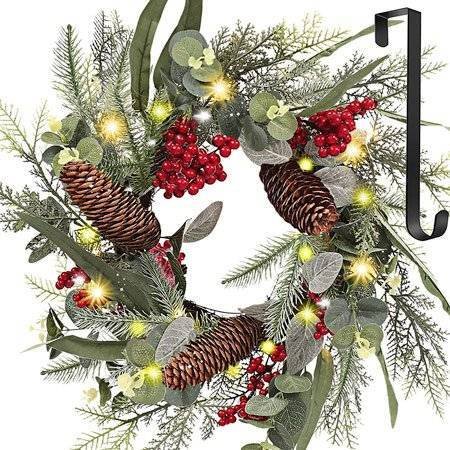 Something a little different is Nisoger's  Art Deco 22in  (56cm) Christmas wreath with a door wreath hanger included.
This Art Deco Christmas Wreath is a beautiful and easy way to decorate your home for the holidays. 
This winter holiday wreath features an elegant design with 20 warm LED lights using 2 AA batteries (not supplied) and is 100% handcrafted. 
Sporting red berries, pine cones, pine needles and eucalyptus leaves on a natural twig wreath base, this wreath is a beautiful winter decor for your door. It would help announce a 'Christmas atmosphere' is here on any door, window or mantlepiece.
The 20 LED lights are not fitted (pre-lit) so you will need to decorate them yourself (you can find out how below in this post) once dressed they provide simple on/off switching which may not be for everybody.
With a 12in (30cm) metal hanger, you can hang this wreath with ease. And since this product is designed for outdoor use on covered porches or indoors, it saves your door from being damaged by leaving other more damaging hanging options behind, it's just perfect for hanging and very easy to mount!
If the 'Artdeco' wreath is not quite to your taste, but you like the concept of a wreath being 100% handmade, then take a look at the 'Modern' a more traditional wreath option from Nisoger. A 24in (60cm) handcrafted wreath, with 40 LED lights and a door hanger included.

National Tree Company Christmas Wreath - Kaleidoscope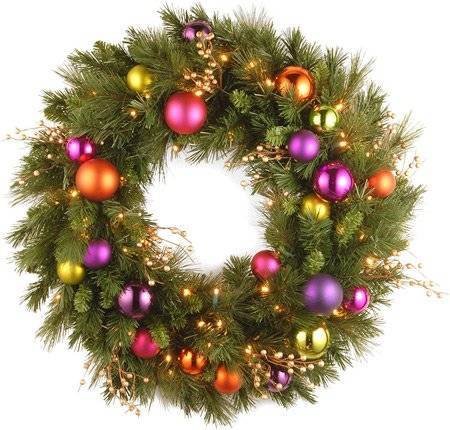 The National Tree Company Kaleidoscope Christmas wreath is a pre-lit beautifully, full-sized wreath that will add a touch of natural beauty to any home.
This fire-resistant artificial wreath has 173 individually crafted branch tips and is suitable for both indoor or outdoor use.
It features 70 warm white LED lights, provides a beautiful glow.
The lights are battery-operated (3 x Type D which are not included) and have an integrated 6 hours On/18 hours Off timer.
This means so you can leave it on full display throughout the festive holiday season without worrying about wasting battery life.
The 30in (75cm) diameter wreath has been neatly trimmed with gold berries, multicoloured ball ornaments, giving a beautiful traditional Christmas feel to it.
A very popular outdoor Christmas wreath with lights among many, for the festive holiday season.

AUPSU Christmas Door Wreath
This Christmas door wreath from AUPSU is a great addition to your home this holiday season.
This 16in (40cm) wreath is not large, but it is made from PVC, and available in 6 colours (Red, Blue, Gold, Pink, Silver and Yellow) and will no doubt keep you merry and bright through out the season! 
It has a 'Merry Christmas' message across the middle of the wreath so there is always a greeting for the visitors who visit you.
This Christmas wreath is adorned with pine cones, coloured balls, flowers and LED lights which make it look stunning at night. 
This wreath will bring joy to your home for years to come.
Current users advise that this product can be used year after year because of its durability and quality, making it the perfect gift for any occasion!
However, the manufacture has left a lot of information off the product descriptions, which needs to be addressed. We are currently awaiting some responses to our questions for this wreath. We will update the guide as soon as we get a response. 
However, there is a 5 star rating from the UK and the wreath is well priced which is what attracted us to the product, so we think it maybe worth a look if you are looking at a 'budget' front door wreath with lots of Christmas cheer.

National Tree Company Christmas Wreath -Tartan Plaid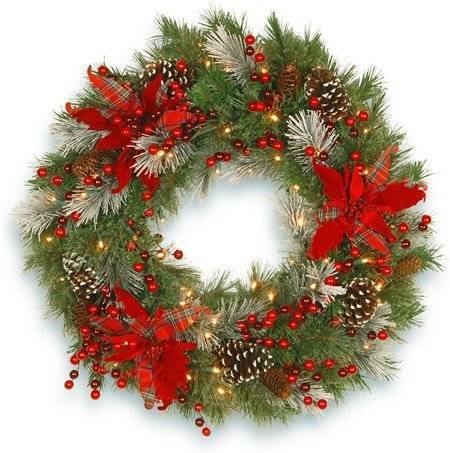 Christmas is a time for family and friends to come together.
This tartan plaid wreath from the National Tree Company is the perfect way to celebrate with your loved ones.
This large 30in (76cm) wreath features a 'Tartan plaid' design, mixed decorations, and fire-resistant construction that will look great on your front door or window display.
The pre-lit Christmas wreath also includes 134 individually crafted branch tips and 100 white LED lights that will create an eye-catching display of holiday cheer. All though it does not have different light modes ie. only on/off.
The integrated 6 hours On/18 hours Off timer allows you to set when it comes on so you can enjoy it all season long, so you don't have to worry about turning it off every night. Being battery operated means no trailing cords to worry about and the freedom to place the wreath where it suits you.

Glitzhome - Glittered Pine Cone Christmas Wreath
The 24in (60cm) Glitzhome Christmas wreath is made of high-grade fibre and UV resistant plastic.
Pre-lit with 35 warm white LED's, a great tip count of 160, so its hard to see where you can go wrong with this delightful realistic wreath.
This battery-operated (requires 3 x AA batteries – which are not included) LED pre-lit wreath, comes with large pine cones, mixed types of pine needle tips and red berries. All decorations are hand made.
In addition, you have 3 Christmas wreath models to choose from, Berry, Greenery, and Snow Flocked.
You can easily hang this wreath on your door with the wreaths built-in loop, which is a nice little bonus.  The Glitzhome is suitable for indoor or covered outdoor use, so very flexible for its placement throughout the home.

Yasion - Snowman Christmas Wreath
It's a snowman wreath! It's a Christmas wreath! It's both!
This  snowman wreath from Yasion is just perfect for the holidays. 
He is made from rattan, plaid cloth and linen, all of which are non-toxic. Seasonal pine needles and red berries provide that final touch of Christmas cheer.
The snowman has a few LED pre-lit lights (uses 2x AA batteries which are not supplied) that make him twinkle in the dark and look even more festive. 
The 'snowman' is 16in – 40cm  (H) x 8in – 20cm (W) and can be hung on your door or wall by means of a wreath hanger or simply hang him on some sturdy string.
Suitable for outside decoration on your covered front porch or in your back garden. A simple but topical seasonal decoration your visitors will love.
How to put lights on an outdoor wreath?
An outdoor Christmas wreath with lights is a great way to give your home that 'special festive' touch during the holidays. You can add one to the front door, or even as an indoor decoration in another room like over a mantelpiece.
Just follow these simple steps and you will have your lights up on a wreath in no time.
If you want to hang a wreath on your front door, use battery-powered LED  lights. If not and it's inside the house instead, consider using mini light strings. Always keep the lights in a bundle, if possible. Un-wrapping only when you need them. Starting at the top place the lights in a spiral design around your wreath. This will help keep them from tangling, and it's super easy to do!
To make sure your string lights are even and evenly lit, space the lights in 1in (25mm) increments.  Obviously, if your lights are connected to the mains you will not be able to wrap the strands while they're plugged into an outlet, so just eyeball it! Battery operated lights will not be a problem as they can be switched on to see an even lighting placement.
To make sure that the lights on your wreath stay up, fasten them with floral wire. Twist and bend into shape to hide ends.
Make sure the plug-in end or battery pack is at the bottom for a neat appearance. If you have to backtrack or take one more lap around the wreath, that's okay but do finish with it hanging down low.
Secure the end of each string with more floral wire. Twist it to lock lights in place and tuck those ends back into your greenery!
Plug the lights into the nearest electrical outlet using an extension cord. If using battery-powered LED's or for an outdoor wreath, proceed to Step 7.
To hide the cords, fluff up some of the greenery around your outdoor lights. Use your fingers to pull pieces from under and between wires!
Hang the finished wreath above your fireplace mantel or front door. For indoor wreaths, tape down extension cord across the floor and against the wall with electrical tape so it's near an outlet for easy access when needed!
Best Outdoor Christmas Wreaths With Lights: How to Put Lights on an Outdoor Wreath
How many lights do I need for a wreath?
It's a personal choice but as a guide, we would recommend between 80 –100 warm white or cool white LED's on a 24in – 30in wreath, ensure you have the correct colour cable to be able to hide the lighting wire within your wreath.
How do you attach a wreath to your front door?
The easiest and safest way to hang a wreath is with the help of one of many different hangers. Metal hooks and or magnetic strips that are designed for your door.
A wreath hanger is the most common way to hang the decoration. This accessory hooks around your door and then attaches with another piece that goes into its base, which creates more stability for your wreath.
The right wreath hanger is important to make sure your door stays closed. Ensure the over-the-door hook you choose has an identical thickness and depth as your door before hanging anything up!
To find a hanger's depth, check out the weights & dimensions section in the product description of the hanger.
With so many options to choose from, when buying outdoor Christmas wreaths with lights it can be hard to know where to start. Luckily for you, we've compiled a quick guide with some of the best tips on how to buy an outdoor Christmas wreath that will suit your needs and look great this holiday season!
So go ahead – get shopping early this year, impress your friends and neighbours by having the most festive decorations in town. And don't forget about decorating inside too! Check out our posts for this year's artificial Christmas trees and outdoor Christmas garlands with lights, both great informational posts for Christmas holiday ideas and decorations as well as a buyers guide.
We hope this buyers guide helped answer any questions you may have had about selecting a wreath! 
Finally, you can always pop over to our FAQ page to find out more about wreaths, garlands and artificial trees generally, and a whole host of other answers to your home/gardening questions and queries.