Reading Time:
11
minutes
What is the best outdoor Christmas garland with lights or as sometimes called a pre-lit Christmas garland? We have researched the UK market for you to find some of the most popular choices.
Our research is based on several factors, including length and width of a garland, indoor/outdoor use, safety, weight, and of course value for money
Christmas is Coming - Don't Panic
Are you ready for the holidays? Eager to decorate up the home? Put a wreath on the front door? You definitely know it's time to get the artificial Christmas tree down from the loft or perhaps Dad pops along to the local nursery for a real tree? The whole family gets excited and busy at this time of the year, it's great fun for all, no need to panic we are here to offer some ideas.
An Artificial Christmas Garland with Lights – Indoors and Outdoors
Most of us take the time to beautifully decorate the inside of the home with our Christmas trees, Christmas lights and Christmas decorations, but what about outside? It's often left looking rather sad and dull at this festive time of the year.
Some of us hang a welcoming Christmas wreath on the door which is awesome, but we can do so much more to brighten our main entrance and give family and friends a real holiday boost before they even walk through the door. This is where an outdoor Christmas garland with lights can fill the gap.
Pre-lit decorated Christmas garlands are a godsend, even indoors if your pushed for time, an artificial Christmas garland can be a great quick fix to 'fill that gap' around an internal door or lounge fireplace.
Placing a Christmas Garland
An artificial Christmas garland with lights can turn any room into a lovely festive space with extraordinarily little effort.
As it has become more popular, using lighted Christmas garlands has become a route to making your home a little different because of all the many things one can do.
You can use a Christmas lighted garland to decorate staircases and hallways. You can even use it as a way of hanging your Christmas cards. However, still one of the most symbolic and powerful ways is to place a Christmas garland with lights around the main entrance to one's home.
It symbolises, warmth, welcome and cheer to all who enter during the holiday festive season.
In a hurry?
If you don't have much time, use the link below to quickly find my 'Top Pick' for the 'Best Outdoor Christmas Garland with Lights' available for you on Amazon. You can be assured we only recommend products based on their quality, usability and value for money...
'Top Pick'- National Tree Company
Outdoor Christmas Garland With Lights 7 of the Best - Comparison Table
Table could not be displayed.
Outdoor Christmas Garland With Lights - 7 of the Best
Toplee - Outdoor Christmas Garland With Lights
This Toplee Christmas garland with lights offers something a little different from the traditional spruce garlands.
This 'open' garland is very flexible in its use and can be used in various locations both indoors and outdoors.
This Christmas garland is battery-operated,  so no trailing wire or plug to worry about.  
The garland requires 3 AAA batteries (not supplied) and is IP 67 rated (waterproof) which makes it suitable for outdoor use. 
However, care should be taken if using outdoors to protect the 'battery' case as this is not IP rated or waterproof.
However, great features like these make this outdoor Christmas garland with lights a real popular all-rounder for any home as we shall see.
Being 7ft (2.1m) long with various decorations of 'pine needles', 'pine cones' and 'red berries' the garland is also adorned with 20 LED warm single white lights (no coloured option) which have 2 modes only, on or flashing.
For some who like a lot of lights, that's slightly on the low side for LED lights though, at just about 3 per foot (30cm)
Indoors this Christmas garland wouldn't look out of place around a 'window' or along a 'mantlepiece', up even up a staircase or perhaps even wrapped around a small 'Christmas tree'. 
As its a 'flexible' wired garland, another option could be to form a 'Christmas wreath' of your own which could be hung anywhere. 
Due to the garlands 'great flexibility' in its potential use, it comes up on the short side for the needs of some customers, who sometimes end up buying more than 'one string' to put together.
This Christmas garland will adorn your home beautifully no doubt and in many different locations throughout.

Jetcloud - Outdoor Christmas Garland With Lights
This pre-lit artificial Christmas garland by Jetcloud is an ideal way to decorate smaller parts of your home during the festive season, either indoors or outdoors.
3 x AA batteries (not included) is all that is required to operate the 30 (5 per foot) warm white LED lights (no colour option) on this outdoor Christmas garland with lights.
Just a note on outdoor use. You will need to protect the 'battery compartment' from the elements if the garland is placed outside in an uncovered area.
With a 2 mode light adjustment, steady on/flashing and made from 'green' coloured PVC which is 'fire retardant' the garland is safe to be placed around a fireplace.
This decorated garland is just 1.8m (5ft 9in) with a 150 tip count which makes for a rather nice full 'bushy' garland. The garland may however come up a little short for some.
Decorations include a variety of berries, pine cones and frosted pine needles which are all interwoven in the garland some with glittery finishes.
Suitable for doors, mantlepieces and the forming a wreath, this small garland is great value for money and at this price, one could easily buy more than one to ensure you have a garland/s long enough for your decorative and festive needs.
Should customers want a garland without the LED's the manufacturer does offer one as an alternative option.

Bcamelys - Christmas Garland With Lights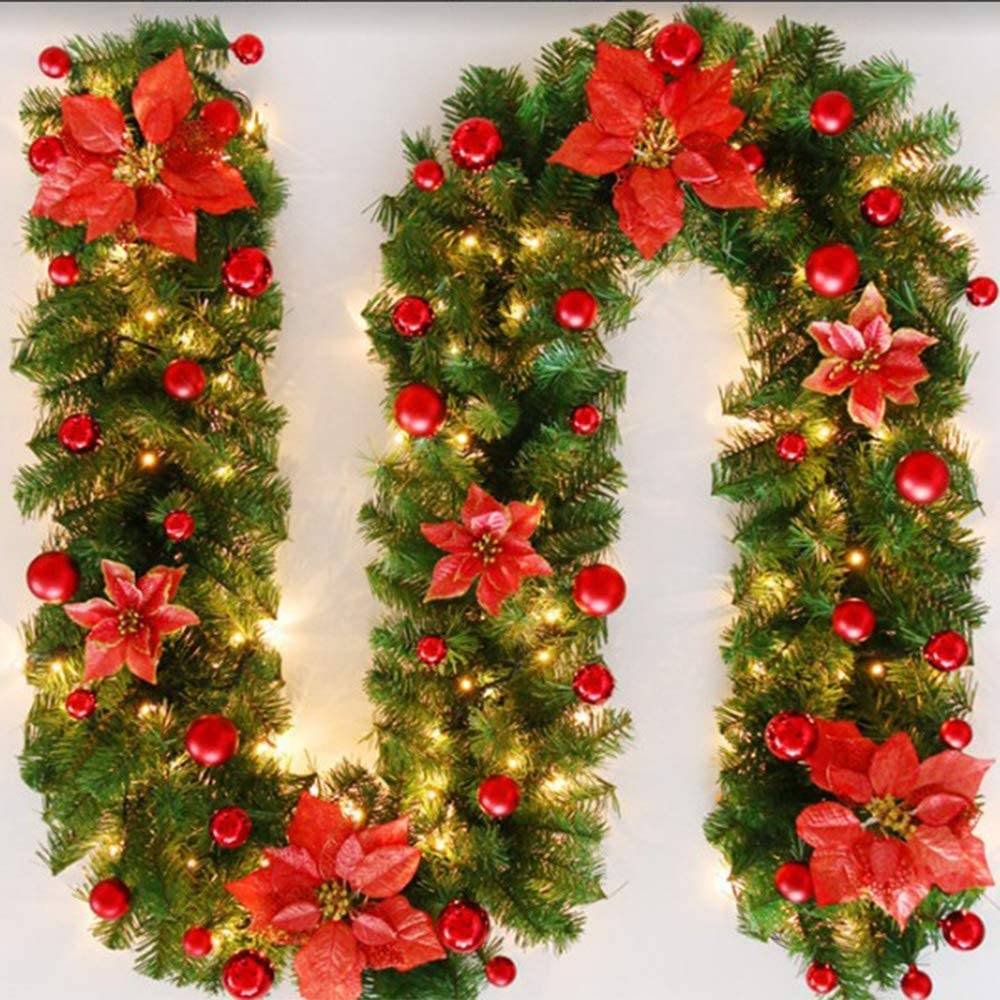 The Bcamelys  Christmas garland is a large 9ft L (2.7m) x 10in W (25cm).
This natural-looking (pine) full length indoor or outdoor Christmas garland with lights, is pre-lit with 30 LED warm white lights (just over 3 per foot).
The LED lights are 'battery-powered' (3 AA batteries not included) so no trailing cables or plugs to find or worry about thus giving you a lot of freedom as to where the garland is used.
With 220 individually crafted tips, gives this garland a natural-looking 'bushy' feel to this Christmas centrepiece. The garland also comes pre-decorated as one would expect for an artificial garland with 'both large and small red flowers' and 'lots of red baubles'. 
However, if red is not to your liking the Bcamelys Christmas garland also ships in Gold (gold flowers and baubles)  and Silver (silver flowers and baubles)
The Bcamelys Christmas garland is suited for hanging around 'doors' and 'mantle pieces' and long enough to dress 'bannisters' and 'stair ways' making this garland just the thing one would want to add that traditional Christmas element into the home.

National Tree Company - Outdoor Christmas Garland With Lights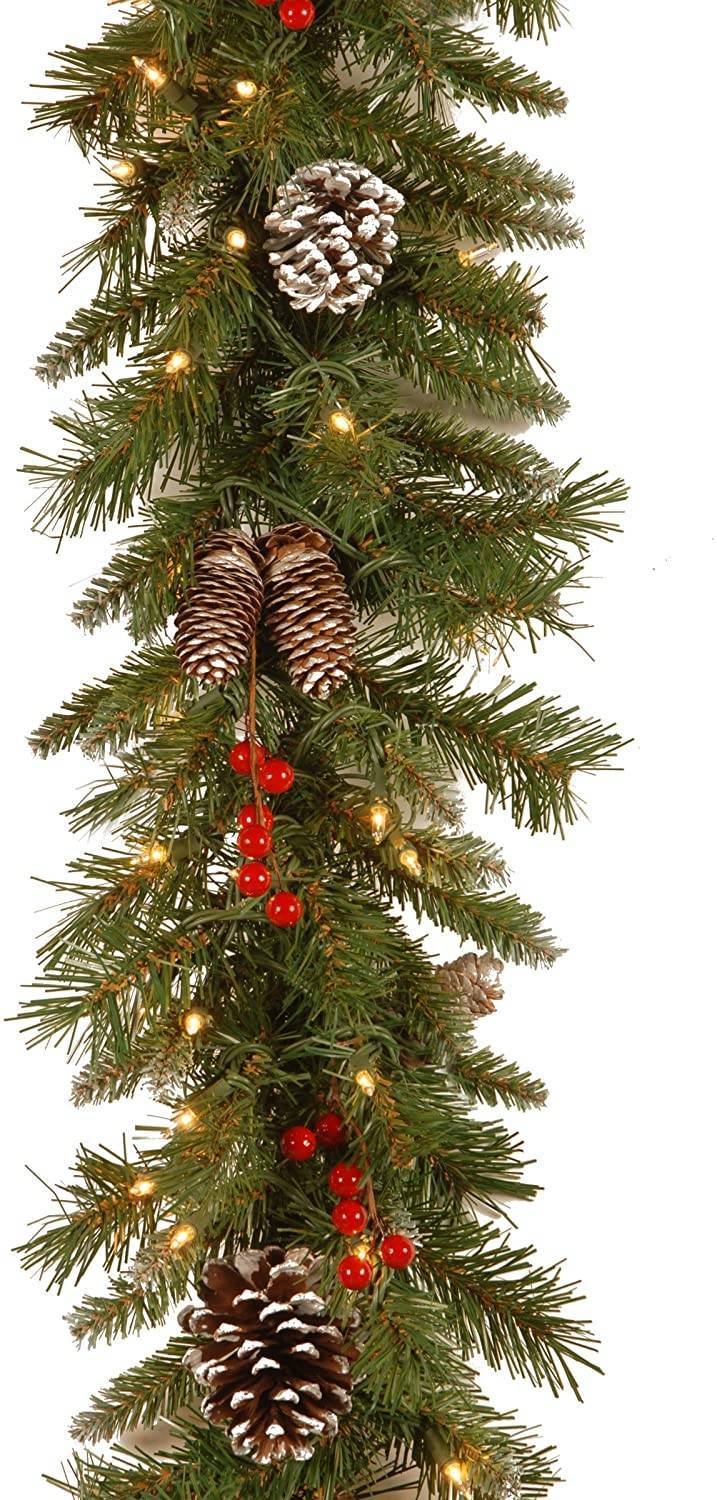 Are you looking for an artificial natural looking pine effect outdoor Christmas garland with lights? Then the National Tree Company Christmas Garland (Frosted Berry) may be suitable for you.
This very large artificial garland measures 9ft L (2.7m) x 10in W (25cm) so its big enough to suit most homes.
With a massive 200 branches (tips) and pre-decorated with neatly trimmed frosted/flocked pine cones, and red berries this garland certainly comes fully loaded.
Suitable for indoor and outdoor use (covered areas only) this fire retardant and waterproof garland is a real winner, the branches though need to be reshaped, to make the garland look very realistic and natural.
As the garland is 'mains operated' you are tied to plug points or certain locations, so the garland can only be placed within reach of a power point.
This is a real shame as your freedom is somewhat reduced to place the garland anywhere in the home. 
There are 100 warm white LED's in total for this garland, which gives around 11 lights per foot of illumination which is very good.
A great garland for use in your garden, around a fireplace, windowsill, or along a staircase railing. You really can decorate any space with this versatile artificial garland. 

National Tree Co - Outdoor Christmas Garland With Lights
The US National Tree Company's Christmas garland is a large outdoor Christmas garland with lights.
Large by most standard garlands at 9ft (2.7m) L x 14in (35cm) this pre-lit full decorated garland is suitable for both indoors and outdoors.
The 50 warm white LED lights (just over 5 per ft) are battery-powered. The number of batteries needed is 6 x AA (not included) which seems a little excessive compared to other similar garlands of this type.
However, included with this garland, which will help battery consumption is an integrated 6 hours on/18 hours off timer.
However, as far as power points and wires are concerned there is no restrictions as this garland can be placed anywhere in the home.
Made from fire-resistant material, the garland has 138 non-allergenic, well-crafted lifelike tips, which give it a nice natural 'bushy' character. The branches/tips will need to be 'teased' out when placing the garland for maximum effect.
The garland is trimmed with festive decorations which include some neatly trimmed white-tipped (snow flock) pinecones, red holly berries and tartan cloth poinsettia flowers.
Suitable for door frames both indoors and out, windows, stairs, mantle pieces and bookshelves, almost anywhere really you would look to give some festive cheer.

Amenon - Outdoor Christmas Garland With Lights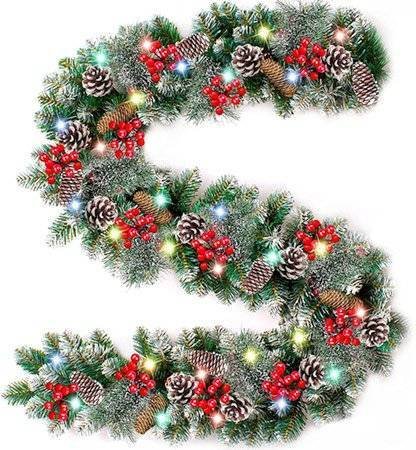 This beautiful Amenon  Christmas garland offers customers a luxurious and natural-looking garland. 
Made with 220 individually crafted branches/tips (with a single branch length of 2.5in – 6cm) certainly makes this garland one of the 'bushiest' around. 
It should be noted some users, however, suggested that due to the 'tight packing' this garland's bushy appearance may take a little while to achieve.
The garland is made of non-allergenic, fire-retardant material, but users can still create a lush, luxurious look as the Christmas garland is flexible, and can be bend to any shape you want.
This Christmas garland is battery operated (3AA batteries not included) thus suitable for outdoor use as well as indoor use. This garland has a generous length of 9ft (2.7m) x 12in (30cm) wide. 
Being battery operated has its advantages, as it does not restrict customers from putting more than one garland together, if you require longer lengths to suit your personal taste and locations.
Also being battery operated means that there are no restrictions on placing your garland as you are not tied to a plug position to power up your garlands lights.
The garland has 3 different light modes, they include permanently on, flashing on/off and flashing green, red and blue. Having 50 colourful energy efficient LED's, this garland makes a generous showing at 6 LED's lights per ft.
In addition to the generous LED lights, the garland is fully loaded with 200 x Red Berries, 18 Pine Cones, and 30 Snowy/Flock Bristle Pine Cones creating a luxurious Christmas look.
Being 9ft long (2.7m) this Christmas garland is able to adorn most of the places one would want to decorate within the home or garden. Including doorways, bookshelves, staircases and conservatories bring festive cheer to all parts of the home and garden. 

Village Lighting Company - Winter Frost Collection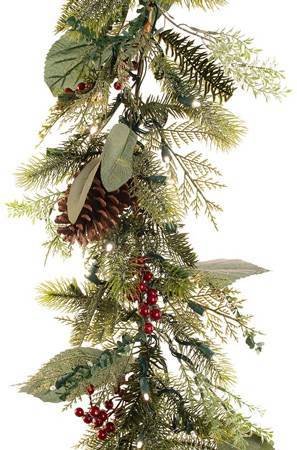 If you're looking to have something a little different this Christmas in lieu of the more traditional pine or spruce Christmas garland, then this garland from the VLC's Winter Frost Collection is sure to meet those expectations.
This beautiful, but perhaps a little pricey 'hand crafted' natural-looking garland is 9ft (2.8m) long, complete with red berries, pinecones, and stunningly realistic greenery to give a modern minimalist touch to a traditional garland.
This pre-lit garland is made from fire retardant and UV resistant materials as well as other shatterproof decor, all of which ensure the safety and durability of your garland.
The garland also sports 100 warm white LED lights which is just over 11 per ft which is fantastic. 
Battery operated via 4 x D batteries (not included) this stunning garland is 'controlled' via the supplied remote control.
The remote control provides the user with on/off, flashing and brightness control, as well as timer controls which allow the user to set optional timer functionality – ON for 6 hrs, and OFF for 18 hrs which repeats daily.
Being battery operated this garland is also suitable to be placed outdoors  (covered area) or indeed almost anywhere else in the home, as you are not tied to any plug points.
In addition, to the 100 LED's, the garland is loaded' with red berries, pine cones and a large amount of greenery, which makes for a super mix of simplistic tradition.
All in all a great garland if you perhaps wanted something quick to decorate your home, maybe at the last minute, to fill a gap or you can even use this garland instead of a traditional Christmas tree to decorate your home. 
In fact, being 9ft long the garland could be suitable even as a 'centrepiece' for a large table, draped over a front porch, fireplace or other similar locations where you want to decorate your home and or garden. Why not put more than one together for larger premises? The options are endless.

It seems to get earlier each year, no sooner than Easter is over, many of us turn our attentions towards the festive season and the Christmas holidays.
If you haven't already done so, why not consider decorating more than the 'inside' of your home this year. Move outside to your front door, porch, or garden you will be surprised just how beautiful and festive you can make it look.
One quick and easy way to decorate outside is with an outside Christmas garland with lights. A great way to 'fill a gap' quickly.
Above is my buyers guide to 7 of the best options currently on the UK market for outside Christmas garlands. There is something for everybody above, no matter the size of your home and garden as I know not one size fits all.
All my garland options can be used both indoors and outdoors.
Our buyer's guides are also a wealth of information on a variety of subjects related to gardens, outdoor living and much more.