Reading Time:
12
minutes
As the run-up to the festive season intensifies, we take a look at 6 of the best artificial Christmas trees currently being offered on the UK market.  In this buyers guide, we'll take a good comparison between trees and look at the tree appearance, overall Christmas effect, size and cost, to give you some recommendations. 
However, before we delve into the best artificial Christmas trees buying guide lets look at some 'Artificial Christmas Tree' buying advice. 
The No 1 answer must obviously be the cost. Considering that a good artificial Christmas tree will last probably a couple of decades or more if looked after well and stored correctly. This will be far cheaper than the annual spend on a real Christmas tree.
Also, a good artificial Christmas tree looks aesthetically pleasing being uniformed to the eye. Of course, we all remember those days after the new year and often in between when we have to brush up of sometimes even hoover up those fallen pine needles.
What should you look for in an artificial Christmas tree?
Once you have decided on buying an artificial Christmas tree there are a few things that you should look for in a tree.
Size is an obvious deciding factor not only in height but also in width. Generally, most people tend to aim at trees between 5-7ft (1.5 -2.1m) with 7ft being the most popular, as this will fit in a standard size living room. Widths will vary but anything between 80cm – 1m ( 2ft 6in – 3ft 2in) for a 7ft  tree, is normally the case.
One should also consider leaving a further space between 6-8in (15cm -20cm) for a 'topper' to sit on top of the tree like a star for instance. 
Just another note aside, do not forget your plug point when choosing a tree location. The last thing you want is wires trailing all across the floor, so choose wisely.
Tips
I don't mean the 'pointers' I have given you so far! 'Tips' is a term used to describe the number of 'needles'; branch off-shoots and their combined density on a tree. Simply put, the higher the 'tip count'  the bushier and fuller the tree tends to be. More tips mean a fuller denser look, fewer tips mean its less bushy.
While we are talking about 'Tips' on an artificial Christmas tree; we should mention that tips (needles) come in a couple of options/types.  PVE or PE type. It's best that you try and aim for PE tips if you can afford them. They're moulded to look like 'real needles' and look realistic even up close. PVC ones are cheaper and are cut to look like needles, not always with the best of success.
Christmas tree base
With a fairly large 7ft tree covered in decorations for instance, try and ensure you have a good stable base. Your base will be generally covered in decorations and or presents anyway; so looks is not an essential factor, 'sturdiness' is. Metal bases are generally more sturdy than plastic/PVC bases. 
Safety
Finally, another important factor is safety, with respect to fire. Ensure that your artificial Christmas tree is flame retardant. Real trees become dry over time and are very susceptible to fire. Even some cheaper artificial Christmas trees are  not flame retardant. 
Try and buy the best artificial Christmas tree your budget will allow; not always easy at Christmas I know. However, based on the above pointers, a quality artificial tree will serve you for many a Christmas to come. 
In a hurry?
If you don't have much time, use the link below to quickly find my 'Top Pick' for the 'Best Artificial Christmas Tree' available for you on Amazon. You can be assured we only recommend products based on their quality, usability and value for money...
- 'Top Pick'- WeRChristmas Pre-Lit Edwardian Spruce
Best Artificial Christmas Trees - Our Top 3 Trees
Product Image
Best Overall
Best Runner Up
Best Under £95
Model/Make
WeRChristmas Pre-Lit Edwardian Spruce
Busybee Blue and White Christmas Tree
Winregh Artificial Christmas Tree
Light Functions
8 Setting Multi-Function Controller
Best Overall
Product Image
Model/Make
WeRChristmas Pre-Lit Edwardian Spruce
Light Functions
8 Setting Multi-Function Controller
Best Runner Up
Product Image
Model/Make
Busybee Blue and White Christmas Tree
Best Under £95
Product Image
Model/Make
Winregh Artificial Christmas Tree
Last update on 2022-05-20
7 of the Best Artificial Christmas Trees
WeRChristmas - Pre-Lit Edwardian Spruce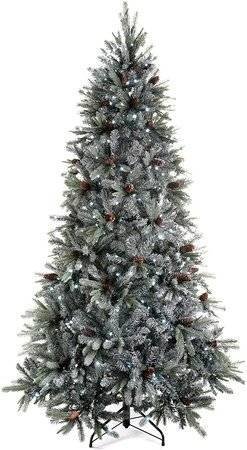 As far as one of the best artificial Christmas trees go, this large 7ft pre-lit Edwardian spruce by WeRChristmas ticks many of the boxes when it comes to artificial Christmas trees.
Firstly and most importantly is that this artificial PVC tree, with lightly sprayed white tips, is 100% fire retardant a must safety feature.
The tree comes in 3 sections (top, middle and bottom) for easy storage and then assembly. When erected this tree measures 7ft (2.1m) H x 3ft 8in (1.27m) W when fully extended outwards.
This large tree when fully assembled sits on a firm 'metal base' for great stability, also a must when a tree is fully loaded.
This artificial Christmas tree comes pre-lit and pre-decorated, so once you receive your tree there will be no more trips to the shops looking for 'tree decorations' either.
This artificial Christmas tree comes with a frosted/snow flock look to the tree, 63 pine cones, and 450 cool white LED lights to give the tree and your home that glittering, sparkling Christmas feeling.
Some uses have added more tree decorations, but it is generally agreed amongst those who have purchased this tree it's not really necessary.
The LED lights come with a BS transformer that has a 6 mode function, so plenty of Christmas lighting options, these include chasing, fade, twinkle, steady, and on/off modes.
Once fully 'loaded' the tree sits on a very sturdy '4-way metal' stand with tree section 'thumb screws' and 'rubber floor-protecting caps' holding the tree to the base. It's notable too that the tree has 'ample' electrical cord length to plug in the lights to a wall socket.
This Edwardian spruce is a full bushy tree, as this tree has 1528 PVC & PE tips, (other trees may have more) but this artificial Christmas tree provides the owner with a tree that provides fullness and realism.
If you find that the tree is a little on the large side a 6ft (1.8m) option is also available.
Unfortunately, this tree is NOT suitable for outdoor use but sits best in a large indoor area. This is one of the best indoor trees available for the money, with many satisfied customers.
Once the festive season is over, with no pine needles or mess to clean up, the tree easily disassembles into 3 sections to allow for storing away, simply dismantle your tree in a few minutes and pack it away until the following Christmas.
For a damage free tree and safekeeping until the following Christmas, we recommend the storage of your tree in a large Christmas tree storage bag for a tree of this size.

6ft WeRChristmas - Pre-lit Christmas Tree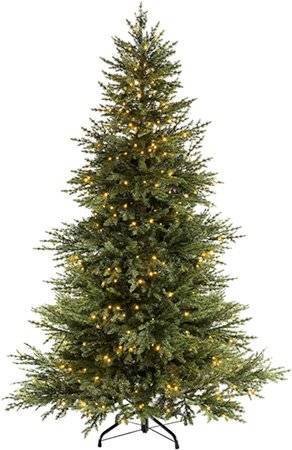 This pre-lit artificial traditional fir Christmas tree from WeRChristmas is full of Christmas cheer and suitable for a small to medium-sized room. Unfortunately, this tree is NOT suitable for outdoor use.
Standing at 6ft H x 4ft W (1.8m x 1.17m) this artificial Christmas tree is pre-lit (illuminated) via a 'plug in' low voltage UK 3-pin transformer, which in turn lights up 350 warm white LED lights, to give a beautiful overall striking look.
The tree LED lights has several functions, operated via a multi-function controller. These functions include flash, wave, twinkle, chasing, fade, static or on/off.
Try changing the function daily for a different look, you will be surprised at the difference to the look of your tree with just this small change.
To give your tree that bushy look, this traditional fir tree features 2436 mixed tips (732 PVC and 1704 PE), which is all-important to give you that 'bushy tree' we all love to see.
The tree is supported by that all-important sturdy metal stand, a '4 way fold out' which can be folded and packed away with your tree when not in use. Also, the metal stand easily supports the tree when laden with decorations.
The stand is also high enough off the floor to allow for plenty of presents to be placed at the foot of the tree (lucky you) and in turn hiding the stand itself.
The tree is 'hinged' and 'slot' assembled. This means the '3 sections' slot together to make the tree and the branches are permanently fixed (hinged) to each section. Just pull them down/out. This makes assembly and disassembles just a matter of minutes.
For a damage-free tree and safekeeping until the following Christmas, we recommend the storage of your tree in a large Christmas tree storage bag for a tree of this size.
The manufacturer of this pre-lit traditional fir also manufacture a 7ft tree if customers require a larger tree. The tree has the same features but is 7ft H x 4ft 5in W (2.1m x 1.37m) and has a whopping 1682 tips which are a mixture of PE and PVC for an even more realistic look.350

7ft - Busybee Blue & White Artificial Christmas Tree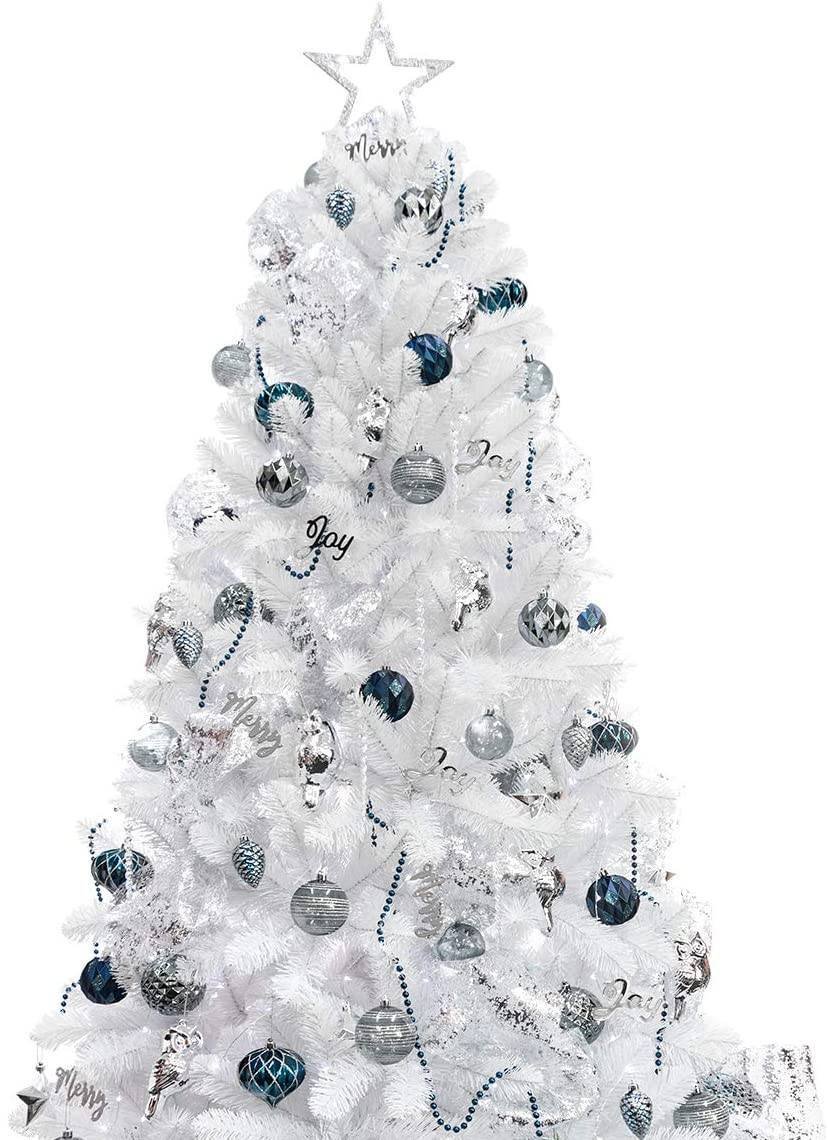 This Busybee Artificial Christmas Tree is 7ft H x 3ft 9in W (2.1m x 1.2m) at the base. A Christmas tree with plenty of Christmas ornaments and decorations provided by the manufacture.
This fully loaded indoor tree has 135pcs of Christmas tree ornaments which include but are not limited to star treetop silver wide mesh ribbon, owl hanging decorations, berry picks, Joy Hanging ornaments, snowflakes and balls in teal, ice blue and silver colours. 
In addition to the tree decorations, the Busybee has 360 warm white LED lights (2 x 180 LED's on a (59ft) 18 m cable) powered by USB connections. It should be noted the USB power source however is not provided by the manufacture.
A suitable USB power source similar to this can be purchased on Amazon to complete the power connection if customers do not possess one.
All in all this tree is good value for money and will suit those looking to get everything they need in a tree and decorations from one place.
This classic blue and white shredded PVC tree has an easy tree setup. Simply 'slot together the main (marked) sections, slot in the branches up through the main tree sections, the finer branches are then teased out into position to form a bushy tree. Easy to follow clear 'pictorial' assembly instructions and decoration steps are included with the Christmas tree.
There is an 'easy assemble' sturdy metal base, which provides tree stability when fully loaded, prevents breakage, and keeps your tree standing tall at all times. 
The tree comes in a box that is made from 'strong' recycled material cardboard, so customers can continually reuse their boxes to store the tree and ornaments after each Christmas.

5ft - Winregh Snow Flocked Artificial Christmas Tree
We realise not everybody has room for a 7 ft or even 6ft artificial Christmas tree in their lounge. If space is tight then consider this 5ft Christmas tree from Winregh. In fact, this manufacturer offers 4, 5, 6  trees if required. 
However, this 5ft (H) x 3ft 3i (W) (1.5m x 1m) has quite an impressive 'tip count' of 750 for a small tree making for a bushy and full-bodied. What makes it that little extra special is the manufacture has given a realistic 'snow flocking' to the tree just as if it had been kissed by snow and decorative pine cones.
Some customers do however report that some of the 'flocking' does fall off occasionally.
Another great plus point is that this artificial Christmas tree is suitable for both indoor and outdoor use should you require it.
The 5ft tree comes in 3 hinged sections (tree top, middle section, bottom section) and is assembled quickly, customs who have purchased this tree say that a little time needs to be taken to 'tease and fluff' the branches to make it look 'full and well' bodied but you will not be disappointed with the time taken.
The tree is fully supported by a metal stand that can be easily assembled and disassembled for storage. In addition, flame retardant materials are used throughout making it both safe and extremely stable. 
The manufacturer supplies the tree in a reusable cardboard box that can be used year on year for safe storage.
Unlike many of the best artificial Christmas trees, customers will need to provide their own lights and decorations for these trees as they are NOT supplied by the manufacturer with the tree.

6ft Pine - Best Choice Christmas Tree
This large 6ft (H) x 3ft 6in (W) (1.8m x 1.1m) plain artificial Christmas tree from Best Choice is large enough to grace any dwelling or office.
Featuring a large 1000 tip count, which provides a very bushy, natural looking tree.
This artificial tree is for those who would like to decorate their own tree with there own lights and decorations, as non are shipped with this tree.
Part of the fun at Christmas is for the family to unite and decorate the tree will allow you to do just that.
Made from fire retardant PVC, this tree comes in 3 sections that fit together well, the branches are then bent out (hinged) from the sections and teased into shape. 
It's really quite easy to assemble and takes about 15 – 20 minutes of your life to fluff up.
The strong collapsible stand supports the tree. The stand is 'easily collapsed' after use for storage. 
The tree is shipped in a 'cardboard' box many customers do not find suitable for the tree's storage throughout the year. I would suggest in this case to ensure a damage free tree and safekeeping until the following Christmas, we recommend the storage of your tree in a large Christmas tree storage bag for a tree of this size.

6ft - CHRISTOW Snowy Christmas Tree
Looking for an artificial Christmas tree that can be placed either in or outdoors? Then this pre-lit 6ft Snowy Christmas tree from Christows could be just what you are looking for.
Standing at 6ft H x 3.2ft W (180cm x 100cm) this artificial tree is not overly sized and should fit in many households or offices.
Coming in 3 easy to fit 'hinged' sections (bottom, middle and top) This artificial tree is made from very high-quality fire retardant PVC, making it extremely safe for the house and home. With a whopping 600 tip count which gives this tree a lush full shape.
In addition, Shareconn provides 330 LED Christmas lights for this tree, which has a 3 function controller/plug providing capabilities for on/off, sequential and flashing of the LED's to ensure you get that beautiful Christmas glow we all love at that time of the year, especially in the evening when the main is light off.
There is a general complaint from customers about this product and that is the absence of a UK plug for the LED lights. It is likely you will need to purchase a US/UK adaptor or a European 2pin/UK adaptor to get the LED lights to function.
Supporting this tree is a sturdy foldable metal base that provides not only support but stability to keep your Christmas tree standing tall and prevent breakage. The provided 'thumbscrews' will help to fix the tree and base in place.
It is always advised that after assembling your tree, it's best to comb branches and leaves to achieve the best effect.
Although I have featured above the 6.5ft pre-lit option, Christows also has this tree pre-lit as a  5ft option and a 7ft option.

4ft - Yorbay Snow Flocked Artificial Christmas Tree
For smaller dwellings where perhaps space for a tree is at a premium, then look no further than this 4ft artificial tree offering from Yorbay.
Made from fire-resistant PVC and just 4ft H x 2ft 10in W (120cm x 86cm) this flock snow-covered tree with 'real pine cones' would suit most small spaces perfectly both indoors and outdoors if required.
Although standing at just 4ft this tree has for its size a large tip count of 390, making it nice and bushy. All that may be required are some Christmas LED lights to really set this great little tree a glow.
In only 2 hinged parts, this tree is easy to assemble. A foldable metal stand supports the tree once assembled. A tree installation video from Yorbay shows you the assembly process and how to adjust the tree branches for best effect.
We recommend a 4ft Christmas tree storage bag (as no strong safe storage bag or box is provided) which you can get from Amazon once the tree is disassembled and ready for safe storage until the following year.
Yorbay also offers this tree as a '5ft tree option' in case you would like something a little larger.

In the weeks and months leading up to Christmas, we find ourselves going crazy ploughing through the sizes and options for artificial Christmas trees.
I have above provided a 'buyers guide' for 7 of the best artificial Christmas trees currently on sale in the UK market from leading manufactures.
I have given these best artificial Christmas tree options based on size, cost, tip count, decoration and lighting. I am sure you will find something to your liking and budget.
For more artificial Christmas tree questions take a look at our FAQ page which may assist you with further information about artificial Christmas trees and other garden-related queries.
Our buyer's guides are also a wealth of information on a variety of subjects related to gardens, outdoor living and much more.