Reading Time:
5
minutes
Basil is also an annual herb, which can be grown both indoors and outdoors all year around. Basil is an aromatic plant which is part of the mint family.
Basil is an annual herb, which means you will need to sow fresh seeds each year. Sowing is best carried out in early Spring indoors and 'growing on' seedling plants into the summer months outdoors after the last frosts.
By sowing and growing seeds in this way, you will ensure you have a good continues crop of fresh Basil all throughout the summer and early autumn.
Basil is one of the easiest of herbs to grow in the garden or indoors at home on the windowsill simply follow these 5 simple steps on 'How to Grow Basil'.
In late February almost fill 15cm (6in) pot/s with a good seed compost like John Innes No 1 or similar, ensuring that the pots have good drainage holes. Place a few basil seeds, across the surface of the compost, place only a few (say 6 or 8 per pot) as most will germinate. Then gently cover with a light sprinkle of compost or vermiculite to aid germination and water retention.
Water gently and pop them into a propagator if you have one or cover each pot with a clear plastic bag and elastic band to ensure you form a little micro climate to encourage quicker germination. Now place your pots or propagator in warm, sunlit location.
Seedlings will start to appear in a couple of weeks, at this point you can pull back the plastic bag or vent the propagator to allow better airflow around the seedings for a few days. Water ever so slightly, just enough to ensure you have moist soil.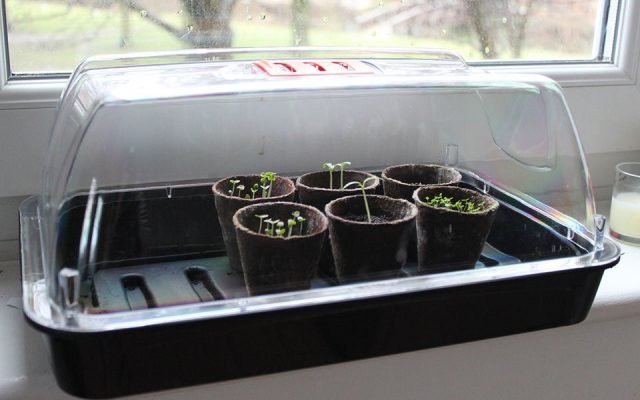 After seed germination, you can remove your pots from the propagator (or remove the bags) ensuring that you water sparingly, as Basil hates to stand in wet compost.
When the seedlings are large enough to handle, by which time they should have developed their first 'true' leaves (ignore those rounded seed leaves), then 'pot on' individually into their own 7.5cm (3in) pot filled with multi-purpose compost for the 'final' stages of growth indoors.
How to Grow Basil - Outdoors
Having started off indoors, Individual pots can now be placed outside in early summer after the last frosts. To acclimatise your plants and to ensure their survival, place the pots in a slightly shaded and sheltered spot if you can during the day, and bring them back indoors at night.
Continue this exercise for about 2 weeks, after which time they can be left outside in a pot or transferred into the ground.
Transferring your Basil plants outdoors in the ground will require your plants to have a warm, sunny position, sheltered from harsh winds and as with the 'pots' after all risk of frost has gone.
Each seedling will need to be gently removed from its pot and placed in a 15mm (1/2in) diameter hole roughly 10cm (4in) apart. The soil will need to be 'packed 'gently back around the base of the Basil and watered well. Plants can then be left to grow, checking moisture levels regularly.
As advised Basil is an annual herb, However, in the autumn, when those temperatures start to dip, just bring a few plants back indoors in pots to provide you with a fresh supply of leaves throughout the winter.
The trick in successfully growing Basil and ensuring a bumper continues crop is to harvest your plants regularly. It is a question of the 'more you harvest' the 'more your plants' will grow.
Leave your plants until they are around 10cm (4in) tall with several green leaves, you know then that your plants are ready to harvest.
When harvesting, you should 'pinch off' or cut with scissors the 'stem' right above where a 'pair' of leaves are growing (leaf node). After you do this, two more stems will start to grow, which means 'twice' the leaves next time you harvest! Plants should continue to produce leaves for a couple of months once harvesting starts.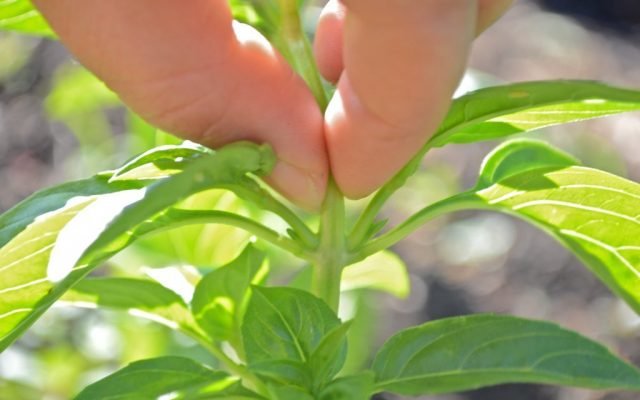 It is important to know that once Basil starts to flower, those flowers should be removed immediately.
Failing to remove your flowers will result in the 'loss of flavour' from your leaves. Don't worry too much if you forget to deflower, fortunately, leaves will start to get their flavour back again once flowers have been removed.
We have shown you 'How to grow Basil' now here are just a few things one can do to preserve Basil.
To get the full flavour of Basil, it should be picked fresh and used quickly. You can you place fresh-cut leaves in the fridge for a couple of days before use.
Alternatively, you can finely chop Basil leaves up and add water to them to form a 'puree' using a food blender. Pour your Basil puree into ice cube trays and freeze. By doing this you can cook using 'Basil Cubes' when needed for sauces and soups etc.. at any time of the year.
Alternatively, you can try placing a handful of leaves in a small freezer bag and store in the freezer until needed.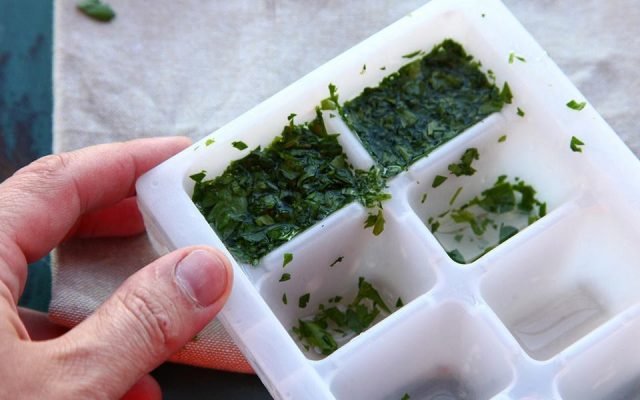 There are many different varieties of Basil one could and should try, here are a few.
Sweet Genovese: Probably the most popular variety grown. Great with tomatoes and cheese dishes.
Napoletano:  If you want the perfect pesto.
Siam Queen: Great in Thai cuisine. A strong taste like liquorice. Siam Queen offers a spicy bite of strong anise flavour.
Cinnamon Basil: Varieties are bushy plants with aromatic red-veined green leaves, distinctive, spicy flavour of cinnamon.
By following our 5 steps on how to grow basil we are sure it will provide you with large amounts of this tasty herb. Just follow the steps above and success will follow. 
Knowing, how to grow Basil is easy and can be undertaken in every home with little cost but great reward, so give it a try and see the results for yourselves.
Follow our How To's series of post's for more great tips on the garden and gardening in the UK.