Reading Time:
14
minutes
As autumn approaches, many of us enjoy the beautiful colours that this season brings to the landscape.
Autumn brings cooler crisp evenings and that faint smell of smoke in the air, and I do not mean just around the 5th November either.
If you enjoy being outdoors with friends and family, then those cooler autumn and winter nights need not be a problem, no need to rush indoors once the weather turns cooler, How? Make a fire.
Fire pits for the garden are becoming ever more popular in the UK, as a means of extending your time in the garden. 
Just imagine sitting in your garden on a cool evening, hearing wood 'popping' which in turn lets out a few sparks, mixed with that cooler air, they billow upwards towards a starry sky.
In a hurry?
If you don't have much time, use the link below to quickly find the best 'Fire Pit For The Garden' that is available for you on Amazon. You can be assured we only recommend products based on their quality and value for money...
- Best 'Overall' Fire Pit For The Garden - Harbour Cast Iron Fire Pit
Fire Pits For The Garden - Comparison Table
Multi Fuel = Logs/Charcoal/Coal/Gel/Ethanol
Product Image
Best Overall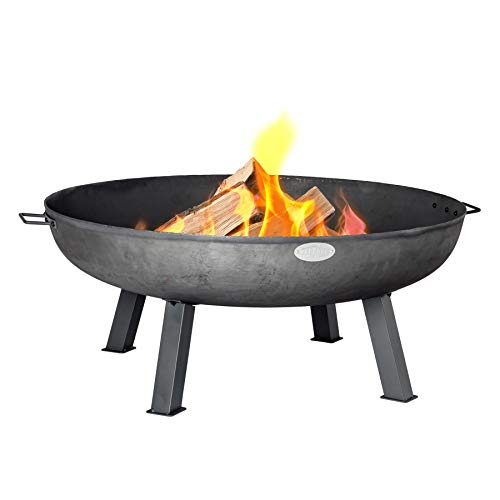 Runner-Up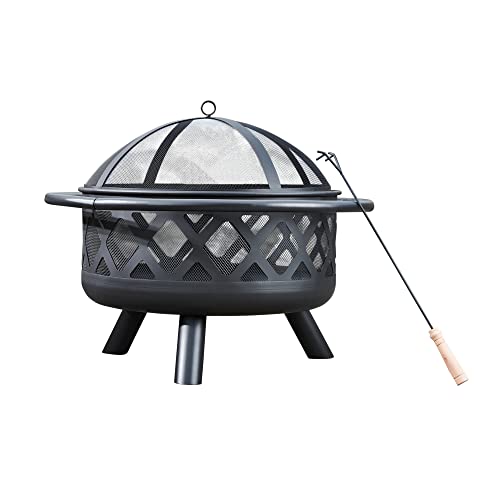 Best Under £90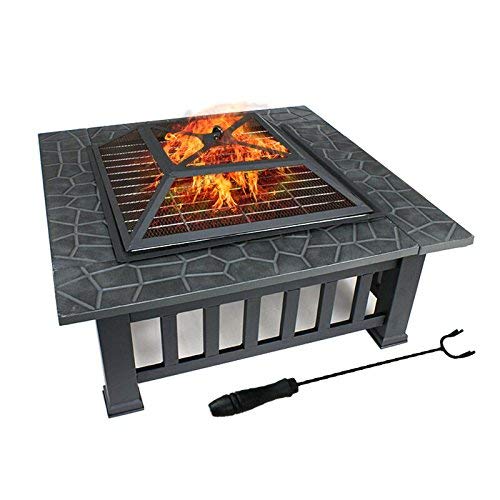 Dimensions
40in - 100cm (D) x 16in - 42cm (H)
22in - 75cm (D) x 25in - 62cm (H)
18in - 45cm (H) x 32in - 81 cm (W)
Best Overall
Product Image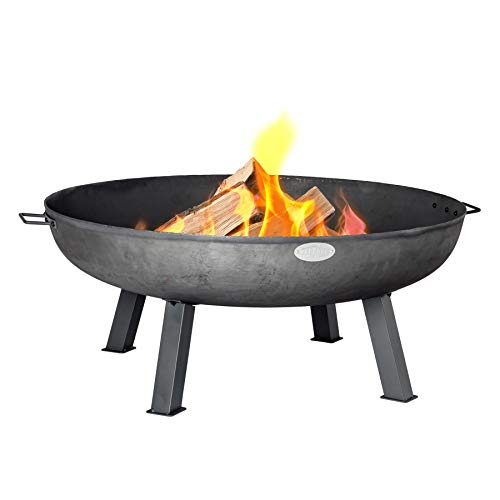 Dimensions
40in - 100cm (D) x 16in - 42cm (H)
Runner-Up
Product Image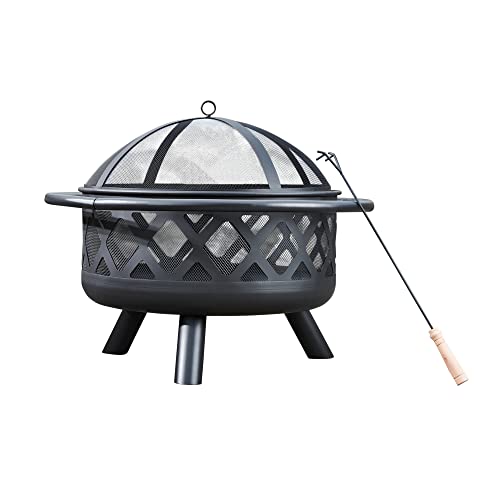 Dimensions
22in - 75cm (D) x 25in - 62cm (H)
Best Under £90
Product Image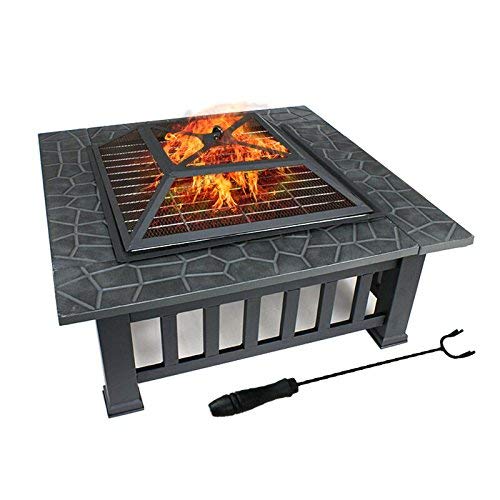 Dimensions
18in - 45cm (H) x 32in - 81 cm (W)
Last update on 2022-08-14
Fire Pits For The Garden - Beginners Guide
Hopefully, you have looked at the quick comparison table above. I have now prepared this detailed guide and provided my 5 top pick's for you. These firepit recommendations are based on features, usability, customer satisfaction and value for money.
Can you Have a Fire Pit in Your Garden
In short, the answer is yes. UK outdoor fire laws, which govern the requirements, state, that unless you live in an area with 'specific bylaws' preventing fires, householders are generally free to have BBQ's, build a bonfire, and have a fire pit in the garden on their own property.
If you have a fire pit in your garden or on your patio, just make sure it is positioned correctly so that the smoke potentially does not blow into a neighbour's property.
For further information check out our FAQ's page on Fire Pit Laws in the UK.
Fire Pits for the Garden – What to Look for and Consider
Firepits offer us a great way to recreate that outdoor campfire feeling, right there in your garden. However, buying the right fire pit can become a headache as there are so many styles, materials, fuel types and other aspects to consider when buying a fire pit for the garden.
As with most large purchases, it is always best to do some research. I have carried out some of that research here in this guide, hopefully, you will find out all you need to know to be able to select a suitable fire pit for the garden or patio from our top recommendations and advice.
Location: Where are you going to place your fire pit? Bearing in mind the regulations above concerning UK fire laws, placement should be flexible. Location and the placement of your fire pit become especially important if you are wanting to 'burn wood' as the fuel for your firepit though so take care and follow the guidelines set out.
Permanent or Portable: Another quite important factor when considering a fire pit. Will you want to move your fire pit or will it be a fixed part of your outdoor living space? If you prefer to optionally have your pit located in various parts of your garden on occasion, and stored away as and when required, then look for fire pits that will give you this flexibility.
Fuel Type: We have already mentioned 'wood' which is a popular medium for burning in a fire pit. Especially if you love the sound of the classic 'crackling' fire and that smoky aroma in the air.
Wood has its drawbacks, cleaning, storing, and supplying a constant supply of 'dry' wood can be challenging. Also, the size of your fire pit should be considered to accommodate decent-sized logs that will burn for a reasonable amount of time.
Other options include:
Charcoal:- A controlled even heat, but a small flame.
Propane Gas/LPG:- A propane bottle & hose, are attached to the firepit. Can initially be more expensive. Can be used on open decks/patios with overhead roofs.
Natural Gas:- Quite inexpensive to run compared to other fuels, but a gas line will need to be installed by a professional gas installer and an installation certificate provided. Natural gas fire pits are therefore usually a 'fixed' or built-in solution.
Bio – Ethanol:- This is a very clean-burning, efficient, renewable fuel that emits no smoke, ash, or toxins.
Gel:- A chemical fuel that does not emit either smoke or odours.
It should also be noted that each fuel type has its own 'calorific value'
Calorific Value is the amount of energy/heat produced by a single unit of the fuel on its combustion and expressed in Kilojoules per Kilogram (kJ/kg) or British Thermal Units per Pound (Btu/lb).
Check out our FAQ's for calorific values of the fuels mentioned above.
Fire Pits for the Garden - Materials
Fire pits for the garden can be constructed from various materials. Below are the popular materials often used. Again, each has its pro's and con's
Steel:- Steel fire pits come in various shapes because of the easy in moulding the metal. Steel pits can be just that, plain steel, some are painted and even powder coated.
Plain steel can be and often is prone to 'rusting' through, unless properly covered, when not in use. I suggest providing a coat or two of heat resistant paint to the fire pit before use if you purchase a plain steel fire pit.
Often used in conjunction with stone or ceramic in the design of fire pits. With powder-coated steel and or ceramic or stone design, this type of fire pit, of course, will increase the cost.
Stainless Steel:- All the benefits of plain steel fire pits, but without the rust issues. Stainless Steel can have a plain/shiny or brushed finish and can be placed above ground or sunken below ground in the designs available. Can be more expensive than plain steel.
Cast Iron: The great workhorse of fire pits for the garden. Cast iron fire pits offer a great affordable option while providing a few plus points to owners.
One of the major plus points is the ability to provide great 'thermal inertia'. This thermal property allows cast iron to absorb the heat from the fire in it, and radiate that heat evenly over a large area and over many hours.  
Great on a chilly autumn or winters evening. This of course also means it takes longer to 'cool down' once it is no longer being used.
On the downside, weight and rust can also be problematic. With a cast-iron fire pit, you really want to make sure you place it in one position and keep it there. Cast iron fire pits can be extremely difficult to move around.
Like plain steel, cast iron fire pits are susceptible to rust and will need to be covered over when not in use or preferable give it a coat of 'heat resistant' paint.
Copper: Fire pits made from copper tend to be on the more luxurious expensive end of the fire pit market. Copper has similar properties to both stainless steel and cast iron.
As a material, copper can resist the elements extremely well. Only developing that green/blueish oxidisation colour over time, which can be quite pleasing to the eye for some. If this is not to your liking and you want to return it to its former glory, there are specific cleaners one can buy to bring it back to its original condition.
Like cast iron, copper also retains its heat but gets extremely hot, making it ideal for heating a larger area, but be careful! You are also at a far greater risk of burning yourself. The expense can also be on the downside.
Stone & Ceramic:- Firepits constructed from ceramic and stone offer a great authentic look, plus there are no corrosion or rust problems either. However, as hard brittle materials, there is a susceptibility to chipping or cracking and thus difficult to repair.
Dependant on the firepit design stone and or ceramic do not transmit the heat away from the source unlike steel, cast iron and copper for instance. Therefore, it is possible to incorporate a table or shelve (surface) into the firepit design and people can be in closer direct 'contact' with the firepit.
Aluminium:- One of the most common materials, Aluminium firepits have some obvious advantages over some of the other materials.
Aluminium is a light metal, so it's easy to move around if you are the type of person who likes to give your garden a new look now and again.
Being both weather and corrosion resistant is ideal so will not rust, which for something generally being out in the open is a great plus point.
Like copper though, aluminium does oxidise and produces a white powdery substance which can assist in further protection of the metal. Aluminium does not reabsorb heat from the fire, making them safer to touch and handle.
Easy to care for, it is a great affordable, lightweight, and durable option material for a fire pit.
Unless you are only interested in digging a hole in the ground in your garden, a fire pit can and often is a 'major' focal point of your outdoor living space. Plan wisely and spend time thinking about what you are trying to achieve.
Fire Bowls: Fire pits come in many varieties of shapes and sizes, some with feet, some with a base. Much depends on your own preferred style. Popular in the market are the 'Fire Bowls' which can be round or oval with a size dependant again, on your own preferred taste and your planned gatherings.

Fire Baskets: Often these pits are square, rectangular o round, fire baskets come in different heights and widths depending on the number of guests as with your fire bowls.
Fire baskets usually offer a 360° top to bottom complete view of the fire. These models do tend to lose embers through their holes or slats. Special care should be taken when setting up and placing fire baskets as these models must be set up on a non-flammable surface and should ideally be placed on an 'ashtray' to catch the ash from the fire.
Safety and other considerations
Common sense should prevail when dealing with a firepit. Safety of all those involved should be paramount this includes all family members, pets, and guests. I have detailed a few points (not in any particular order) here which you should adhere to when 'lighting a fire' in your garden.
Never leave children and or pets alone with a fire. Ensure they are always kept at a safe distance.
Ensure you fire pit is set up fully level, and stable, on a non-flammable surface which should also include the fire pits surrounding area.
Never, leave your fire pit unattended or if you do, make sure your fire is fully extinguished before you leave.
Fire pits should be positioned at least 3mtrs (10ft) away from any buildings and fences, on level ground preferably in an open area without overhanging trees.
I would also recommend that your firepit has a metal mesh cover known as a 'spark arrestor' screen (screen to catch sparks) over it when you are not adding fuel to the pit like logs or perhaps cooking over it. A spark arrestor will stop any dangerous embers from escaping and becoming a problem.
Ensure you have a fire extinguisher handy or at least a bucket of water.
Keep anything flammable away from your pit. This includes paper plates, clothing, paper napkins and the like.
Be aware of the wind strength and direction, especially if you are burning woods.
Below then are my top recommendations for 'Fire Pits For The Garden'.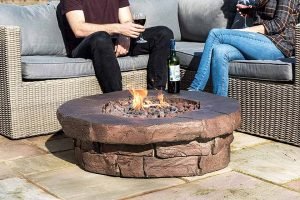 The Peaktop Outdoor Fire Pit is a large garden fire pit which utilises propane gas as its fuel, therefore smokeless. The 'Peaktop' will provide a great focal point and thus a super addition to any home garden, particularly as the control panel and electronic ignition, are also concealed.
Easy to assemble in just a few minutes, and sturdily constructed from 'Faux Stone' (manufactured stone veneer) with a 'slate' finish, the Peaktop fire pit measures 28cm (H) x 93cm (D) and is supplied with  6kg (13lbs) of lava rock, gas regulator, 3m's of hose with standard sellers warranties.
Also included in the price is a PVC pit cover when you are not using your fire pit. However, customers advise that the cover is quite tight and thus many customers have opted to buy a larger 'separate' cover like this Bottlewise Fire Pit Cover. This cover is 'extra-large' and is both water & dust proof, which is what is needed to protect your new fire pit.
One of the important things with fire pits is their ability to radiate heat, to keep those around it comfortably warm on that chilly evening. The 'Peaktop' gas fire pit has an efficient input to output ratio, with the Peaktop being ETL listed and test rated at 40,000 Btu (12kw) which is super. This is a large amount of radiated heat from a gas fire even on a chilly evening. 
Due to the design, the Peaktop fire pit also allows for drinks, for example, to be placed at the edge of the fire without the risk of the drinks 'getting warm' or glass being damaged.
Another great bonus is the usability of the Peaktop. This fire pit can be placed on a patio or partially covered wooden deck without any 'burning' or 'scorching' fears to the patio or deck. I would however always recommend taking precautions by placing non-inflammable barriers below the fire pit just in case of potential accidents.

Harbour Cast Iron Fire Pit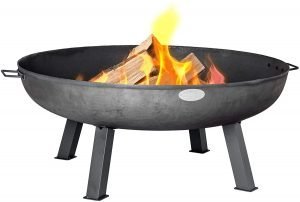 As far as fire pits for the garden go, the very large, extremely strong and sturdy Harbour Houseware Cast Iron Fire Pit is a basic no-nonsense, cast iron, fire pit of excellent quality.
A 'multi' fuel fire pit, that provides incredible heat radiance when loaded with either logs, charcoal, or coal.
Standing at 42 cm (16in) (H) x 100 cm (40in) (D) and made from thick cast iron. The oversized bowl design, provides the user with the maximum exposure of their fuel to oxygen. Meaning easier lighting and a longer, more sustained burn.  
The Harbour fire pit does exactly 'what is said on the tin' and provides a large, solid fire pit.  Shipped with all the necessary screw's and handles, this cast iron pit is easy to put together and can be ready for use in a very short space of time.
It should be noted that the Harbour is not suitable for placing on covered patios and or decks, and will require a non-combustible surface for it to be placed upon, similar to concrete or paving slabs.
Also, I recommend as a safety precaution, especially if you are burning wood (logs)  the use of a spark guard arrestor.
I, however, also recommend that prior to using your fire pit, you give the complete unit a couple of coats of heat-resistant paint, which should be able to withstand very temperatures of several hundred degrees. This painting process will protect your fire pit by assisting in the 'prevention' of rust forming on your fire pit, if left outside uncovered and open to the elements.
Lastly, in addition to painting, I would recommend the use of a pit cover when your fire pit is not being used, this will protect the fire pit from the elements if left outside and not stored away inside somewhere.

Peaktop Wood Burning Firepit
The Peaktop wood-burning firepit offers a beautiful 'cut out' decorative steel fire pit for the garden. Which in itself provides a great focal point. 
The manufacturers provide a couple of additional items, which one would normally pay extra for, this includes a poker and spark guard.
The Peaktop fire pit is a strong and fairly sturdy alloy steel firepit with a black finish of 'diamond' cut out on the sides.
Due to its design, the Peaktop fire pit provides a full 360-degree fire view with good heat radiance. The sides are also 'meshed' to stop any stray sparks from flying out.
Another seemingly insignificant part of the design is the 'safety ring' for easy transport, both when hot or cold. This ring greatly aids the movement of the firepit as it stays cool at all times.
Measuring 62cm  (24in) (H)  with a  75cm  (30in) (D) the Peaktop is suitable for burning larger logs.
Charcoal and or coal are not recommended to be used by the manufacturer. However, users say they have used such fuels without issue. 
It should be noted also that the Peaktop fire pit is not suitable for placing on covered patios and or decks, and will require a non-combustible surface for it to be placed upon, similar to concrete or paving slabs.

Fennek Hexagon Stainless Steel Mobile Fire Pit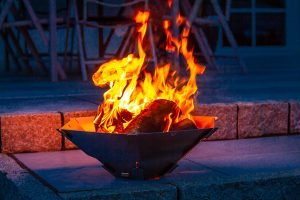 With its lightweight, compact and unique design, the Fennek Hexagon stainless steel fire pit. 
This easy-to-transport stainless steel firepit is suitable for the home and many other outdoor uses.
The seven (7) carefully crafted parts come together effortlessly so you're left with a beautiful hexagonal-shaped fire pit ready to use in no time.
Made from high-temperature-resistant stainless steel, this hexagonal design is sure to be an inspiring addition to your garden, camper van, fishing trip or even a small backyard.
The Fennek Hexagon measures just 59cm (L) x 26cm (W) x 18.5cm (H)  (23in x 10in x 7in) and weights a mere 4kg (8lbs) 
The Fennek can be taken almost anywhere, as once disassembled it will fit in a backpack, a car's glove compartment or even a bicycle pannier so truly a portable fire pit.
The Fennek Hexagon also has a few accessories that compliment the Hexagon fire pit (all purchased separately) and improve your fire pit experience even further. 
For instance, The 'Fennek 4 Fire' grill grate, is a two-part barbecue tray – closed and open and is made of high-quality stainless steel.
The 'Hexagon Stand Up' is the perfect heat protection for delicate ground. Made from 100% stainless steel, this 'stand-up' provides 4 securing brackets, which can also be 'locked' onto the Fennek Hexagon to prevent slipping.
A Fennek accessories bag, made from strong tarpaulin is available and sized to accept your Hexagon and all the accessories.

The Dawoo Fire Pit is a stylish, square, multi-purpose table, fire pit, made from powder-coated steel to combat rust and a heat resistant fire bowl able to withstand temperatures of over 930F (500c) according to the manufacturer.
The beautiful table design will give users multiple options for use, providing owners with a truly great garden experience. 
With good heat radiance, the Dawoo can be used as a regular fire pit in the traditional way. Load with logs on a cool autumn or winter evening and you have a beautiful central focal point for your garden, set in a cosy atmosphere as family and friends enjoy the pleasant crackle of burning wood.
Wanting to BBQ/grill food? BBQ/grill using either logs or charcoal either will not be a problem for the Dawoo fire pit, as it instantly turns into a BBQ grill when you add the 51cm x 51cm  (21inx 21in) grill (supplied) to the top of the fire bowl providing 2601 cm2 (403 in2) of grilling space. 
Cool drinks for that hot afternoon in the garden, relaxing? Simply fill the fire bowl with 'ice' for an instant large ice bucket, large enough for the whole family's drinks.
The square Dawoo table measures 81 cm (32in) (W) x 81cm (32in) (L) x 45cm (18in) (H) (with a fireguard) around the central fire area allowing for easy access to drinks and food without fear of being burnt.
It should be noted also that the Dawoo fire pit is not suitable for placing on covered patios and or wooden decks, and will require a non-combustible surface for it to be placed upon, similar to concrete or paving slabs.
The Dawoo Fire Pit is simply designed and comes complete with all the instructions for easy assembly. Also included and shipped with the Dawoo Fire Pit are a waterproof cover, spark guard, and poker which can be used to stoke the fire and remove the spark guard as required.

So, in full summary, you are usually OK to build 'contained' fires on your own property if you watch what you burn and don't annoy your neighbours. Hopefully, you will have plenty of food for thought after reading this guide and the rules around fire pits for the garden.
The domestic fire pits we see on the market today, offer the potential purchaser many different models, shapes and materials. I have given you a what I feel is a good overview of whats available currently in the market place, based on use, budget, quality and fuel type.
Whatever style or size of fire pit you choose, it should provide a great opportunity for casual conversation with friends and family around the urban 'domestic' campfire, toasting marshmallows, sipping hot chocolate or something a little stronger. 
Fire pits are especially good though for keeping warm on that chilly autumn or winters evening when you just want to be out under that starry sky. If you have any further questions on firepits, why not take a look at our FAQ page there may be more question there concerning firepits for the garden or home.
Above all be safe and enjoy yourselves.