Reading Time:
13
minutes
Summer is a time for BBQs with friends and family. However, if you are a 'smoker' then there is a world of possibilities with 'low and slow' barbecue smoking, which can be enjoyed at any time of the year. Don't be confused, this is not barbecuing as you know it.
If you are just starting out and want to learn more about 'smoking' and how it differs from the UK's traditional summer BBQ method known as grilling, or want to know, what meat smokers are? Then check out our post barbeque smokers, a beginners insight into the awesome world of smoking.
Pellet grills run from your household electrical system. When you plug the grill in and turn on the digital controller, a rotating auger delivers pellets from the hopper to a cylindrical fire pot housing an igniter rod.
Once the pellets are ignited they use 100% all-natural hardwood pellets as the fuel source, not the electrical system.
Pellet grills can provide direct or indirect heat.
What are the Best Barbecue Smokers
With many 'smokers' on the market, it can be difficult to make the right choice of barbecue smoker that is suitable for you, especially if you are new to 'smoking'. 
Be sure though once you've got a smoker, the food possibilities are endless, trying different woods, different rubs, different meats, cheeses, etc. the list can go on and on.
In a hurry?
If you don't have much time, use the links below to quickly find the best 'Barbecue Smoker' available for you on Amazon. You can be assured we only recommend products based on their quality and value for money... - Best 'Overall' Barbecue Smoker - Barbecook Oskar M
The Best Barbecue Smokers – Comparison Table
Product Image
Best Overall
Runner-Up
Best Under £55
Model/Make
Klarstein Brooklyn - BBQ Barrel
TecTake BBQ Charcoal Barbecue (3 in 1)
Best Overall
Product Image
Runner-Up
Product Image
Model/Make
Klarstein Brooklyn - BBQ Barrel
Best Under £55
Product Image
Model/Make
TecTake BBQ Charcoal Barbecue (3 in 1)
Last update on 2022-05-20
In this guide, we'll take a look at the best charcoal, gas, pellet and wood smokers for the UK market. We have looked at the design, smoker/grill features, their build quality and value for money to give you our top recommendations.
TecTake 3 in 1 Charcoal Barbecue Smoker
This 3 in 1 Charcoal smoker from TecTake is a perfect solution for the beginner and those wanting to try smoking for the first time.
This multi-functional barbecue smoker is made from quality steel, can use either charcoal or wood as its fuel source, when added to the 'firebox' at the bottom of the unit.
You can use the bottom single-section for traditional grilling or when used in conjunction with the double stacker and water pan, the TecTake can be used as an indirect barbecue or a large smoking chamber. These methods are ideal for cooking and smoking things like delicious meats, fish, chicken and sausage. 
Should you want to use the bottom section during the winter, the firebox doubles as a 'fire pit' which can be used as a 'heater' to warm you, your friends and your family on a winters evening when outdoors.
The unit is also equipped with a thermometer giving a temperature setting range between 50° C to 300° C this allows you to monitor the temperature inside the barbecue/smoker. Combined  with the adjustable air vent on the lid and built-in thermometer, you can precisely control the cooking temperature while adjusting the fire below.
The double door design allows for monitoring of the food and the firebox simultaneously with no need to remove the lids and waste heat and or smoke. 
Standing just 2ft 6in (80 cm) height x 1ft 3in (41 cm) wide this compact unit has a large cooking capacity with 2 x 304 stainless steel grates that provide some 166 sq in (1075 sq cm) of cooking area in this well-designed space-saving vertical smoker, the smoker is ideal for those who use smaller spaces to entertain.
For those who want to leave their smoker/grill outside when not in use, we recommend the weatherproof Zerodis Outdoor BBQ/Grill Cover

Tepro 1038 Wichita Smoker
The Tepro 1038 'Wichita' Smoker is designed as an 'offset smoker' with a variety of different cooking possibilities.
This flexible barbecue smoker can be used to grill/BBQ in the most traditional of ways over a hot bed of coals, or smoke and cook delicious meats using it as a 'smoker' or using the 'indirect' cooking method. Which ever way you choose your food is cooked  perfection.
A solid, sturdy unit, constructed from 5mm & 1.2mm steel an ideal offset smoker for the beginner, this smoker can use either wood or charcoal as its primary heat/smoke source. 
With a total length of just under 1.2m (4ft) x 0.65m (2ft) wide this compact smoker is ideal for those with limited space.
The colour coded (BBQ, Smoking, Grilling) thermometer built into the lid helps you keep the perfect 80 -130°c smoking temperatures. Of course, you can lift the lid and use it as a direct BBQ Grill which provides some 1620 sq cm or (153 sq in) of cooking space.
With an adjustable air supply in the lower chamber and a chimney with adjustable damper your airflow, temperatures and smoke can be manually adjusted. 
To keep your Tepro Wichita Smoker looking it's very best, it is finished with a 350°c heat resistant coating, and features chrome plated steel handles and a grease tin holder at the bottom of the main unit to catch any drips from the main cooking area.
The unit comes complete with clear English assemble instructions on how to put it together.
You may also want to view the Tepro Wichita promotional video on youtube.

Landmann Taurus Barbecue Smoker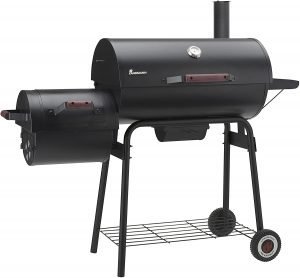 Another super offset smoker is the Landmann Black Taurus 660. This fairly large smoker measuring 1.4 m (L) x 0.53 m (W) 1.25 m (H) –  ( 4ft 5in x 1ft 7in x 4ft 10in) and is shipped with a steel 'powder coated' lid, firebowl and fire box. This smoker can use either charcoal or wood as its primary heat/cooking source.
The 3 easy to clean large grilles (adjustable levels) are enamelled steel and provide a cooking area of 2376 sq cm (368 sq in) which is suitable for around 10 people when wanting a BBQ.
Other features include a removable side shelf, fitted thermometer in the lid and 'ash pot' to remove the ashes from the large compartment and wooden sheathed metal handles.
Both of the smokers sections can be used for grilling (BBQ) alternately the unit can be used for smoking or indirect cooking making it a multi functional smoker.
The firebox has an air-vent to control the air volume and the main compartment has a chimney with control damper. Together with the built in thermometer you can control the units temperature when smoking or indirect cooking.
The unit comes with assembly instructions which could be a little clearer, however its not to difficult to put together. Once assembled the smoker is quite heavy to move about, despite having a couple of wheels. We therefore recommend that the unit is left in one place and covered when not in use using the ICover 60 inch heavy duty cover or similar.
You may also like to look at the generic Landmann smoker video direct  from the manufacturer to give you a better idea about this great multi purpose smoker and how it can be used.

Klarstein Barrel Barbecue Smoker
The 4 in 1 Klarstein Brooklyn BBQ barrel grill is one of the most versatile grilles on the market.
The unit combines in a stylish way a BBQ grill for grilling. Smoking and Slow Cooking with a smoker barrel and also includes a removable fire bowl.
Made from powder-coated steel, its vertical space-saving design provides overall dimensions of only 0.96 m (H ) x 0.54 m (W) – 3ft 1in (H) x 1ft 7in (W)
The unit is suitable for burning either logs, charcoal or barbecue briquettes as its main fuel source. Wood chips can also be added to the coals should you wish to 'smoke' food.
With the water bowl and the second grill grate fitted, the closed barbecue barrel becomes a smoke oven for cold or hot smoking specialities.
The Klarstein is also supplied with a factory fitted thermometer and top manual air vent to help control the temperature of the unit. Their are also 2 x chromed steel grates available, providing 1385 sq cm (214 sq in) of smoking or indirect cooking space.
In addition, the unit also has 1 x chrome steel 'smoker rack' for 'hanging' things like fish or sausage, which can be hot or cold 'smoked' either vertically and or horizontally using the hanging rack or grates provided.
When the weather turns chilly outside, the Klarstein 4 in 1 can also be used as a neat little free standing 'fire pit' to burn logs for example, by utilising the bottom 'firebowl' section which is sat on 'tripod' legs.
Want a traditional grill (BBQ)? No problem, by removing the upper part of the unit you can put a grate (supplied) across the fire bowl and you are ready for those 'sizzling' steaks to be cooked in the normal barbecued way.
The unit comes with assembly instructions in English and is fairly easy to put together. If you are leaving the 'Klarstein' outside when not in use, then it is advisable you purchase a 'barrel cover' to protect it from the elements and ensure the unit is kept in pristine condition.

ProQ Food Smoking Cabinet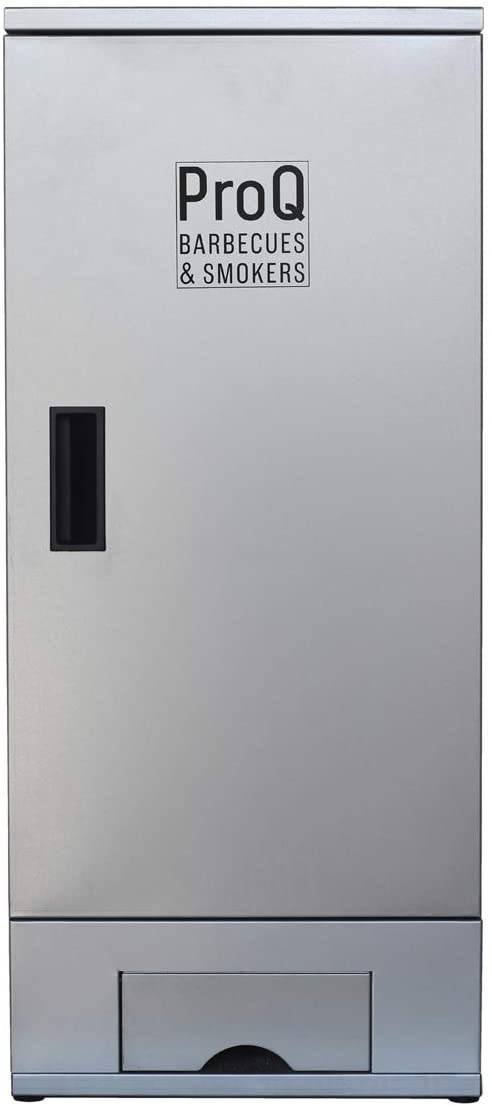 Really stuck for space outside, but want to smoke? Do you have a table or hard level surface available in your backyard or garden? Then the ProQ Food Smoking Cabinet could definitely be for you. It is a great smoking chamber for beginners and regular users alike.
Only for outdoor use and used for cold smoking by means of the ProQ  Cold Smoke Generator, which is inserted at the bottom of the unit. This generator utilises real wood to produce cool smoke for up to 10 hours for the smoker cabinet.
Standing just 62 cm (H) x 31 cm (W)  x 31 cm (D) – 24.5in (H) x 12 in (W) x 12 in (D) this 'mini smoker' weighing about 7.4kg (16lbs) is made totally from high-grade weather-resistant galvanised steel, with a magnetic locking door.
The smoker has a 60L volume, is easily put together with little effort, and is easy to clean and maintain, a super little smoker which has enough space to hang fish, smoke 2-3Kg (4.4lbs-6.6lbs) of cheese, and is perfect for smoking your own bacon,  meat and much more.
Due to its build (galvanised steel) the unit is impervious to the weather when left outside, so a cover is not really essential. However, you may want to purchase one just to cover it over and keep it clean. This ProQ smoker includes 3 removable stainless steel grills for easy cleaning, but no hooks supplied for hanging.
To provide purchasers with an assurance of the quality of their products ProQ provide a 10-year limited warranty for this smoker.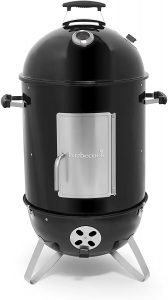 The Barbecook Oskar M is a vertical bullet smoker and suitable for the preparation of food using the smoked (Hot & Cold) grilled (BBQ) and indirect cooking methods. 
As part of the Oskar family (Oskar S,M,L) of smokers which also include the Oskar S and Oskar L smokers. The range is suitable for cooking food for 4, 6 and 10 persons respectively.
A flexible 'stackable' smoker/grill, as many bullet smokers are today, the unit is made from enamelled steel with dimensions of 112 cm (H) x 54 cm (W) – 3ft 6in (H) x 1ft 7in (W). 
These dimensions give the smoker a large capacity in which to cook food.
Thanks to the enamelled finish the 'smoker' is easy to maintain. You can easily take it apart for cleaning.
The 2 x  sturdy grills & suspension hooks (included) help you achieve the desired cooking result, whether its salmon, trout, or a piece of game meat.
The full unit has triple manual air vents (two at the base and one at the top) and built-in thermometer which will help you adjust and regulate the airflow and thus the smokers temperature. 
The large side door provides access to check/view the fire bowl and cooking food without totally dismantling the unit and thus loosing heat or smoke.
Easily add or remove the upper section by un-clipping 3 clips, which hold the bottom and top sections together. Once removed though, take out the water pan, which leaves the bottom section clear for conventional grilling (BBQ's) with a grill suspended (supplied) over the fire bowl. 
Remove the bottom grill and you can utilise the fire bowl as a fire pit for those nights when the sun goes down and you are still outside. Just throw a few logs in the pit, and you are all set to go.
Sturdily built and with 2 x handles to be able to pick the unit up (when not in use) the 'smoker comes with a full instruction manual for assembly and is not to difficult to understand. The manual also has guidance and tips for smoking and grilling.
Its always advisable to protect your, smoker, if left outside, and a Dome Smoker cover or similar will be required to ensure the best protection from the elements.

Char-Broil - The Big Easy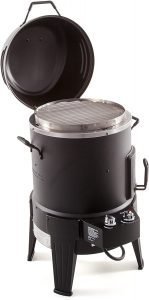 The gas-fired Char-Broil Big Easy offers the 'smoker' a technological experience with the use of  TRU-Infrared technology in the cooking process.
This 3 in 1 barbecue smoker, roaster and grill provide great performance while giving great tasting results.
The 'Big Easy' is a gas (LPG) unit, equipped with TRU-Infrared technology, which prevents flare-ups that can often burn food. The Big Easy delivers even heat to all areas for perfect cooking results and up to 50% juicer food, whilst also using less gas to cook – up to 30% less gas to be more precise.
Standing at 92cm (H) x 59cm (W) – 3ft (H) x 1ft 9in (W) the Big Easy is not a small unit, but it is solidly built. 
Ignition of the gas is just with a single click via a rotary switch located on the side of the unit, a single turn of a knob is all that is required to get this barbecue smoker going. Adjacent to the ignitor is the simple temperature control (High – Low).
Once up and running, cook without the extra fat, or smoke meat, roast chicken, or grill steaks without oil all is possible with the Big Easy.
Food can be grilled (BBQ) in the traditional way using the easy to clean porcelain coated top grate. 
Roasting and indirect cooking of meat, poultry and ribs, (up to 11kg – 24lbs)  for example, can be done with no oil, when used together with the cooking basket and adjustable racks and hooks (supplied) inside the unit. A grease tray located at the bottom of the unit catches any grease you may have from your cooking process.
The Big Easy also has a convenient smoking box, where you can add a 'real-wood' smoked flavour to your food, by adding wood chips or pellets to the box directly.
This 3-1 gas barbecue smoker, comes with a manufacturers 2-year warranty, cooks food quickly, cleanly and conveniently and with the minimum of fuss. Temperatures can be checked with the supplied temperature thermometer to ensure your food is cooked to perfection.
Take a look at this short video showing the Big Easy in action. It will provide you with some further insight into this great barbecue smoker.
One single addition you may want to consider is the Char-Broil Big Easy Cover, which protects the unit when not in use.

Pit Boss - PB700FB Wood Fired Pellet Grill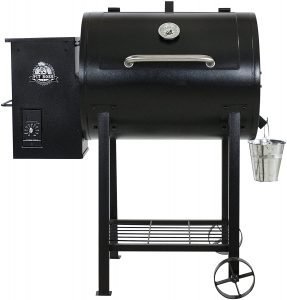 The Pit Boss PB700FB 700 Series offers the best value per square inch (sq cm) in the pellet grilling industry!
The 700FB has been perfectly designed to be as versatile as it is practical.
With 700 sq in (4516 sq cm) of cast-iron cooking surface including a second tier rack, the 700 Series is perfect for a group of around four to six people. 
These 8-in-1 grills, range in cooking temperature from 180° to 500°F (82 °C – 260° C). Simply select your preferred cooking styles with the digital control board and standard flame broiler, then set it and forget it.
Pit Boss 700FB wood-fired grill is the perfect combination of power and precision. With its heavy-gauge steel components, complete structural strength and durability, this high-value grill is meant to last. 
Grill, smoke, bake, roast, sear, braise or char-grill to perfection with the Pit Boss 700 Series. These grills are ideal for all your outdoor cooking needs year-round!
Standing at 111cm (H) x 68cm (W)  x 105cm (L) – 3ft 6in (H) x 2ft 2in (W) x 3ft 4in (L) the Pit Bos 700FB is not a small unit, but it is solidly built. 
100% HARDWOOD PELLETS – The Pit Boss 700FB Wood Fired Grill is the only grill on the market that uses 100% hardwood pellets. This means you'll be getting a healthier, tastier meal every time.
LOWER WIRE RACK – This feature allows for more versatility in cooking styles and makes it easier to turn your food.
DIRECT FLAME COOKING – Direct flame grilling gives you complete control over your meals, allowing you to cook at higher temperatures than most other grills on the market. It's also great for searing meats and creating delicious 'char marks'.
TEMPERATURE CONTROLS – With the easy-to-use digital control board, you can select from 8 different temperature settings ranging from 180°F (82 °C) to 500°F (260 °C). You can even choose between direct flame cooking or convection baking with this grill!
Take a look at this short video showing the Pit Boss FB700 in action. It will provide you with some further insight into this great barbecue smoker.
One single addition you may want to consider is the  Unicook BBQ  Cover, which protects the unit when not in use.

Whether you want to grill (BBQ) in the traditional way, smoke meat, poultry, cheese, nuts or just about anything you want to try. We are sure you will find that any of the above barbecue smokers will do the trick. Above all enjoy your grill/smoker and don't be afraid to experiment with different foods or wood flavours in your smoker.