Reading Time:
16
minutes
If you're a gardener and enjoy growing your own plants, then you know that one of the most important aspects of having a successful planted garden is choosing the right type and model of greenhouse.
Aluminium greenhouses are a common sight in garden centres and home improvement stores across the country. In addition to being attractive and rust-resistant, these greenhouses are inexpensive to purchase (in comparison to other constructions like wood) and on the whole maintenance-free. 
Aluminium greenhouses may also be another more substantial alternative to the often smaller plastic greenhouse that we see in and around our garden centres today.
Aluminium greenhouses also have the added benefit of being lighter in weight than traditional wooden greenhouses. However, not everyone who buys an aluminium greenhouse is aware of some of the challenges they may face. Read on further down to learn more about the pros and cons of these greenhouses, as well as things to consider before making the decision to buy an aluminium greenhouse.
What is the Best Aluminium Greenhouse?
If you don't have much time, use the link below to quickly find out my 'Top Pick' for the 'Best aluminium greenhouse' available for you on Amazon. You can be assured we only recommend products based on their quality, usability and value for money...
- 'Best Overall'- The Palram Canopia Hybrid Greenhouse
Aluminium Greenhouses: A lean-to aluminium greenhouse takes advantage of 'natural insulation' in your brickwork to maintain consistent temperatures.
Best Aluminium Greenhouses - Our Top 3 Picks
Product Image
Best Overall
Runner-Up
Best Under £350
Dimesions
208cm (H) x 185cm (W) x 305cm (L)
267cm (H) x 247cm (W) x 247cm (L)
201cm (H) x 190cm (W) x 192cm (L)
Best Overall
Product Image
Dimesions
208cm (H) x 185cm (W) x 305cm (L)
Runner-Up
Product Image
Dimesions
267cm (H) x 247cm (W) x 247cm (L)
Best Under £350
Product Image
Dimesions
201cm (H) x 190cm (W) x 192cm (L)
Last update on 2022-05-20
What is an Aluminium Greenhouse?
An aluminium greenhouse is a structure made of aluminium metal, with its glazing panels made from sheets of horticultural glass and or polycarbonate sheets. In addition to being lightweight and durable, these greenhouses are easy to clean and maintain. 
They're also less expensive to purchase and maintain than wooden greenhouses. They're popular amongst home gardeners and commercial growers alike looking for an economical option for growing plants and seedlings throughout the seasons.
How to Choose an Aluminium Greenhouse?
Aluminium greenhouses come in all shapes and sizes, with prices ranging from a few hundred pounds for a DIY project to perhaps a few thousand pounds. It ultimately boils down to what you can afford – but there is one more crucial element to consider when it it comes to choosing aluminium greenhouses.
The type and or size of your greenhouse will also certainly depend on how much space you have at your disposal and your budget constraints of course as mentioned above.
So before you do anything else, decide on the site for your aluminium greenhouse – this will determine at least the size of greenhouse you can install within your budget range.
Look for other features that manufacturers provided, like rain gutters and or a sturdy greenhouse base, essential for greenhouse stability during a storm or high winds. Also, look out for UV resistant polycarbonite panels, all these features will go towards choosing a great long-lasting functional aluminium greenhouse.
Where is the Best Spot For Your Aluminium Greenhouse?
Generally, the best spot to site your Aluminium greenhouse or in fact any greenhouse is on the south or southeast side of the house in a sunny area that gets sun from autumn through to winter. 
If this option doesn't exist, you can position it on either east or west sides. The north side should be avoided; however, if all other options are unavailable then use it as your last resort.
You should position greenhouses lengthwise from north to south and situate them near deciduous trees if possible because they'll provide shade during summer but receive sunlight in winter due to their fallen leaves (depending on what plants are being grown).
Of course, you need to be sure and take into account that placing the greenhouse near trees (Not Overhanging) or bushes may result in leaves, sap, and or sticky honeydew messing up its exterior. Also, avoid building it on a slope where cold air collects and is prone to frost. Aluminium greenhouses should be placed on solid foundations, and be level with the ground that drains well.
Aluminium Greenhouse (Foundations)?
This is a question for you. Do I have enough experience to build a greenhouse?
This will not only include the erection of the greenhouse itself but also the foundations which should be constructed of concrete, paving slabs or similar solid foundations. It is important to have a solid base to sit your greenhouse on.
If you feel you are not up to the task, then it would probably be best to get help from someone who is, because we feel its important when erecting an aluminium greenhouse or a greenhouse of any type, it usually requires a little more than just DIY skills! 
Aluminium Greenhouse Shapes
Aluminium Greenhouse shapes vary depending on the type of growing you want to do. For example, if your goal is maximum yield and efficiency then there's a traditional greenhouse with long sides that catch sunlight in all four edges for even heating throughout the winter months. 
If you have a south-facing house or garage wall they provide the perfect growing environment for an Octagonal Lean-to or rectangular Lean-to. This simple structure takes advantage of natural insulation in your brickwork to maintain consistent temperatures during the night and day, while providing excellent rainfall protection for delicate plants that need it most – like tomatoes!
The Best Aluminium Greenhouses - Buyers Guide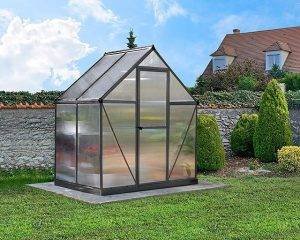 The Palram Canopia Mythos is maintenance-free and built to last thanks to outstandingly durable materials. 
Ideal for any home or garden, these aluminium greenhouses are made from high-quality, strong aluminium materials. 
This (6ft x 4ft | 1.8m x 1.2m  ) greenhouse comes in a 'grey' durable and long-lasting powder-coated finish, with twin wall, polycarbonate roof and side panels, which are easy to clean.
Palram's Canopia Mythos 6′ x 4′ aluminium greenhouse is the perfect size for a family or small backyard. This greenhouse kit comes with wall and roof panels made of nearly unbreakable polycarbonate that has the light transmission benefits of glass (70%) but is lighter, stronger, and safer than glass.
The holding system for these panels is superior to, no more iron clips, rather each panel slides into the aluminium profile making for a stronger jointing system. The double wall panels diffuse intense sunlight which can stress plants and inhibit growth, but they provide twice the heat retention of single wall panels for a more stable environment.
The Palram Canopia Mythos brings a new level of performance to DIY greenhouses. The aluminium frame sits on a 'galvanised steel' base (included) with an integrated rain gutter for easy drainage. The roof vent allows for better ventilation, and the lockable hinged door with magnetic catch makes it easier to control temperature and humidity. 
The sliding panel system creates better insulation, and stronger resistance to wind, and makes assembly easier than other DIY greenhouses. However, several customers advise that erection instructions could be much better illustrated. 
Some Useful Greenhouse Stats:
Roof Panel Light Transmission 82%
Side Panels Light Transmission 82%
Wind Resistance 90km/hr / 56 ml/ hr
Finally, this 6ft 10in (H) x 6ft (W) x 4ft (L) – (2.08m x 1.85m x 1.25cm) aluminium greenhouse is available in 4 different sizes and 3 different colours (Grey, Silver and Green) all sizes come with a 5-year limited manufacturer's warranty.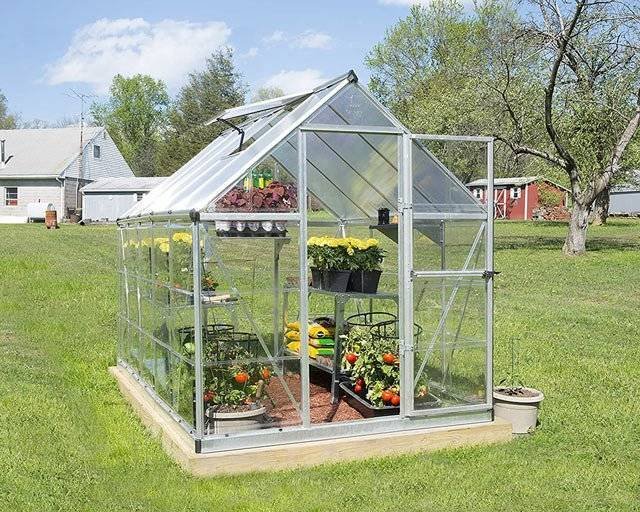 The Canopia Hybrid aluminium greenhouse by Palram ensures that growing your own plants has never been easier.
This DIY greenhouse kit has an ideal growing environment for flowers, vegetables, or herbs.
The 6ft x 10ft  (1.8m x 3m) model combines two types of polycarbonate panels to create a balanced environment for your plants.
Polycarbonate is a virtually unbreakable polymer that provides the light transmission benefits of glass but is lighter and safer.
This hybrid aluminium greenhouse is the perfect addition to any outdoor space. Its diffused roof panels are made of 4mm twin-wall polycarbonate, which allows the light to reach your plants at all angles for more even sunlight and growth while preventing plant burn, making this hybrid aluminium greenhouse the perfect addition to any outdoor space. The side panels are translucent polycarbonate to, providing over 90% light transmission while blocking harmful UV rays.
The aluminium frame is engineered to be durable and maintenance-free and resists harsh weather conditions, but the Palram Canopia Hybrid Aluminium Greenhouse is one-of-a-kind. 
This hybrid greenhouse offers the dual advantages of a polycarbonate roof with an aluminium frame for added durability. The manufacturer's attention to detail includes an integrated gutter system for drainage as well as a roof vent and hinged door to provide airflow and allow adjustment of heat, humidity and ventilation.
Some Useful Greenhouse Stats:
Wall Panel Light Transmission 90%
Wind Resistance 90km/hr | 56ml/hr 
Snow Load 75kg per M² | 15lb/ft ²
Finally, this  6ft 10in (H) x 6ft 1in (W) x 10ft (L) | 2.08m x 1.85m x 3.05m aluminium greenhouse is available in 6 different sizes and 3 different colours (Grey, Silver and Green) with a 5-year limited manufactures warranty.

Outsunny Walk In Greenhouse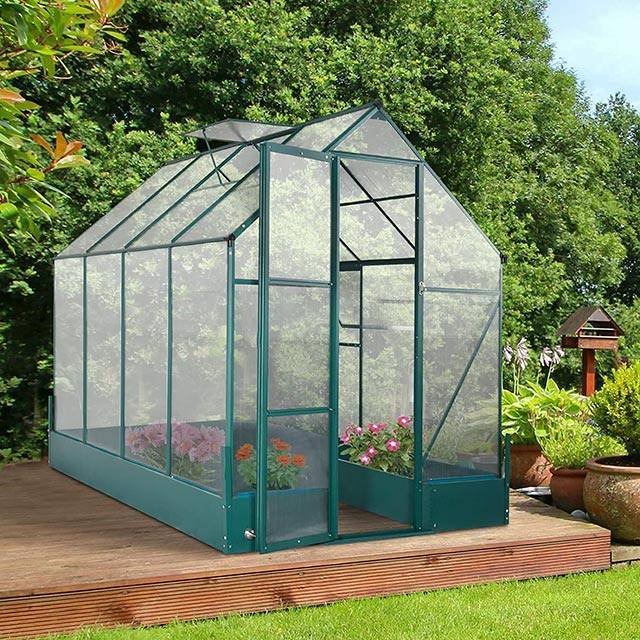 With a sleek appearance the Outsunny walk-in aluminium greenhouse, is the perfect addition to any garden. 
It's perfect for those who are just starting out and looking for a suitable greenhouse, as well as those with years of experience. 
With its sturdy construction and choice of sizes, this greenhouse is designed to last. 
The clear, high-quality UV-resistant polycarbonate sheets provide the best possible environment for your plants or cuttings by allowing sunlight to enter and pass through unhindered. 
The Outsunny is a high-quality greenhouse, green in colour that blends well with various types of surroundings. This greenhouse has a sturdy and durable powder-coated aluminium alloy frame, sat on a strong galvanised iron base ensuring stability, with four (4) stakes (base and pins included) to pin the base into the ground.
The 'sliding door' makes it easy to get in and out of the greenhouse and the adjustable 'hinged' roof vent panel provides sufficient air circulation, so your plants can grow healthily. Integrated rain gutters on the bottom are effective for water drainage and collection.
The Outsunny is easy to assemble and keep clean with little or no maintenance and is available in 3 sizes 6ft x 6ft | 1.9 m (W) x 1.92m (L) x 2.01m (H)  – 6ft x 8ft | 1.9 m (W) x 2.52m (L) x 2.01m (H)  and 6ft x 10ft | 1.9 m (W) x 1.92m (L) x 2.01m (H)  The greenhouse only carries the standard 12 month warranty
Some Useful Greenhouse Stats:
UV resistance 30u 
Wind Resistance 12m/s | 43.2km/hr
Weight Capacity 49.8kg m² | 110lb/m2 ²

Palram Canopia Oasis Hexagonal Greenhouse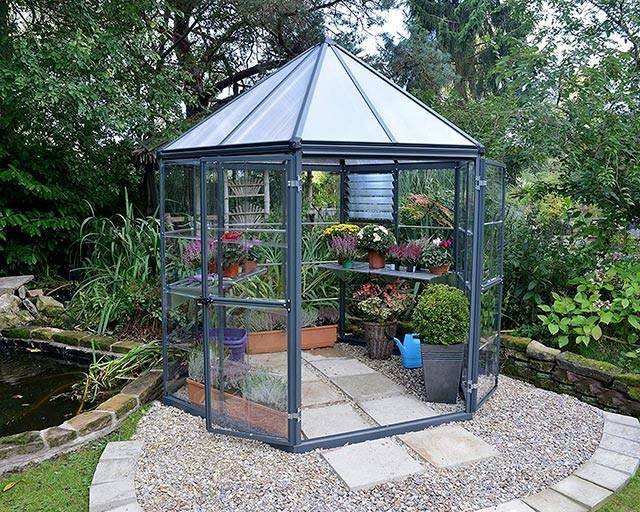 The Palram Canopia Oasis aluminium greenhouse is an 8ft (2.4m) greenhouse with an elegant hexagonal design.
This greenhouse has a generous growing area of 2.48m | 8ft (L x W x H), providing balanced nurturing conditions, making it an enjoyable and successful environment. The greenhouse is ideal for growing your own organic garden or creating your own garden oasis.
Palram Canopia's patented technology (Fine Shield Technology™) combines two types of glazing for a balanced light exposure, which in turn provides up to 100% protection from harmful sun rays (UV).
This technology makes it possible to grow plants year-round with less risk of damaging the crop from fluctuations in temperature and humidity.
The Oasis Hexagonal Greenhouse is made of grey powdered coated, rust and weather-resistant aluminium, and includes a solid galvanised base frame in the same colour. Palram Oasis also provides one (1) louvred window and rain gutters on both sides. The large, wide door entrance makes it easy to enter and exit the greenhouse. Door dimensions being 5ft 8in x 3ft 8in | 1.77m x 1.17m (H x W).
Rain gutters on both sides provide an efficient water drainage system to prevent standing water. The unbreakable UV-resistant 7.5 mm clear polycarbonate side panels and 6 mm diffused double-wall sheets on the roof protect against harsh weather conditions such as heavy winds and hail. The hexagon shape provides extra headroom as well. 
Some Useful Greenhouse Stats:
Wall Panel Light Transmission 90%
Wind Resistance 90km/hr | 56ml/hr 
Snow Load 75kg per M² | 15lb/ft ²
Finally, this Grey 8ft | 2.4m aluminium greenhouse is available in 2 different sizes the other being 12ft | 3.6m and comes with a 5-year limited manufactures warranty.

Halls Curved Silverline Aluminium Greenhouse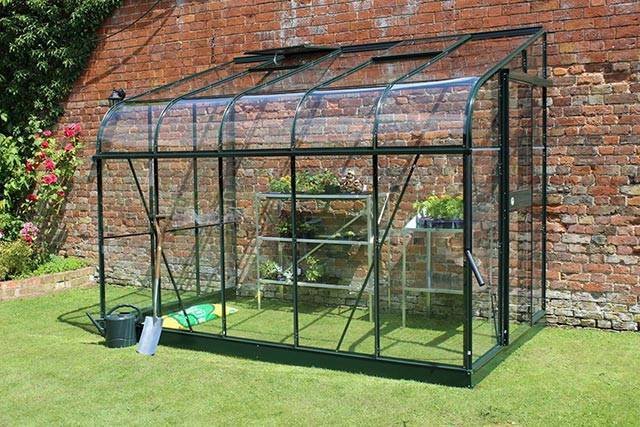 The Halls Silverline Aluminium Greenhouse is the perfect choice for anyone who needs a greenhouse that takes up minimal space.
The lean-to aluminium greenhouse includes an elegant curved roof, a full guttering system and a sliding door that is easy to use and which can be placed at either end of the greenhouse.
Large vents on the roof for cross ventilation ensure excellent growing conditions inside the greenhouse.
Long-pane toughened safety glass comes as standard in this type of greenhouse, as do acrylic panels for the curves. Lean-tos are perfect for extending your growing season because they harness heat being radiated from walls after sunset. The sturdy aluminium frame is powder-coated Forest Green colour and will blend in well
High-grade scratch-resistant acrylic comprises the curved section, which has an attractive curved design and is 1.95m (D) (6ft 3in). The Halls Forest Green Curved Silverline Lean-To Greenhouse measures 3.21m (L) x 1.35m – 2.35m (H) | 10ft 5in x 4ft 4in – 7ft 7in front to back. The greenhouse is supplied in pre-constructed panels for easy self-assembly, making it perfect for small spaces such as balconies and patios.
Unfortunately, no base is included with this aluminium greenhouse which we feel the manufacturer should include, especially for the price, as ALL greenhouses should be fitted to a sturdy base for stability during bad weather. 
However, a greenhouse base of some kind (Treated Timber or Brick) is required to raise the greenhouse frame and make sure the door slides freely.
Standard UK warranty only applies 

Deuba Aluminium Greenhouse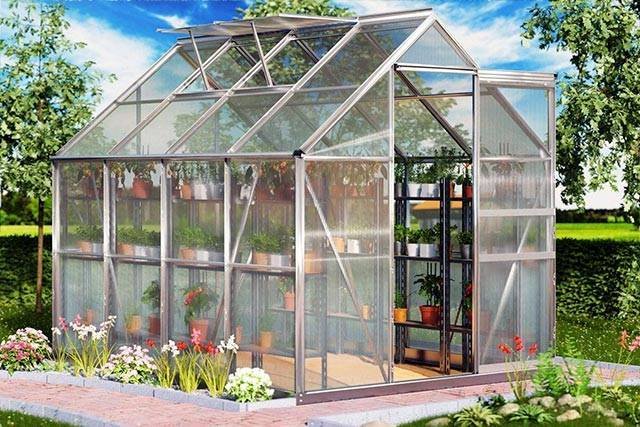 The Deuba Aluminium Greenhouse is a high quality and robust polycarbonate covered greenhouse, equipped with two opening roof vents and 2 x rain gutters to allow users to harvest rainwater.
Rainwater harvesting is a great way to reduce your reliance on public water supplies and save money on your water bill as well. 
By collecting and storing rainwater from your greenhouse roof in a rainwater storage water butt, you can use the stored water to water your garden, or even wash your car perhaps!
Measuring 2.5m (L) x 1.9m (W) x 1.95m (H) | 8ft x 6ft x 6ft the greenhouse consists of anodized aluminium profiles ensuring an extra-long, maintenance-free service life. Thanks to additional struts in the wall and roof area, stability and security are assured. 
The aluminium silver frame is coupled with 4mm twin-wall isolating conductive hollow chamber polycarbonate plastic sheets (PC) which are UV-resistant which stops the yellowing and cracking of your sheeting.
The opening/closing roof vents and large sliding door provide for excellent cross ventilation.
This greenhouse is a balance of strength and efficiency as it can withstand storms, high winds, and snowfall thanks to its sturdy aluminium frame. It's also easy to assemble for anyone who likes DIY projects.
Unfortunately, no base is included with this aluminium greenhouse which we feel the manufacturer should include, as ALL greenhouses should be fitted to a sturdy base for stability during bad weather.
Standard UK warranty only applies

Dancover Lean-to Greenhouse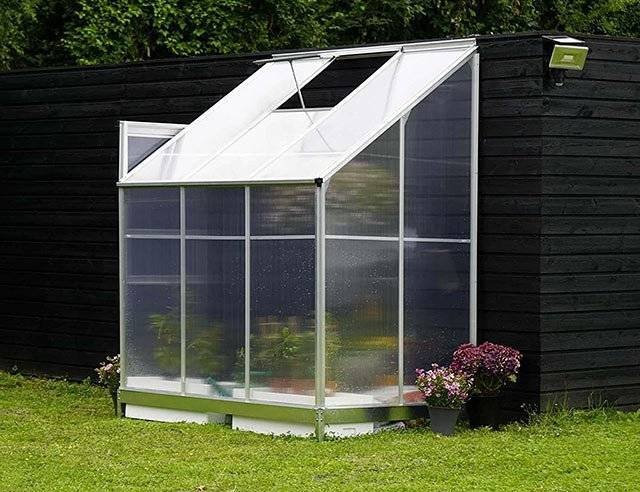 So you're looking for a great greenhouse, but space is tight? Look no further than this easy assemble Dancover Lean-to Greenhouse. 
This lean-to greenhouse will take up minimal space in your garden or backyard. You'll get all the benefits of a full-size greenhouse without having to give up your outdoor space, giving you the perfect solution!
The Dancover Lean-to greenhouse provides a convenient way to grow your herbs, vegetables, flowers and other plants all year-round.
In 'silver' only, so not a powder-coated colour, the frame is made from strong rust-resistant aluminium alloy, with 4mm UV resistant thick polycarbonate windows and a 'single' vent opening window in the roof to aid ventilation.
Aluminium greenhouses that use polycarbonate windows tend to be much more durable than traditional glass. The polycarbonate has a light transmission of 90%, meaning you won't miss anything regarding the growth of your delicate plants while still providing protection to your plants in harsh weather conditions.
This lightweight material is easy and quick to mount without clips or silicone – a benefit for people with limited time on their hands and minimal skills as well!
As a bonus the greenhouse comes with a 'galvanised steel' base that ensures stability and longevity, counterbalancing any potential weight-related issues. These greenhouses will fit perfectly into most gardens, standing against a brick wall or against the house, extending the growing season by several months.
Measuring 1.92m (L) x 1.25m (W) x 2.21m (H) at the back | 6.2ft x 4ft x 7.2ft the greenhouse has a sliding door for easy access. Unfortunately, the door can not be interchanged and is fitted as shown in the photo above
Some Useful Greenhouse Stats:
Wall Panel Light Transmission 90%
Wind Resistance 80km/hr | 50ml/hr 
Snow Load 40kg per M² | 8lb/ft ²
As far as we can understand a Standard UK warranty only applies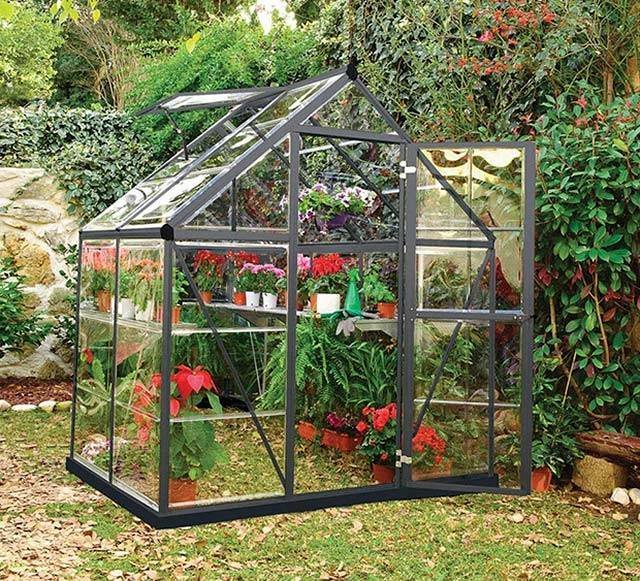 This Palram Canopia Harmony  6ft x 4ft (1.8x x 1.2m) greenhouse is the perfect greenhouse if you are looking for not only a durable long-lasting product but also a beautiful addition to the garden.
Coming in a powder-coated grey or silver colour it will blend seamlessly into any garden or patio.
The Harmony Greenhouse is made from strong aluminium frames which offer stability and alignment. 
The Palram Harmony also utilises  crystal clear UV resistant virtually unbreakable polycarbonate panels, that provide 100% protection from the harmful sun's rays (Fine Shield Technology), so they do not fracture, turn yellow or opacify over time.
This greenhouse is built to last, so it comes with a limited 5-year manufacturer's warranty and it's easy to assemble too!
The single vent window allows you to maintain the right temperature and humidity levels for your plants in addition to providing ventilation. It also has built-in gutters and gutter heads which collect water that can be reused on your plants – an excellent design feature! 
Other features include a lockable hinged door with a magnetic catch and a heavy-duty galvanised steel base for ultra-durable structural support.
The unique 'sliding panel system' creates better insulation, and stronger resistance to wind, and makes it easier to assemble than other DIY Greenhouses.
Some Useful Greenhouse Stats:
Wall Panel Light Transmission 90%
Wind Resistance 90km/hr | 56ml/hr 
Snow Load 75kg per M² | 15lb/ft ²
The Palram Harmony comes in both silver and grey and measures 1.85m (L) x 1.26m (W) x 2.08m (H) | 6ft 1in x 4ft 2in x 6ft 10in.
It should be noted that the Palram Canopia Harmony is also available in various other colours and sizes should you require something larger.

Aluminium Greenhouses are Maintenance Free
One of the biggest selling points of aluminium greenhouses is that they're maintenance-free. These greenhouses are constructed from strong, rust-resistant, durable, aluminium framing, so they're very easy to keep clean, often only needing a wipe down and or a once over with a jet washer.
In addition, aluminium greenhouses aren't usually exposed to the elements and are put together with other 'wipe down' elements, such as the polycarbonate glazing panels, so they don't require much maintenance other than occasional cleaning either.
Due to these two factors, alone, many people choose to buy aluminium greenhouses in lieu of more traditional wooden types.
How to Keep Your Aluminium Greenhouse Cool in Summer
One of the downsides of aluminium greenhouses is how hot they can get during summer. Obviously, this is problematic if you plan to grow vegetables inside your greenhouse!
Luckily, there are ways to keep your greenhouse cool during hot weather. The easiest and cheapest solution is to keep it shaded. Covering your greenhouse with a shaded structure will help keep your greenhouse cool. – Install removable awnings/canopies during the summer months. This is a simple and inexpensive solution that allows you to grow plants year-round.
How to Keep your Aluminium Greenhouse Warm During Winter
Another downside to an aluminium greenhouse is how cold it can get inside during winter. Of course, you'd like your vegetables and crops to continue to grow inside the greenhouse, but if the temperatures are too low, there's a chance your plants will freeze!
Luckily, there are ways to keep your greenhouse warm during winter. Here are a few options: – Bubble wrap your greenhouse, first, you need to insulate your greenhouse. All you need is bubble wrap! The bigger the bubbles are, the better insulation they will provide. 
Once all windows and doors have been covered with 'bubble wrap' it will help to stop heat from escaping; then it won't be necessary for any heaters to keep heating up a greenhouse as long as they did before – which saves on your energy costs. 
Alternatively, buying a lean-to greenhouse will also help to keep your greenhouse warm during the winter months if you erect your greenhouse next to a brick wall or your house. The natural warmth from bricks absorbed during the day will radiate through your greenhouse and help to keep it warmer, especially at night.
How to Protect Your Greenhouse Against High Winds and Storms
Extreme weather conditions can wreak havoc on a garden, so you should take precautions to protect your greenhouse from storm damage. If extremely bad weather is forecasted, it's prudent to take measures and protect your greenhouse before the worst happens.
However, preparing your greenhouse for bad weather starts when you consider the location and base of your greenhouse. Choosing a good site is step one, so if you're thinking about purchasing a greenhouse or are getting ready to start groundwork preparation before installation, take these considerations into account:
Avoid exposed areas of land. 
Provide some shelter from high winds by placing the greenhouse in proximity to something that will act as a windbreak – such as a garden wall or fence. If no shelter can be offered, consider erecting an obstacle [wind break] of some kind. THE WIND IS YOUR BIGGEST ENEMY  with any greenhouse. 
Tip: Ensure you 'silicone' panels into the frames with clear silicon
Orientate the greenhouse so its gable end faces the prevailing wind direction; this front end  (door) is more susceptible than its back end (gable) against intruding high winds and heavy rains/snow. 
Don't get too close to overhanging trees. Trees in the wind are not so stable and can easily bring down branches or even the entire tree.
Make sure that you build your greenhouse on a level base, which is essential for its stability and integral to its lifespan as a whole; if your greenhouse isn't levelled all around then you will let in the wind where loose or ill-fitting panels and doors are.
When anchoring your greenhouse down, the more secure it is – the better! To ensure that anchors are properly situated, you might want to drill them into your hardstanding base as deep as possible +/- 2in (50mm). Hard standing bases offer better support than soil-based ones because they're easier to keep level and less affected by changes in weather conditions like snowfall or rain which can shift things from their original position. 
Final Words: Is an aluminium greenhouse right for you?
Aluminium greenhouses are a popular option among home gardeners and commercial growers who are looking for an economical option for growing vegetables year-round. However, these greenhouses have some drawbacks, including being vulnerable to damage due to the elements. Before making the decision to buy an aluminium greenhouse, be sure to read this article and consider these factors first and check out our FAQ page to learn more about Aluminium greenhouses and greenhouses generally.