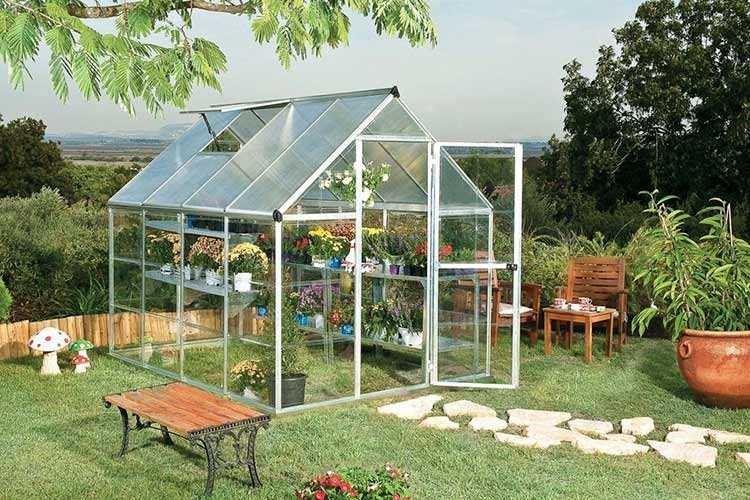 Aluminium Greenhouses – Best for 2023
What is the Best Aluminium Greenhouse?
If you don't have much time, use the link below to quickly find out my 'Top Pick' for the 'Best Aluminium Greenhouse' available for you on Amazon. You can be assured we only recommend products based on our research, product quality, usability, user reviews and value for money… 'Best Overall' –The Palram Canopia Hybrid Greenhouse
Last update on 2023-12-04
Roof Panel Light Transmission 82%
Side Panels Light Transmission 82%
Wind Resistance 90km/hr / 56 ml/ hr
Wall Panel Light Transmission 90%
Wind Resistance 90km/hr | 56ml/hr
Snow Load 75kg per M² | 15lb/ft ²
UV resistance 30u
Wind Resistance 12m/s | 43.2km/hr
Weight Capacity 49.8kg m² | 110lb/m2 ²
Wall Panel Light Transmission 90%
Wind Resistance 90km/hr | 56ml/hr
Snow Load 75kg per M² | 15lb/ft ²
Wall Panel Light Transmission 90%
Wind Resistance 80km/hr | 50ml/hr
Snow Load 40kg per M² | 8lb/ft ²
Wall Panel Light Transmission 90%
Wind Resistance 90km/hr | 56ml/hr
Snow Load 75kg per M² | 15lb/ft ²
Avoid exposed areas of land.
Orientate the greenhouse so its gable end faces the prevailing wind direction; this front end (door) is more susceptible than its back end (gable) against intruding high winds and heavy rains/snow.
Don't get too close to overhanging trees. Trees in the wind are not so stable and can easily bring down branches or even the entire tree.
Make sure that you build your greenhouse on a level base, which is essential for its stability and integral to its lifespan as a whole; if your greenhouse isn't levelled all around then you will let in the wind where loose or ill-fitting panels and doors are.
When anchoring your greenhouse down, the more secure it is – the better! To ensure that anchors are properly situated, you might want to drill them into your hardstanding base as deep as possible +/- 2in (50mm). Hard-standing bases offer better support than soil-based ones because they're easier to keep level and less affected by changes in weather conditions like snowfall or rain which can shift things from their original position.