8 Small Plastic Greenhouses For Space Limited Gardens
Small plastic greenhouses are a great way to extend your gardening season and they are steadily increasing in popularity due to their flexibility and portability. These small plastic greenhouses make it possible for you to start seeds earlier and clone plants from cuttings with greater ease, all while using less space than traditional larger aluminium and or wooden structures.
With many gardeners turning to and looking for alternative methods, small plastic greenhouses are both mobile and a popular choice for those who have limited space in their gardens.
Small plastic greenhouses allow the gardener more freedom and flexibility in their gardens and or allotments, as well as being easier on plants themselves since they don't require quite so much room or resources to 'condition' inside if needs be.
In a Hurry?
Best Small Plastic Greenhouses
If you don't have much time, use the link below to quickly find out my 'Top Pick' for the 'Small Plastic Greenhouses' available for you on Amazon. You can be assured we only recommend products based on our research, product quality, usability, and value for money… 'Best Overall'- VegTrug WGH401N Small Greenhouse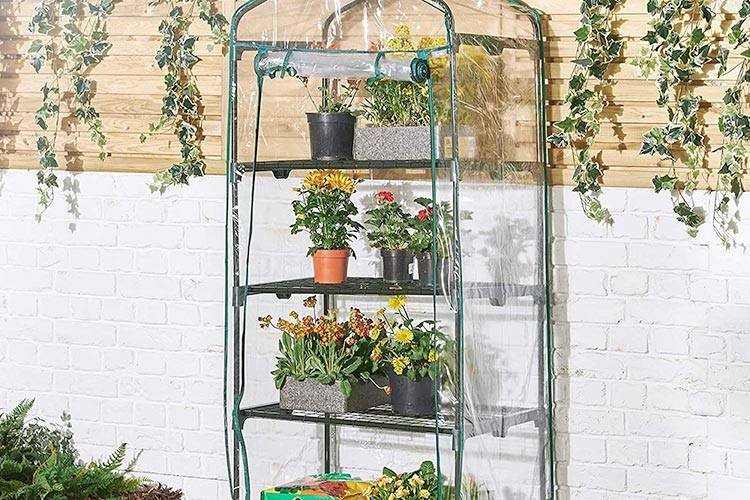 Small Plastic Greenhouses: Using Mini Greenhouses Can Extend Your Gardening Season.
Small Plastic Greenhouses – Our Top 3 Plastic Greenhouses
Product Image
Best Overall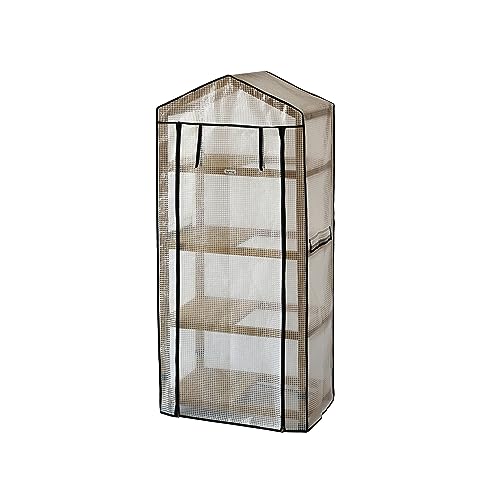 Runner-Up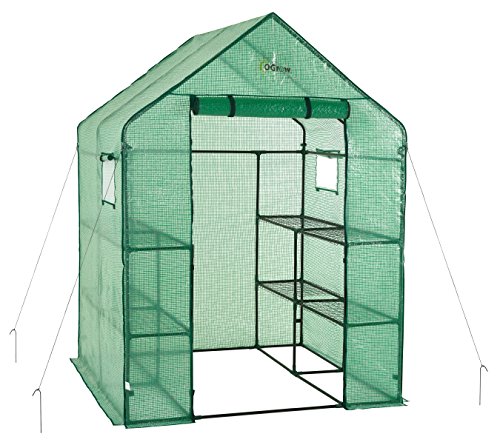 Best Under £37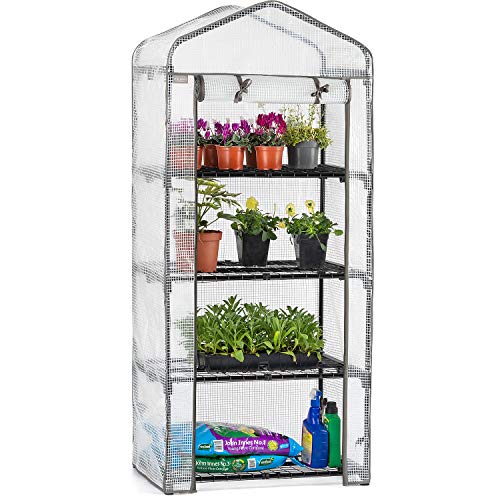 Model/Make
Christow Mini Greenhouses
Type
Natural Wooden Greenhouse
Walk in Small Plastic Greenhouse
Construction
PVC & Powder Coated Steel
Polythene & Tubular Steel
Dimensions
157cm (H) x 71cm (W) x 49cm (D)
196cm (H) x 142cm (W) x 142cm (D)
158cm (H) x 69 cm (W) x 48 cm (D)
Best Overall
Product Image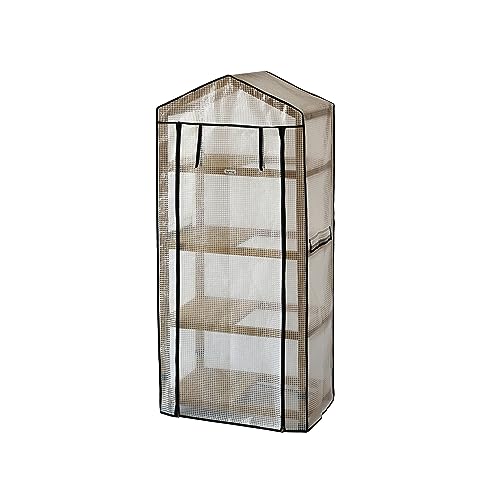 Type
Natural Wooden Greenhouse
Dimensions
157cm (H) x 71cm (W) x 49cm (D)
Runner-Up
Product Image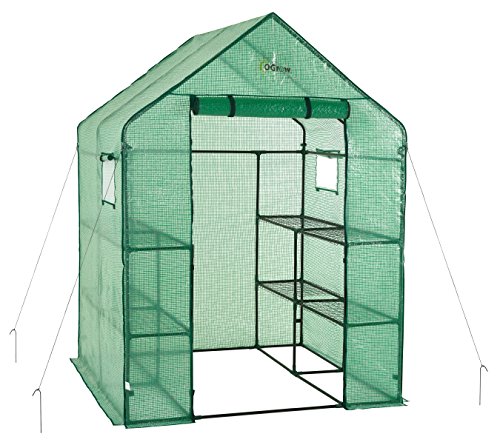 Type
Walk in Small Plastic Greenhouse
Construction
PVC & Powder Coated Steel
Dimensions
196cm (H) x 142cm (W) x 142cm (D)
Best Under £37
Product Image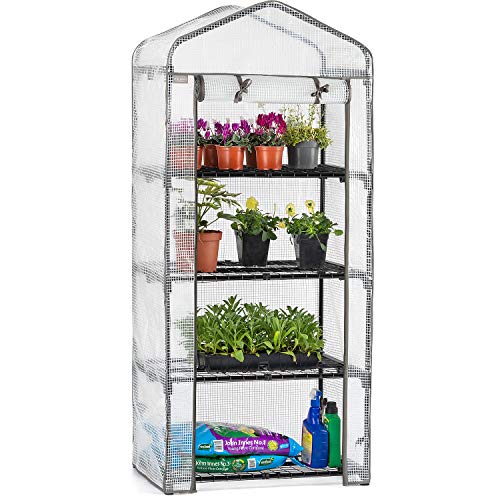 Model/Make
Christow Mini Greenhouses
Construction
Polythene & Tubular Steel
Dimensions
158cm (H) x 69 cm (W) x 48 cm (D)
Last update on 2023-12-04
Are Small Plastic Greenhouses Any Good?
Small plastic greenhouses are a good alternative to the traditional, full-sized glass type. They vary in size and shape but typically come with less than 10-12 sq ft (0.9m2 – 1.11m2) of flooring space for growing seedlings early on, or even needing high humidity levels when growing indoors during cold days/nights; they're particularly popular amongst gardeners who only have limited outdoor space at their disposal!
One of the best things about small plastic greenhouses is that they are easy to make if you want to. Gardeners often construct their own, just by building something out of wire and fitting it with a cover made from plastic sheeting! However, if you would rather purchase one – don't worry; they're not too expensive when compared with larger-sized models and this post will give you some suggestions for small plastic greenhouses that may suit your needs.
Small Plastic Greenhouses – A Buyers Guide
VegTrug – Small Plastic Greenhouse
With its FSC timber (cedarwood) frame, adjustable shelves, and re-enforced (PE) polyethene plastic cover, it will be the perfect place to grow your favourite flowers and vegetables, ideal for starting off seedlings as well.
Suitable for any garden, the Vegtrug mini greenhouse measures 20in – 49cm (D) x 31in – 79cm (W) x 62in – 158cm (H). Like many of these small plastic greenhouses, the Vegtrug takes up little room in your garden or backyard.
We also liked the solid wood frame, which helps with greenhouse stability in windy conditions.
Unlike most mini-greenhouses where users have fixed height shelving, this Vegtrug model provides the user with the flexibility of 'adjustable wooden slats' which allows for 'taller plants' and or 'growing plants' to be catered for based on user requirements.
There are 16 loose slats in all, but they are all movable so you can arrange them wherever you like on any of the shelves.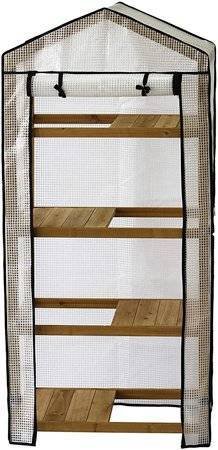 Covered in a strong and sturdy clear quality polythene plastic cover, with equally strong zips that allow for easy access to your plants. The option to 'roll up' and 'secure' the front opening, for ventilation purposes, is easily undertaken. The 'Vegtrug small plastic greenhouse' allows plenty of light but helps protect your delicate plants from the harshness of the UK winters.
Easily put together, the wooden frame is treated with a water-based preservative that is food safe, but the manufacturer recommends and requires that the wooden frame be treated again annually, which is a slight drawback.
A great compatible add-on for this mini greenhouse unit is the VegTrug side table, which folds away for easy storage, and is ideal for 'potting on' work with no bending over required as it has a great comfortable working height.
One last tip, if you are not going to move the greenhouse, we suggest that the wooden frame is fixed to a solid structure like a wall, to provide an even more sturdy fixture.

Sturdy Timber Framed
Sturdy Polythene Cover
4 Tier
Adjustable Slats
Strong Zippers
FSC Timber
---
Ogrow Walk-In – Mini Plastic Greenhouse
This 2-tier, 8-shelf small plastic greenhouse from Ogrow is constructed from heavy-duty powder-coated steel tubes, covered in green heavy-duty reinforced PVC plastic that gives you extra protection against direct sunlight.
A great little walk-in greenhouse measuring just 56in – 142cm (D) x 56in – 142cm (W) x 77in – 196cm (H) and is a great choice for those who want to grow their own vegetables and herbs.
This greenhouse features a walk-in design with a roll-up 'zipper' door, which makes it easy to access your plants.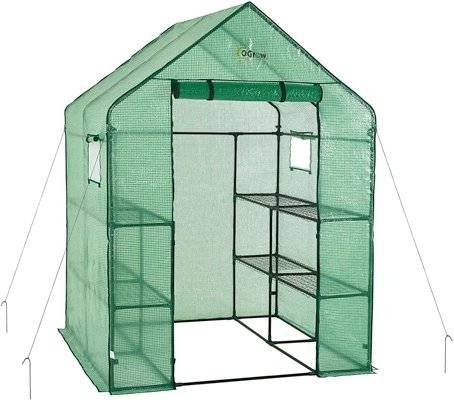 The ventilation windows (2) on the side panels will help you control moisture and temperature inside the greenhouse, as these windows can be opened (rolled up) and closed with some degree of control. Although rolled up the opening is screened so you will not get the disturbance of pests.
This mini greenhouse is also shipped with an anchoring system so that you can secure it in place against strong winds or storms, which is a good plus point for this type of greenhouse.
Designed with ease of assembly in mind, (although some find that you need little patience for this and instructions could be better) the special heavy-duty, high-quality plastic corner connectors provide easy 123 assembley of the sturdy dark green 'powder-coated' frame (PC for rust protection) which in turn offers plenty of support for your pots and trays.
Complete with 'hook and loop' connections for greater stability. The anchoring system includes 12 anchors and 4 ropes, which will securely anchor this garden greenhouse to the ground. Using these strong ropes and long anchors you can almost guarantee sturdiness even in the worst of weather if anchored correctly in a good location.

Walk-In Design
Anchoring System
Powder Coated Frame
8 Shelves
Ventilation Windows
Screened Ventilation Openings
---
Christow Small – Plastic Greenhouse
This greenhouse can be used in your garden or backyard, patio deck, or even in a suitable spot inside your home.
This mini greenhouse provides the right combination of both light and warmth needed to grow and or start fresh herbs, vegetables, fruits, and flowers.
It's also great for propagating seeds indoors before transplanting them outside.
Measuring just 19in – 49cm (D) x 27in – 69cm (W) x 62in – 158cm (H) Christow's small plastic greenhouse will be suitable for the smallest of spaces if things are tight.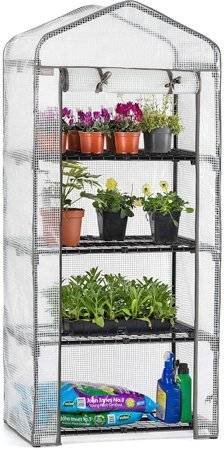 This small plastic greenhouse has a few features that make it stand out in the crowd, like the rust-resistant powder-coated tubular steel frame, that easily supports the heavy-duty PE and UV-resistant PVC cover.
The PE cover itself consists of a 'white' internal mesh, sandwiched between two layers of polyethene. It's far thicker than a standard PVC cover, to help reinforce the frame and deliver superior wind resistance and insulation if the greenhouse is placed outside. This in turn helps protect the delicate plants from the harsh weather UK conditions.
The greenhouse cover has a roll-up door with zippers on either side to easily open and securely close the door flap. Integrated ties allow you to fasten the door when rolled up for easy access, without having any trouble rolling it back down again after use!
You can also leave the door flap wide open so that air can circulate freely throughout and improve ventilation, temperature, and humidity. Leaving the door flap open will certainly encourage pollination.
The mesh shelves are 13in (33cm) apart, allowing for ample plant growth. These shelves also aid pot drainage and thus prevent possible pot water-logging due to their mesh design.
With its easy click-together design, it does not take too long to assemble, no tools are required either! Just make sure you follow the instructions carefully.
All in all a useful growing space.

4 Tier
Suitable For Indoors
Powder-coated Frame
Double Layer PVC Cover
Intergrated Door Ties.
---
Grow It Gardman – 4 Tier Mini Greenhouse
The Grow It Gardman is a 4-tier extra wide arc mini greenhouse. It is a great choice for anyone looking to start growing their own flowers, fruit, and vegetables at home in a small garden or area.
This greenhouse has a strong 'push fit' steel frame, which makes it durable and long-lasting. However, as with these small plastic greenhouses, care should be taken when placing the greenhouse and account for wind gusts.
The 'Grow It Gardman' features an extra-wide design, allowing you to grow more plants in less space than you would with other mini-greenhouses of such size.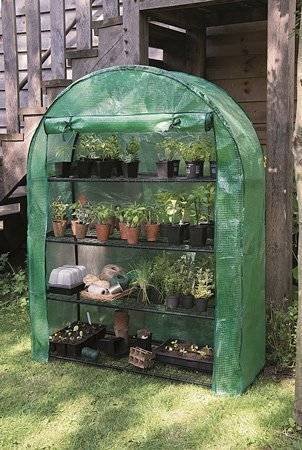 With four shelves, there is plenty of room for your plants to grow! The greenhouse shelves though are in two halves, so you can create more room between shelves if needed which is a great bonus.
Like many small plastic greenhouses of this design, the zipped roll-up door and reinforced polyethene cover (with velcro fastenings) for easy access. The 'arc design' especially, provides room for the taller plants you may want to place inside.
With the 'arc design' the dimensions are quite generous for a small plastic greenhouse. Measuring 18in – 45cm (D) x 41in – 105cm (W) x 63in – 160cm (H) there is more than enough room for all the plants you would need to be accommodated within a small mini greenhouse.
Suitable for a patio or decking, even a small backyard or a larger garden the Grow It Gardman is just the ticket.
Not 100% waterproof it's as with most small plastic greenhouses the Gardman will benefit from being tethered to a solid wall.

Arc Design
Velcro Tie-Ups
Split Shelving
Reinforced Plastic Cover
Push-Fit Frame
Good Value
4 Tier
Needs Securing
Not 100% Waterproof
---
VonHaus – Walk In Mini Greenhouse
Benefiting from a sturdy powder-coated steel frame for extra strength and durability, and a spacious walk-in design, this greenhouse measures a sizable 29in – 73cm (D) x 56in – 143cm (W) x 76in – 193cm (H). With dimensions like this, you simply step inside whenever you need to tend your plants.
This small plastic greenhouse is large enough but small enough for any demanding gardener to place what is needed to be accommodated inside, in most gardening environments.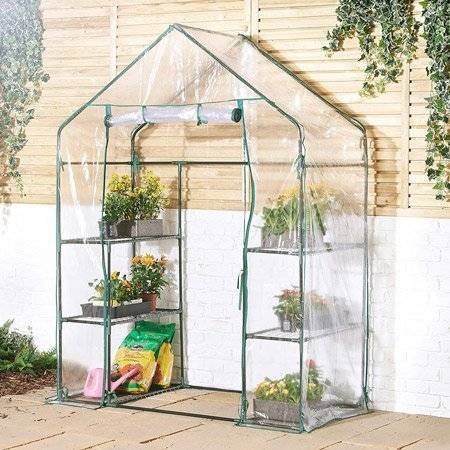 This mini greenhouse comes with a roll–up zip panel door that makes it easy to get in and out, and with six strong removable wire shelves, you'll be able to create a versatile storage solution that's perfect for both indoor and outdoor use. 
As the shelves are of a wire construction they are easy to clean and maintain, which is a plus point as 'disease', particularly in a greenhouse is the gardeners no1 enemy. 
The weather-resistant transparent PVC cover can be a little flimsy, but it should generally protect your delicate plants against frost and snow and safely away from the elements.
Finally and not often offered with small plastic greenhouses, is a manufacturer warranty of 2 years which is fantastic.

Weather Resistant Cover
6 Wire Shelves
Zip Panel Door
Walk-In Design
2-year Warranty
Great Value
---
Eagle Peak Portable Mini Greenhouse
Small plastic greenhouses do not come much smaller than this at just 35in – 90cm (W) x 70in – 180cm (L) x 35in – 90cm (H).
The Eagle Peak portable mini greenhouse is a good greenhouse for you to grow your plants, flowers and vegetables, even germinate seedlings.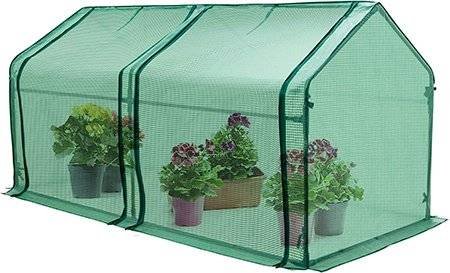 The greenhouse structure is covered in a strong transparent green UV and water-resistant PE plastic, to aid both plant growth and create that ideal growing environment.
In addition, Eagle Peak's small plastic greenhouse has 1 roll-up 'zipper' door and 2 roll-up windows, both held up by 'loop tapes'. The windows are held closed by strong velcro tape, while the access doors by zippers and velcro tape.
The door is large enough for you to easily access your plants for watering and moving pots around, while the roll-up windows on either end aid ventilation of your greenhouse when the doors are closed.
The Eagle Peek greenhouse frame is constructed of solid steel pipes, which are powder-coated to ensure durability, and also protect the frames from rust. The frames are easily put together and held in place on the ground with 4no stakes/pegs (provided), we would suggest however adding additional stakes for added security, which can be bought separately. 
With straightforward easy to easy-to-understand instructions provided, this great little greenhouse if fitted correctly resists wind gusts, has great waterproof performance, good heat preservation, and is moisture-proof.
Eagle Peak also offers an exclusive, 1-year limited warranty from the original date of purchase.

Very Portable
Powder Coated Frame
UV Resistant
Zippers and Velcro
Green PE Plastic Covering
Resists Wind Gusts
Warranty
---
Plantpak Grow House
The Plantpak Grow House is a professional mini greenhouse that has been designed to make growing plants easy.
This unique design allows the grower to open and 'tilt' the roof to any desired position, making it simple to work with your plants.
Measuring 28in – 71cm (L) x 52in – 132cm (H) x 16in – 41cm (D) the Plantpak Grow House is made from high-quality materials, which includes a solid wood construction frame (dove grey colour) and 5mm thick UV-treated polycarbonate sheeting.
The hinged roof design with locking stays means you can open, close and or tilt the roof sections individually to any desired position for perfect ventilation.
You'll never have trouble finding relief for your plants from hot or humid weather ever again! Cold and wet? No problem, simply adjust the stays to a suitable position.
Two doors and three adjustable shelves allow you to display your plants in an organised manner, while also saving space by maximising vertical growth.
This unit if maintained correctly will ensure that you can use it for years to come without worrying about warping or cracking, although some 'annual' maintenance as with all wood structures will be required on the wood; i.e. paint or some wood preservation treatment to avoid timber rot over time.
However, in short, a very attractive addition to any garden space where perhaps you cannot accommodate a full-size greenhouse.
Coming flat packed with easy-to-follow instructions and a Philips (crosshead) screwdriver you will have the mini greenhouse up and ready to use in your garden, patio or back yard in no time.
Tip: Some users said the wood 'split on assembly' when fitting together. We suggest drilling 'small pilot holes' first to start the screws off.

Solid Construction
UV Treated Polycarbonate 
Adjustable Stays
3 Adjustable Shelves
Easy Access to Plants
Good Design
Wood Not Treated
Requires Some Maintenance
---
Outsunny Steeple Mini Greenhouse
This mini greenhouse from Outsunny is the Outsunny Steeple design, which is a 'wide and low' design that can accommodate plant pots with up to 10″ (25cm) diameter.
Measuring 35.5in – 90cm (W) x 106in – 270cm (L) x 35.5in – 90cm (H) the Outsunny is large enough to accommodate your plants, but small enough to fit into most gardens or backyards.
The 'Steeple' is made of 1/2in (16mm) diameter powder-coated steel pipe, which makes it sturdy yet lightweight.
As the frame has a powder-coated finish, it's also resistant to rusting and corrosion, making it ideal for outdoor use.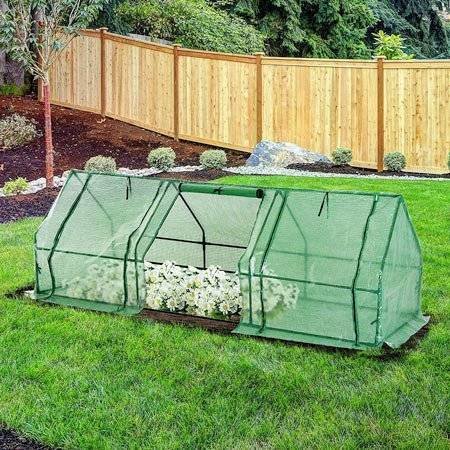 The new and improved green plastic mesh cover is a must for those who want their plants, vegetables or fruits to grow properly. Made of strong water-resistant, 'anti-tear UV-protecting, material that will also protect against light wind as well as rain while allowing good sunlight through which helps with steady growth rates!
The 3 Roll–up doors using 'integrated ties' can be tied up if required to aid ventilation. The doors are double 'zip' fastening on one side, for smoother opening and closing, making getting in and out of your mini greenhouse quick, easy and convenient.
As an addition, the entire greenhouse plastic cover is 'overlong' by 4in (10cm). This additional length cover can be either buried directly in the ground or can have bricks or other heavy objects placed upon it to aid the stability of the small plastic greenhouse.
Like all small plastic greenhouses, the Outsunny needs 'pegging down' well with long pegs, to help stabilise the greenhouse further in windy conditions.

Wide Low Design
Powder Coated Frames
Extra Long Cover
Double Zipped
3 Doors
---
The Disadvantages of Small Plastic Greenhouses
Mini-plastic greenhouses are a great way to get started with gardening. They provide the opportunity for small-scale production and experimentation, while still being portable enough that you can take your greenhouse almost anywhere!
One downside of using these small plastic greenhouses is how susceptible they tend to be due to damage from windy conditions. Such conditions can cause covers to rip or tear around 'greenhouse doorways' if positioned incorrectly – especially when you have very strong winds coming directly at your greenhouse!
To avoid this problem position these small greenhouses away from common prevailing wind directions or where regular 'gusts' may hit. This simple re-positioning will help provide better protection for these small structures; if repositioning is difficult, at the very least position the 'door side' away from the most common wind direction in your garden.
Another easy solution to the problem of 'wind damage' is reinforcing your mini plastic greenhouse. This can be done using some form of 'anchor' or 'metal pegs' or simply weighing down the greenhouse with small rocks and or bricks, depending on what type of frame you have.
Consider the materials that make up your structure (the frame), this will also impact on how well your greenhouse withstands strong gusts from all directions. Powder-coated frames are by far the strongest option, but their price reflects this.
Apart from what has already been mentioned above, there aren't really any other disadvantages to using small plastic greenhouses, as long as you consider that they can be subjected to acts of nature such as high wind and other extreme weather conditions which might cause them to break easily.
One last thing about these types of greenhouses is rainwater – if it collects on top then your investment could potentially go down in ruins! So ensure the rainwater falls off your roof easily and does not collect on it.
The Advantages of Small Plastic Greenhouses
Small plastic greenhouses are the perfect size for small-space gardening. They provide an excellent environment for hardening off young plants in the spring and early summer months, making them great to have on hand if you're growing vegetables and half-hard annual crops. This is because they retain warmth better from being exposed to sunlight for long periods of the day.
A smaller greenhouse can provide warmth for tender summer crops. The heat built up within the plastic greenhouses speeds up the ripening process and helps them grow larger than they would otherwise, things like tomatoes or chillies (or even aubergines) can excel.
There is also some evidence that suggests mini-greenhouses might be better suited towards growing sun-loving vegetables like peppers, but it's not limited just to these vegetable types! A gardener can cultivate almost any plant in a small plastic greenhouse with the right microclimate.
Starting seeds indoors in a mini plastic greenhouse is much easier than outdoors as well. These small, indoor microenvironments will protect them from all sorts of damage and ensure they grow into healthy plants that can then be transplanted outside when grown enough.
Starting seeds is much easier in a humid environment. You can use fluorescent lights and heat pads to create the perfect setting for an indoor mini greenhouse that will have just what your young plants need. Even though they are small, these mini-greenhouses will provide many more seedlings than propagators.
FAQ's
How Long Do Small Plastic Greenhouses Last?
The durability of small plastic greenhouses will vary depending on the quality of the materials used in their construction. However, many small plastic greenhouses are designed to be lightweight and portable, making them less durable than larger, more permanent greenhouses.
It is important to choose a greenhouse made from high-quality materials and to provide regular care and maintenance to ensure its longevity.
How Do You Choose The Right Size Small Plastic Greenhouse?
The size of a small plastic greenhouse you choose will depend on several factors, including the number and size of plants you wish to grow, the amount of space you have available, and your budget. 
Consider the dimensions of the greenhouse, as well as the available shelving and storage space, to ensure that it will meet your needs.
Are Plastic Greenhouses Worth It?
Whether a plastic greenhouse is worth it will depend on your individual needs and circumstances. Plastic greenhouses can be a cost-effective option compared to other types of greenhouses, and they are generally easy to assemble and maintain. 
However, they may not be as durable as other types of greenhouses and may require regular replacement.
How Do You Ventilate a Small Plastic Greenhouse?
Ventilating a small plastic greenhouse is important to prevent the buildup of excess heat and humidity, which can be harmful to plants.
You can ventilate a small plastic greenhouse by opening the door or windows provided with the chosen model, or by using a bespoke ventilation system such as a fan or vents in the roof or sides.
It is important to monitor the temperature and humidity levels and adjust the ventilation as needed to provide a healthy environment for your plants
Do Plastic Greenhouses Protect From Frost?
The answer is yes, plastic greenhouses protect plants from frost. Even a small plastic greenhouse will offer enough insulation to ensure that the temperature inside your greenhouse stays at least several degrees higher than the outside temperature.
Therefore it's safe for your plants during cold winter weather! For severe overnight weather conditions, small plastic greenhouses are normally extremely mobile so they can be brought indoors or perhaps placed in a garage or outbuilding for further 'protection' for those delicate plants.
Conclusion
A small plastic greenhouse can be a perfect addition to any garden, small plastic greenhouses make it possible for even the smallest of spaces to produce great healthy plants. If you're looking for something that will cut back on your gardening time and help your plants flourish without taking up too much space in your backyard or garden, then these mini-greenhouses could be the answer you have been looking for and we hope this post has been helpful to you!
Finally, you can always pop over to our FAQ page to possibly find out more about greenhouses generally, and a whole host of other potential answers to your gardening questions and queries.