How to Take Cuttings From Plants
Do you want to grow more plants? Would you like to know how to take cuttings from plants? There are many benefits to taking plant cuttings, including being able to save money on your garden.
Cuttings allow you to multiply the number of plants from one existing plant without needing complicated equipment or a lot of resources. You can also propagate tender plants like verbena and fuchsias using these methods which can be beneficial in colder climates where these types might not survive outdoors all year round.
Plants contain the most water (Turgid) in the morning, so it's best to take a cutting then. It is best to take softwood cuttings from mid-spring to early summer, and hardwood cuttings a little later in the year from around mid-autumn right through to mid-winter is possible.
How to Take Cuttings From Plants: You Will Need a Sharp Knife or Secateurs
Equipment Needed Before You Start
Generally, you will need:
Needed in addition, for softwood cuttings:
How Do You Start a Plant From a Cutting?
Softwood Cuttings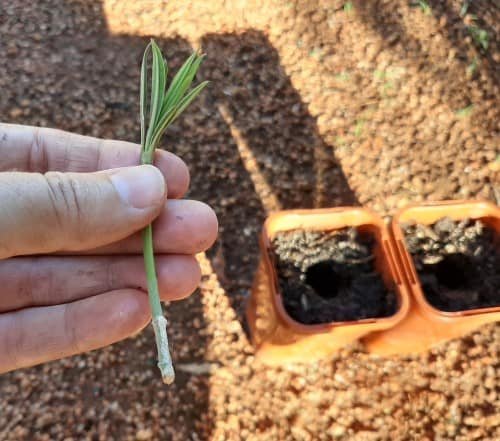 How to Take Cuttings From Plants: Plant Cutting After Being Dipped in Hormone Power
Hardwood Cuttings
You should take hardwood cuttings in the autumn after the plants have dropped their leaves and are dormant. However, it is important to remember not to do so when there's frost about because this could damage your plant material.
How to Take Cuttings From Plants: Step-by-Step Video
What Plants Can Be Rooted From Cuttings?
You can take a cutting from many different plants if you know how to do it. For example, softwood cuttings are ideal for tender flowers like pelargoniums and petunias as well as deciduous shrubs such as Lavender, Rosemary, Fuchsias, Hydrangeas, Lavatera and Buddleja.
One can propagate deciduous shrubs, like Roses, climbers like Honeysuckle and Grapevines as well as fruit bushes such as Blackcurrants, Redcurrants, Gooseberries and Figs all through hardwood cuttings.
FAQ's
Can I Take Cuttings From Succulent Plants?
Yes, many succulent plants can be propagated from cuttings. However, it's important to take the cuttings correctly and to provide the right conditions for rooting, such as well-draining soil and bright, indirect light.
Can You Take Cuttings From Any Plant?
While many plants can be propagated from cuttings, not all plants will root successfully. Some plants that can be propagated from cuttings include herbs, houseplants, and shrubs, while others such as trees and some perennials are more difficult to propagate from cuttings.
How Many Leaves Should I Leave on a Cutting?
The number of leaves you should leave on a cutting depends on the size and type of cutting, as well as the plant species. In general, it's a good idea to leave at least two to three leaves on the cutting to help it produce energy through photosynthesis. However, if the cutting is large or has many leaves, you may need to remove some to reduce water loss and promote rooting.
Conclusion
Once you master the technique of how to take cuttings from plants you will find it is typically more successful with fleshy-stemmed plants. Both outdoor garden plants and indoor houseplants can be propagated in this way. Some failures are common, so don't let this discourage you.
Taking a plant cutting is an easy and enjoyable way to propagate new plants. If you're unsure of how to take cuttings from your favourite plants, look at these simple steps above; it only takes a few minutes of your time.
We hope that this blog post has been helpful in providing more information about taking plant cuttings at home. Please feel free to share it on Facebook or other social media and with friends who are just getting into gardening or looking for great ideas on what to grow.
Have fun experimenting with different types of plants too-you may be surprised by how many can survive inside during winter months if given proper care!
Finally, you can always pop over to our FAQ page to find out more about plant propagation and a whole host of answers to other gardening questions and queries.