Reading Time:
15
minutes
Certain types of arthritis can be a burden on gardeners, causing difficulty with cutting back vegetation and pruning. Rheumatoid arthritis sufferers may find themselves unable to use even the most basic hand-held tools for these tasks without risking injury.
When you are thinking about getting a pair of the best secateurs for arthritic hands make sure that you buy a good pair with rubber handles or at least cushioned grips. The product should be light as well so that they do not put too much pressure on your wrists but have a good solid grip that will allow you to cut through thick branches easily.
Finding and choosing the right secateurs and pruning tools for arthritis sufferers and users with weak hands can be confusing, especially if you have no experience with gardening tools. We are here to help you decide.
Best Secateurs For Arthritic Hands
If you don't have much time, use the link below to quickly find out my 'Top Pick' for the 'Best Secateurs For Arthritic Hands' available for you on Amazon. You can be assured we only recommend products based on their quality, usability and value for money...
- 'Best Overall'- Felco Secateurs Model 15
Best Secateurs For Arthritic Hands: Bypass secateurs provide a nice clean cut without damaging the plant.
Best Secateurs For Arthritic Hands - Our Top 3
Product Image
Best Overall
Best Runner Up
Best Under £15
Suitable Hand Size (S,M,L)
Best Overall
Product Image
Suitable Hand Size (S,M,L)
Best Runner Up
Product Image
Suitable Hand Size (S,M,L)
Best Under £15
Product Image
Suitable Hand Size (S,M,L)
Last update on 2022-05-20
What's the difference between bypass and anvil secateurs (pruners)?
Bypass secateurs are the mainstay of every gardener's armoury. These secateurs use the 'sliding' cutting principle. The two blades 'glide' or 'bypass' past each other, enabling a clean, sharp cut close to the stem or root(s) without damaging, crushing or tearing the stem.
Anvil secateurs on the other hand have a different cutting method. The main difference being that the two blades on anvil secateurs are specially shaped to allow the blades to come into contact with each other (ie.. a sharp blade is pressed down to meet a flat metal base) hence the name, Anvil!
Anvil secateurs are best used for pruning deadwood and hardier branches, woody stems and deadwood due to the fact that the cut is 'less clean' and will actively crush sensitive live plant material and cells. Unlike the bypass secateurs which, when used correctly will do hardly any damage to your plants at all!
With the above in mind, we shall focus only on bypass secateurs in this post to find the best secateurs for arthritic hands.
Best Secateurs For Arthritic Hands - Buyers Guide
Felco Secateurs - Model 15

Felco secateurs have been made in Switzerland since 1945 and are the world's most popular garden secateurs, trusted by professional gardeners and keen amateurs alike for their quality construction, ease of use and performance.

The FELCO 15 pruning secateurs sets a new standard for small, compact, high-performance tools.
Best suited for small to medium-sized hands these excellent secateurs have been specially designed to work seamlessly with your different 'pruning' needs and styles in mind.
The 'rotating handle' makes it easier to leverage the 'cutting power' of this tool and deliver outstanding performance as one has come to expect from Felco.
The blade and a counter-blade are made from high-quality hardened steel, with comfortable, compact, light and sturdy handles made of forged aluminium. Due to their compactness it is easy to manoeuvre these secateurs in tight spaces as well, making the work more efficient and  you'll soon wonder how you ever pruned without them! 
The secateurs also have rubber shock absorbers and an angled cutting head to ensure precision. You can also 'adjust' the cutting head with ease for your specific needs.
The FELCO 15's are 'ergonomically' designed secateurs that certainly reduces the pressure on the arms and hands. As mentioned, they feature a 'rotating' handle for even more increased comfort, as less muscle force goes into each cut.
This relates to a 30% reduction in needed 'cutting power' which means you can finish up more quickly and without fatigue or strain after hours of work.
Some facts and figures: The model 15's weigh 0.57lbs (0.26kg) and are 7.44 in (19cm) in length. Cutting ability: The Felco 15's able to prune up to 0.7in (18mm) thick stems/branches. 
As with all Felco products the die-cast aluminium components (handles) have a lifetime warranty. For all other manufacturing and material defects, a 24 month period (12+12) is given by the manufacturer from the date of purchase, providing at least 1 service has been undertaken in the first 12 months.
Finally, with these Felco pruning shears, each component is replaceable, ensuring that the life of the tool can be extended as long as the user chooses. 

Fiskars - Garden Shears P961

Fiskars P961 ergonomic secateurs cut through tough stems and branches. With a rolling handle and  PowerGear™ technology that maximises your leverage where you need it most, you can now get 3x more cutting power than before using this technology.
Designed for gardeners having medium to large hands, these secateurs are especially suited to those gardeners with a weaker grips, or those suffering from and looking for the best secateurs for arthritic hands, you may have found what you're looking for in the Fiskars P961.
Fiskars secateurs are made from fully hardened, precision-ground steel which helps the blade stay sharper for longer.
High durability, easy re-sharpening and replacement of the cutting blade is the key to a good pair of secateurs. This exceptional blade, combined with a low-friction blade coating to resist corrosion allows for smoother, easier cuts. 
The FiberComp™ (handles made of glass-fibre reinforced plastic without PVC) secateurs are designed to be comfortable and fit any shape hand. This means the user can 'prune' all day long without feeling any pain or discomfort in their hands and thus reducing fatigue. Added SoftGrip™ details on the top of the handle of these secateurs make for a more secure, non-slip grip.
An extra little feature with these pruners is the 'sliding' lock. When 'active' it keeps the blade safe during transport or not in use, thus ensuring the blade is kept safely away from your fingers.
The lock is readily accessible and makes for easy activation when required. Its a great safety feature that protects you from being cut by accident.
Some facts and figures: The Fiskars P961's weigh 0.48lbs (0.22kg) and are 8.6in (22cm) in length. Cutting ability: The Fiskars P961 is able to cut up to 1in (26mm) thick stems/branches. 
All this! But there is more. The manufacturer also provides a whopping 25-year warranty on the PowerGear™ cutting tools with no registration! Check out the Fiskars warranty at Fiskars UK. This length of warranty you will find hard to beat almost anywhere.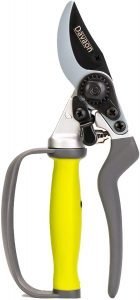 Davaon Pro Bypass Secateurs is a professional tool used by both professional and amateur gardeners alike.
The Davaon Pro are ergonomically designed bypass secateurs with an 'auto-rotating handle, that allows for easy squeezing with minimum effort, reducing strain and fatigue. 
In addition to the auto-rotating handle, you will see the secateurs have been fitted with an adjustable lever to modify the secateurs width by 50%, further reducing hand strain and fatigue.
This adjustment provides users with the ability to give themselves the  'perfect fit/grip' whether they have small or large hands.
In addition to the grip adjustment, a 'finger guard' protects you from painful scratches when pruning plants like roses.
The soft grip upper handle makes the pruners comfortable to use, while the rotating lower handle reduces wrist strain and increases efficiency. 
These secateurs have hardened SK5 carbon steel blades which provide a sharp clean cut every time.
Some facts and figures: The Davaon Pro's weigh 0.72lbs (0.33kg) which is a little on the heavy side compared to other makes and are 8.4in (21.5cm) in length. Cutting ability: The Davaon Pro's are able to cut up to 1.1in (30mm) thick stems/branches.
The manufactures warranty period is 3-years which covers against any manufacturing defects.

Bairui Bypass Secateurs are designed with a unique operator safety lock, which is a good safety feature to have when dealing with sharp and potentially dangerous tools.
The locking mechanism on these shears is designed to be easy to use for anyone, even those with arthritic hands. Whether it's just to 'lock' or adjusting hand width's, this feature can help those who suffer from arthritis related hand problems, or those not used to using secateurs frequently enough.
The secateurs are ergonomically designed, with non-slip handles making the pruners strong, lightweight, and comfortable to use for long periods of time.
Shock-absorbing pads were designed to reduce the chance of repetitive strain injuries in the hands & associated wrist strain. However, The Bairui garden shears will provide you with the leverage and comfort needed to get the job done right.
The secateurs sharp blades are made of SK-5 titanium steel, making the pruners both durable and reliable to get you through thick branches in no time at all.
These multifunctional bypass pruning shears are just at home pruning delicate indoor plants or outdoor tree branches and shrubs, making them an essential tool in your gardening arsenal!
Should blades need tensioning after time a central tensioning screw can be adjusted with an Allen key (not supplied).
Some facts and figures: The Bairui Garden Shears weigh 0.59lbs (0.27kg) are 10.6in (27cm) in length. Cutting ability: The Bairui Garden Shears are able to cut up to 0.5in (15mm) thick stems/branches.
The manufacturer's warranty is based on a 30 days money-back guarantee and a one-year warranty on the product.

Gardena - Garden Secateurs XL

As a gardener, it is important to have the right tools, these bypass Gardena Garden Secateurs are multifunctional, one-handed safety lock secateurs, which are ideal for pruning small branches and flowers.
Manufactured by the well-renowned gardening brand, and built of rust-proof stainless steel with a nonstick coated upper blade; these Gardena secateurs have an 'adjustable handle width' for maximum comfort and are ergonomically shaped no matter what size hands you have. 
These secateurs ensure a comfortable grip even if you're right or left-handed! Making these double-edged bypass secateurs the ideal tool for flowers and fresh wood.
The upper blade is ground to cut into the branch at an angle, while both blades simultaneously cut straight down through a pull cutting motion – producing clean cuts without any pressure points in your material!
This makes them perfect for those with arthritis or carpal tunnel syndrome that struggle using standard single-edged gardening secateurs. These blades feature 'cutting edges' that can cut up to 24mm, making them perfect for any garden tasks you may need them for.
The secateurs also come with an 'adjustable' guide pin that ensures a secure fit when in your hand making them easy to use. These durable pruners also have a 'tension spring' that has been carefully integrated into the tool so it can't be lost.
Some facts and figures: The Gardena Garden Secateurs weigh 0.55lbs (0.25kg) are 10.6in (27cm) in length. Cutting ability: The Gardena Garden Secateurs are able to cut up to 0.9in (24mm) thick stems/branches.
And what about safety? Well not only does it come complete with a handy single hand lockable mechanism but also for total peace of mind, this product comes backed by 25 years worth of Gardena warranty protection – what more could you ask for?. 

Corona Secateurs - BP 3180D Classic Cut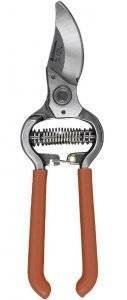 Corona is one of the leading brands of hand pruners/secateurs and garden shears. Their products are designed to provide superior performance, comfort, and safety for professionals and amateurs alike.
Their Corona BP 3180D ClassicCUT professional secateurs for larger hands have a 1in (25mm) cutting capacity and are made of a Coronium forged steel alloy construction.
Being fully heat-treated permits the re-sharpening of the secateurs blades (sharpener sold separately) which can be easily undertaken at home or professionally. This allows you to keep your tools working like new, but without having to buy a new pair.
Corona BP 3180D ClassicCUT professional secateurs have non-slip 'rubber cushioned' grips for comfort and to prevent slippage when wet.
The 'narrow profile' of these secateurs allows them to fit easily into tight spaces while the 'self-aligning pivot bolt' keeps the handles aligned so that you can cut easier, without having to worry about misalignment.
The hook (lower blade) is designed with a 'sap groove' to remove debris and ensure a clean, precision cutting action, as well as a handy tough wire-cutting notch.
Some facts and figures: The Corona BP 3180D ClassicCut secateurs weigh 0.88lbs (0.40kg) are 9.7in (25cm) in length. Cutting ability: The Corona BP 3180D ClassicCut secateurs are able to cut up to 1in (25mm) thick stems/branches, although some users found this difficult to achieve.
A lifetime warranty against manufacturer defects awaits purchasers, meaning that if you ever have an issue with your product they will repair or replace it at no cost to you!

Gonicc 8" Professional Secateurs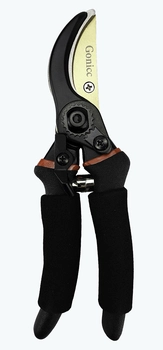 Gonicc pruners are among the better secateurs you can get for any garden, according to many reviews on Amazon.
Gonicc always thinks premium materials and comfort is a must-have for anyone who gardens, which means all of their products have high-quality parts that make them durable and comfortable to use.
The Gonicc 8″ Professional Secateurs are ideal for trimming and pruning plants, flowers, shrubs and bushes both in a commercial and domestic environment.
The secateurs feature drop forged aluminium body and handles, with blades made of Premium Titanium SK-5 steel with  Ultra-fine Polishing Technology (UPT) giving exceptional sharpness. This is important because it ensures that the secateurs 'stay' sharp no matter how many times you use them!
Sharp blades mean you'll have a much easier time cutting away at that greenery while your gardening jobs go quicker than before!
As with several top 'pruners' on the market the Gonicc sports a 'Sap Groove' design that prevents sap from accumulating on the blades while cutting branches or twigs.
These coated blades also help to prevent 'rust' from accumulating on them, so blades can always cut twigs and branches without any 'sticking' problems.
Suitable for medium to large hands the ergonomically designed non-slip handles (PVC + sponge covered)  ensure that the secateurs are comfortable to hold during use, even for long periods.
Some facts and figures: The Gonicc Professional secateurs are exceptionally light and weigh just  0.41lbs (0.18kg) are 8in (20cm) in length and are suitable for tight spaces.. Cutting ability: The Gonicc Professional secateurs are able to cut up to 0.8in (22mm) thick stems/branches.
We were unable to find any manufactures warranty, so we have assumed that the UK standard consumer product warranty applies to this product.

Magzo Pruning Secateurs are made of high-quality SK5 carbon steel with a titanium coated blade, they are a lightweight tool for pruning and trimming and can be used by both right and left-handed users. 
The steel is also galvanised which makes them rust and corrosion-resistant. They won't rust or corrode even after prolonged contact with moisture.
The ergonomic, non-slip rubber handles offer a more comfortable and stable grip for the user. The cutting blade is titanium-plated steel, which makes the blade remain sharp for a longer period of time than other blades. The sharp blades allow you to cut through branches up to 3/4in (21mm) in diameter,
These secateurs are equipped with a 'spiral spring' which can greatly relieve the hand joint pressure, which helps to avoid fatigue, a 'latch lock' helps to keep the shears closed when not in use. 
Some facts and figures: The Magzo Pruning secateurs are exceptionally light and weigh just  0.48lbs (0.22kg) are 8.2in (21cm) in length. Cutting ability: The Magzo Pruning secateurs are able to cut up to 0.8in (22mm) thick stems/branches and are suitable for pruning flowers, fruit trees and much more.
We were unable to find any manufactures warranty, so we have assumed that the UK standard consumer product warranty applies to this product.

Klezhi Electronic Professional Secateurs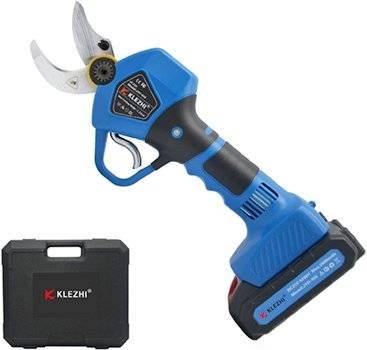 For those who have no power or grip in their hands but still want to be actively pruning in the garden, then the solution is the Klezhi electronic secateurs.
It is the first power-driven secateurs on the market that can be operated by either hand, so people with arthritis or weak hands can still manage to comfortably prune.
Klezhi electronic secateurs are a revolutionary product that has changed the way we look at garden tools. 
The unique design ensures that you can cut branches up to 1.25in (30mm) in diameter with ease, with no fatigue or struggles.
Made from strong blue ABS plastic, with a blade that is forged from Swiss SK5 high carbon steel, which means it's stronger and more durable than most other blades on the market today, the ergonomically non-slip grip designed by Klezhi sits comfortably in the hand.
Thanks to its 600w brushless motor, (which provides a service life of 3 to 5 times that of a conventional brush motor) this tool will make short work of even the toughest branches.
Supplied with 2 x 21v (2Ah) rechargeable lithium batteries which provide a combined battery working life of 8 hrs, there is plenty of power to last the whole day in the garden. In fact, one can get up to 8000+ shear times with two fully charged batteries.
Battery charge time is only 1-2 hours depending on how many batteries you have charging at the same time. The supplied 2 port charger accommodates  2 batteries, so it's possible to charge both batteries at once overnight, ready for the next day if required.
One final safety feature is the 'Smart Safety Mode' or Automatic Standby Mode: For your safety, the secateurs will enter a 'standby' or 'sleep' mode and stop working if 120 seconds pass without pressing the trigger. Operators simply need to press the trigger again to restart the secateurs.
The secateurs are shipped with a hard plastic carry case, 2 batteries, battery charger, wrist lanyard, wrench and user manual that one needs to read before use.
Some facts and figures: The Klezhi electronic secateurs are a little heavy as one can expect as it has a battery. Its  weighs 1.5lbs (0.70kg) and is 14.5in (37cm) in length. Cutting ability: The Klezhi electronic secateurs are able to cut up to 1.25in (32mm) thick stems/branches and is suitable for pruning various shrubby plants and trees.
The manufactures warranty is 18months from the date of purchase against all manufacturing defects which is a standard these days on many products.

Things You Should Know Before Buying Secateurs For Arthritic Hands
Which secateurs does Monty Don use?
Not really a question about arthritic hands but a question that's often asked amongst British gardeners, when discussions around secateurs crop up.
I think most of us know and love Monty Don, an expert gardener and writer of the UK's 'Gardeners World' magazine. Many people often ask the question "which secateurs does Monty Don use"? So I thought I would answer it here.
Well, Monty describes his Tobisho SR-1 Secateurs as one of his favourite gardening tools. They are drop-forged, deep in the Yamagata mountains in Japan from high carbon steel by steel experts.  He describes these high-quality secateurs from Japan as having a beautiful balance, that allows for smooth cutting while maintaining razor sharpness.
What's the difference between pruners and secateurs?
There are two different terms for the same tool: pruner and secateurs. Depending on where you live, one term will be more common than it would elsewhere.
In America, Canada, the Philippines (or other countries), people may use the word  "pruners" rather than "secateurs."  while the term "secateurs" is most common in the British language.
What is a ratchet pruner?
Ratcheting pruners are considered 'Anvil' pruning shears. They are so-called because they function as a blacksmith's anvil.
They have one sharp blade and one flat, which does not cut but acts as an anvil for when you squeeze the handles down onto your branch or stem that needs cutting.  
Then simply apply pressure with the other blade until it succeeds in cutting them off at their base.
How do you choose a Secateur?
Secateurs are a gardener's best friend. A good pair of secateurs can help you trim plants, prune sappy and woody growths alike as well as cut through thick twigs without compromising the blade.
The blades should have sharp edges that never dull down so they're always ready to go when you need them most; feel comfortable in your hand with an ergonomic handle for added grip, and be able to 'catch' on branches smoothly without jamming up – all the while remaining lightweight enough not to slow you down or cause any discomfort during long work sessions!
So, what are the best secateurs for arthritis?
There are a few things to consider when purchasing secateurs for people with arthritis.
One of the most important factors is if it will be comfortable and easy to hold on a daily basis, so you should look into how ergonomically sound they are before selecting your new purchase.
It's also crucial that these shears have a soft grip covering of some sort because this can make all the difference in terms of pain relief while cutting plants around your garden!
The mechanism which opens/closes (spring) the secateurs must also work well for those who suffer from hand stiffness as there may not always be enough strength left in their fingers to pull the secateurs apart if stuck in a branch.
Finally sharpness, it is important that your secateurs stay sharp and perhaps better, the blades can be sharpened or can be replaced when required. Sharp blades ensure you can cut with easy and without to much hand effort.
With all the information you've gathered from this blog post, hopefully, it will be easier to determine what type of secateurs are best for you.
Secateurs are a must-have tool in any gardener's arsenal so make sure that they suit your needs before investing. We hope this post has given you some helpful tips on how to find the right pair and why they may or may not work well with your weak and or arthritic hands!
If this article has helped you in any way then please share it amongst your family and garden-loving friends or anybody who might be looking at getting the best secateurs for arthritic hands.
Finally, you can always pop over to our FAQ page to find out more about pruners and secateurs generally, and a whole host of other answers to your gardening questions and queries.