Reading Time:
18
minutes
Have you ever wanted to keep track of what is going on in your garden's bird nesting box, but do not have the time or inclination to be outside all day or night to keep an eye on the 'comings and goings' at the nestbox?
The perfect solution is the use of Wired or Wireless birdbox cameras. These cameras are for those busy people who want to observe and or even record 'nesting birds' in there own gardens from the comfort of their home, without the need to spend all day outside waiting for the action to take place.
This post will help you find the best wireless bird box cameras and set them up so that you can watch your gardens nesting birds 24-hours a day!
A birdbox camera is a wireless or wired video recording system that can be installed on any type of bird box or wildlife enclosure. The benefits are simply that you do not need to get close to the bird box or enclosure to observe what is going on inside.
Some cameras come equipped with 'infrared lighting' (night vision) for night-time surveillance, so it is possible to see what goes on even when there's no natural light available.
How Does a Wireless Bird Box Camera Work?
Wireless bird box cameras are part of a system comprising of an external camera, a transmitter (antenna) and a remote video/wifi receiver which is normally located in the home.
The camera with its small antenna (transmitter) is positioned inside the bird box so that it can record all the activity within.
A wireless video receiver (normally located in the home) picks up the signal sent by the transmitter at a range normally around 10 – 30 metres (30-100ft). This video or wifi receiver can connect directly to your tv, pad, or smartphone for viewing.
So, if you have a line of sight to your garden then there should be no problem with positioning your wireless bird box camera correctly.
How Do You Set up a Wireless Bird Box Camera?
First, make sure you can 'partially' dismantle your bird box (unscrew) as you normally need to find a good spot to place/fix your camera inside.
Next, you will need to take the 12v DC power cable from or to the camera through a gap (sometimes available, sometimes opening needs to be made) at the top of the birdbox. 
A 220v power supply (in a waterproof box that is IP65 rated) should be close by your birdbox location to plug a 12v adaptor into, to power the camera.
The next step would be to drill a small hole in the back or sidewall of the birdbox big enough to pass your camera fixing screw/bolt through (ensure this does not compromise any structural integrity).
Just make sure the camera is positioned so that is it can capture everything happening 'inside' and also make sure there are no shadows cast on the lens by any nearby objects.
You may want to add some clear sealant around wherever you drill, especially if it is near an opening, as this will help keep out water etc. Make sure not to block up any other holes which could allow easy bird access to the birdbox.
Next actually place your wireless camera bird box in your preferred garden location close to the house, with a direct line of sight and within range of the indoor video/wifi receiver, as per the manufacture's recommendations.
The receiver should be in a good location for the best connection to the camera as there is some wi-fi signal loss over distance. Of course, if it's a wired connection (network cable) this possible problem will not occur.
Once all that has been done, go ahead and set up your camera and receiver on your TV, phone, tablet, or laptop.
Check that everything works properly and then wait for your nesting visitors to arrive and make sure not to disturb them again, enjoy 24/7 wildlife TV!
How to Set Up a 3rd Generation Green Feathers Wifi Birdbox Camera and Connect to the App
Tips for Using Your New Bird Box Camera
The following tips may be useful while using your new wired/wireless bird box camera system. 
What is The Best Direction For a Bird Box to Face?
The best direction to point a bird box entrance if possible is between north and east, thereby avoiding any strong sunlight, winds, and the wettest weather.
Always make sure that the birds have a clear flight path to the nest box without any clutter directly in front of the box entrance.
The Best Time to Watch Nesting Birds
The best time to watch nesting birds in the UK is from late April or early May through the end of July.
During this time, all bird species begin building nests and laying eggs. This period also usually coincides with a warmer weather pattern in most UK regions that should make for pleasant viewing conditions on your bird box camera!
Which Bird Box Cameras Are Best for Viewing Birds?
I highly recommend that you purchase a camera with a wide-angle lens. You will then be able to see the entire nesting area of your bird box without zooming in, which may scare away any potential nesting pairs.
A good quality infrared (IR) sensor is also important for night-time monitoring; otherwise, you can only monitor during daylight hours!
Ideally, I would recommend using an IR illuminator or use one built into the camera itself if it has this feature available. Infrared lights are invisible to humans but provide excellent visibility at night and do not disturb wildlife as much as bright white LED lighting does at night.
There is a wide range of online retailers that offer bird box cameras and camera systems. Some popular choices include Amazon and B&Q.
You can also buy wireless bird box cameras from your local garden centre or hardware shop such as Homebase.  Green Feathers though are amongst the most popular domestic garden bird box cameras sellers in the UK and below you will find our users popular choices as found online through Amazon.
In a hurry?
If you don't have much time, use the link below to quickly find out my 'Top Pick' for 'Birdbox Cameras' in your garden ' available for you on Amazon. You can be assured we only recommend products based on their quality, usability and value for money...
- 'Best Overall'- Green Feathers Wildlife 1080P Wifi Camera
Wireless Birdbox Cameras - Comparison Table
Product Image
Best Overall
Best Runner Up
Best Budget
Model/Make
Green Feathers Wi-Fi Birdbox Camera
Green Feathers Complete DIY Nest Box
Best Overall
Product Image
Model/Make
Green Feathers Wi-Fi Birdbox Camera
Best Runner Up
Product Image
Model/Make
Green Feathers Complete DIY Nest Box
Best Budget
Product Image
Last update on 2022-06-21
Wireless Birdbox Cameras - Six to Consider
Green Feathers Complete DIY Bird Nest Box with Wireless Video Camera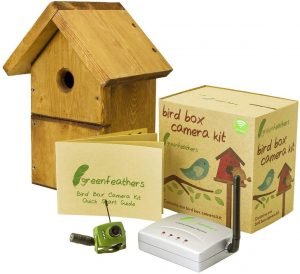 The Green Feathers DIY Timber Bird Nest Box with Wireless Camera is an all-in-one solution to monitor nesting birds in your garden. 
This complete kit comes with everything you need to build a high-quality birdbox with a 'wireless' birdbox camera. The birdbox is made from FSC certified timber ensuring the wood used comes from a 'renewable' source.
This Green Feathers setup includes a tiny wireless SD 700TVL (resolution) video camera that captures crisp clear video from inside the nest box.
Night vision LED's allow you to capture images in 'total darkness' from inside the box, so you can watch the birds at any time of the day or night.
The camera is also specially fitted with a 2.8mm wide-angle lens, with adjustable focus to fine-tune your images. This large field of view is wide enough to see what is going on inside the entire birdbox at any one time, no need to zoom.
Although the term 'wireless' is applied to the majority of 'wireless' birdbox cameras, generally all the cameras still need a 'power supply to make them function. So to make it a little easier the manufacturer has included a 10m, 12v power cord extension with the package.
Connecting the camera couldn't be easier, once fitted simply plug the camera into a nearby power supply and you are ready to transmit. The camera has a built-in 'wireless' transmitter, which means you do not need to run any further cables to the TV in your home to be able to receive a crisp clear video signal. That signal will be sent to the (supplied) receiver wirelessly.
Indoors, use the (supplied) AV/HDMI 1080P up scaler adaptor. This adaptor allows the conversion of the RCA output from the back of the receiver to an HDMI output. RCA cables (not supplied) will be required to connect between the 'receiver' and the adaptor. Then simply connect an HDMI cable (not supplied) directly from the adaptor into the back of your TV.
Alternatively, you can connect RCA cables directly from the receiver into the back of the TV if you have RCA connections on the TV.
Once all is connected, simply find and tune in a TV channel to be able to watch our little feathered friends blissfully unaware of your presence 24/7.
It should be noted, the receiver can be located anywhere in your home, up to 20 -30 meters from the birdbox with a good line of sight, although it should also be advised that obstructions such as walls, may reduce that distance as often reported.
Lastly, all Green Feather birdbox cameras come with a 3-year guarantee as standard. There's no need to register for your guarantee, just keep a copy of your invoice to help the manufacturer find your details and process any claims quickly and efficiently.

Green Feather - Birdbox and WiFi Wildlife Camera 1080P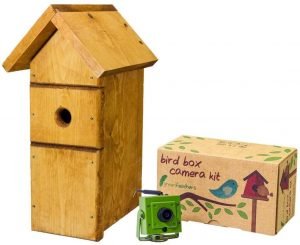 The Green Feather birdbox with a 1080P  wifi camera is advertised as a bird box camera.
The kit includes everything you need to get the box installed, and the camera up and running on your PC, smartphone or tablet.
In addition, though, wildlife enthusiasts can also purchase this camera as part of a hedgehog house feeding station set up, if you prefer to monitor your gardens hedgehog house instead of a birdbox.
This Green Feathers wildlife birdbox comes complete with a 1080p 3rd Gen (2.4 GHz) Wifi HD camera, microSD card slot (up to 128Gb)  and a 10m power extension cable, (can be extended to 20m). This is a great way to watch what goes on inside a nest box placed in your garden or backyard, just as the BBC's Springwatch cameras do.
With amazing quality footage of nesting birds during the day (provided there is enough light in the box) this birdbox camera will allow you to witness the wonders of nature from the comfort of your own home!
Should light inside the box become a problem, then it's recommended that users purchase additional daylight LED light for their birdbox.
You can connect this compact birdbox camera to any home wifi network via the free Android or iOS app. It should be noted, however, that the Green Feathers app is only compatible with their 3rd Gen camera only.
Other features include invisible IR LEDs that provide automatic black and white night vision recordings, as well as the MicroSD slot, once fitted with an SD card can be used for storing lots of recorded video clips.
So you don't miss anything that goes on, the camera also features 'motion detection and a 'wide-angle' lens which offers users the opportunity to capture all the incredible footage of the nesting birds inside the birdbox!
This bird box comes packaged with a 10m power extension cable so you can place the camera up high, without worrying about how far away it may be from your power outlet!
The birdbox itself is hand made from 21mm FSC timber, which is significantly thicker than most other boxes on the market making it both strong and durable.
The birdbox has dimensions of 18.5 in x 9.8 in x 7.4 in (470mm x 250mm 190mm) and features a 1 ¼ in (32mm) entrance hole, a central mounting point, as well as 'air vents' through which you can run your power cable.
The front of the box is also removable, allowing easy installation of the camera. The front can be left off if preferred so it can be used by nesting species such as Robins that prefer an open-fronted nest and of course it will assist with daylight recordings as well.
For the techies, some specs include:- 2mp Cmos image sensor, 2.8mm lens, 1920 x 1080 resolution, built-in mic, 2 recording modes, 1/25 – 1/10,00 shutter speed, and a small camera with dimensions of 1.7in x 1.7in x 1.22in (44mm x 44mm x 33mm).
This bird box and camera combination will allow you to watch live video feeds 24/7 from anywhere around the world via the app, meaning those long workdays maybe won't feel as tedious anymore!
Green Feathers Wildlife Wi-Fi Birdbox Full HD 1080p Camera with MicroSD Card Slot and Power Extension Cable makes for an excellent gift idea – especially for anyone who loves nature's little wonders and photography.
Lastly, all Green Feather birdbox cameras come with a 3-year guarantee as standard. There's no need to register for your guarantee, just keep a copy of your invoice to help the manufacturer find your details and process any claims quickly and efficiently.

Green Feathers Wired PoE Birdbox Cameras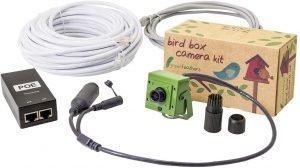 Do you know those birdbox cameras that people put up in their garden to watch the wildlife?
Well, this one is a little bit different. The Green Feathers PoE Birdbox Camera is an HD 1080p IP PoE (Power over Ethernet) camera with motion detection and night vision capabilities.
Green Feathers have created this clever little POE device for people who want to enjoy nature from afar – without having to leave the comfort of their home or office.
This tiny wired IP network camera connects straight to your router via the clever little PoE switch using the (200ft – 60m) waterproof network cable provided. The PoE switch is located in your house close to a power supply and your router (6ft – 3m network cable supplied to connect directly to the router), the PoE switch is also included with this camera setup. 
At this point, you would normally have to find an 'IP address for the camera and configure the camera to make it work. However, with the Green Feathers Birdbox Cameras, it is all done for you with a pre-configured IP address – so there are no complicated set-up procedures to contend with!
Simply turn on your router and plug in the PoE device to enjoy a 'live' feed of your garden bird nest box without even being at home, via the free app on your PC, smartphone or tablet!
Because the camera runs on professional network-grade cables, it provides a robustly reliable signal at all times. No need to worry about getting enough wi-fi signal or being out of range!
The HD 1080p video provides sharp, colourful images by day and black and white by night which makes watching wildlife as easy as going online. The 'motion detection' feature starts when something enters its wide-angle view while 'sound' triggers cause audio recordings to start.
The only thing to really think about is the route for the 'ethernet' cable to/from the camera and PoE switch.
For the techies, some specs include – Low Light Cmos image sensor, 2.8mm wide-angle lens 92° field of view, 1920 x 1080 resolution, built-in mic, 3 recording modes, NAS Drive Compatible (for storage), Scheduled PC recording using CMS software, 15-25 fps streaming resolution, and a small camera with dimensions of 1.7in x 1.7in x 3/4in (44mm x 44mm x 21mm).
The camera, with ethernet cable length variations, is also available from 10m, 20m, 30m, 40m and 50m if you find 60m's is too long for your requirements.
Lastly, all Green Feather birdbox cameras come with a 3-year guarantee as standard. There's no need to register for your guarantee, just keep a copy of your invoice to help the manufacturer find your details and process any claims quickly and efficiently.

Birdboxview Colour CCTV Birdbox Cameras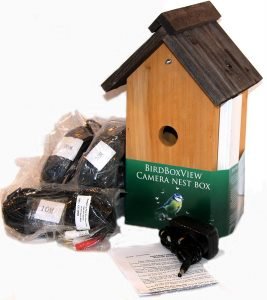 Watch on your TV from inside the nestbox as wild birds build a nest. This nestbox camera is by Birdboxview a company that specialises in high definition CCTV nestbox cameras. 
Birdboxview offers the perfect gift for you and the gardening/wildlife enthusiast with this camera-ready 'fitted' nestbox.
The wired CCTV camera is set inside a 'quality' wooden 30cm nestbox, with a 'pitched' roof, making it quite a tall 'spacious' box as far as bird boxes go.
The manufacturer has also thought of maintenance and bird comfort as well. On the comfort side and important to any 'enclosed' space is sufficient ventilation for the inhabitants inside. 
This is provided through a 'ventilation' slot at the bottom of the box. This also doubles up as a drainage point for nest hygiene. When users want to thoroughly clean the birdbox after a nesting season, the roof of the nestbox can easily be removed for 'total' birdbox maintenance and cleaning.
The nestbox camera is lightweight and easy to set up and is designed to be easily installed and maintained, so you can view those wild birds 24/7 from the comfort of your own home.
The tiny 700 TVL (TV Lines) CCTV colour camera comes complete with a microphone and IR light source and can be 'manually focused' to suit your viewing position, so users will not miss a 'tweet' or a late-night shuffle in the nestbox.
During the day and in light conditions full-colour video (although it may seem a little dull due to the camera being inside a bird box even on bright days) images can be expected, video quality is aided by a 'small' opaque window fitted to the side of the nestbox. During much duller days and at night 'video' will only be in monochrome.
There is a 480 TVL camera option available for this birdbox camera, which some customers opt for, however in this world of HD cameras, image quality rules supreme, so we like to recommend the 700 TVL version for this reason.
The 'camera' is securely fitted to the top of the nestbox for the best viewing position. Attached to the side of the birdbox is white electrical trunking, and the colour coordinated cables are passed from the camera through the box and into the trunking. The 'trunking' once covered also stops the cable connections from getting wet. 
To connect your 30m extension cable (supplied), simply remove the trunking lid and attach the 'colour' coordinated jack plugs 'together' with the camera corresponding 'colour' plugs and replace the trunking cover.
We have assumed you have worked out a suitable route for your extension cable from the nestbox to your TV by now. Once in your home, the white and yellow cables (audio & video) fit directly into the back of your TV. The red cable plugs into the 'power' adaptor (supplied) which in turn plugs into an available power outlet beside your TV.
There are many models of TV on the market today with various 'options' for cables to be plugged into them.
If the back of your TV does not have either yellow and white AV/RCA sockets or sockets marked Pb, Pr and Y, but has a 'Scart' input, then you will need an additional RCA/Scart plug adapter.  If your TV has an HDMI input (most modern TV's do) then you will need an additional RCA/HDMI – USB powered adaptor to ensure your birdbox videos show up on your TV.
Other variables may include your extension cables. If 30m cable extensions are too long then 20m, 15m and 10m extensions are also available as an option with this camera.
Once you have connected your TV as described above, simply tune in a TV channel to the camera output, which is as simple as tuning in a TV station, then sit back and enjoy all the 'live' birdbox action.
A standard 1-year warranty applies to this purchase for both the camera and birdbox.

Wildlife World Camera Ready Nest Box
The perfect nestbox: a quality camera-ready bird box from Wildlife World!
For those garden wildlife enthusiasts who may want to mix and match cameras and birdbox's themselves, then this wooden nestbox made from 20mm FSC Cedar timber or similar would not be out of place in any garden.
This nestbox from Wildlife World is perfect for those looking to get into bird-watching.
Not only does it provide a secure place for birds to nest, but also comes with an 'internal camera-ready clip so you can turn your garden on its head, by enabling users to view what's going on inside! 
Who needs BBC One or Sky TV when there is 'actual' wildlife action going on in your own garden.
It should be noted however, some users did have an issue with the 'camera clip position,' in that the entrance hole viewing was slightly restricted. This 'clip' can be moved to a better location based on the camera you use if required.
A few little 'extras' also come as standard with this nestbox, like and an 'opaque' side window which allows extra light into the box, which in turn increases the performance of cameras.
Wood treatment of the nestbox is not necessarily required, as the manufactures wooden products are sturdily manufactured from slow-seasoned untreated timber, which they advise negates the need for the use of chemical preservatives.
Maintenance of the nestbox or installation of a camera is easily undertaken through a 'hinged' lid. 
The wildlife garden enthusiast, and or if you are a 'Tit or Sparrow' will like the beautiful 'copper' entrance hole protector, which prevents damage by squirrels and woodpeckers and other larger birds from entering. If you prefer slightly larger birds to enter the nestbox then you can simply remove the copper hole protector yourself.
The nestbox dimensions are 12.5in H x 10in D x 9in W (32cm x 26cm x 25cm)

Green Feathers (3rd Generation) Wildlife Wi-Fi Bird Box Full HD 1080p Camera
For those who may already have a 'birdbox' in their garden and would like to convert it by adding a birdbox camera inside for some live-action bird viewing, then simply by adding this 'wireless' wi-fi camera inside the nestbox might be the perfect option.
The Green Feathers Wildlife Wi-Fi Bird Box Full HD 1080p Camera is a FULL HD bird box camera with night vision!
You can use this camera to monitor your avian friends anytime, and anywhere in the world, that gives you an internet connection.
The camera connects to your smartphone, tablet or laptop so you can watch crisp 1080p high definition video as the birds go about their 'daily' lives inside their nestbox.
The manufacturer uses this same camera in their birdbox/camera combination review in this post and is currently my 'best overall' combination for the current crop of birdbox cameras.
The camera ships with a 20m power cable, (10m power cable is also available) wide-angle lens and micro SD card slot capable of taking 128GB micro SD cards, (card not included) so need for expensive external recorders. 
Other features of this wireless wi-fi camera include 'invisible IR (Infra-Red) LED's' for night vision recording/viewing without disturbing the birds inside your box and great 'motion detection recording capabilities. 
A little tip on lighting. The camera records in clear colour during the day, provided there is enough light in the box. In the dark, the built-in infrared lamps will automatically record in black and white night vision mode. 
However, if you want to get extra daytime light for more clarity, you can mount a daylight LED lamp inside the box.
This option is much better than making a 'hole' or window in your birdbox, as that could expose the nesting birds to dangers, such as larger predators for example. One daytime LED lamp will be more than enough to provide sufficient natural lighting so you can see the full, colourful detail of your huddled birds.  Note: It will only 'light up' during the day. 
As with all of Green Feathers cameras, the 1080p bird box camera comes with a 36-month warranty.

Green Feathers Wildlife Wireless Bird Box SD 700TVL Camera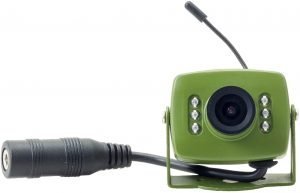 The Green Feathers Wildlife Wireless Bird Box SD 700TVL Camera (camera only) with night vision, is an excellent additional bird box camera for those enthusiasts wanting greater flexibility with their garden wildlife viewing.
The camera is the same camera as used in the 'Green Feathers complete DIY Bird Nest Box and Wireless Video Camera' we reviewed above and is compatible with that system.
Users can place this camera in an additional 'bird box' or perhaps in your  Hedgehog House to view those adorable 'hoglets'. In either case, you can use this camera in conjunction with the Green Feathers receiver you already have as part of your initial system purchase.
The 2.8mm wide-angle lens, 130-degree camera field of view and 700TVL video resolution all combine to make this an attractive cost-effective additional camera for the wildlife birdbox enthusiast.
For further information on these cameras, please read the review above in this post.

If you are looking for the perfect gift to give yourself or someone who loves nature, why not consider one of these birdbox cameras.
These awesome little cameras allow people with busy schedules to observe nesting birds in their garden from the comfort of their homes.
The camera can be set up and monitored remotely 24-hours a day! Check out our recommendations above for help in setting up your bird box camera and finding your best option to suit your needs and budget.
Remember that these cameras need power, so make sure there is an easily accessible power outlet nearby where the box and camera will be mounted.  
Alternatively, you can always pop over to our FAQ page to find out more about birdbox cameras, nest boxes, bird tables and a whole host of other answers to your gardening and garden-related questions and queries.
Finally, don't forget that if this post has been helpful, please share it on social media and amongst your family and nature-loving friends.