Reading Time:
12
minutes
Wooden bird tables are one of the easiest, cheapest and by far the most popular way to attract wild birds into your garden or backyard in the UK.
Attracting and feeding wild birds in your garden is especially important as the cooler months start to set in between October, through to early March each year.
As the winter progresses frosts are more frequent, the ground becomes frozen and food just becomes very scarce for our wild birds.
By erecting wooden bird tables in our gardens we can help our wild birds survive the winter and be fit, ready and healthy come the Spring.
Let us forget the aesthetic looks for the moment as this is not a functional part that we should consider when answering this question.
One of the biggest enemy's too wild birds in our gardens today are of course domestic cats. So, let us not make it easy for cats to get at our bird table.
This means if you have wooden bird tables with a 'vertical' pole/post, try and make sure the pole/post is as smooth as possible to stop cats and to some degree, squirrels getting a foothold on any rough, or knobbly bits on the upright pole/post.
Also, when buying or making wooden bird tables, try and have a thought for safety. Ensure no sharp edges or scissor-type joints which may allow for bird's feet to get trapped.
Once you have wooden bird tables or open platforms, all types of birds will be attracted, large and small. This is great from an attraction point of view but spare a thought for the 'small guys' who often get muscled out by the 'big guys' when feeding at a table.
Wooden bird tables are available that restrict the size of birds that can access the food, so the small guys at least get a chance to eat at the table.
Wooden bird tables need not be overcomplicated, a basic platform with edges and drainage channels with or without a roof is all that is really needed. If you have a roof try and avoid those with 'thatch' while they may look nice and 'rustic' come the spring a lot of that thatch will disappear when the birds start to use your lovely thatch for nesting material. A plain simple roof is all that is required.
In a hurry?
If you don't have much time, use the link below to quickly find my 'Top Pick' 'Wooden Bird Table' available for you on Amazon. You can be assured we only recommend products based on their quality, usability and value for money...
- 'Top Pick'- Maypole Wooden Bird Table
Wooden Bird Tables - Comparison Table
Product Image
Best Overall
Runner-Up
Best Under £30
Dimensions
25cm (D) x 25cm (W) x 130cm (H)
60cm (D) x 60 cm (W) x 134cm (H)
20cm (D) x 20 cm (W) x 0.39cm (H)
Best Overall
Product Image
Dimensions
25cm (D) x 25cm (W) x 130cm (H)
Runner-Up
Product Image
Dimensions
60cm (D) x 60 cm (W) x 134cm (H)
Best Under £30
Product Image
Dimensions
20cm (D) x 20 cm (W) x 0.39cm (H)
Last update on 2022-06-21
What Kind of Wood Should I Use For a Bird Table?
Ideally, you want to use wood that will not split or warp and rot when it gets wet. So, look for woods that are specially coated or treated for 'exterior' use and have had antifungal treatments (and of course safe for birds) or look, as an alternative for exterior quality woods like a marine ply or a hardwood like Oak.
So having provided a few tips on what to look for, I have reviewed a few wooden bird tables currently on the market that would suit most users requirements.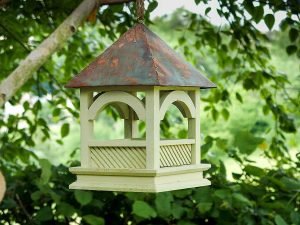 This beautiful hanging Bempton wooden bird table is made from FSC timber with a distressed 'green' colour finish.
The manufacturer has also provided this bird table with 'intricate' lattice and 'arched' woodwork, and a real copper roof which has that 'verdigris' (green/blue) look.
The hanging Bempton has a very clever detachable side panel utilising a re-cycled plastic tray which lifts out for easy cleaning. This also serves as a seed tray, but has no sides, so can be difficult to fill with seed and not spill any while fitting it back.
The detachable side panel also gives access to the inside edges of the bird table so they may be brushed out removing any old food which may harbour bacteria. This allows for excellent standards of bird hygiene to be achieved.
The attractive appearance of the Bempton bird table would enhance any garden and will not look out of place in a large ornamental type garden or a small suburban back yard.
Wooden bird tables are generally free-standing or hung from a tree branch, hook, or something similar suitable for 'hanging' in a garden. The Bempton is ideally suited for hanging, as it's shipped with 'natural rope' and thus as a hanging bird table or feeder will ensure a certain degree of bird safety from the likes of cats in particular.
The balustrades of latticework and decorative arches around the feeder provide a restricted height, safe area for smaller birds to feed. This space limitation offers some restricted access to larger species of birds such as crows, pigeons, magpies and seagulls from the food you place on the table. It also makes life very difficult for large predatory sparrow hawks whose habit is to target small birds on open feeder tables.
Bempton Wooden Bird Tables Size: 30cm (12in) H x 20cm (8in) W x 20cm (8in) L and is shipped fully assembled.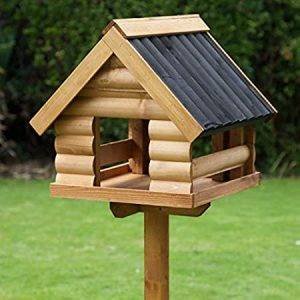 The Fordwich bird table is a single free-standing bird table, having a 'specially' designed height (when sat down) for optimal viewing pleasure according to the manufacturer. 
Being a free-standing wooden bird table with a smooth rectangular pole and 4 cross feet stabilisers, the bird table is designed to be secure even in windy weather.
However, I would still recommend the use of bird table anchoring pegs as a  precautionary measure to hold the base firmly down and in place.
Made from FSC timbers and as far as wooden bird tables go, the Fordwich has a good overall design which restricts the access of larger birds to the table to steal food, giving the smaller birds a better chance to share what you have provided.
In addition, as a free-standing table with a smooth 'rectangular', support for the table platform itself, the Fordwich is pretty much 'cat-proof', although such things as squirrels may still enter the bird table, unfortunately, and steal their food.  Some users even 'grease' the pole which seems to have great effect on unwanted intruders like squirrels and rats.
Measuring 43cm (17in) x 43cm (17in) the Fordwich currently stands at 1.4m (55in) from the bottom of the floor base to the top of the 'roof' of the table, some users find this low for there use/enjoyment as well as domestic cats attacking the wild birds.
An additional bird table extension pole can be purchased to extend the height of the Fordwich bird table by a further 43cm (17in) making the bird table 1.8m (6ft) in total height.
Sturdily built and easily cleaned, similar to other wooden bird tables the Fordwich is shipped in 2 parts, the bird table, and separate base. Both have pre-drilled holes for fixing together with the screws which are supplied.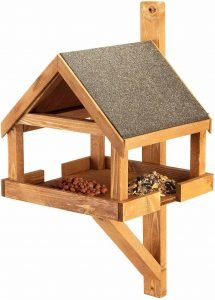 The Hove Wall/Fence mounted bird feeder is slightly unusual, in that it can be fixed to a solid wall or fence at a height of your choosing. The Hove can be used instead of the usual 'free-standing' wooden bird tables. 
This type of 'mounting' will alleviate the possibility of predators and scavengers like 'cats' and 'squirrels' to your bird table.
An ideal solution for gardens or back yards with limited space, and or where the chances of a free-standing bird table could be knocked over by pets or small children.
Constructed with smaller birds in mind, however larger birds like magpies, jackdaws, and pigeons may enter with some varying degree of success.
Made from C24 timber and treated with anti-bacterial marcide coating to prevent the spread of disease, this simple well-constructed wooden bird table measures  26cm (10in) x 26cm (10in) square with a mounting support of 54cm (21in).
The Hove has simple 'parapet' sides to help prevent the spillage of seeds and other foodstuffs that are placed on the bird table, as well as a couple of openings which will assist in any major 'water runoff' if blown in.
The Hove's roof is covered in 'mineral roofing felt' and made to last and protect the table from major downpours. This bird table is shipped 'ready assembled' so all that is required are 2 x screws (not supplied) to fix the mounting support (holes already pre-drilled) to a fence or wall and you are ready to go.

Maypole Heavy Duty Bird Table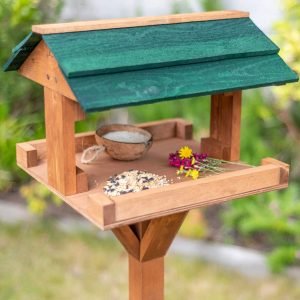 The Maypole heavy-duty wooden bird table has some great eco/safety features as far as the timbers used for its construction are concerned.
All timbers are treated with an anti-bacterial marcide coating to prevent the spreading of disease, which is a great plus point for our wildlife.
Also, all timbers used are guaranteed to be taken from sustainable forests, where 2 x trees are planted for every tree cut.  
Measuring 29cm (11in) W x 36cm (14in) L the Maypole currently stands at 1.4m (56in) from the bottom of the floor base to the top of the 'roof' of the table.
The base is well supported via floor and triangular timbers, however, I would still recommend the use of bird table anchoring pegs as a precautionary measure to hold the base firmly down and in place, I would recommend this for all free-standing bird tables, especially in high winds.
The bird table roof is of slatted treated timbers. The bird table below, has 'parpit' sides to assist in the prevention of seeds or other food spillages, also gaps to allow 'water fall off' and easy table cleaning. 
Although the Maypole requires self-assembly the table is not difficult to put together.  All timbers, screws, and instruction are provided when the table is shipped.
The one drawback for some users may be that the table is 'open' to larger birds like Crows, Pigeons and Jackdaws. If this is of concern and you only want smaller birds at your bird table then with a little DIY you can modify (lower) the 2x uprights that support the table roof a little, for a more suitable size opening to deter larger birds entry.
The Maypole is a little on the low side and may be attractive to local cats and possibly squirrels or other problem pests in your garden. In this case, why not look at Pestbye Cat Repellent. It safely keeps cats, squirrels and other animals away from your bird table using ultrasonic frequency inaudible to humans.

Sungmor Copper Bird Feeder
The Sungmor Bird Feeder is an exquisite modern, premium quality 'hanging' bird feeder developed with a unique hook design
This hanging feeder is solidly made (it weighs only .6kg – 1.36lbs) from top-grade copper material, and the surface has been electroplated.
This treatment process makes the feeder very durable and smooth to the touch.
The beautiful 'copper' roof enables some protection, for both birds and feed during inclement weather.
With a concise and unique 'hook shape design' with a functional hanging feature, which is really practical and decorative, perfect for a wild bird seed feeder.
Ideally suited for the smaller birds, the Sungmor would suit a small garden or balcony perhaps or be placed in several places in larger gardens. 
The feeder holds nuts, grass seed, millet, grain, rice or crumbs, it's easy to fill up and hang almost anywhere.
Primarily designed as a hanging bird feeder, predators such as domestic cats should not be a problem, squirrels however maybe if you have them in your garden, so care should be taken when placing the bird feeder.
Cleaning the bird feeder is not difficult, most of the time you will need to simply unhook the feeder and 'tip it' up to brush out the dirt and old food.
The feeder is shipped unassembled, but very easy to assemble with the accompanying instructions. If you want to hang it up you will need to purchase a hook to hang the feeder from, alternatively, hang it from a small branch from a tree in your garden or similar if you have that option.
Both need not be substantial considering the weight of the feeder.

Riverside Triple Platform Bird Feeder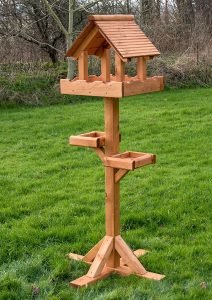 Being of extremely good quality, the Riverside Triple Platform Bird Table comes complete with additional matching smaller side bird tables which is a great bonus.
Larger birds like magpies, crows and pigeons tend to migrate towards the larger top table and the smaller birds utilise the lower smaller two tables.
The Riverside table is also large and strong enough in its design to fix additional hooks or brackets to hang things like fat cakes or smaller bird feeders from its structure.
The top or main table comes fully assembled and the stand and smaller tables need to be assembled which is extremely easy to do. However, the manufacturer does offer a 'fully assembled' option if preferred, which just needs to be confirmed when placing your order.
With a complete anti-fungal/bacterial colour rich coating (wildlife safe) and very solidly constructed, this wooden bird table stands at 183cm (72in) H the main table is 36cm (14in) W x 38cm (15in) L with the base stand size of 79cm (31in) constructed from 8cm x 8cm (3in x 3in) timbers, which gives better stability in high winds.
The larger and smaller tables have 'parapets' around the tables to assist with keeping foodstuffs like seeds on the tables. However, there are small 'gaps' on the table corners to assist with table 'cleaning' and water runoff. 
Unfortunately though with the open design and the height of the lower tables especially the bird table is open to urban predators such as domestic cats and maybe unwanted guests such as squirrels, so care should be taken when placing the table, if this is a potential problem for new users. 
All in all though a super wooden bird table which will attract a variety of wild birds into your garden and provide endless hours of enjoyment.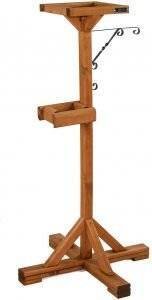 The WoodCraft bird table is a basic 'bare' (no roof) multi-function wooden bird table,  standing 120cm (47in) H with the main table dimensions being 32cm (12in) W x 32cm (12in) L.  The table 'stand' itself is made from 4cm x 4cm  (2in x 2in) timbers. 
A smaller lower table and a decorative metal hook/bracket suitable for hanging fat cakes or an additional small bird feeder is also provided as standard.
It should also be noted that the manufacturer has indicated that at the time of placing an order, they are able to make some modifications to the standard table, like table height and or an additional decorative bracket, should purchasers want to change the basic model.
Both bird tables have 'parapet' sides which assist in keeping things like 'birdseed' on the tables, but there are 'gaps' in the corners which assist in the 'cleaning' of the tables and thus reducing potential bacterial growth. 
The table has a  complete anti-fungal/bacterial colour rich coating (wildlife safe) but all the components need self-assembling, which some users found a little difficult. Otherwise, all the necessary bird table components including all the screws need to put the table together are supplied and shipped.
As the bird table is quite low and open, it offers no real protection from either the elements (rain) and or local predators such as domestic cats or other urban wildlife such as squirrels. If this is a problem in your area, then one should really take care in the placement of the bird table and maybe take other precautions to protect the bird table from intrusion by using the Pestbye Cat Repellent or other similar deterrents.

Enticing British wildlife into one's garden by means of a water feature like a wildlife garden pond or the multitude of wild birds, especially in winter to a 'bird table' is very rewarding. Without a doubt, it brings great enjoyment and pleasure to you and one's family. 
There is a huge array of wooden bird tables on the market currently in all shapes and sizes and to suit all budgets. Above I have reviewed for you some of the best wooden bird tables available in my opinion, based on design, construction and value for money.
Lastly, please help our wild birds during the harsh winter months by placing food out for them. But also ensure it's the correct type of food they need, for instance, bread is bad for birds to survive a UK winter.