Reading Time:
21
minutes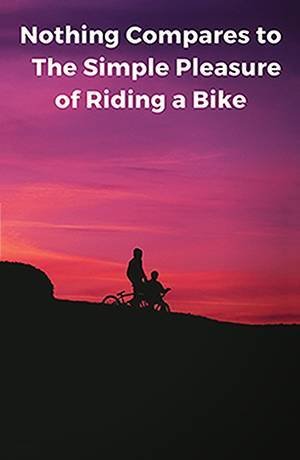 This post will explore the possibilities of various bicycle storage solutions for a domestic garden or backyard. It's also possible that one may find an alternative solution to bicycle storage utilising a small garden shed.
Man has an ever-increasing concern around the state of our planet and our requirements for cleaner renewable energy. A clean means of transportation is one of those major concerns.
With that in mind, many people have turned to cycle, as their preferred daily mode of transport for work or pleasure.
With cycling's popularity in today's healthy, green environment rapidly growing, so has the rapid growth in secure enclosed bike storage for the domestic market and the workplace..
However you look at it though, bicycles are not cheap to buy these days by any means, whether it is for sport, work, leisure or simply riding with the kids, cycling can be an expensive and costly business for most.
With bikes costing anything from 100's to possibly 1000's of pounds, it makes sense to protect your investment the best way you can. Secure bicycle storage solutions for the home is one way you can help protect that investment.
Not only the cyclists but the insurance companies and very often the police, as we shall discover later in this article, all have different requirements, approvals and needs when assessing your outdoor bike storage or shed.
Before we move on into the types of secure bike storage available in the market today, let's take a quick look at some stats.
On the right (click to enlarge) you will find an independent survey on bike theft. If you are interested you can see the full survey as recorded by Statista.
This graph shows the number of police recorded 'theft or unauthorised taking of pedal cycles' These offences occurred in England and Wales between 2002/03 to 2018/19.
As you can see they are in their thousands year on year, with over 98,000 offences recorded in 2018/19 alone.
With those figures in mind lets then look at some of the reasons why you may need  bicycle storage solutions that can be relied upon. As we have already mentioned above theft is one of the primary concerns.
Another major concern besides security is no doubt the protection against the elements. The British weather can as we all know can be unpredictable. For example, if your bikes are left outside with no protection, then with the heat, for example, the plastic and rubber parts will start to break down. The colours will fade, and the plastic will become brittle. In wet weather, the potential for rust increases dramatically, weakening chains and gear mechanisms.
However, with your valuable bikes being stored and locked away in a secure weatherproof shed will no doubt give you peace of mind that your valuable assets will be kept clean and dry.
Another good reason for external secure bicycle storage is simply that you have nowhere else to store your bike or bicycles safely or correctly. Often bikes are stored in the garage or even inside your own home. These areas themselves provide their own set of unique challenges.
For instance, did you know that bicycles or the wheels/tyres that stand on bare concrete such as garages or basement floors can become susceptible to dry-rot and premature ageing of the tyres? This is because concrete draws moisture out of the rubber. Your tyres may bulge and crack due to the premature ageing of the tyres stored in this manner. Its is advisable to elevate your bike off any concrete floor. 
It is also advisable to ensure your bike shed or storage facility has good ventilation to minimise the risk of condensation inside and consequently potentially damaging (corrosion) your bike.
In a hurry?
If you don't have much time, use the links below to quickly find the best Bicycle Storage Solutions available for you on Amazon. You can be assured we only choose the best products... - Best Overall - Asgard 3 x 6 Double Ended Bike Storage
Bicycle Storage Solutions Comparison Table
Product Image
Best Overall
Runner-Up
Best Under £120
Model/Make
Asgard Double Ended Bike Storage
Dunster House Outdoor Bike Shed
Size
3ft x 6ft x 4ft (0.9m x 1.8m x 1.2m)
6ft 7in x 3ft 4in x 5ft 8in (2m x 1m x 1.75m)
Locking System
3 Point Drill & Pick Resistant
Best Overall
Product Image
Model/Make
Asgard Double Ended Bike Storage
Size
3ft x 6ft x 4ft (0.9m x 1.8m x 1.2m)
Locking System
3 Point Drill & Pick Resistant
Runner-Up
Product Image
Model/Make
Dunster House Outdoor Bike Shed
Size
6ft 7in x 3ft 4in x 5ft 8in (2m x 1m x 1.75m)
Best Under £120
Product Image
Last update on 2022-06-21
The Bicycle Storage Guide Points to Consider Before You Buy
There are many sheds on the market but not all are specifically made to house bicycles safely and securely. The bicycle storage solutions provided in this post are all specifically designed with bicycles in mind.
Are you looking to invest in your first bike shed for the home? If the answer is yes, then there are several points one should consider before you invest. A bike storage shed can be a large investment, you will be relying upon it and looking at in your garden probably for the next 10 -15 years.
 This comprehensive Bicycle Storage Guide will hopefully help you make the right choice and avoid any long lasting disappointments.
No doubt one of the first things you will consider once you have made the conscious decision to purchase a bike storage shed for your home, is the price, right?
We all want to ensure we get value for money when we make any purchase. You do not want to spend hundreds of pounds on something that is not suitable or needed.
On the other hand, spending too little can also, in the long run, work out more expensive if you must replace or repair a lesser quality product in the future. Even worse your expensive investment (bicycle) is not adequately protected.
You should not let the price of a new bicycle shed be your sole determining factor.
So, what sort of price should you be paying on average for outdoor bicycle storage for your home? Looking across all the bike storage sectors, an average price would be around £350.
Of course, a lot will still depend on what the shed is made from? How many bikes do you need to store? This question and answer leads into the size, size does matter to, so you could end up paying a few £'s more for a few extra bells and whistles or a few £'s less, it is often a matter of personal choice, needs and budget.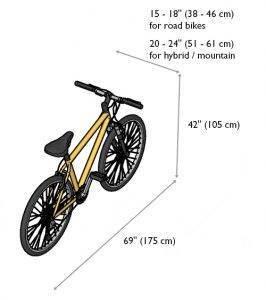 At this point, you probably know how many bikes you want to store? However, you may need a helping hand on the size of the bike storage shed you require to suit the number of bikes. This is especially true if you are going to store more than one bike..
After all, you don't want to damage your bike by simply storing it incorrectly. Access is also important so you can get to your bike quickly and safely. 
If you are not sure what size you need, then check out this guy's post what size shed do I need for my bikes. It is full of great information that will help you decide on what size shed you should be aiming for to store your bikes.
Construction Wood, Metal or Plastic?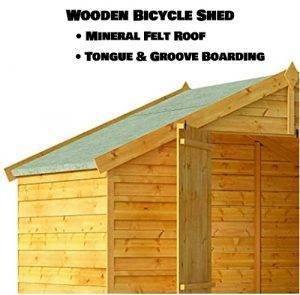 One of the next considerations when deciding upon suitable bicycle storage solutions is what should the store be constructed from? How will this storage shed blend in with the existing landscape? Lots to consider so let take a look.
There are generally 3 types of construction materials to consider when thinking about making a purchase of a secure bicycle shed. These are wood, metal and plastic they all have there pro's and cons as we shall see, but for now, the main points are:
Wood
Wooden sheds are constructed of a wooden/timber frames covered with tongue and groove, shiplap or overlap wooden planks for the sides and possibly the roof. This is a great article on wooden 'shed' plank joints  Tongue and Groove Vs Shiplap if you are interested in finding out more.
All shed timbers should be chemically 'pressure' treated. This means timbers should not be painted or dipped in the chemical treatment, rather sprayed under pressure to ensure penetration. Expect to receive a certificate accordingly o wording in any warranty to this effect.
This certificate/warranty means the wood/timber has been chemically treated against rot, insect and fungal issues for a period given by the manufacturer, this is normally 10-15 years.
The wooden shed floor and roof are generally covered in wood sheeting though, with the roof also having an additional covering of 'mineral felt' for protection from the elements.  Ongoing shed maintenance and particularly security are often required when buying a wooden bike shed to be used to store your bike/s.
Metal
Metal bicycle sheds are constructed of a simple metal frame normally covered in hot-dipped galvanised sheeting (thicknesses can vary) for the roof and sides. This sheeting can also have an additional polyester vinyl or similar coating for sheet durability and indeed provide the shed with a variance of colours.
Floors can be of either metal or wood, in fact, metal sheds can be constructed straight on to firm supporting bases like (sealed) slabs or concrete on occasion.  The bike storage security is generally a lot better with metal storage sheds.
Plastic 
Plastic bicycle sheds are constructed almost entirely from long-lasting weather-resistant resins. Owners of plastic bike storage sheds have no weather concerns or maintenance issues with plastic sheds.
These sheds have several advantages, for instance, a plastic resin shed can (with some manufactures) look just like a real 'wooden' bike shed, due to the flexibility of manufacture when it comes to colour and texture.
Ease of installation is also a big plus with a plastic shed. Additional security is often required though when buying a plastic bike shed, especially if you have very expensive bicycles.
Bases for Bicycle Storage Sheds
We strongly advise that whichever secure bike storage shed you choose, it should be sat on a firm level base of concrete, paving slabs or even tarmac some manufactures advise. Without a firm level base, any guarantee you have from the manufacturer may be voided.
When fully constructed storage sheds can be weighty things, the larger the shed the heavier it is, especially if your bicycle storage shed choice is a metal one. Sheds can weigh many 100's of lbs.
Another and perhaps the most important reason why your base should be firm and level is that all sheds are precision made in the factory. So to ensure your panels, doors and windows align correctly (no dropping) and your locking mechanisms work as they are supposed to, a firm-level base is a must.
Location, location, location, irrespective of where you may live, placing your base and thus your bike storage shed is very important.
Placing your shed too close to walls, fences or hedges may cause problems further down the line. The same goes for trees and large bushes.  Branches are likely to grow and come into contact with your structure, so do your best to avoid these when planning and setting out your shed base. Ease of access for you and your bike should also be another primary consideration.
Lastly, a good firm level base, combined with the self-weight of the storage shed itself, and the contents inside often mean the storage shed does not need to be anchored to the floor. However, always check the manufactures instructions.
What Size Base?
Most manufactures advise building the base slightly larger than the bike shed. This is to avoid 'splashback' from a much larger base than necessary back onto the shed itself, particularly if the sheds are wooden.
When building a concrete base or even a base of paving slabs try and ascertain a solid base thickness of at least 50mm (2in) or more preferably 75mm (3in) for good solid support.
If you would like to follow the link step by step guide to building shed bases it has all the information you will need for constructing a concrete, paving or even a solid wood shed base. You can also check out the videos below.
How to Lay a Bicycle Shed Base Concrete
How to Lay a Single Bike Shed Base Paving Slabs
Bicycle Storage Solutions is my Shed Covered by my Home Insurance?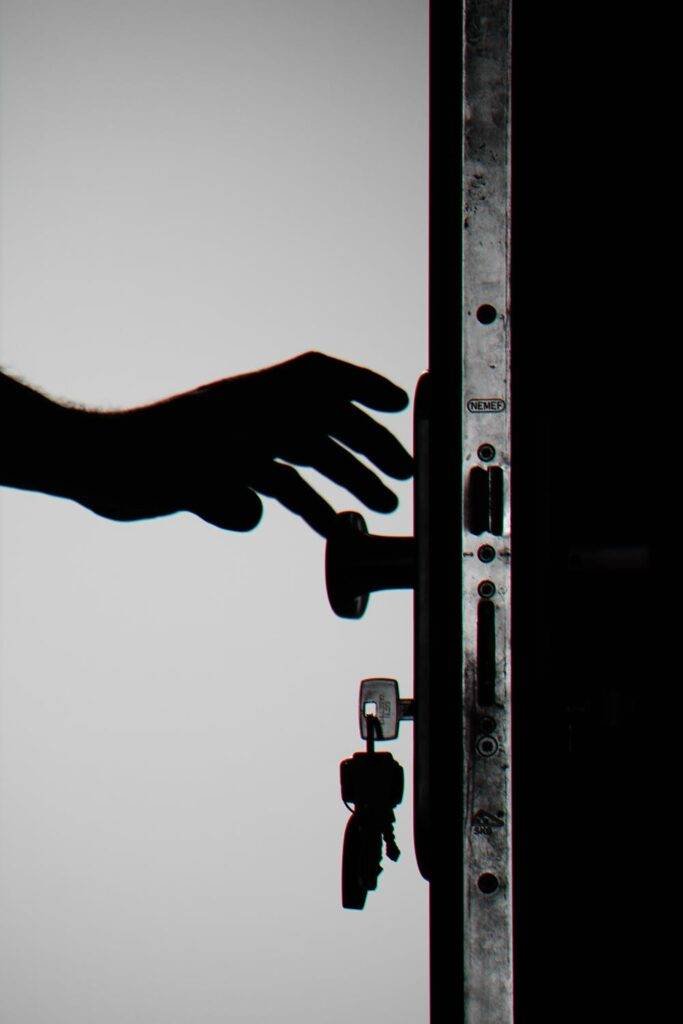 Is your bicycle shed covered by insurance? Unfortunately, we tend to think of things that are put away in a garden shed of any kind as somewhere where we can store things out the way.
But today its no longer just a spade or a pair of garden wellingtons that we store. Sheds are used for a myriad of things from garden art studio's, home gyms and the housing for expensive garden equipment and of course our bicycles.
Your insurer may cover sheds and outbuildings under your standard home insurance policy, but we strongly advise that you check that any bicycle storage is covered under your policy as some insurers exclude them.
Your contents policy may well cover some items in the bike shed but perhaps when it comes to paying out for a bicycle valued at over £500 or more it could become troublesome. It may be that some insurers ask you to take out additional premiums for more expensive items like your bikes.
Theft From Sheds and Outbuildings
As we mentioned earlier in this post, there were over 98, 000 recorded thefts of bikes in 2018/19 in England and Wales alone, although not all from our garden bike sheds we admit, however, a fair proportion were no doubt.
With is in mind, bike owners should advise their insurers that they are indeed storing their bike/s in a bike shed/storage at home, especially if they're worth several hundred pounds. In addition, seek confirmation from the insurance companies that they will indeed pay out the 'full' amount of the bike/s if stolen.
Make sure you provide comprehensive details for each bike stored, be sure to keep any original receipts as proof of purchase and definitely invest in a decent bike lock to use every night while your bike is in the shed.
Insurers might insist on a certain lock type for pedal cycles over a certain value. Your bike storage shed should also have a decent locking mechanism. Insurers might not uphold a claim unless they have proof that your shed was locked and that the thieves had to force entry.
Some providers offer bicycle insurance as an add-on to a standard policy. One of the countries leading insurance companies, Admiral offer such an add on. Find out everything you need to know about covering your bicycle with Admiral's comprehensive guide.
Bicycle Storage Sheds Tests and Approvals
There are a couple of other things that may help you with the cost of lowering insurance premiums though.
You should request from the manufactures, that they advise you if their sheds are LPCB approved. High-security metal sheds purchased for high-value bicycles and motorbikes tend to carry such an approval.
LPCB stands for Loss Prevention Certification Board. The LPCB has been working with industry and government for over 100 years, setting the standards needed to ensure that fire and security products perform effectively.
Additionally, sheds particularly the metal type can receive design approval from the police themselves. Secure by Design is the initiative owned by the Association of Chief Police Officers (ACPO) that aims to reduce crime through effective environmental design. The scheme also calls for the installation of security products that meet police-approved standards. To achieve SBD status manufacturers also need to undergo rigorous testing by the LPCB
We hope we have provided some insight into what to look out for when purchasing secure bicycle storage solutions for your home. Now let's take a look at our top contenders in all categories. First up are the wooden bike sheds then metal and lastly plastic.
Dunster House Outdoor Bike Shed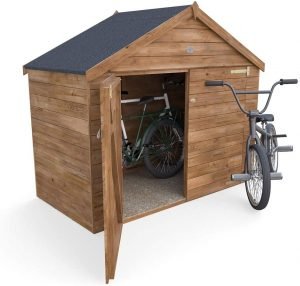 This heavy-duty Dunster House bicycle storage shed is 6ft 7in (w) – (2.02m) x 3ft 4in (d) – (1.02m) with a ridge of 5ft 8in (h) – (1.75m) and is designed to protect your bike from the elements as well as prying eyes. Constructed of a 35mm x 35mm wooden subframe and 15mm shiplap cladding and MFP floor and roof
All timbers (Spruce) have been pressure treated for longevity and thus the shed is guaranteed against fungal and wooded eating insects for 10 years.
This bike shed has wide-opening doors, which allow for easy access for the most unwieldy of bikes. Doors are double braced and have security hinges and a hasp and clasp locking system. The bike shed is already provided with roofing felt attached to the roof boards. There is no means of 'ventilation' that come with this bike shed but this could easily be added both quickly and cheaply with sliding vents at a later stage buy the owner.
Putting this bike shed together couldn't be easier as it comes as a DIY kit, complete will full pictorial instructions, all the screws and nails required.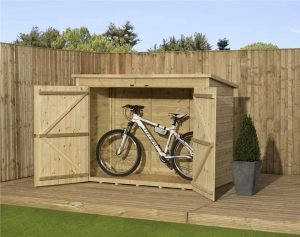 The EMS bicycle store is 6ft 7in (w) – (2.04m) x 3ft 6in (d) – (0.9m) x 4ft 7in (h) – (1.43m) in size and manufactured in the UK and is large enough for 2-4 bikes (dependant on bike size).
Constructed with a solid 44mm x 28mm wooden frame, the shed is covered in sturdy 12mm tongue and groove panelling. The bike store flooring is covered in 'knot' free 11mm OSB (Oriented Strand Board)
All timbers have been pressure treated, which allows the manufacturer of this bike store to provide a 15-year anti-rot guarantee.
This bike shed also comes with floor bearers, so it is raised off the ground helping to prevent water damage and rot. There is no means of 'ventilation' fitted by the manufacturer to this bike shed either, but owners could easily add sliding vents both quickly and cheaply. These can be purchased and sourced from most hardware stores.
It is an essential feature that bike storage have good wide access to be able to get the bikes in and out easily. This shed provides great access with the double doors almost the complete width of the shed.
With a sloping, OSB roof covered in 20kgs mineral felt from front to back, taking any rainwater away from the doors, this shed is very compact and easy to assemble.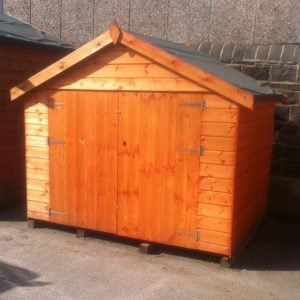 This bike storage shed from Pinelap is 7ft (w) – (2.1m) x 4ft (d) – (1.2m) x 4ft 7in (h) – (1.4m) in size. 
Conforming to and exceeding the CE standard (conformity with European health, safety, and environmental protection standards) this bike storage shed is large enough for 2-4 bikes (dependant on bike size).
This bicycle storage shed is solidly constructed with strong pre-framed panel sections and covered in 12mm tongue and groove boarding, including the roof and floor.
All boards are double nailed using ring nails, making for easy assemble of the panels.
The tongue and groove 'apex' roof is covered in waterproof mineral felt. The shed doors have 3 points of locking, top and bottom bolts (provided) locking the double door system. In addition there is a central key lock provided.
The shed has no means of ventilation when delivered from the manufacturer.  However, this could simply and easily be cheaply added with sliding vents bought from any hardware store.
It is essential that bike stores have good wide access to be able to get the bikes in an out of the shed and this shed provides great access with the double doors almost the complete width of the shed.

Trimetals Bike Storage Box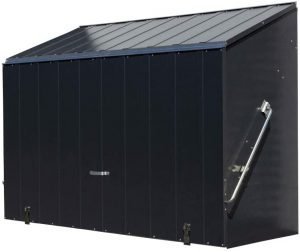 The Trimetals metal bicycle storage box has been tested and recommended by the UK's leading cycling magazines.
Being 100% UV resistant, this bike store features a unique, patented design, specifically developed for safe and efficient storage of bicycles
Coming in a beautiful dark  'Anthracite' colour, this bike locker will certainly stand out and be the envy of all your bicycle loving friends.
Size-wise, the bicycle storage box has generous internal dimensions of 6ft x 2ft 4in x 4ft 2in  1.85m x 0.76m x 1.29m (WxDxH) , ideal for general use and for storing up to 3 adult family bikes (dependant on size)
This model offers a good level of security as the locker is designed to be 'bolted' down onto a hard (concrete) surface from the inside. In addition to the securing bolts an intelligent spring-operated opening system with 2 padlock points (padlocks not provided) ensure easy owner access with good lockable security for your valuable bike/s.
Having pre-assembled parts allows for easier and quicker assembly; which includes an attachable metal base. One of the construction features of this bike store includes PVC coated galvanised steel panels with a 25-year guarantee, which will give owners great longevity and confidence in the product they have purchased.
Being constructed of metal not only makes this bike storage unit secure but maintenance-free, rust-resistant and also fire resistant.

Asgard Access E Plus Bike Storage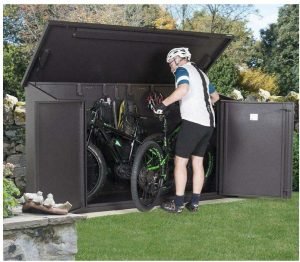 If you own or thinking of investing in an expensive  'electric' bike, inevitably security for your investment will be at the forefront of your mind. The Asgard bike shed is a bike storage shed that will protect your investment.
There is certainly a need to securely protect your investment from opportunist thieves and the elements.
In a choice of 3 colours and with a 10-year warranty, this is where the E Plus Bike store comes in. A spacious bike storage solution for today's E-bikes and provides security for your investment under a secure lock and key.
The E-Plus is constructed completely of heavy-duty galvanised steel, including the floor. However, the E-Plus unit can also be bolted down with bolts (supplied) for incredible security.
The internal dimensions of the bike shed are spacious  a 7ft 3in (w) – (2.230m)  x 3ft (d) –  (.910m)  x 4ft 4in  (h) – (1.320m) at the rear and 3ft 8in (h) – (1.120m) at the front. This E-plus has the ability to store between 2-4 E-bikes (dependant on size).
The front of the storage shed provides easy access to bikes via heavy duty double doors, which open up to a large 5ft 3in – (1.6m). In addition, on either side of the access is a mounting plate, designed to allow you to mount electric sockets (not supplied) for battery charging. As an added bonus the E-Plus is also totally ventilated,  allowing airflow inside the unit thus reducing condensation.
You will also find a useful reinforced 'easy-lift' top-opening lid (gas lift) all secured with heavy-duty locking shrouds and a door deadbolt.  This provides excellent access, but incredible bike security.
Additionally, there are E-Plus bike shed accessory packs, such as hooks and shelves (not supplied) that can also be added to the E Plus bike store to give even more flexibility for the storage of bike paraphernalia.
Of course, any type of bicycle can be stored in the E-Plus not just electric bikes. The E-plus would make a great secure addition to any garden or yard to provide peace of mind with regards to your families bike security.
The biggest drawback for the bike shed is, and it would seem all Asgard bike storage units are delivery lead times, due they say to high demand.  Asgard is currently quoting early January 2022 for new orders, or around 16 weeks from the time you place your order, as each is made to order. However, it is worth for many the wait for a super-secure Asgard bike shed.

Hiplok AIRLOK Secure Bicycle Storage Hanger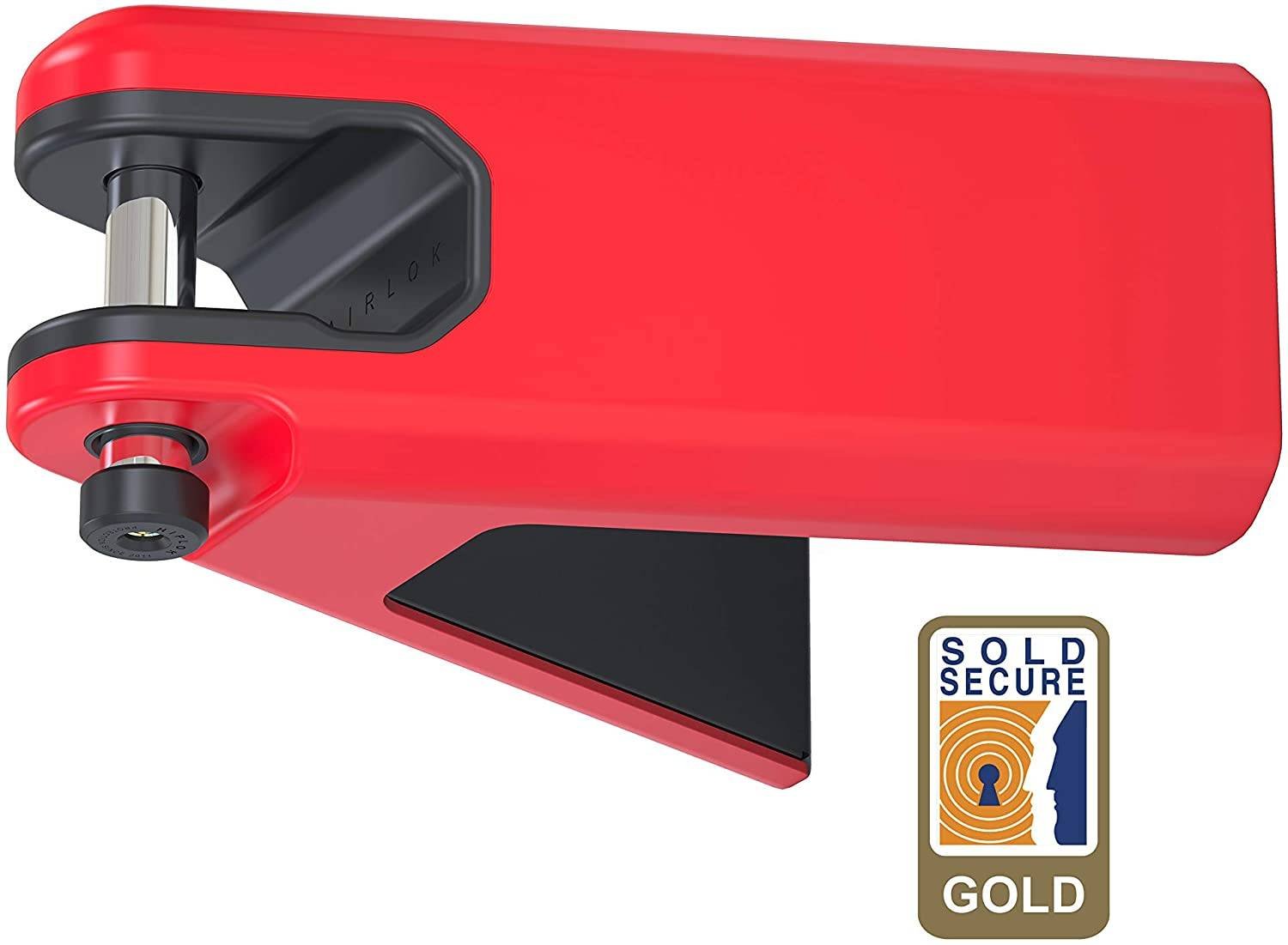 The Hiplok Airlok secure bicycle storage hanger provides 'horizontal' bike storage on a wall. The wall-mounted airlock is the ultimate secure storage solution for apartments, the workplace or outside.
It is the answer to secure bike storage for those with limited space, and or bike owners who already have home storage facilities in apartments or perhaps better a solid wall in a garage or outbuilding.
With so many people using bikes as their primary form of transportation, it's no wonder that the number one request from users is for different bike storage options. The Hiplok Airlok meets such request and is the number 1 and only bicycle storage solution that's rated Sold Secure Gold!
The Airlok is another great and alternative option for storing your bike securely. While it can be fitted in a garden shed, you'll only get the full security benefits when it's installed on brick or concrete walls, which means we recommend the use of this product in apartments, garages or solidly built storage units.
Hiplok AIRLOK secure bicycle storage hanger is the world's first secured bike storage hanger, a revolutionary design that combines a 'hardened steel' core surrounded by impact-resistant plastic and rubberised frame protection, making it ideal for both indoor and outdoor use. 
It is suitable for a wide variety of bike frames and comes complete with an anti-theft key cylinder with 3 x coded keys to ensure your bicycle remains safe at all times. 
Suitable for 1 bike only, this type of rack can be installed easily and quickly, using a suitable drill and bit. The fixings bolts (not supplied) should be 15mm in diameter and drilled to a depth of around 60mm, that's it fit the Hiplok and you're done, it's that simple.
The manufacturer also has a 2m accessories cable (Hiplok Bike Lock 2MC Accessory Cable) for really high-risk areas, where your bike's wheels can be securely fastened to the Hiplok for even more security. Finally, the Hiplok comes in 3 colours to help match your decor, that being red, white and grey.

Asgard Outdoor Double Bike Storage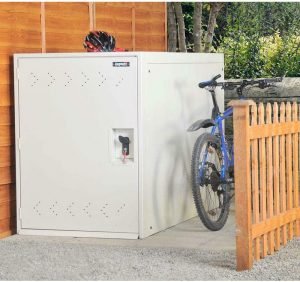 Want somewhere to store your bike? Need a unit that is suitable for a large home? flat? Or even the office? A unit for when you need to store two bikes, securely, and discreetly and where space may be at a premium.
Then this Asgard outdoor double (2) bike storage unit could be the flexibility you are looking for.
This small maintenance free, compact double bike store is ideal for circumstances where space is restricted, but bike security is essential.
With a 10 year Asgard warranty and in a choice of 3 colours, constructed from strong rust-resistant galvanised steel this double bike store is fitted with the same 'pick drill' ultra-tough 3-point locking systems Asgard are renowned for.
With internal dimensions of 5ft 11in (d) – (1.8m) x 2ft 10in (w) – (.840m) x 3ft 11in – (h) (1.170m) the double bike shed has a spacious door clearance of 2ft 9in (850mm). It should be noted that the door handle can be changed for the user. Please state your preference left or right-handed when placing an order.
Unlike the E-Bike store though, the double bike store does not have an integral metal floor and the unit should be bolted (bolts supplied) directly to the concrete (recommended) base. It does, however, come supplied with integral guide rails to keep your bikes upright.
Another outstanding feature of this unit is that multiple units can be integrally bolted together to form a bike store of any size, suitable for the space and requirements needed at the office or family home thus providing additional security and flexibility.
Finally, each unit is shipped with an interior 'hook set' for hanging bicycle helmets and accessories.
The biggest drawback for the bike shed is, and it would seem all Asgard bike storage units are delivery lead times, due they say to high demand.  Asgard is currently quoting early January 2022 for new orders, or around 16 weeks from the time you place your order, as each is made to order. However, it is worth for many the wait for a super-secure Asgard bike shed.

Asgard Double Ended Bike Storage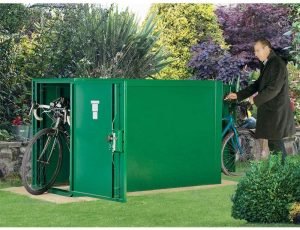 If you want two separate bikes stored independently in one unit, say with a neighbour or friend then the Asgard Double Ended Bike Store could fit the bill. 
With both space-saving and security in mind, the double-ended bike store actually opens either end, thus creating 2 independent secure lockable bike units. Designed so unit width and bike storage access, unlike other bike sheds, is minimised.
Both access doors lock independently of each other with a featured secure 3 point, pick and drill resistant lock, together with a deadbolt system.
Unfortunately, the bike storage unit may be susceptible to minimal condensation, as the unit is not directly ventilated. Neither does it have a floor, but is rather bolted (bolts supplied) directly to the concrete.
Due to its design and secure bike independence, the double-ended bike store lends itself as the ideal candidate for a secure bike storage option for those independents wanting to share secure storage.
Designed with a tough internal steel division and internal locking points ensure that two bikes can be secured totally independently of each other inside the same unit.
For instance, sharing with a friend or neighbour in the same flat or apartment block, house or rental property where space limitations are imposed and bike security is required, is a real possibility. 
The unit design does allow for multiple units to be 'bolted' together and thus expanding the unit's capabilities into offices and caravan parks for multiple bike storage.
Maintenance free, the bike storage unit is constructed of tough galvanised weatherproof steel. Measuring just 6ft 3in (d) – (1.9m) x 2ft 11in (w) – (.900m) x 3ft 11in (h) – (1.205m) externally, with a door clearance of just 2ft 9in (.850m) the doubled ended bike store fits into just about anywhere, making it suitable for use in both private and larger public areas.
As with most Asgard units, the double-ended bike storage units carry a 10-year warranty and is available in 3 colours (black, green and ivory)
Added bonuses that come standard inside the unit include 'cycle kit' hooks where you can hang cycle helmets and other riding paraphernalia.

Keter Store-It Out Ultra Outdoor Plastic Garden Storage Bike Shed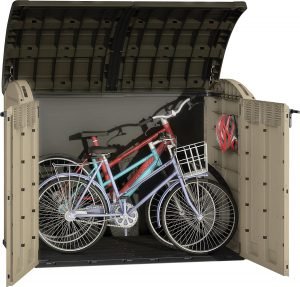 The Keter Store-It Out Ultra plastic bike shed has an award-winning design.
The StoreIt Out Ultra has a tough, all weather-resistant build, which keeps the stored contents of the shed completely ventilated and dry.
Another feature is the 'sloped' threshold, making it super easy to push your bicycles in or out.
Easy to assemble, the shed is lockable and comes with an opening piston assisted roof.
The 'StoreIt Ultra' is one of the best plastic bicycle storage and multiple-use solutions on the market today. Ideal for the family, this shed can store up to 4 bikes (2 x Adult & 2 x Kiddies).
Made of durable maintenance and fade-free plastic with steel reinforcement the shed has assembled external dimensions: 5ft 8in (w) – ( 1.76m)  x 3ft 7in (d) – ( 1.12m) x 4ft 3in (h) – (1.31m).
This plastic bike shed carries a 10-year limited warranty from the manufacturer and features elegant wood effect panels with wide-opening doors for bicycle access.  This bike storage solution can open from either the top, and or the front, the main door bolts for secure closure (a suitable padlock is not supplied)
Another interesting feature is the pre-made internal supports for shelving (not supplied), where owners can simply cut 'wooden' shelves to suit and mount inside. The shelving then becomes ready for bike helmets and other bike paraphernalia for example.

We hope you found the bicycle storage solutions and the associated discussion points highlighted in this post, regarding the storing of bicycles outside in your garden, yard or office informative?
Safety and security are some of the primary concerns and the points provided here offer some guidance, for when you are ready to invest in your bike shed.
A lot depends on your requirements and of course budget, whether wooden, metal or a plastic sheds could be the best bicycle storage solution for you.  
If security is your primary concern, when deciding on suitable bicycle storage solutions, especially if you have valuable bicycles and equipment, then a metal storage solution should be your primary consideration. 
Less expensive bikes and or kiddies bikes could be stored in wooden and or a plastic bicycle shed with some additional security added as a safeguard.
Above all, we recommend you ensure that your 'investment' whatever bicycles you and your family own are adequately and full insured should the need arise for you to claim.