Reading Time:
16
minutes
Small garden sheds come in a myriad of shapes and sizes. It may seem like you don't have the space for a garden shed, but don't let your small garden stop you from having a proper shed! Smaller sheds can be designed to fit in even the tiniest of gardens.
When placing larger sheds, in some of our gardens, we often have to ask ourselves what is the maximum size shed permitted without planning permission? However, with very small garden sheds, we never have to ask ourselves this question unless it is in extenuating circumstances if your property is a listed or graded building argument's sake.
In this post, we look at various small garden sheds and I mean sheds not large cupboard type storage boxes or deck boxes that some call small garden sheds. We look at garden sheds one can enter and stand up in!
Having such a wide choice and variety, these garden sheds make them perfect for any sized garden and or backyard. You can store lawn equipment, garden furniture, tools and even the kid's bikes.
When you need a place to store your gardening tools and or other garden equipment, there is no better option than the 'small garden shed'. You will have plenty of options in both metal, plastic and wood finishes, so it doesn't matter what type or size fits best for your home, you are covered.
So if you're looking for your first small garden shed, or need to supplement your current one with additional space, our buyer's guide of some of the best small garden sheds available on Amazon UK, can help.
We've spent hours researching the best small garden sheds for you and compiled our top 8 list below in the buyer's guide. We ranked each based on a variety of factors, including cost and value for money, toughness and longevity, aesthetic appeal, as well as extended guarantees.
For those looking to buy or replace your garden shed, you may be surprised by how much it costs in the UK.
The DIY enthusiast may even consider if building a new one is cheaper than buying pre-built ones.  Over the last few years, wood prices have increased steadily which means you will certainly pay more now either way than you did several years ago.
The price of softwood like pine has increased by over 60% in the past 10-15 years. and costs in excess of £55 per cubic metre. 
When you buy a kit shed, the fixings and nails are included as well as the roofing felt. This saves you a lot of time, because if you build your own from scratch then there is more of an investment in the time searching for both the correct materials and possibly purchasing tools to undertake the job.
Building a shed is an exciting and rewarding project for anyone, but it can come with some hefty costs.
Windows are one of those expenses that can be reduced by not including them in the construction process, consider this when thinking about building yourself. However, their inclusion means you can enjoy fresh air and sunlight when you're inside your shed.
If you are considering windows? Then a shop-bought shed has the cost of windows built into the price of a wooden garden shed.
How much time and money are you willing to spend on building a garden shed? Depending on your skill level, thecost often varies, and it also depends on how much you value your own time and or lost earnings.
For example, if it takes two days (roughly 16 hours) with minimal effort, that cost can be around £140 in monetary terms – but this is only for one person. Generally, assistance is required.
Often assembly services offered by many top retailers start at about £150 but can go up to around £600 depending on the size of your garden shed.
If you're going to buy a new shed, then one of the deciding factors is whether or not it's been treated with chemicals that will prevent the wood from rotting. Pressure-treated timber can last between 10 – 15 years on average, and the process can't be replicated by your own DIY skills as this requires industrial-level equipment which only companies have access to.
Also with a warranty, you'll feel more confident that your purchase is investment-worthy when you buy from a reputable online store or manufacturer. It's reassuring to know there are warranties and legal protections for UK consumers like yourself with every transaction made. 
So is Cheaper to Build Your Own Small Garden Sheds - Conclusion
The short answer is yes it is cheaper to build your own wooden garden shed in my opinion overall by around 25%, but, there is always a but.
Without going through all the cost figures this is my conclusion.
It's a lot of work. You have to source, get sawn and prepare the wood yourself (which takes time), source all other materials, like ironmongery, screws, nails etc.. and have the correct tools to put a shed together and the time to construct one, often with the needed assistance to erect it.
Whereas with retail bought sheds, you pay for the completed shed. In addition a wooden shed is  'pressure treated' against rot and there are warranties that give you total peace of mind should something go wrong in future or if you need help from professionals. This alone should be worth the cost difference.
But building your own DIY job has its benefits like giving you some great pride when a wooden garden shed is completed so successfully. 
Plastic vs wooden vs metal sheds. Which one is best?
Garden sheds come in a variety of materials, sizes and styles, but which type you decide to buy first depends on your needs.
To get started with the decision-making process, consider what size shed will be best for storing all of your equipment that needs protection from the weather conditions in your area and the possible theft of valuable equipment. Maintenance requirements should also play a big part in the decision-making process.
If it is just an occasional activity such as occasional gardening or backyard storage then perhaps small garden sheds like the ones in our buyers guide below might be all you need. However, if it's something more substantial, then it's better to purchase a large garden shed to make sure everything has enough room! 
Determining how much you can spend, and the material type of your shed will also help guide you in making a purchase.
For example, on a like for like basis metal sheds are generally in the UK overall slightly more expensive than plastic and or wooden garden sheds.
Whereas plastic sheds are generally on the whole slightly more expensive than wooden sheds. This is because generally metal and plastic sheds have more 'options' when it comes to accessories like ventilation grilles or security locking mechanisms and of course, are metal and plastic sheds maintenance-free.
What is the best type of shed to buy for your needs? Will it be purely storage, a workspace, or will you have both functions? You must decide.
Consider the weather in your area? Weather can have a big effect on your garden shed, the type of shed you are thinking about buying should strongly depend on if it will be affected by strong winds or rain for example.
For areas with very windy conditions (strong and frequent gusts), I would recommend a wooden shed as they have been shown to withstand high winds better than plastic ones.
However, for wet regions such as near water sources like riversides where there is more moisture and humidity in the atmosphere, metal sheds may not hold up well against rusting over time; thus, opting for a sturdy but lightweight plastic version instead might last longer outdoors.
In a hurry?
If you don't have much time, use the link below to quickly find my 'Top Pick' for one of the best 'Small Garden Sheds' available for you on Amazon. You can be assured we only recommend products based on their quality, usability and value for money...
- 'Top Pick'- Dunster House '3 Sided Pent' Shed
Small Garden Sheds - Top 3 Comparison Table
Product Image
Best Overall
Best Runner Up
Best Budget
Model/Make
Dunster House Garden Shed
Size
2.22m (L) x 1.09m (W) 2.15m (H)
2.4m (L) x 1.2m (W) 1.86m (H)
1.43m (L) x 0.89m (W) 1.86m (H)
Best Overall
Product Image
Model/Make
Dunster House Garden Shed
Size
2.22m (L) x 1.09m (W) 2.15m (H)
Best Runner Up
Product Image
Size
2.4m (L) x 1.2m (W) 1.86m (H)
Best Budget
Product Image
Size
1.43m (L) x 0.89m (W) 1.86m (H)
Last update on 2022-06-20
8 Small Garden Sheds To Consider
Forrest Wooden 'Pent' Garden Shed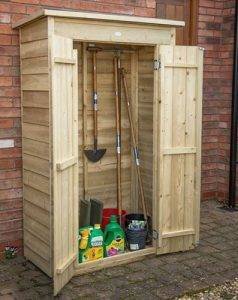 If you're looking for that perfect small garden shed to keep your tools, garden furniture and outdoor equipment all in one place, then look no further than the Forest Wooden Pressure Treated Pent Tall Storage Shed. 
This good-sized shed narrow garden shed is for those with limited space. The shed is  approximately  5'10" H x  3'6″ W x 1'10" D (178 cm x 108cm x 55cm) providing plenty of space for those shovels or chairs to be stored. 
The 'pent' roof design (one sloping side only) is not only aesthetically pleasing but convenient as well as the roof can be assembled 'sloping either' way to suit your own personal needs and preferences.
The shed's roof is covered in a high-quality green mineral felt to ensure all the stored equipment is kept safe and dry.
The manufactures advise the shed can also be shipped with an 'Apex' style roof if prefered. (Enquire at the time of purchase)
With its distinctive sloped roof design, the shed is constructed from FSC smooth-planed, tight-fitting, shiplap tongue & groove timber boards, which have been treated with an anti-fungal preservative.
In addition, this small garden shed has an OSB (Oriented strand board) floor, which in turn is sat upon durable pressure-treated wooden floor timber bearers, keeping the shed off the ground, and the shed floor dry.
With the minimal amount of DIY skills and with clear assembly instructions from the manufacture, most (but not all) purchasers assembled the sheds panels with ease. 
The double doors can be closed with the provided turn buttons and staple latch and are secured by a padlock (not included).
With the sheds pressure-treated finishes, the manufacturer provides owners with total peace of mind by providing a 15-year anti-rot warranty on the timbers.

Pent Roof Slope Option
Pressure Treated Timbers
15 Year Warranty

Double Door Access

Mineral Felt Roof
Assembly May be Difficult
No Padlock
BillyOh Master Tongue & Groove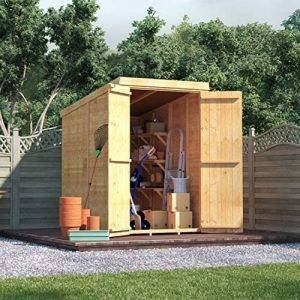 The BillyOh Master Tongue Groove Garden Shed is ideal as a small garden shed. Its designed with a modern sloping 'pent' roof, and crafted to fit perfectly into almost any garden. 
This unit has been constructed from tongue and groove panels for added strength, giving you extra peace of mind when storing your valuables in it. 
The BillyOh Master Tongue Groove narrow garden shed has generous headroom, enabling you to stand up comfortably inside the shed.
Coming with pre-assembled panels, and when once assembled provide internal shed dimensions measuring 70in H x 44in W x 70in H (176cm x 112cm x 176cm) this is normally identified in the UK as a 6×4 shed.
The two doors measuring 38in x 64in (98cm x 165cm) on this shed have been designed with double door entry points making it easy to get items in and out of the shed. 
If you find you need a larger shed of this design for your garden? Then BillyOh also provides this model design in 3 other sizes 8×6 10×6 and the large 12×6.
The BillyOh Master tongue and groove garden shed is a stylish .4in (11mm) tongue and groove timber shed and a durable T&G roof complete with a green tear-resistant felt for added weather protection. The shed is a 'windowless' design for added privacy and security.
Complete with all fixtures and fittings, this easy to assemble shed is supplied with flat-packed panels for convenience, which can be easily fixed together to create your shed. This will normally take a couple of people 3-4 hours to complete.
This BillyOh shed comes with a 10-year anti-rot guarantee as standard. With its traditional style, the BillyOh Master will complement any garden beautifully whilst providing safe and secure storage of your garden equipment.

10 Year Guarantee
Easy Assembly
Double Doors
T&G Construction
Pressure Treated Timber
Secure Design
Larger Options Available
No Padlock Provided
A Little Pricey
Keter 'Manor' Outdoor Shed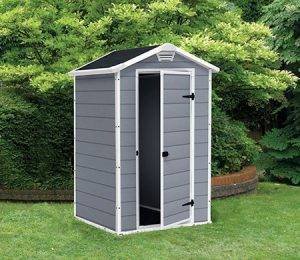 Keter is a leading company in Europe and all over the world, dedicated to developing, manufacturing and marketing products for the garden, outdoor living and home improvement markets.
This Keter 'Manor' Outdoor Plastic Small Garden Shed is made of grey/white high-quality polypropylene and sports a traditional 'apex' gable style roof and a wood effect exterior.
The 'Manor' is a narrow garden shed and measures only 3ft (L) x 4ft 1in (W) 6ft 4in (H) (94cm x 128cm x 196 cm) small enough to fit into the most 'space restricted' locations in your garden or yard. A great feature of this small garden shed is its 'ventilation' ducts on the floor panel for air circulation, which helps keep items dry and dirt-free while being stored.
This Keter 4×3 small garden shed is complete with double-wall extruded panels that ensure durability and weather resistance with a design that is virtually maintenance and fade-free to the UV capabilities of the panel. A 6×4 option is also available with the same specifications as the Manor, plus it has the addition of a window.
The shed also features a robust single door and 'padlock hasp' for security (no lock provided).
With comprehensive assembly instructions, this Keter is easy to assemble with only 'normal' household tools, as it is shipped flat packed.
One note of importance, ensure the 'location' for your shed is level and firm before erecting. I suggest constructing a wooden or concrete base as a 'foundation' for your shed to sit on.
As far as guarantees are concerned check the 'warranty' information shipped with your shed (this is important so do not lose it).  Keter sheds come with warranties with anything from 5 years to a  lifetime guarantee!

Maintenance Free
Ventilated Floor Panel
Model Has Various Sizes
Flat Packed Assembly Panels
Wood Effect Exterior
UV Resistant
Warranties
May Need a Base
No Padlock
Charles Bentley Pent Metal Shed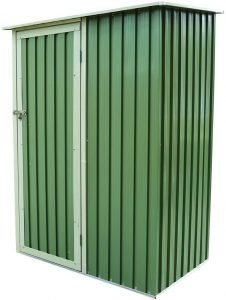 This Charles Bentley 'Apex' small garden shed is the perfect storage solution for those looking for a small metal, narrow garden shed. 
It comes in green, with a light beige trim on the door, giving it an attractive appearance and allowing the shed to subtly blend into the garden.
The shed is constructed from a 0.5mm, durable hot-dipped galvanised frame, clad in 0.25mm hot-dipped galvanised metal panels to protect your storage against the worst weather elements the UK can offer. 
Once constructed this robust garden shed provides a 'maintenance free' garden shed for many years.
The storage shed' has been designed with a 'single' hinged opening door that makes it easy to access stored items. 
The Charles Bentley metal storage shed is a great choice if you're looking for a compact, functional shed without taking up too much room in your garden or back yard.
This small garden sheds external measurements are 6ft 1in (H) x 4ft 6in (L) x 2ft 9in (W) (1.43m  x 0.89m x 1.86m ) with a door width of 2ft 1in (66cm) and door height of 5ft 5in (170cm) complete with  door handles and a safety padlock.
The manufacture advises that with two people assembling this shed you should have no problem putting it together in 3-6 hrs. However, it should be said some purchasers have found putting together this shed time consuming and difficult.
Please Note: We recommend a solid base must be laid installed with this shed. A solid base will then enable you to lay a shed floor of your choice as a floor is not supplied with this product, (we recommend wooden boards or concrete slabs) to give you a solid and secure floor and one the shed can be attached to.
Charles Bentley advises a 60-day return on this product over and above the UK standard consumer period.

Maintenance Free
 Steel Frame
Safety Padlock
Hot Dipped Galvanised
60 Days Return Policy
No Padlock
No Extended Warranty
No Shed Floor
May Need a Base
Time Consuming Installation
BillyOh 'Sentry' Garden Shed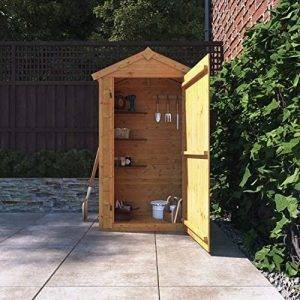 The BillyOh's 'Sentry' Garden Shed is a great addition to small garden and provides all your storage needs. 
The 'Sentry' externally measures just 3.1ft (W) x 2.1ft (D) x 5.6ft (H) – (to ridge) or (0.9m x .64m x 1.67m) and is constructed throughout from 'pressure treated' 0.4in (11mm) thick 'tongue and groove' boards, that includes the floor and the roof as well as the side panels and door.
When fitted together the boards form a tight seal offering high-quality weather protection.
The pressure treated timbers provide the buyer with a great 10-year manufacturer guarantee against rot, fungal and insect infestation.
This means that this small garden shed will be durable, long-lasting and maintenance-free for many years to come. Although it is maintenance-free it is advised to treat the timbers periodically as per the manufactures instructions to ensure optimum long-lasting protection.
The 'windowless' design also means you can store away all your gardening equipment, safe in the knowledge it is secure and out of sight.
The 'Apex' roof design gives that extra headroom inside the shed – ideal if you're storing tall items such as step ladders and long-handled tools.
To add further convenience, the large single door opens outwards so there's no need to turn around when entering the shed with tools and or garden furniture. 
The BillyOh 'Sentry' Garden Shed features pre-assembled panels, so it's simple to put together yourself. The tough felt roof will protect your belongings from the elements, while the galvanised ironmongery will ensure that this shed ironmongery lasts for many years to come. 
Finally, the manufacturers have included shelving, great for keeping your tools organised, making it the ideal place to store all of your gardening equipment and bits and pieces.
This compact storage solution is ideal for small gardens or patios, and with its classic design, it won't look out of place in any environment.

10 Year Guarantee
11mm T&G Boarding 
Shelving Included
Pressure Treated Timbers
Galvanised Ironmongery
Compact
No Hasp and Staple
No Padlock
Forest Garden Overlap Shed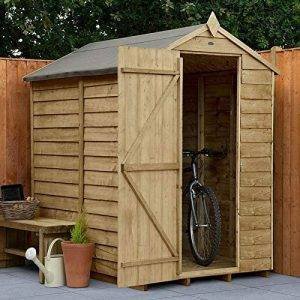 Made from pressure treated, FSC certified timber, the Forest Overlap Garden Shed is a traditional 6 x 4 wooden garden shed that has been designed to fit into smaller gardens. 
This 6×4 sheds external measurements are 4ft W x 6ft D x 6ft 3in into the Apex ridge (1.2m x 1.8m x 1.9m) which are suitable dimensions for storing all sorts of gardening tools, equipment and garden furniture. 
These small garden sheds are made from 1/4in (8mm) sturdy straight cut overlap timber boards, fixed to 1in x 1in (28mm x 28mm) solid  'framing'.
The boards overlap, allowing the timber to shrink and expand over time This process occurs naturally throughout the year in accordance with ambient temperature changes. Plus, the 'overlaps' allow rainwater to run off quickly.
Inside a 1/2in (14mm) solid wood floor is sat over pressure treated shed bearers providing the owners with total peace of mind due to a whopping 15-year anti-rot warranty provided by the manufacturer.
The Forest also has a design tweak to be able to hang the single 'double Z braced' (for strength and stability) door, either on the left or right-hand side of the shed opening to suit your own particular needs and location preferences which is rather handy.
With security in mind, the Forest garden shed is a 'no window' designed shed for better safety and security. In addition, it also has standard anti-tamper hidden hinges and a padlock ready hasp & staple (no padlock supplied). 
This delightful shed is shipped with several already assembled panels, apex roof strips and all the other fixtures, fittings, including the 'black sand felt' needed to cover the shed roof.
With the easy to follow instructions, your shed should be erected in no time.

15 Year Anti Rot Warranty
Shed Door Fixing Options
Solid Timber Floor
Anti Tamper Hinges
Pressure Treated Timbers
A Little Pricey
No Padlock
Dunster House Garden Shed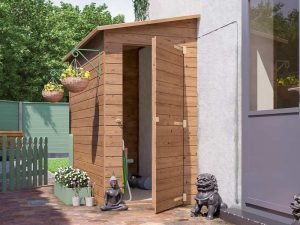 Perfect for small or narrow spaces, the Anya 3-Sided Pent Shed is a stylish and functional small garden shed with a traditional appearance, which is sure to enhance your outdoor space. 
The design features a 'windowless' classic 'pent' roof for an 'authentic' look that will blend seamlessly into any garden setting. 
With its '3 sides' this is one of these small garden sheds that has been designed to attach onto an existing wall, (a wall/shed flashing is required) making it ideal for when you have little space available. 
The Anya's floor bearers, frame and 1/2in (15mm) shiplap cladding, are all 'pressure treated' allowing the manufacturer to provide a 10-year guarantee against fungal decay and or insect attack. The Anya's roof is made from a low-maintenance and hard-wearing material called 'Wood Plastic Composite' (WPC), and the shed floor is made from water-resistant resin-and-chip Multi-Functional Panels (MFP) to ensure all your stored equipment is both safe and dry.
Either hanging from the right or the left the large 'Z braced' (for strength)  door is 2ft 3in W x 5ft 8in H (0.71m x 1.73m). The sheds external dimensions are 3ft 10in W (1.17m) x 7ft 10in D (2.40m) and with a ridge height of 7ft (2.15m). The 'Anya' is deceptive from the outside but has plenty of room on the inside, a bit like Dr Who's Tardis.
The manufacturers realise 'security' today is also a very important factor for the humble garden shed.
As we have mentioned the 'Anya' is a windowless designed shed, but it has a 'sturdy' hasp and clasp (included) that requires a 'padlock' (not included) for locking away any of your equipment, like tools or bikes. The hasp & clasp is fitted in such a way, that in the 'closed' position the 'fixing screws' are covered by the metal clasp and not visible.
Similarly, the adjustable door's hinges are 'bolted' in place and make it very difficult to remove them when the door is closed.
If you're looking for somewhere to store your garden tools, bike or garden furniture, although a little pricey but of excellent quality, then check out this small but spacious storage shed. 

15mm Shiplap Boards
10 Years Warranty
Secure
Deceptively Large
Waterproof
Good For Tight Spaces
Duramax Sidemate Garden Shed
The Duramax SideMate Plastic Garden Shed with its 15-year warranty is perfect for storing all of your gardening tools, bikes and garden furniture.
This ivory coloured vinyl plastic 'Duramax' all-weather shed is durable, long-lasting, and most importantly maintenance free. 
This shed, will not rust, dent, or rot, develop mildew or fade, which is just about what we all want from a garden shed.
The Duramax with its lean-to 'pent' roof is designed to sit by or butt against a building or even a fence. The shed has 4 sides and includes its own galvanized steel foundation kit which elevates the shed above the ground. In addition a  'ventilation' system is also included for better 'air circulation' inside the shed. 
The wide 30in (76cm) door is also able to be 'hung' from either the left or the right side (end) of the shed to suit your own personal preferences and circumstance which is a great little feature.
Although not the smallest shed in my guide with the external dimensions measuring 4ft (D) x 7ft 9in (W) x 6ft (H) or (122 x 242 x 187 cm) it is compact and suitable for a 'narrow' and or 'long' garden space.
This new Duramax SideMate Plastic Garden Shed is made from PolyVinyl Chloride (PVC) with a reinforced metal structure and roof trussing, that can handle 20 lbs per sq ft (9kg) of snow load, so you don't have to worry about what the weather does to it.
As the walls are reinforced in the columns you can easily hang shelves inside the shed.
The galvanised steel foundation also helps to elevate the shed above ground level so it's safe and dry from the elements; this helps by not having to deal with water damage or rotting wood-destroying your entire building from the ground up.
Finally, The sheds door handle is pre-drilled with '2no holes' which are suitable for a padlock (not supplied) of your choice to be fitted

15 Year Warranty
No Maintenance
Ventilation System
Door Hanging Options
Reinforced Columns
Foundation Kit
No Padlock
No Colour Option
Whether you're a gardener or not, chances are that at some point in your lifetime you will need to store items outside of the home. The good news is there are many different options for storing these things and one specifically designed just for this purpose is the garden shed. This post has pointed out both the good and bad points of buying small garden sheds so if it sounds like something you want then read our buyers guide above!
If this article has helped you in any way then please share it amongst your family and garden-loving friends or anybody who might be looking at getting their own small garden shed soon.
If you are looking for answers to other garden shed questions then we may have the answers over on our FAQ page under garden storage.