Reading Time:
11
minutes
If you want to add some natural beauty to your garden, then a solar water feature is one of the best ways to achieve this. Try adding solar powered bird bath fountains to existing bird baths and see the difference it will make to them.
A garden fountain not only adds charm to your property, but it also has a lot of practical benefits as well. The most important benefit being its capacity to utilise the sun's solar energy for its operation.
In this case making many of the best rated solar bird bath fountains very cost-effective, as well as not contributing to global warming. Solar bird bath fountains are very environmentally friendly.
Also, and practically speaking, without a fountain bird bath water can become stagnant, attracting mosquitoes instead of birds.
Another practical plus, most of the best rated solar bird baths fountains are extremely mobile and can be moved around your garden or backyard to suit your mood and tastes from time to time.
Another is that solar-powered bird bath fountains are extremely easy to maintain and care for. Usually, it does not take a lot of effort in order to clean the solar panels and in general they need only minimal cleaning.
The fountains can run on any solar energy that is available and they work well without requiring a lot of direct sunlight.
If you are interested in getting one of the best rated solar bird bath fountains for your garden, check out our buyers guide below.
In our guide you will find several makes of fountains. You can choose different sizes, designs, materials, styles and budgets that will best meet your requirements.
As always our guides are based on practical use, customer ratings, value for money and ease of use.
In a hurry?
If you don't have much time, use the link below to quickly find my 'Top Pick' for the 'Best Solar Powered Bubbling Bird Bath' available for you on Amazon. You can be assured we only recommend products based on their quality, usability and value for money...
- 'Best Overall'- Smart Solar Ornamental Umbrella Fountain
The 6 Best Solar Powered Bird Bath Fountains - Comparison Table
Product Image
Best Overall
Best Runner Up
Best Under £20
Model/Make
Greenfingers Smart Solar Umbrella Fountain
Garden Solar Duck Family Fountain
ASSCA Solar Fountain Pump
Size
50cm (L) x 50cm (W) x 84cm (H)
48cm (L) x 48cm (W) x 84cm (H)
Electrical Wiring Required
Best Overall
Product Image
Model/Make
Greenfingers Smart Solar Umbrella Fountain
Size
50cm (L) x 50cm (W) x 84cm (H)
Electrical Wiring Required
Best Runner Up
Product Image
Model/Make
Garden Solar Duck Family Fountain
Size
48cm (L) x 48cm (W) x 84cm (H)
Electrical Wiring Required
Best Under £20
Product Image
Model/Make
ASSCA Solar Fountain Pump
Electrical Wiring Required
Last update on 2022-06-21
Solar Powered Bird Bath Fountains - 6 of the Best
Smart Solar - Solar Powered Umbrella Fountain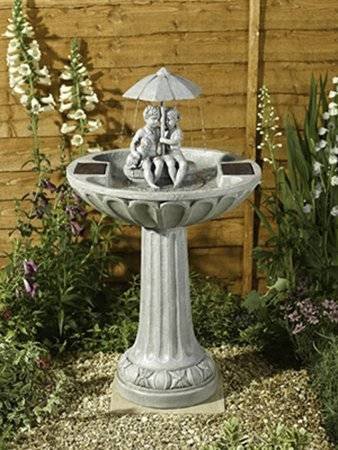 If you are looking to add a focal point and or some natural beauty to your garden, then the Smart solar ornamental umbrella fountain.
Standing 2ft 4in (75cm) high x 1ft 5in (50cm) diameter and weighing approximately 22lbs (10kg) the aptly named 'The Lovers' (due to a romantic couple sat under an umbrella) is a grey coloured solar powered bird bath fountain, made from strong impact-resistant plastic.
Due to its size, the birdbath fountain is ideal for a multitude of locations and is ideal for parts of a larger garden or a focal point for small gardens, terraces, and conservatories.
Powered by 2 fixed integrated solar panels on either side of the fountain and a low voltage pump system, with filter.  The birdbath operates in direct sunlight, and constantly recycles water from a hidden reservoir.
Although you do not necessarily need full and direct sunlight to operate the birdbaths fountain pump, pump performance may drop slightly on an overcast cloudy day.
The birdbath fountain only needs the occasional 'topping' up of water (maybe be more often in warmer weather) so maintenance is minimal. Once assembled the birdbath fountain will function within a few minutes.

Smart Garden - Garden Solar Duck Bird Bath Fountain
Is there anything more relaxing than sitting by a fountain and listening to the calming sound of water? There are many ways to bring the serenity of nature into your garden.
The Duck Family Umbrella Solar Birdbath Fountain from Smart solar is a cute scene of a mother duck and her four ducks sheltering under an umbrella as the water cascades around them.
The bird fountain is powered by two solar panels and requires no wiring.
These two integrated solar panels power up the fountains pump, which is cleverly hidden in a chamber below the fountain.
The duck figures are beautifully crafted out of hard 'bronze' effect resin that would not seem out of place in any garden or patio. The resin is both frost and UV resistant, so it should last for many years without any problems.
This duck-inspired solar birdbath should be placed where it has lots of direct sunlight, like any solar panel equipment. However, this bird bath still works reasonably well  on cloudy or partly cloudy days.
Unfortunately, there is no low water level switching of the pump, so users will need to keep an eye on water levels especially during hot weather.
Ideally suited for the smaller garden or patio this birdbath fountain is just 85cm H (34in) x diameter 48 cm W (19in) so will be suitable for most gardens or patio areas.
Easily put together you should be up and running within a few minutes.
If you don't have a lot of money to spend on a solar birdbath, a traditional birdbath with a solar fountain pump may suit you better, which we review further down the page.

Aisitin - Solar Powered Bird Bath Fountain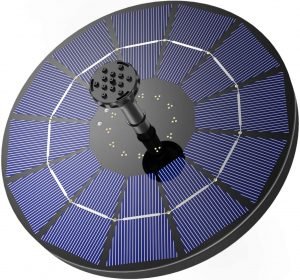 We have looked at solar powered bird baths from the viewpoint and assumption of gardens that have neither a birdbath and or a fountain.
What about those of you who already have a 'bird bath' as your garden focal point but would like to have a solar-powered water fountain in there garden as well. What can we do?
Enter the Aisitin solar powered bird bath fountain. This is a great budget option for those not wanting the expense of a new bird bath 'complete' with a solar-powered fountain. With the Aisitin you can 'spruce up' an existing bird bath' complete with a new solar fountain.
Within a few seconds of placing the Aisitin fountain in the birdbath, users can enjoy the tranquil and calming effects of flowing, bubbling water in one's garden.
The new Aisitin is an upgraded high-quality 7in (18cm) 3.5w solar fountain that can be placed in or secured to (there are 'sucker' feet on the bottom of the battery back up box) any existing birdbath, turning it immediately into a solar-powered birdbath fountain.
The Aisitin is very mobile and can be placed in any garden water feature when your mood suits or circumstances dictate. Simply take out of one location and place in another.
With the 6 different fountain heads available, users get the possibility of creating 6 different fountain spray patterns. The height of the fountain spray can be adjusted by changing nozzles to avoid spilling out of the birdbath (if that is where its placed).
Another great feature of this solar-powered fountain is its ability to store energy from the sun or battery backup as most call it. With an onboard re-chargeable Li-ion battery this fountain can continue to function long after the sun has gone down and or on very cloudy days for up to a period of around 2-3 hours.
If that was not enough, the Aistin also has an 'automatic' pump/motor protection built-in. Meaning users can configure this great function to stop the pump and motor from 'running' based on the water levels within the birdbath, which can possibly happen in the hotter summer months due to evaporation.
Finally, this incredible little birdbath fountain has a 'day/night' switch which allows the fountain to switch on and off automatically based on ambient light.
Easy to assemble once unboxed and easily maintained thereafter by simply wiping off the 'solar panel' from time to time or as necessary, perhaps leaves fall into the fountain. Occasionally cleaning of the spray head is required to ensure excellent spray results.
On the downside, several users find that the sucker feet are not strong enough to hold the fountain in place and find that the solar fountain 'floats' around the birdbath. A simple fix was to 'anchor' the fountain with a few pebbles or glass beads in the birdbath.

Assca - Solar Powered Bird Bath Fountain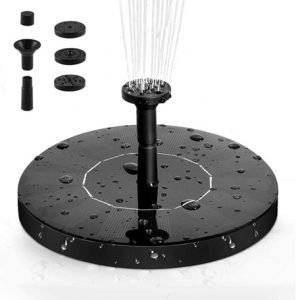 Our bargain-basement no-nonsense option for a solar-powered bird bath fountain is the offering by Assca.
This 6.3in (16cm) 7v solar powered fountain with a 'brushless pump motor' and filter does just what it says on the box.
Users have a choice of 3 spray heads that provide different patterns, which deliver spray heights of between 10-18in (25-45cm) dependent on the sun's strength. The pump delivers up to 50gal/H (227L).
Requiring a minimum depth of around 2in (5cm) to operate, this solar water fountain has only the basic solar operation. No battery backup, or low water level pump cut out or day night switches. Once assembled and placed in a birdbath, operation will be under way in a few seconds (if sunny a day)
On very cloudy overcast days the fountain may stop working. Certainly, at dusk the pump/fountain will cease to operate until the following day.
These additional functions are not always necessary or wanted by some users and as most things 'you get what you pay for' in terms of functionality. However, the 'brushless pump motor' is a definite plus and will prolong motor life.
With a little bit of 'maintenance' like regular checking of birdbath water levels, keeping the solar fountain clean and nozzles free from dirt, you will have many years of trouble-free operation.
Like similar fountain models some users may find that the solar fountain does tend to 'float about'. Remedies used to combat this are securing the fountain with small pebbles and or glass beads inside the bird bath.

Acadia Solar Powered Bird Bath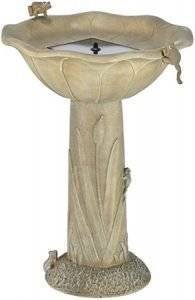 If you want an aesthetically pleasing, solidly built, no-frills solar birdbath fountain, constructed from a mixture of glass fibre and re-enforced concrete, then take a look at the acadia smart solar bird bath.
Finished in dark olive green, with 'climbing frogs' mounted on the bird bath and the decorative column the Acadia will blend in with most gardens décor.
The Acadia simply provides a fountain of water utilising its 'patented' underwater integral solar panel & pump system.
The low voltage pump (complete with filter) recycles water from a hidden water reservoir and up to the fountainhead.
Standing 2ft (62cm) high and 1ft 4in (45cm) wide the birdbath weights approximately 16.5ibs (7.5kg) and provides a great focal point in the garden, courtyard, or patio.
The Acadia while beautiful and sturdily built as many users attest to, it is extremely basic in its function. The manufacturer states it should only be placed in full direct sunlight' for it to function correctly. There is no battery backup, day/night switch or even low water level pump cut out to protect the pump.
Fountain maintenance is much the same as other solar fountains in that you should keep the solar panel regularly clean and free from dirt and debris. Monitor water levels particularly in the warmer months.
The manufacture recommends that the fountain should be drained and be overwintered in a covered area like a garage if the temperatures tend to drop below 4°C /39°F.
Despite its basic function and high price, the Acadia remains an extremely popular solar bird bath fountain amongest the gardening fraternity in the UK.

Aisitin - Solar Powered Bubbling Bird Bath Fountain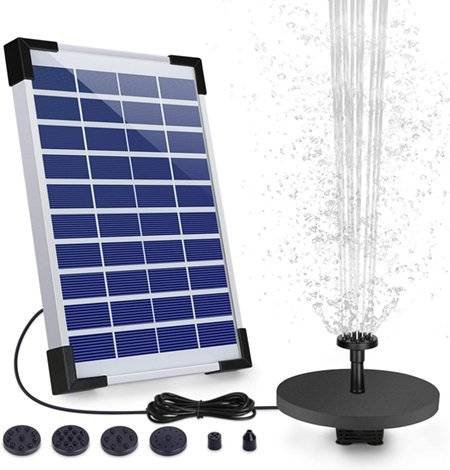 Those with a 'bird bath' in there garden already, perhaps in a slightly 'shaded' area may look to install one of the most popular mobile solar panels and birdbath fountain combinations on the UK market today, the Aisitin solar water fountain.
The fountain has 6 different spray heads which can provide various spray heights and styles. The Aisitin also has a 5.5w high quality solar panel that powers the water fountains pump.
The Aisitin's solar/PV panel measures just 11.5in x 8.6in x 2in (29cm x 22cm x 5cm) and weighs just 2.6lb (1.2kg) so is easily moved around and users can track the sun if required.  The solar fountain itself is 7in wide (18cm) and will almost certainly fit in all birdbaths.
For those technical buffs amongst you, the solar fountain can deliver a maximum of 109 Gall/H (500L/H) which is great for water circulation purposes even for larger applications like fish ponds. With a pump head of 70in (177cm) good spray should be achieved providing there is good strong sunlight.
Place the solar fountain in a birdbath with a minimum water depth for the pump to function correctly of 1in (2.5cm) but we advise at least double that depth to be safe.
One point here, the fountain has 'sucker' feet to secure it, to the birdbath, but often users find this is inadequate (most fountains seem to have this issue) and they need to secure the unit with 'pebbles' to stop the fountain floating around.
One other practical way to secure the pump/fountain users have found that works well is to place a small suitable sized piece of glass in the bottom of the bird bath and attach the 'sucker feet' to that. This seems to work quite well in securing the fountain within the birdbath, once covered with a few pebbles and filled with water.
Electrical cable length between the fountain and the panel is approximately 10ft (3m) so plenty of cable length always ensures your PV panel is always in full sun.
Another feature of the panel is its 1500mAH 'built in' Li-ion battery backup mounted on the back of the solar/PV panel. The battery will provide an additional 2-2.5 hrs of extra runtime when fully charged as dusk falls or when you may experience very cloudy overcast days the pump will continue to run for this period..
One important feature of any birdbath fountain is the ability of the fountain pump to stop running at 'low' water levels. The Aisitin has this most important of features incorporated, so if the fountain is lifted from the water or the water level goes below minimum working levels the pump will cease to run.
Easily put together and requiring just the general maintenance for the birdbath/solar panels, just by ensuring the pumps filter and solar panel are kept clean and free of debris.
This provides a much longer pump and panel life. The manufacture advises the panel/pump should have a life of around 10,000 hrs if used and maintained correctly, but I can't find as with most systems and formal manufacturers warranty.

Having read our buying guide above, it is easy to see why solar-powered bird bath fountains are becoming ever more popular. They are within everybody's reach, easy to install and do not need to be 'hard' on the pocket, especially if you own an existing birdbath. 
In fact, after the initial purchase, there is 'no cost' to running your garden birdbath fountain and only much enjoyment to come with many hours of watching birds, butterflies, dragonflies and many other species visit your bath on a daily basis.