What is the Best Solar Water Feature
What is the Best Solar Water Feature? This is a question that many home and garden owners have asked repeatedly. After all, there are literally hundreds of different solar water features that you can choose to put in your garden or backyard.
These various solar water features include fountains for birdbaths and fishponds or ornamental solar fountains that can provide a garden or backyard focal point.
All or any of these solar water features are great for enhancing the beauty of your garden, but which one is the best?
As most of us know by placing a 'bird bath' in a large and open area we can enjoy the comings and goings of our great and varied avian wildlife here in the UK.
However, if you are looking for a new way to attract birds to your garden or your backyard, then try adding a solar-powered bird bath fountain it could be the perfect solution.
A solar water fountain added to your current 'bird bath' will provide a beautiful source of 'artificial water' flow that will attract many different types of birds and possibly other types of wildlife, depending on the location of your bird bath.
Solar bird bath fountains use the 'energy' from the sun (solar) to power the fountain's small onboard pump, which in turn pumps water up to the fountain and thus negates the need for the use of any mains electricity.
This makes solar bird bath fountains much easier on the environment than 'regular fountains' that use more traditional electricity sources.
The constant flow and sound of running water will keep your bird's coming back again and again to your bird bath.
Wild birds in any garden have a great peaceful calming effect on us, as well as great excitement, both for us humans and other birds alike.
But be careful though, as you get to see them in their natural setting, you may find you spend many hours watching our fascinating feathered friends.
You can find solar bird bath fountains almost anywhere, like your local garden centre for instance. However, one of the best sources is online, as you will be able to find literally thousands of unique models with different styles and different functions.
Solar bird bath fountains are becoming ever more popular, and we hope this post and other related posts on this page will help you find out more.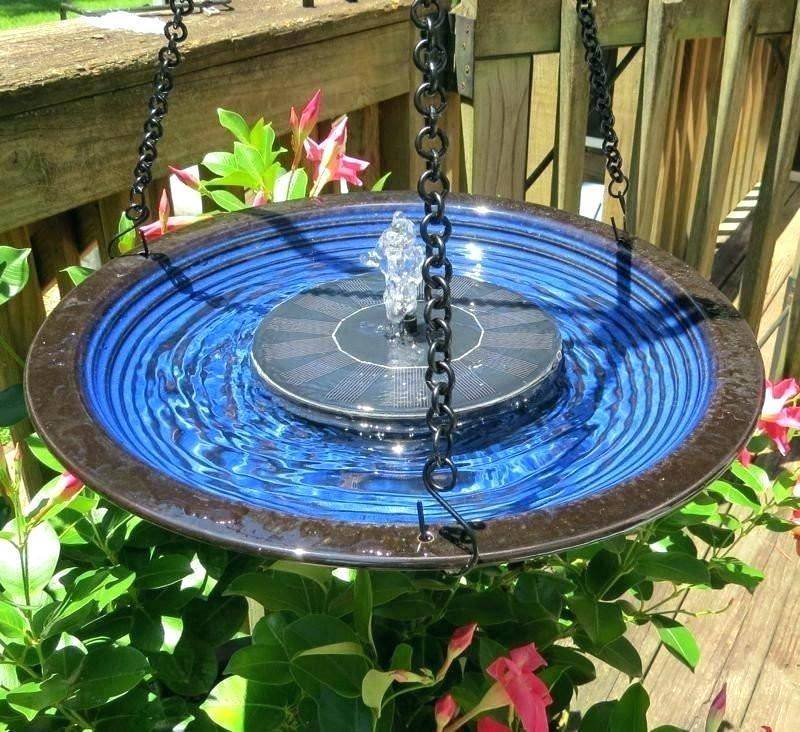 Solar Bird Bath Fountains – One of the best solar water features for the garden
Solar Pond Pumps
If you have a garden pond already or thinking about how to build a garden pond and want to know how you could save some money in the long term, and help save the planet at the same time, a 'solar pond 'pump' may just be for you!
If you have not heard of a 'solar pond pump' before now, then you're in luck. A solar pond pump is something that is becoming more popular every day amongst those who have and look after garden ponds.
Working on the same principle as the 'bird bath fountains' and other 'solar' appliances, these pumps harness the sun's energy to help them function.
Not only are they kinder to our environment, but they are also kinder to your pocket! When you shop around online and compare prices it may be clear to you just how much a 'solar-powered pump' can benefit you.
The first thing you need to know when looking for a solar pond pump is what type of pump is right for your pond's overall requirements. It all depends on your pond's size and the amount of sunlight your pond receives.
Small ponds typically do not require a powerful pump. If you have a larger pond and are looking for a powerful pump there are two options for you.
You can choose a solar pond pump that will provide you with the power you need to run all your pond and water feature needs at once, or alternatively, you could purchase individual solar pumps for separate operations like fountains, waterfalls, and oxygenators.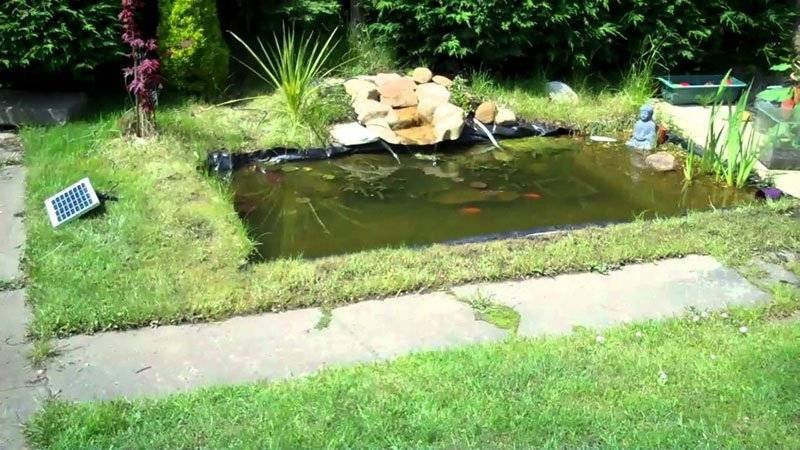 Solar Pond Pumps can be used for fountains, waterfalls and oxygenators
Decorate Your Garden With a Beautiful Solar Water Feature
As the summer months advance towards us, it is a great time to add a solar water feature to your garden. Both decorative and functional, a water feature can add both a soothing effect and a focal point to those who frequent the garden space.
Most solar water features will work perfectly in any weather and will not need extra power sources from your local electricity provider.
Solar-powered water features come in a variety of styles, ranging from fixed wall fountains, floor-mounted features and floating solar water features.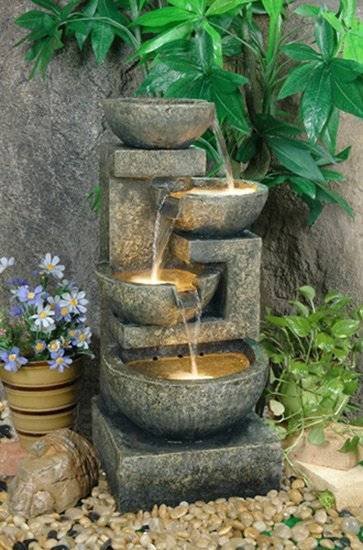 Solar Water Features – A Great Garden Focal Point
The latter has the added advantage of being easier to move around should you wish to rearrange the positioning of your garden water feature later.
A solar-powered feature can be moved virtually anywhere on your garden grounds, so you do not need to worry about finding an exact spot where to position it. Large solar water features are also especially useful for creating a focal point in a garden.
Adding a large wall fountain or hanging solar fountain is the ideal way to draw the eye to a particular area of your garden that might be overlooked by other flowers or plants.
For outdoor entertainment, nothing beats a large, perfectly placed garden water feature and solar-powered features make the most suitable option for both commercial and residential gardens.
UK Sunshine Hours
To help determine what is the best solar water feature for your home, you should consider the size of your home as well as the amount of sunlight you receive throughout the year.
If you live in an area that receives little sun throughout the year, you may want to choose a small solar water fountain.
However, if you live in an area where the sun provides ample light throughout the year, you may want to consider adding a larger solar water feature to your home.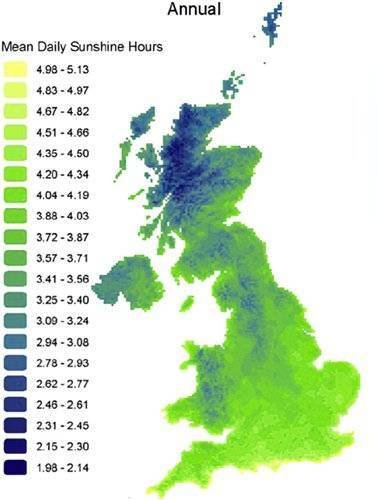 UK Sunshine hours (daily average)
FAQ's
How does a solar water feature work?
A solar water feature works by using solar panels to convert sunlight into energy, which is then stored in a rechargeable battery. This energy is used to power a pump that circulates water through the feature.
How long do solar water features last?
The lifespan of solar water features can vary depending on the quality of the product and how well it is maintained. However, on average, a well-maintained solar water feature can last up to 5 years or more.
What is the best material for a solar water feature?
The best material for a solar water feature is ceramic. Ceramic is durable, weather-resistant, and has a natural look that blends well with outdoor surroundings.
Conclusion
What is the Best Solar Water Feature? As you can see it is not a straightforward answer, there are quite a few options available when considering what is the best solar water feature. You should explore all of your options in order to determine the perfect solar water features for your home and your property.
If you research carefully, you will end up purchasing one or more of these wonderful water features for your garden, that not only provides an attractive attraction, but a cost-effective way to save you money, while you still have all the enjoyment of your garden.