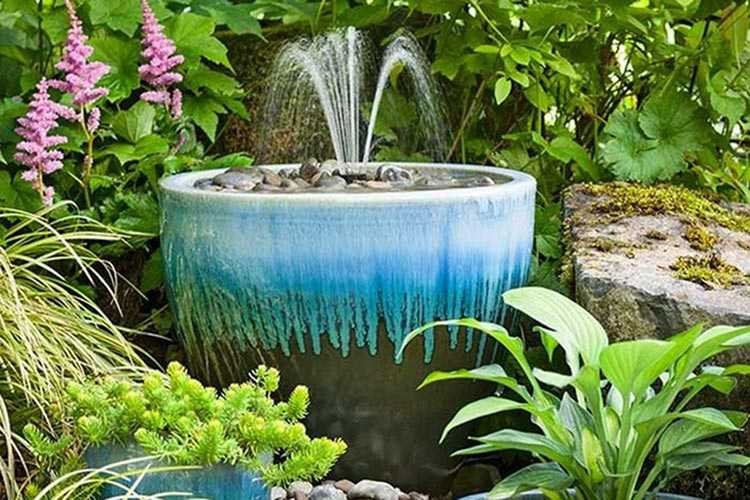 6 Best Solar Bird Bath Fountains
A solar bird bath fountain readily makes a beautiful garden solar water feature, designed for bird lovers and nature enthusiasts alike. They offer an eco-friendly and sustainable solution for creating a tranquil environment for birds to bathe and drink while adding a touch of elegance to your garden or patio.
These fountains use solar energy to power their pump, making them cost-effective and energy-efficient. In this post, we will explore the benefits of solar birdbath fountains, factors to consider before purchasing, top products of 2023, installation tips, and maintenance guidelines.
In a Hurry?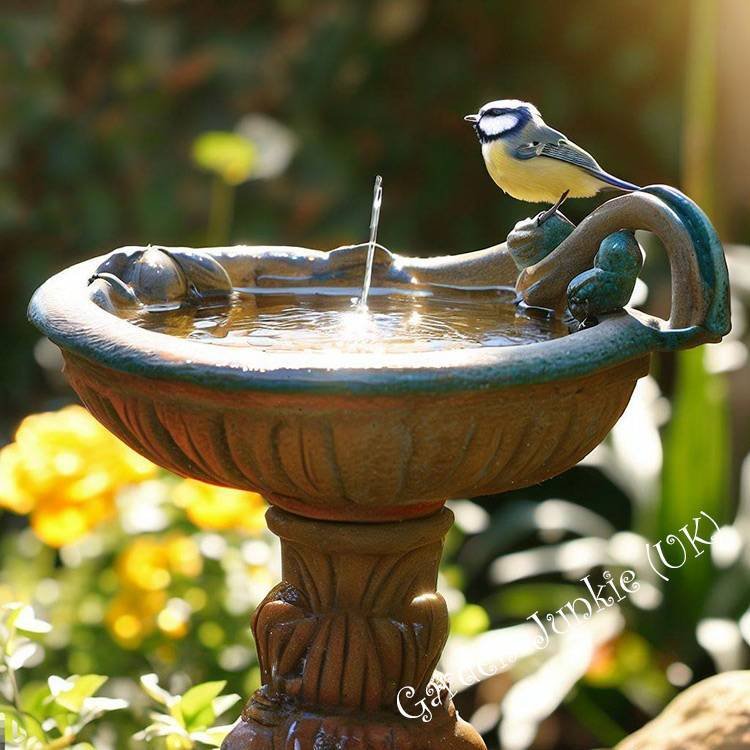 Best Solar Bird Baths: Bird Bath Fountains Come in all Shapes and Sizes
Solar Bird Bath Fountains – Our Top 3 Solar Fountains
Product Image
Best Overall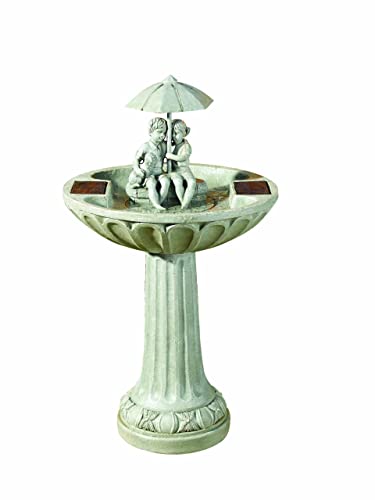 Best Runner Up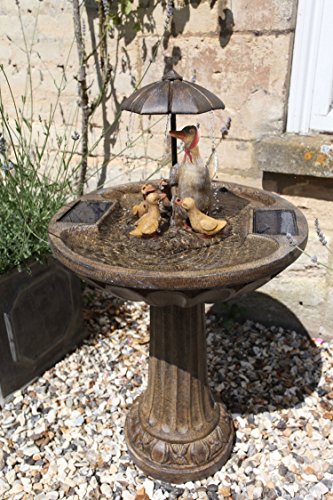 Best Under £20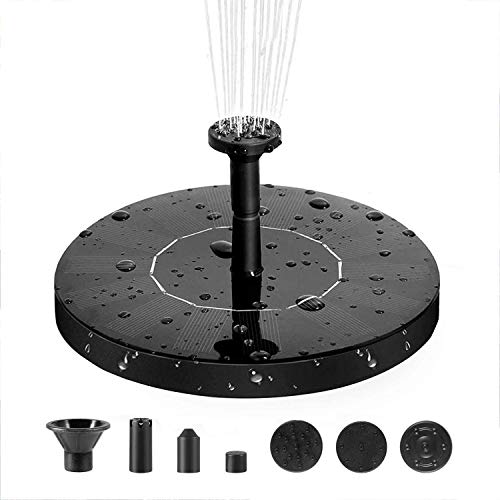 Model/Make
Greenfingers Smart Solar Umbrella Fountain
Garden Solar Duck Family Fountain
ASSCA Solar Fountain Pump
Size
50cm (L) x 50cm (W) x 84cm (H)
48cm (L) x 48cm (W) x 84cm (H)
Electrical Wiring Required
Best Overall
Product Image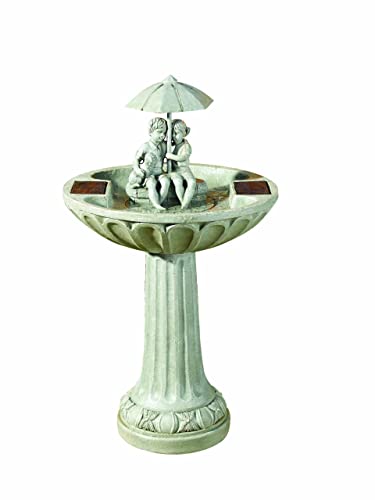 Model/Make
Greenfingers Smart Solar Umbrella Fountain
Size
50cm (L) x 50cm (W) x 84cm (H)
Electrical Wiring Required
Best Runner Up
Product Image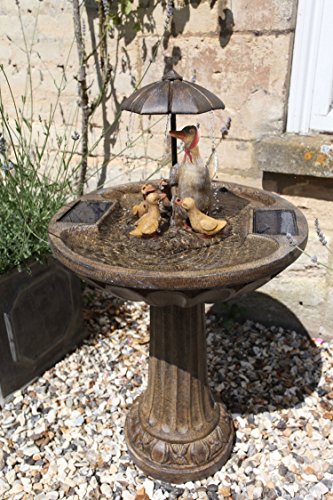 Model/Make
Garden Solar Duck Family Fountain
Size
48cm (L) x 48cm (W) x 84cm (H)
Electrical Wiring Required
Best Under £20
Product Image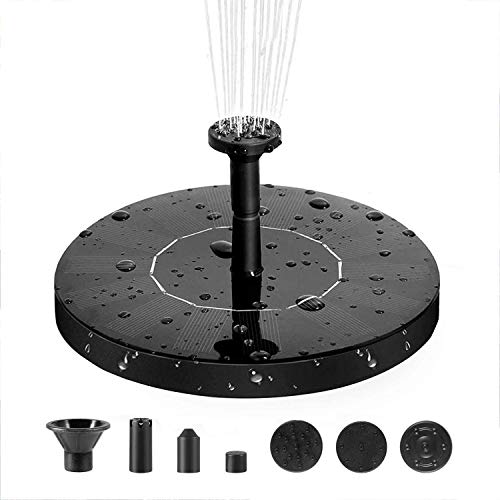 Model/Make
ASSCA Solar Fountain Pump
Electrical Wiring Required
Last update on 2023-12-04
Best Solar Bird Baths – A Buyers Guide
Smart Solar – Solar Powered Umbrella Fountain
Standing 2ft 4in (75cm) high x 1ft 5in (50cm) diameter and weighing approximately 22lbs (10kg) the aptly named 'The Lovers' (due to a romantic couple sitting under an umbrella) is a grey coloured solar powered bird bath fountain, made from strong impact-resistant plastic.
Due to its size, the birdbath fountain is ideal for a multitude of locations and is ideal for parts of a larger garden or a focal point for small gardens, terraces, and conservatories.
The fountain is powered by 2 fixed integrated solar panels on either side of the fountain and a low-voltage pump system, with a filter. The birdbath operates in direct sunlight and constantly recycles water from a hidden reservoir.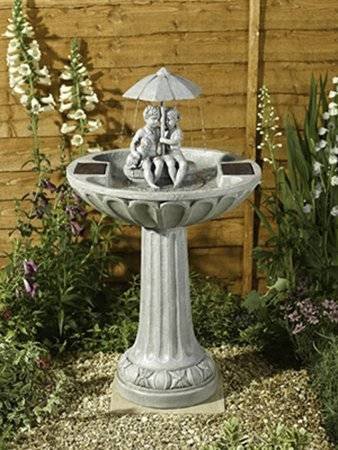 Although you do not necessarily need full and direct sunlight to operate the birdbath fountain pump, pump performance may drop slightly on an overcast cloudy day.
The birdbath fountain only needs the occasional 'topping' up of water (maybe more often in warmer weather) so maintenance is minimal. Once assembled the birdbath fountain will function within a few minutes.

Low Voltage Pump System
Hidden Water Reservoir
Pump Filter
Easy To Install
No Warranty Period Stated
---
Smart Garden – Garden Solar Duck Bird Bath Fountain
Is there anything more relaxing than sitting by a fountain and listening to the calming sound of water? There are many ways to bring the serenity of nature into your garden.
The bird fountain is powered by two solar panels and requires no wiring.
These two 'integrated' solar panels power up the fountain pump, which is cleverly hidden in a chamber below the fountain.
The duck figures are beautifully crafted out of hard 'bronze' effect resin, that would not seem out of place in any garden or patio. The resin is both frost and UV-resistant, so it should last for many years without any problems.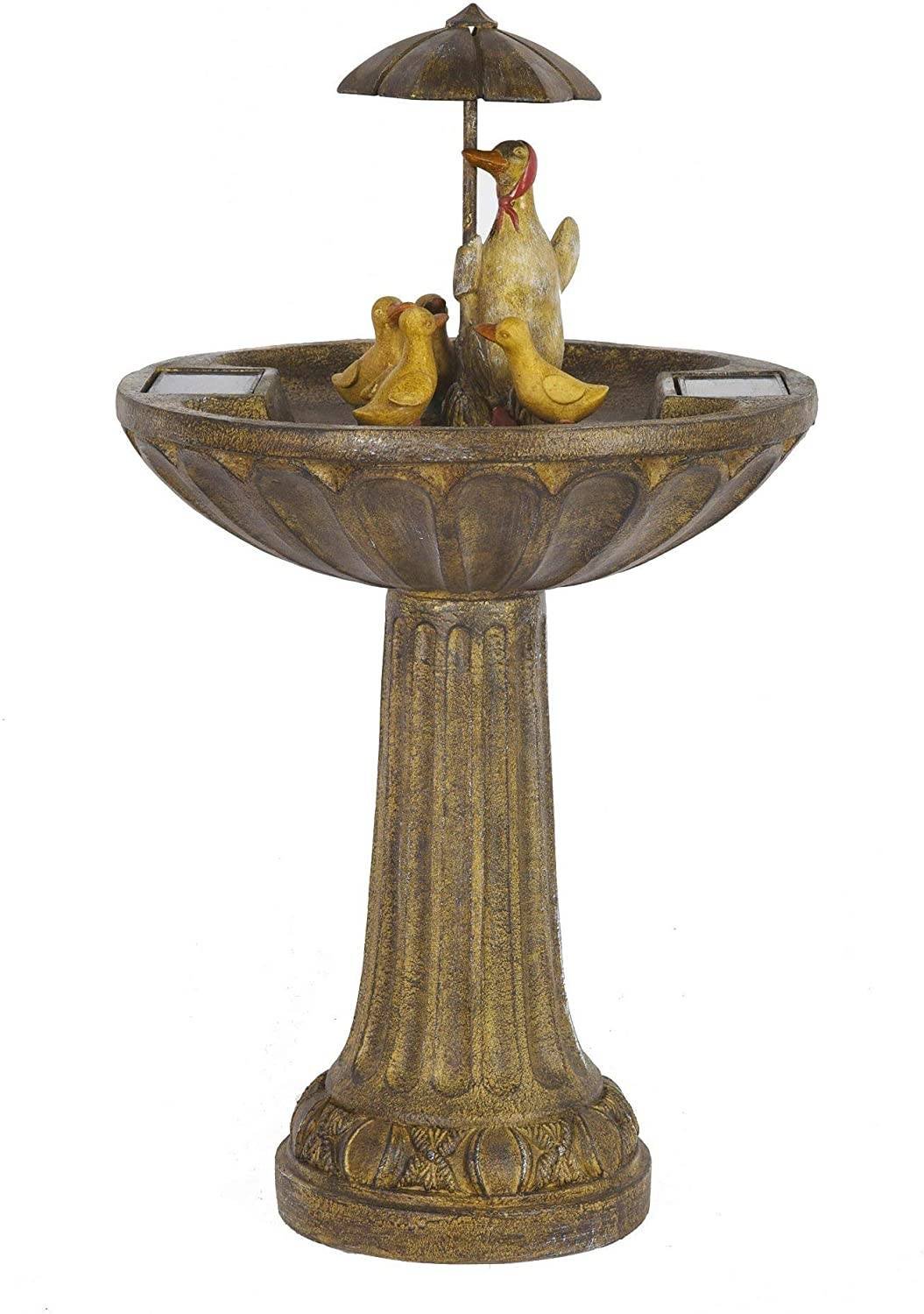 This duck-inspired solar birdbath should be placed where it has lots of direct sunlight, like any solar panel equipment. However, this bird bath still works reasonably well on cloudy or partly cloudy days.
Unfortunately, there is no low water level switching of the pump, so users will need to keep an eye on water levels, especially during hot weather.
Ideally suited for the smaller garden or patio this birdbath fountain is just 85cm H (34in) x diameter 48 cm W (19in) so will be suitable for most gardens or patio areas.
Easily put together you should be up and running within a few minutes. If you don't have a lot of money to spend on a solar birdbath, a traditional birdbath with a solar fountain pump may suit you better, which we review further down the page.

Duck Scene
UV & Frost Resistant
Bronze Resin Figures
Hidden Pump
No Battery Back-Up
A Little Pricey
No Auto Low Water On/Off
---
Aisitin – Solar Powered Bird Bath Fountain
We have looked at solar-powered birdbath fountains from the viewpoint and assumption of gardens that have neither a birdbath nor a fountain.
What about those of you who already have a 'bird bath' as your garden focal point but would like to have a solar-powered water fountain in your garden as well? What can we do?
Enter the Aisitin solar-powered bird bath fountain. This is a great budget option for those not wanting the expense of a new bird bath 'complete' with a solar-powered fountain. With the Aisitin you can 'spruce up' an existing bird bath' complete with a new solar fountain.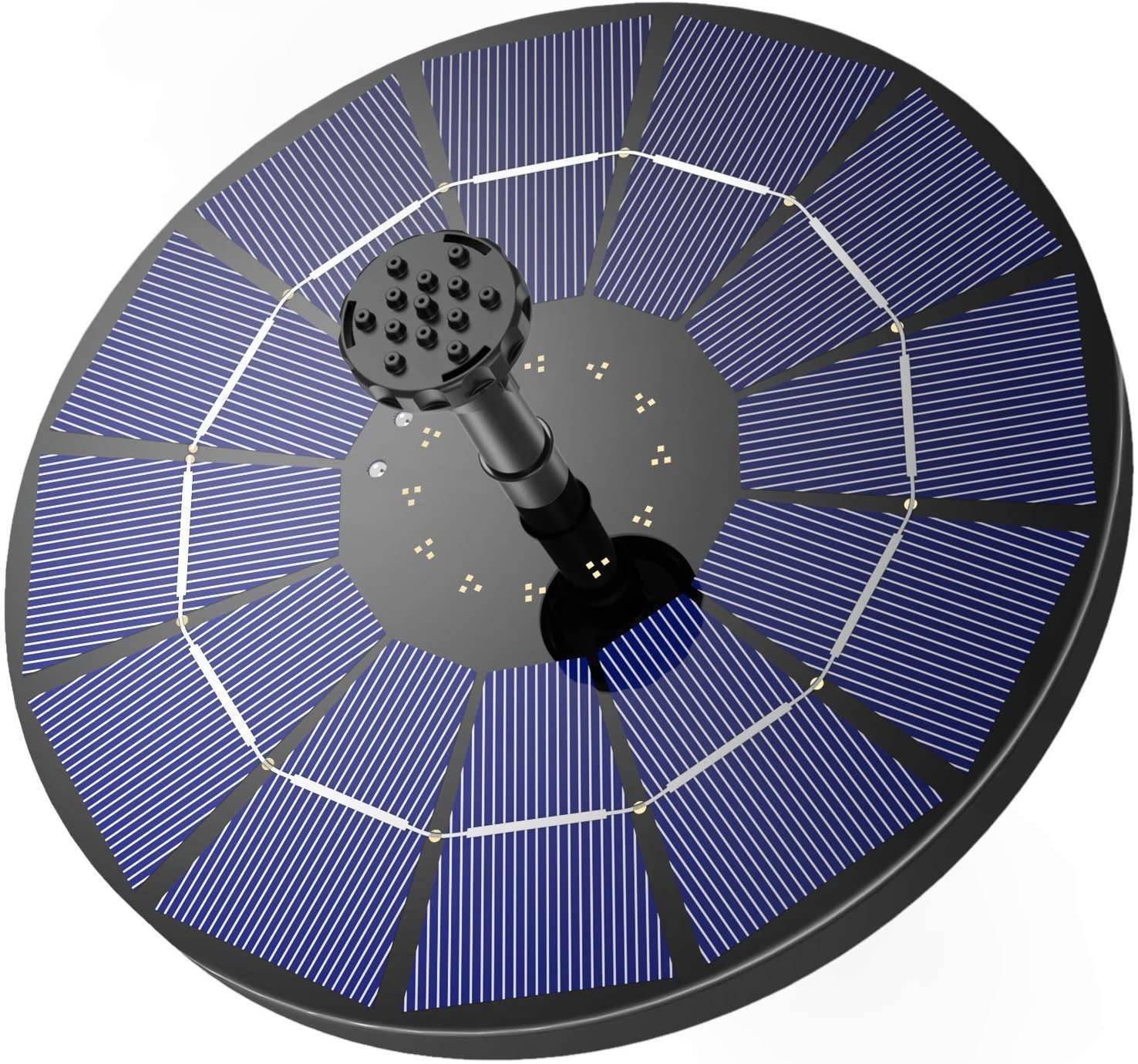 Within a few seconds of placing the Aisitin fountain in the birdbath, users can enjoy the tranquil and calming effects of flowing, bubbling water in one's garden.
The new Aisitin is an upgraded high-quality 7in (18cm) 3.5w solar fountain that can be placed in or secured to (there are 'sucker' feet on the bottom of the battery backup box) any existing birdbath, turning it immediately into a solar-powered birdbath fountain.
The Aisitin is very mobile and can be placed in any garden water feature when your mood suits or circumstances dictate. Simply take it out of one location and place it in another.
With the 6 different fountain heads available, users get the possibility of creating 6 different fountain spray patterns. The height of the fountain spray can be adjusted by changing nozzles to avoid spilling out of the birdbath (if that is where it's placed).
Another great feature of solar bird bath fountains is their ability to store energy from the sun or battery backup as most call it. With an onboard re-chargeable Li-ion battery this fountain can continue to function long after the sun has gone down and or on very cloudy days for up to a period of around 2-3 hours.
If that was not enough, the Aisitin also has an 'automatic' pump/motor protection built-in. Meaning users can configure this great function to stop the pump and motor from 'running' based on the water levels within the birdbath, which can possibly happen in the hotter summer months due to evaporation.
Easy to assemble once unboxed and easily maintained thereafter by simply wiping off the 'solar panel' from time to time or as necessary, perhaps leaves fall into the fountain. Occasionally cleaning of the spray head is required to ensure excellent spray results.
On the downside, several users find that the sucker feet are not strong enough to hold the fountain in place and find that the solar fountain 'floats' around the birdbath. A simple fix was to 'anchor' the fountain with a few pebbles or glass beads in the birdbath.
Finally, this incredible little birdbath fountain has a 'day/night' switch which allows the fountain to switch on and off automatically based on ambient light.

Battery Back-Up
Day/Night Switching
Auto Low Water Level On/Off
Easy Setup
6 Fountain Heads & Sprays
No Manufactures Warranty
Tendency to Float
---
Assca – Solar Powered Bird Bath Fountain
Our bargain-basement no-nonsense option for a solar-powered bird bath fountain is the offering by Assca.
This 6.3in (16cm) 7v solar-powered fountain with a 'brushless pump motor' and filter does just what it says on the box.
Users have a choice of 3 spray heads that provide different patterns, which deliver spray heights of between 10-18in (25-45cm) depending on the sun's strength. The pump delivers up to 50 gal/H (227L).
Requiring a minimum depth of around 2in (5cm) to operate, this solar water fountain has only the basic solar operation. No battery backup, low water level pump cut out or day-night switches. Once assembled and placed in a birdbath, the operation will be underway in a few seconds (if sunny a day)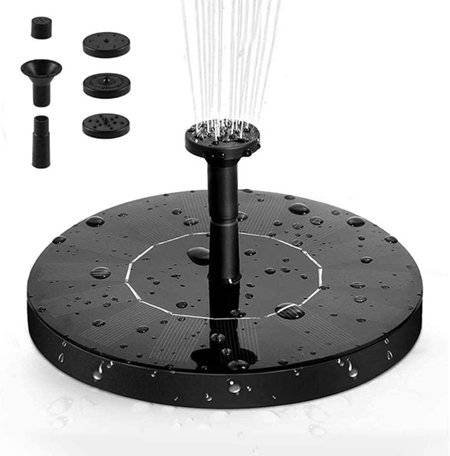 On very cloudy overcast days the fountain may stop working. Certainly, at dusk, the pump/fountain will cease to operate until the following day.
These additional functions are not always necessary or wanted by some users and as most things 'you get what you pay for' in terms of functionality. However, the 'brushless pump motor' is a definite plus and will prolong motor life.
With a little bit of 'maintenance' like regular checking of birdbath water levels, and keeping the solar fountain clean and nozzles free from dirt, you will have many years of trouble-free operation.
Like similar fountain models, some users may find that the solar fountain does tend to 'float about'. Remedies used to combat this are securing the fountain with small pebbles and or glass beads inside the bird bath.

Brushless Motor
3 Spray Heads
Pump Filter
---
Acadia Solar Powered Bird Bath
If you want an aesthetically pleasing, solidly built, no-frills solar birdbath fountain, constructed from a mixture of glass fibre and reinforced concrete, then take a look at the Acadia smart solar birdbath.
Finished in dark olive green, with 'climbing frogs' mounted on the bird bath and the decorative column the Acadia will blend in with most garden décor.
The Acadia simply provides a fountain of water utilising its 'patented' underwater integral solar panel & pump system.
The low voltage pump (complete with filter) recycles water from a hidden water reservoir and up to the fountainhead.
Standing 2ft (62cm) high and 1ft 4in (45cm) wide the birdbath weights approximately 16.5ibs (7.5kg) and provides a great focal point in the garden, courtyard, or patio.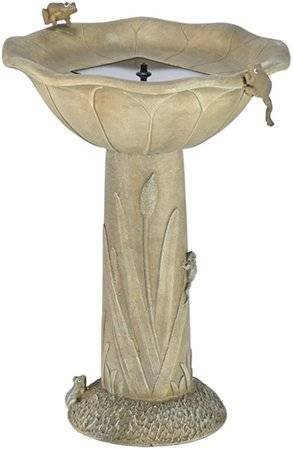 The Acadia while beautiful and sturdily built as many users attest to, it is extremely basic in its function. The manufacturer states it should only be placed in full direct sunlight for it to function correctly. There is no battery backup, day/night switch or even low water level pump cut out to protect the pump.
Fountain maintenance is much the same as other solar fountains in that you should keep the solar panel regularly clean and free from dirt and debris. Monitor water levels, particularly in the warmer months.
The manufacturer recommends that the fountain should be drained and overwintered in a covered area like a garage if the temperatures tend to drop below 4°C /39°F.  
Despite its basic function and high price, the Acadia remains an extremely popular solar bird bath fountain amongst the gardening fraternity in the UK.

Fountain Aesthetics
Solidly Built
Secret Water Reservoir
Lack of Functionality
High Price
---
Aisitin – Solar Powered Bubbling Bird Bath Fountain
Those with a 'bird bath' in their garden already, perhaps in a slightly 'shaded' area may look to install one of the most popular mobile solar panels and birdbath fountain combinations on the UK market today, the Aisitin solar water fountain.
The fountain has 6 different spray heads which can provide various spray heights and styles. The Aisitin also has a 5.5w high-quality solar panel that powers the water fountain pump.
The Aisitin's solar/PV panel measures just 11.5in x 8.6in x 2in (29cm x 22cm x 5cm) and weighs just 2.6lb (1.2kg) so is easily moved around and users can track the sun if required. The solar fountain itself is 7in wide (18cm) and will almost certainly fit in all birdbaths.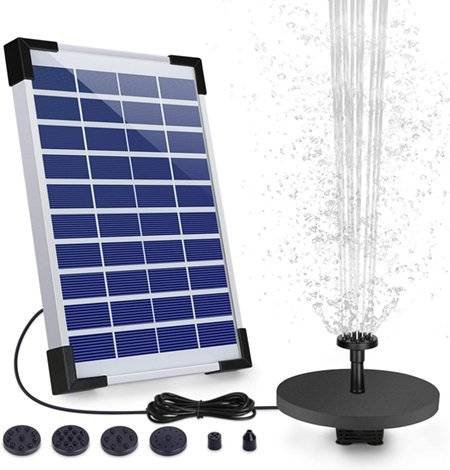 For those technical buffs amongst you, the solar fountain can deliver a maximum of 109 Gall/H (500L/H) which is great for water circulation purposes even for larger applications like fish ponds. With a pump head of 70in (177cm) good spray should be achieved providing there is good strong sunlight.
Place the solar fountain in a birdbath with a minimum water depth for the pump to function correctly of 1in (2.5cm) but we advise at least double that depth to be safe.
One point here, the fountain has 'sucker' feet to secure it, to the birdbath, but often users find this is inadequate (most fountains seem to have this issue) and they need to secure the unit with 'pebbles' to stop the fountain floating around.
One other practical way to secure the pump/fountain users have found that works well is to place a small suitable-sized piece of glass in the bottom of the bird bath and attach the 'sucker feet' to that. This seems to work quite well in securing the fountain within the birdbath, once covered with a few pebbles and filled with water.
The electrical cable length between the fountain and the panel is approximately 10ft (3m) so plenty of cable length always ensures your PV panel is always in full sun.
Another feature of the panel is its 1500 mAH 'built-in' Li-ion battery backup mounted on the back of the solar/PV panel. The battery will provide an additional 2-2.5 hours of extra runtime when fully charged as dusk falls or when you may experience very cloudy overcast days the pump will continue to run for this period.
One important feature of any birdbath fountain is the ability of the fountain pump to stop running at 'low' water levels. The Aisitin has this most important of features incorporated, so if the fountain is lifted from the water or the water level goes below minimum working levels the pump will cease to run.
Easily put together and requires just the general maintenance for the birdbath/solar panels, by ensuring the pump filter and solar panel are kept clean and free of debris.
This provides a much longer pump and panel life. The manufacturer advises the panel/pump should have a life of around 10,000 hours if used and maintained correctly, but I can't find it as with most systems and formal manufacturer warranties.

Battery Back-Up
Movable Solar Panel
Low-Level Auto Cut Off
Good Cable Length
6 Spray Heads
---
How to Install a Solar Birdbath Fountain?
Installing a solar birdbath fountain is easy and straightforward. Follow these simple steps to install your fountain:
Choose a suitable location for your fountain, preferably near a sunny spot for maximum solar panel exposure.
Assemble the fountain parts according to the manufacturer's instructions.
Place the solar panel in direct sunlight and connect it to the fountain pump, (You may have a combined unit, you can skip this step if it is).
Fill the birdbath with water and turn on the pump to test the water flow.
Adjust the water flow rate (if possible to do so) and the fountain position to achieve the desired water effect.
Enjoy the sight and sound of your new solar birdbath fountain.
Maintenance of Solar Birdbath Fountains
Proper maintenance of your solar birdbath fountain ensures its longevity and performance.
Here are some maintenance tips:
Cleaning and Water Treatment – Regularly clean the fountain to remove debris and algae that may clog the pump or harm the birds. Use fresh water for cleaning and a soft brush to clean the fountain parts. Also, if possible treat the water with a natural water conditioner to prevent the growth of algae and bacteria.
Winterisation and Storage – In cold weather, drain the water and remove the fountain and or pump and the solar panel for storage indoors. Clean the fountain parts and cover them with a protective cover to prevent damage from frost or snow.
Advantages of Using Solar Birdbath Fountains
The use of solar birdbath fountains has numerous benefits, including environmental, financial, and health-related advantages. One of the primary advantages is that they are eco-friendly and do not require electricity, thus reducing your carbon footprint and monthly utility bills.
They also eliminate the need for complex wiring and maintenance, making them easy to install and operate. Moreover, solar-powered fountains provide a constant supply of fresh water, which attracts birds, butterflies, and other wildlife to your garden, contributing to the biodiversity of the ecosystem. Lastly, the sound of running water has a calming effect on the mind and body, reducing stress levels and promoting relaxation.
Factors to Consider Before Purchasing a Solar Birdbath Fountain
Before purchasing a solar birdbath fountain, it is essential to consider several factors to ensure that you get the best product for your needs.
These include:
Fountain Type – There are several types of solar birdbath fountains, including cascading, spouting, and bubbler fountains. Each has its unique features and water flow patterns, so choose the one that suits your taste and preferences.
Solar Panel Quality – The quality of the solar panel affects the efficiency and durability of the fountain. Ensure that the solar panel is of high quality and can withstand harsh weather conditions.
Fountain Size and Water Flow – The size and water flow rate (head) of the fountain determine the amount of water and the height of the spray. Choose a size and water flow that matches the size of your birdbath and your desired water effect.
Pump Cut-Out – If possible look for a solar fountain with a pump function that 'cuts out' (stops running) automatically when the water level is low or the pump/fountain is removed from the water source. This will save any pump damage due to lack of water in the long run.
Material and Durability – The material and durability of the fountain determine its longevity and resistance to wear and tear. Choose a durable and weather-resistant material such as ceramic, stone, or metal.
Design and Aesthetics – The design and aesthetics of the fountain are crucial in enhancing the beauty of your garden or patio. Choose a design that compliments your outdoor decor and adds a touch of elegance to your garden or outdoor space.
FAQ's
Can a Solar Bird Bath Fountain Work on Cloudy Days?
Yes, a solar bird bath fountain can still work on cloudy days, although the water flow may be reduced. Solar panels are still able to collect energy from the sun even on cloudy days, although the output may be lower than on sunny days.
How Does a Solar Bird Bath Fountain Work?
A solar bird bath fountain works by using solar panels to collect energy from the sun. The sun's energy is then converted into electricity, which is used to power a water pump.
The water pump circulates water through the fountain, creating a fountain effect in a bird bath or other outdoor water features.
What Are The Benefits of Using a Solar Bird Bath Fountain?
There are several benefits of using a solar bird bath fountain, they are eco-friendly as Solar bird bath fountains do not rely on traditional energy sources and do not produce any emissions, making them a more eco-friendly choice.
They are also energy-efficient since they are powered by the sun, and solar bird bath fountains do not require electricity or batteries to operate them.
Solar bird bath fountains are typically easy to install and do not require any complicated wiring or electrical work. Attracting birds as sound and movement of the water will attract birds to your garden or outdoor space, providing an enjoyable viewing experience.
What Should I Consider When Buying a Solar Bird Bath Fountain?
There are several factors to consider when buying a solar bird bath fountain.
Consider the size of your bird bath or outdoor water feature to ensure that the fountain will fit properly. Check the power output of the solar panels to ensure that they are sufficient to power the water pump. Look for a fountain made from durable and weather-resistant materials, such as resin or ceramic. 
Choose a design that fits with your garden or outdoor space, and consider whether you prefer a fountain with a spray or bubbler effect. 
Can I Replace The Solar Panel on my Solar Birdbath Fountain?
Most solar birdbath fountains come with a fixed solar panel that is integrated into the fountain design. However, some models may allow you to replace the solar panel if it gets damaged or wears out.
Conclusion
Solar birdbath fountains offer a sustainable and eco-friendly way of creating a tranquil environment for birds while adding aesthetic value to your outdoor space.
When purchasing a solar birdbath fountain, consider factors such as fountain type, solar panel quality, fountain size, material and durability, and design and aesthetics.
Additionally, proper installation, maintenance, and winterisation will ensure the longevity and performance of your fountain.