Reading Time:
6
minutes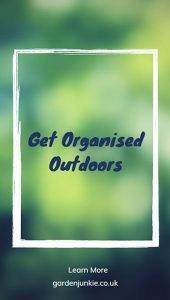 We should stress this is not an exhaustive deck box buyers guide, rather a quick informative guide to some basic Deck Box questions commonly asked.
What is a garden deck box? If you come from an era like me where you put most things that were used and or scattered around the garden in the proverbial garden shed, then the term garden deck box would seem an unfamiliar term to you as it was to me. So, I decided to do some research on the subject. Let us investigate further.
A Garden Deck Box or Garden Storage Box as its sometime known is smaller than a traditional shed, a deck box is however a large weatherproof box of varying sizes and shapes, often maintenance free these storage boxes can be constructed of wood, metal or plastic. Deck boxes can store and protect a whole host of outdoor items one would and often do put in a larger garden shed.
Co-incidentally, due to their general shape and construction, most, but not all deck boxes can double up as extra garden bench seating or perhaps even as a tabletop.  Dependent on the model and make one might choose, using a deck box for storage then, does have a few advantages over a garden shed in this respect.
If you are looking to tidy up your garden area of excess clutter, organise and securely store external equipment or maybe your garden area is not big enough for the traditional garden shed, then a deck box could be the storage solution your looking for.
What do You Store in a Garden Deck Box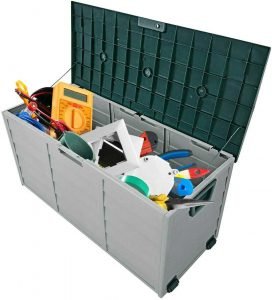 What can be stored in a deck box? Every homeowner has various needs for garden or backyard storage. Just about anything small enough that you can imagine can fit in a garden deck box. Of course, whatever you put in it must and should be able to be safely stored.
So, things like chemicals, paint and electrical items are not recommended to be stored in a deck box.
Patio garden deck boxes are generally used for storing most things from cushions for garden furniture for example, or perhaps even foldable garden furniture if your deck box is big enough. Another great use would be garden equipment or your unsightly dustbin. Basically, deck storage boxes are capable of effectively storing all your garden tools, pool supplies, kids garden toys and many other patio accessories.
Find below a list of storage ideas for a deck box, although not exhaustive by any means these are some likely candidates you could possibly store in a garden deck box.
Children's Toys
Outside Games
Footballs and the like
Garden Furniture
Cushions
Outdoor Blankets
Lawnmower
Garden Tools
Brushes and Brooms
Garden Shoes and Wellington Boots
Wheelie Bins/Dustbins
Small Children's Bikes
Swimming Pool Cleaning Equipment
Swimming Pool Equipment (Rings, Floats, Swim Noodles etc..)
BBQ Grilling Items
How Big a Deck Box Do I Need
This is a question that is difficult to answer as to its certainly dependent on your own personal storage needs. However, possibly something around 130cm x 60cm x 60cm (468Litres) or 51in x 24in x 24in (17 cu ft) is a good average size for small households.
Deck Boxes, however, can range in size, anything from a small 68cm x 39cm x 90cm (239Litres) or 27in x 15in x 35in (8 cu ft) store cupboards, up to large monster deck boxes like the Ilesto Benni Boy measuring a whopping 185cm x 85cm x 69cm (1085Litres) or 73in x 34in x 27in (39cu ft) in size, possibly even larger.
Tip: Deck box dimensions are generally measured internally. Please ensure you confirm sizes and they meet your storage needs.
Deck Boxes are extremely easy to assemble usually with no tools required for assembly the boxes are suitable for inside and especially outside of a property. Deck boxes come in many shapes and sizes to suit most needs, so you should not worry or have difficulty in finding a suitable size that suits your own needs.
If you want to check the volumes of different storage boxes, then you can just follow the link. Check your volumes (L) or (cu ft)
Enter your 2 desired metrics: volume:- ie.. Cubic centimetres to Cu ft in the 2 boxes provided enter the total figure of what you want to convert in the box below and press the convert button. Your conversion will be shown below.
Video: A Large Garden Deck Box for Storage
How Many Cushions Fit in a Deck Box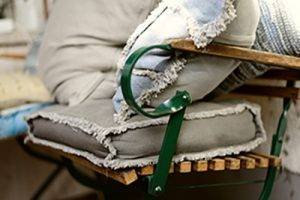 Another subjective question, unfortunately. However, to give you some idea it should be advised numbers are very dependent on the size of your deck box and or cushions.  Anything from 2 – 8 cushions should be able to be placed comfortably in an average-sized box of 130cm x 60cm x 60cm.  I do however recommend you measure all the cushions you want to place in the box first, also decide if they would be flatly placed in or maybe they need to be folded, based on your own preference.  
Once, measured you could then purchase a deck box with certainty that your cushions will fit in comfortably.
How do You Secure a Deck Box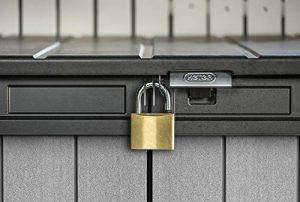 As far as securely locking a deck box is concerned and making your storage box secure that way, this is straight forward as nearly all deck boxes come with the means to fit a padlock to the box itself.
However, for those with properties that are not sufficiently secure, additional steps maybe necessary or required to give you peace of mind in securing your box with additional security. One of the best solutions if you are not wanting to move your deck box around is by fixing it securely to the ground and or patio in one location.
This can be accomplished by simply drilling the four corners of the box floor with holes enough in size to take large 4 screws or bolts and corresponding metal washers to fix the box securely to the ground surface. It is suggested these should be no smaller than M10 or M12 (3/8th or ½ inch) bolt or screw.
The tricky part comes when you need to waterproof the holes. Two (2) methods we would recommend.
Silicone Epoxy Resin generously spread around the 4 screw/bolt heads and washers before you screw/bolt the box to the ground. This will form a seal between the box (inside) the washer and bolt/screw when tightened, hence making the holes waterproof.
A rubber gasket or washer preferable similar in size to the metal washer. This should be placed between the metal washer and the box. Hence once tightened the rubber gasket/washer will squash together forming a waterproof seal between the box and the washer.
In Conclusion Some Final Thoughts
I hope we have given you a better understanding around deck boxes and you now know what a deck box is at least. Hopefully, we have provided you with enough information above to at least get you on your journey to finding a suitable storage box for your needs.
You should be armed sufficiently to know what to look for in terms of materials, how to measure the correct size you require and calculate the volume of your box.
We kicked you off with some ideas of what a box can be used for besides storage and pointed you in the right direction with what can be stored in your deck box and lastly ensuring how you can safely and securely fix your storage box to a solid or wooden floor should the need arise.
Deck boxes are reasonably cheap, easy to assemble, great for storing and tiding an area of your property particularly your garden or backyard. Deck boxes offer a good solution and a cheaper alternative to garden sheds in most cases.