Reading Time:
14
minutes
The air in your home can be filled with a lot of different contaminants and allergens. If you suffer from asthma or other allergies, this can lead to issues that make it hard to live there.
A HEPA filter air purifier can help with this problem by removing 99% of the dust, pollen, pet dander, and other particulates in the air.
In this post we'll take a quick look at what exactly a HEPA filter is and isn't and how it works. We'll also discuss what makes some filters better than others, like their CADR rating, do you need an activated charcoal filter? From this, we outline the top 5 Best HEPA air filters for your home.
What is the Best Air Purifier for the Home?
If you don't have much time, use the link below to quickly find out my 'Top Pick' for the Best 'HEPA Air Filter for the Home' available for you on Amazon. You can be assured we only recommend products based on their quality, usability and value for money...
- 'Best Overall'- The Hathaspace Smart True HEPA Air Purifier
HEPA Air Filters for the Home: HEPA Air purifiers, when buying HEPA filters for the home ensure their efficiency is 99.97% (True HEPA)
Best HEPA Air Filters for the Home - Our Top 3 Picks
Product Image
Best Overall
Runner-Up
Best Under £50
Dimesions
33cm (L) x 17.8cm (W) x 50.8cm (H)
41cm (L) x 24cm (W) x 60cm (H)
17cm (L) x 17cm (W) x 26.5cm (H)
True HEPA Filter / % cleaned
Best Overall
Product Image
Dimesions
33cm (L) x 17.8cm (W) x 50.8cm (H)
True HEPA Filter / % cleaned
Runner-Up
Product Image
Dimesions
41cm (L) x 24cm (W) x 60cm (H)
True HEPA Filter / % cleaned
Best Under £50
Product Image
Dimesions
17cm (L) x 17cm (W) x 26.5cm (H)
True HEPA Filter / % cleaned
Last update on 2022-06-21
What is a CADR Rating in Air Purifiers?
A Clean Air Delivery Rate (CADR) is a certified measure of an air purifier's effectiveness. It measures the amount of air that is cleaned in cubic meters per hour. (CM/hr) in Europe or cubic feet per minute (CFM) in the US for tobacco smoke, pollen, and dust.
CADR ratings are used to assess the effectiveness of air purification devices. A CADR air purification rating is given to provide you with an objective gauge to assess the performance of an air purification device.
The Clean Air Delivery Rate is the most crucial metric when examining air purifiers in terms of velocity and efficiency.
HEPA filters were first used in hospitals and laboratories to control the spread of pathogens and germs. They were designed to be able to remove 99% of bacteria, viruses, and other microscopic contaminants from the air.
HEPA stands for "high-efficiency particulate air". The filter is designed to catch particles larger than 0.3 microns while allowing clean air to flow through. That's pretty good considering a human hair is around 70 microns in width.
These filters can be used in many different applications to improve the quality of the air we breathe. The best HEPA air filters will capture small particles like dust, pollen, dander, mould spores, and other allergens. They are particularly effective at capturing microscopic particles like smoke and dust mites.
How Does a HEPA Filter Work?
To understand how a HEPA filter works, it helps to know a bit about how air gets distributed in a room/house.
Healthy indoor air is a necessity for healthy living. This can be difficult to achieve in a home setting, where dirt, dust, and other household contaminants can easily be brought inside.
An air purifier can help by removing many of these unwanted particles. The air purifier does this by drawing air in from the room and passing it through an air-purifying filter.
There are a number of different types of filters, including HEPA. These filters work by collecting the particles in the air and holding them until they can be disposed of, for example, cleaned and re-used or eventually replaced. 
HEPA filters are some of the most effective air filters available. They can remove up to 99% of dust, pollen, and other contaminants from the air. The best air purifiers with HEPA filters can also clean the air of unpleasant odours when combined with an active charcoal filter.
What is an Activated Carbon or Charcoal Filter?
How to Choose the Right Filter for You?
When purchasing an air filter, you'll want to start by thinking about what type of contaminants you're trying to filter. Different filters are better at removing certain types of particles. For example, a HEPA filter is great at removing dust and pollen. But it can't remove odours. A carbon/charcoal filter, on the other hand, is great at removing odours but not so great at removing dust.
A HEPA-carbon filter combination however is great at removing both contaminants. You'll also want to consider your budget in this case. The best HEPA filters for the home are often more expensive than others. But they'll save you money in the long run by reducing the number of allergy medications you need to take. Look for a filter that has a high-efficiency rating. HEPA filters are rated from 99% to 99.97%. (True HEPA) The higher the efficiency, the better the filter.
The Best HEPA Air Filters for the Home - Buyers Guide
Hathaspace Smart True HEPA Air Purifier
The 6-in-1 Smart True air purifier from Hathaspace is your solution to cleaner air.
This smart device can filter and destroy airborne pollutants like dust, pet hair, pollen, mould, bacteria, viruses, smoke, and odours.
One of the filters used is a true HEPA filter that traps 99% of small particles (like pollen) and an active carbon filter to trap odours. 
There are altogether six (6) stages of air purification in the unit to protect your lungs from dust particles, mould spores, germs, and air pollutants that are common and often invisible.
Nano-Cold Catalyst Filter for (Pet Hair)
Cellular Activated Charcoal Filter for (Smoke, Gases, Odours
Anti-Bacterial Filter for (Bacteria, Viruses, and Fungi)
True Hepa Filter for (Removes 99.97% of airborne pollutants to 0.3 Microns)
UV Light Sterilisation (245 nm ultraviolet to sterilize a variety of bacteria and eliminate odour) 
Ionizer (Releases negative ions (anions) that electrically charge air particles, neutralizing them)
The absorption of airborne chemicals such as benzene, formaldehyde, and VOCs, which are present in cooking and cigarette smoke, is accomplished using the unit's cellular-activated charcoal filter.
Every pet household can benefit from a preliminary nano-cold catalyst filter, which captures all pet hair and dander so that you and your pet friends can breathe easier.
Allergens and pollutants, such as pollen, dust mites, mould, and bacteria, are destroyed by a true HEPA filter an antibacterial filter down to 0.3 microns in size.
In addition, UV light sterilisation, using 245 nm ultraviolet light, can further sterilise a range of bacteria and eliminate odours caused by smoke and mould. (This feature is optional and can be turned on or off.)
Finally, the 'Ionizer' emits negatively charged ions (anions) that electrically charge air particles, making them easier to trap. (The function can be switched on or off.)
All filters last around 6 months when used 24/7. Hathaspace Additional filters will need to be purchased at this time to ensure continued clean air.
Additional functions of the Hathaspace Smart True HEPA Air Purifier, include an Air Quality Sensor (detects and displays your indoor air quality in real-time), and Auto Mode (which will adjust its fan speed automatically based on your real-time air environment.) Remote Control (the flexibility of controlling your air purifier with a remote.) and Sleep Mode (it will operate at its most quiet level (18 dB) and the units lights 'turn off' completely.
The unit will 'totally clean' the air of a room of 350 sqft | 32.5m² twice in an hour, ie. 48 times in 24hrs. So suitable for a large room or medium to small property.
All this and a 2-year manufacturer warranty (once you register) ensure the purchaser has complete confidence in their purchase.

GermGuardian True HEPA Filter Air Purifier

The GermGuardian True HEPA Filter Air Purifier provides a healthy living space with an easy to use, 5-in-1 air purification system, including a 'True HEPA' filter which eliminates up to 99.97% of pathogens, dust, pollen, pet dander, mould spores, and other allergens as small as .3 microns from the air. 
The units HEPA filter also includes an 'antimicrobial' substance to prevent mould, mildew and odour-causing bacteria from growing on its surface.
Furthermore, UV-C light is used to kill airborne viruses such as influenza, MRSA, rhinovirus, and volatile organic substances using titanium dioxide to eliminate the airborne bacteria. 
While a pre-filter traps dust, pet hair, and other large particles while extending the life of the HEPA filter itself.
The GermGuardians 'activated' charcoal filter helps to reduce odours from pets, cooking fumes, and smoke.  In addition to lowering unwanted odours, you will have a good night's sleep with cleaner air with the 'ultra-quiet' sleep mode of the GermGuardian Air Purifier.
Using a tower design and boasting a total CADR rating of over 100+, the GermGuardian air purifier is best suited for small to medium rooms, providing 743 sqft | 69m² of clean air at (1 air change per hour) or 371 sqft|34.5m² at (2 air changes per hour) or 248 sqft|23m² at (3 air changes per hour) and 153 sqft|14.2m² at (4.8 exchanges per hour). 
This air purifier also features a 'Filter Change Indicator' and 'Bulb Replacement Indicator' to help you keep track of when it's time for filter maintenance. 
Filters should be replaced approximately every 6-8 months and the UV-C bulbs should be replaced every 10-12 months to ensure optimum air delivery.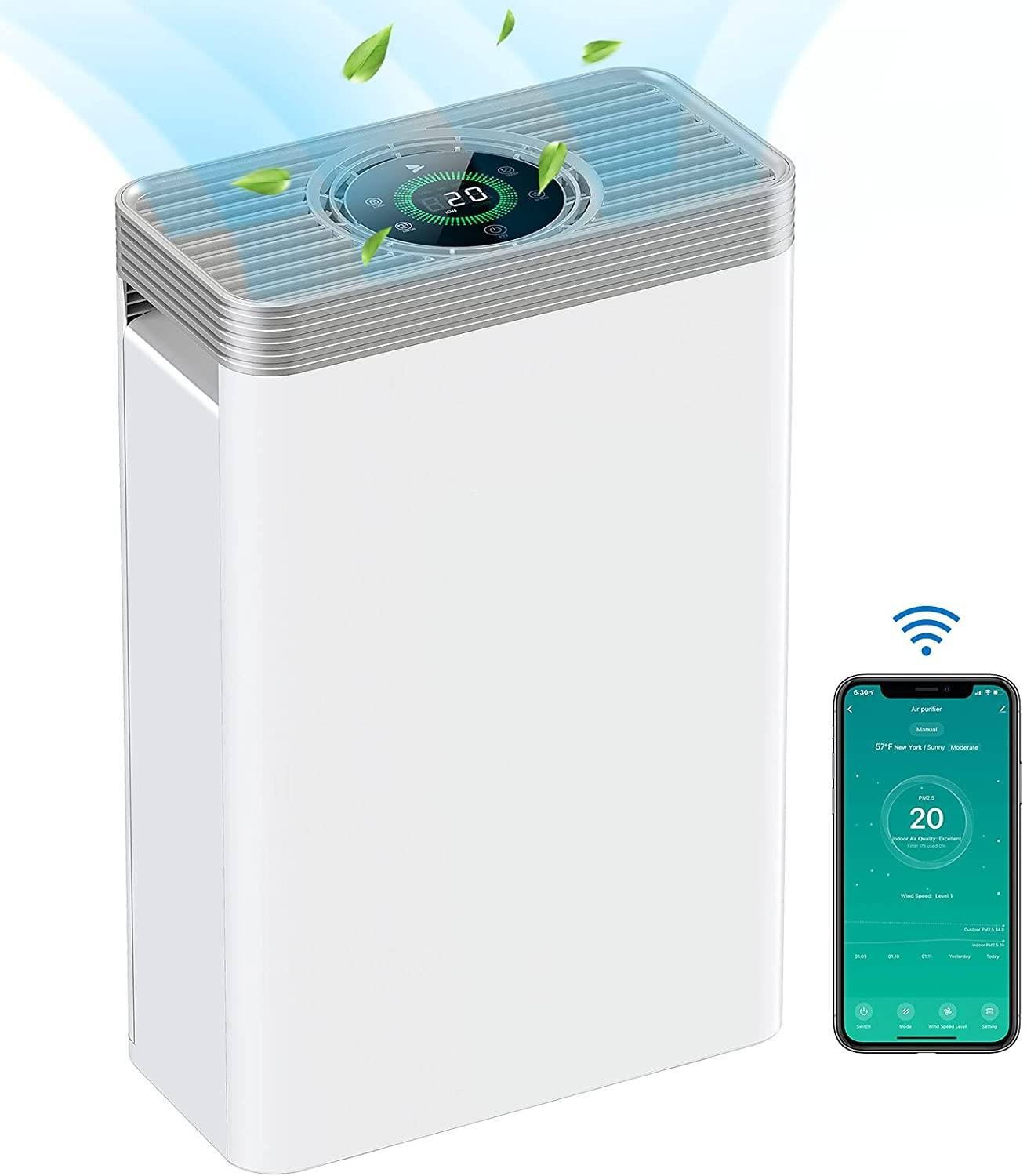 The 3-speed, 5 stage filtration Generic HEPA air purifier, is a high-efficiency HEPA filtration system in one.
The Generic air purifier can filter an area of up to 1076ft² (100m²) per hour. A CADR rating of 304 m3/h is given but will need confirmation from the manufacturer.
With a modern sleek design, the unit feels at home in large or small rooms, bedrooms, offices, living rooms, nurseries, kitchens, and even basements.
This air purifier is perfect for removing allergens, smoke, and pet odours from the air. It features a pre-filter, medical-grade true HEPA filter, an activated carbon filter, and a cold catalyst filter to remove contaminants from the air. 
The activated carbon filter absorbs smoke, pets, and cooking odours. The true HEPA filter captures 99.99% of airborne particles as small as 0.3 microns, as well as pet dander, pollen, mould spores, and dust.
This air purifier is perfect for people who want to get a good night's sleep without being disturbed by noise. The 'Sleep Mode' has a noise level of only 22dB, which is barely noticeable and will not disturb your sleep cycle. 
You can also save energy with the Energy-saving mode, which cleans the air quietly and efficiently. The 'Child Lock' prevents pets or children from accidentally changing the settings on the purifier.
This easy-to-use HEPA air purifier is perfect for anyone looking for a quality air purifier that is easy to turn on and off. 
The fan speed mode (low, medium, fast) and timer option (1h, 2h, 4h) are adjustable to best suit your needs, and the 'Child Lock' button can be pressed and held for 3s to lock/unlock the touchpad. The four-colour lights will show you the air quality in your environment (Green=Excellent, Blue=Good, Yellow=Fair, Red=Poor),
This HEPA air purifier is perfect for smoke and odour elimination. The built-in smoke and odour sensor detects and eliminates unwanted smells quickly and easily. The 'Auto Mode' adjusts the fan speed according to the air quality level in your room, so you always have the perfect amount of airflow.
The unit sports a 'Negative Ion' filter, this air purification mode is much safer than ozone and thus is harmless to the human body. 
Another little feature is the unit is the "Smart Life" free APP, which allows you to control your HEPA air purifier easily, such as setting the timer or adjusting fan speed and checking the air quality, etc.
However the  'phone app' currently does not support this turning on/off negative ion function though. Some users found it difficult to connect the phone app and pair up with the unit over the internet.
No extended warranty is apparent from the manufacturer, so a standard 12 month UK warranty would seem to apply to this unit.

Winix ZERO Pro Air Purifier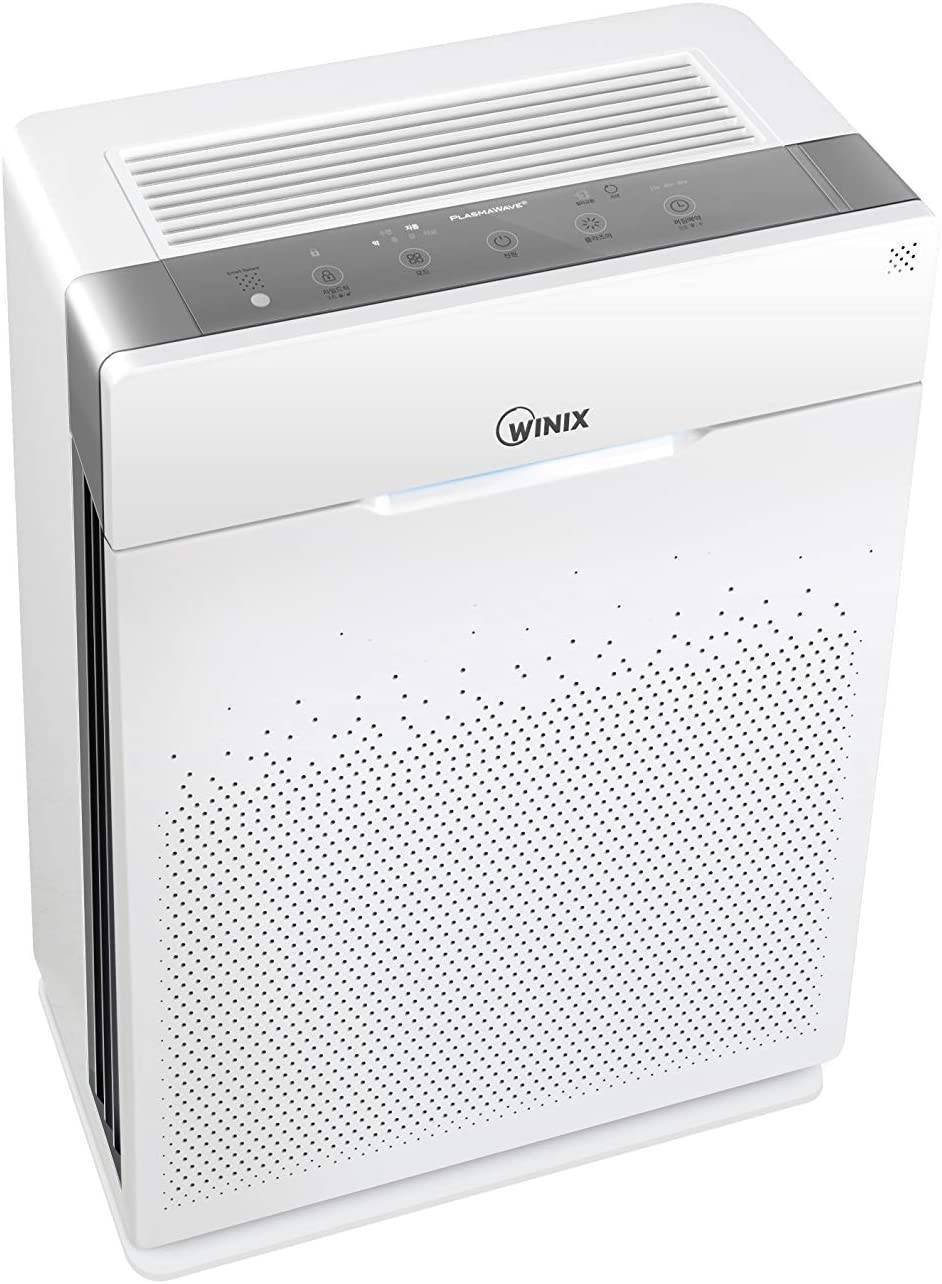 Winix ZERO Pro Air Purifier is one of the most powerful air purifiers on the market. 
The WINIX ZERO Pro is a fully automatic air purifier that cleans your indoor air environment from allergies, fine dust (PM2.5), dust, pollen, pet dander, cigarette smoke, mould spores, VOC's and household odours.
WINIX ZERO Pro air purifier with its 'Dual Sensor' Technology is the perfect balance of sleek design and powerful purification. This unit can be used in all rooms up to 120 m² and has a CADR rating of 470 m³ / h.
The units filters are coated with CleanCel®  –  This is one of the best ways to avoid bacteria growing on your filters, CleanCel is an 'antimicrobial' coating treatment. Replacement HEPA and Charcoal filters are also readily available when you need replacements which is generally around 6- months depending on use. 
In stage 1 the ZERO Pro uses a pre-filter, which captures mainly the larger dust particles and fluff so the filters coming after it will last longer.
In other stages, an ACTIVATED carbon filter, reduces unpleasant odours to a minimum by capturing organic particles from cooking, pets and smoke.
A 'True HEPA' filter captures and removes 99.97% of airborne dust in the air, such as allergens, fungi or pollen to help you breathe easier.
The WINIX also utilises Plasma Wave technology. Hydroxyl molecules are created which in turn neutralise viruses, bacteria and gases without producing harmful ozone!
 Other features include:-

Particle Sensor  – With the new particle sensor, your air purifier will be able to tell you how clean or dirty it is through blue, yellow, amber and red coloured lighting. 
Odour sensor  – The odour sensor indicates how clean or toxic the air is using coloured lighting, just like the particle sensor.
Sleep mode  – The sleep mode will lower the lights and run the air filtration in silent mode, so you can get a good night's rest.
Auto Mode  – You can set four different fan speeds for any desired effect, in addition to 'auto mode.
The manufacturer has included a 2-year warranty with this product, and any potential purchasers' peace of mind is assured with this HEPA filter air purifier for the home.
It should be noted on the negative side that some purchasers did not see any substantial difference in the air quality or relief from the allergies.

Blueair Classic 205 Air Purifier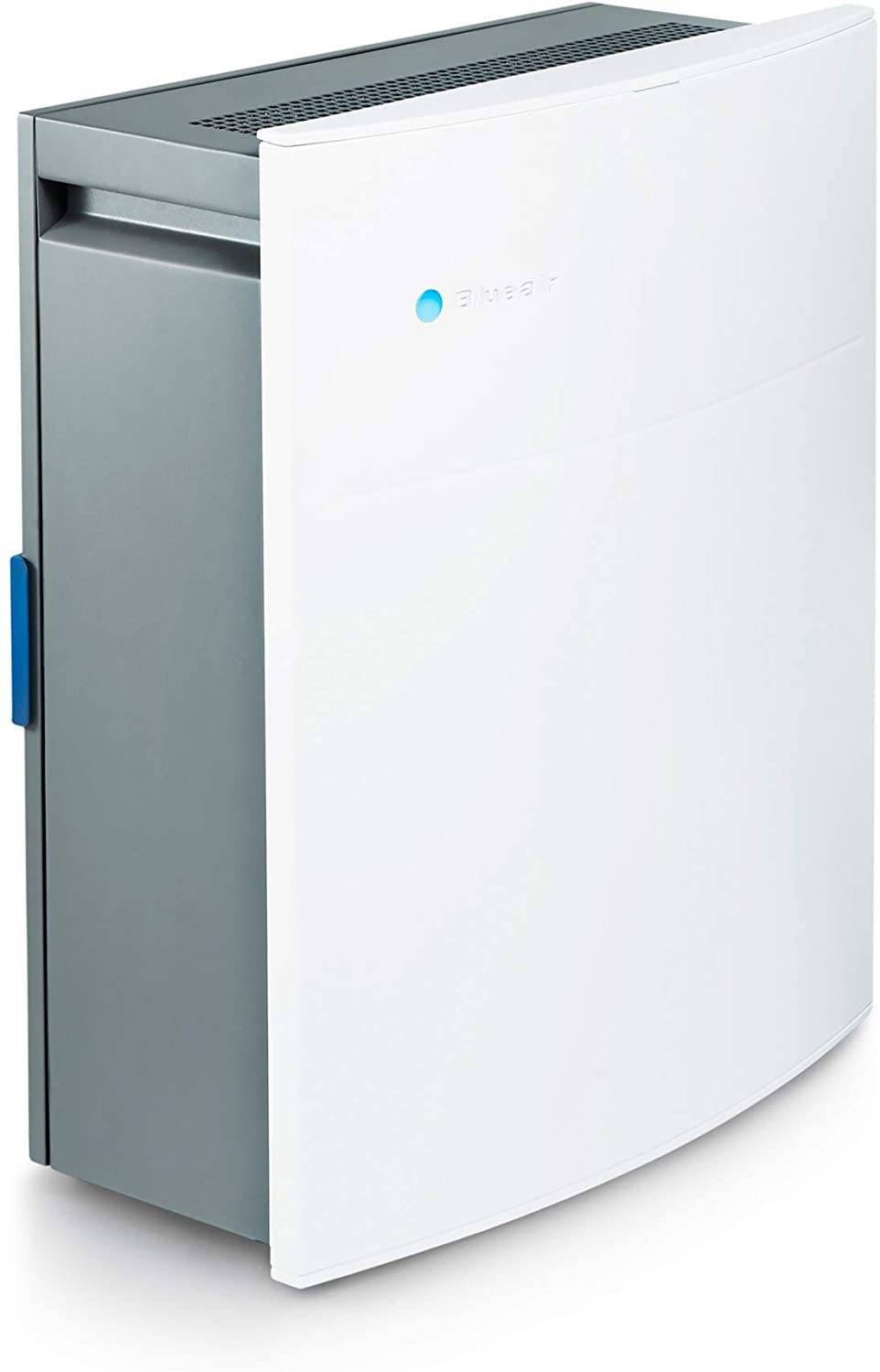 From one of the industry leaders in home air purification, comes the Blueair 205 classic air purifier. The purifier is designed to clean and purify the air in your living space.
With a number of models available, this Blueair 205 air purifier is a classic model, popular for small to medium-sized rooms utilising HEPASilent™ filtration.
HEPASilent™ filtration can effectively filter out airborne contaminants including dust, mould and pet dander to deliver true HEPA performance.
Air filtration is carried out by leveraging an electrostatic charge coupled with mechanical filtration which captures 99% of air pollutants such as pollen or dirt particles within its range!
In a sleek looking white colour, the unit measures 53cm (H) x 43cm (W) x 21cm (L) and is perfect for bedrooms, living rooms and home offices.
It will help you maintain a comfortable environment by filtering out harmful particles in the room at an industry-recommended rate of 5 x per hour (or about every 12 minutes).
With a CADR of 306 m³ per hour |180 cfm the unit is recommended for rooms up to 26m², giving those 5 air changes for a room this size.
With an energy consumption of between 20-80 watts and a sound level of between 32-56 (dB) the Blueair Classic 205 is a very popular air purifier that could save you money on your bills..
Being Wifi-enabled, the Classic 205 has been designed to give you full control of your indoor air quality with intelligent smartphone connectivity and Alexa compatibility.
Allergen and germ removal is a 'standard' with the units 'particle' filter that will remove the likes of pollen, dust mites, pet dander, mould, bacteria, and viruses etc.
One of the unit's secrets however, is a combination of electrostatic and mechanical filtration that they call HEPASilent™ technology, this sets them apart from many systems.
HEPASilent™ technology in short offers less-dense filters, allowing for a quieter air purifier, with increased energy efficiency, all this without sacrificing any performance!
Unfortunately, it's necessary to purchase a separate SmokeStop filter for your home unit, if you want that extra level of 'activated carbon' filtration. This filter will remove additional odours and smoke as well as pet odours, food and VOCs (gases).
The 3 fan speeds include a 'whisper-quiet' operation, so you can rest easy and allow you to breathe and sleep easier without disruption. You can also adjust the air purifiers settings like child lock, night mode schedule, LED brightness, and more to fit your lifestyle.
The manufacturer provides a limited extended warranty of 5 years on this unit once you register your product.

LEVOIT Air Purifier LV-H128
Keep your personal space fresh and free of unpleasant odours with the Levoit Desktop True HEPA Air Purifier.
With 3-stage filtration, the purifier works to eliminate allergens, particles, smoke, and other common air pollutants from your surroundings. 
The innovative design features of this unit makes it easy to use, regardless if you are sitting on a stool or sofa. 
With one press of the button, you can control the fan speeds, (High Low and Sleep). This compact fan is designed with modern looks that will add style to any room.
The LV-H128 is not only an air purifier but also an aromatherapy diffuser. To use the function, add 2 – 3 drops of your favourite essential oils (Not Included) onto its patented aroma pad under the cover, and watch as it, cleans and spreads the fragrance around you!
The Levoit LV-H128 3 stage air purifier is a great way to get fresh, clean air in your home. It has a pre-filter, one HEPA (High-Efficiency Particulate Air) and an active charcoal filter, which means you'll be able to enjoy clearer breathing, with fewer issues around allergies or other respiratory issues!
The H13 HEPA filter and an activated charcoal filter can effectively clean at least 99.97% of airborne particles to 0.3 microns in size, as well as smoke and a multitude of other odours, to relieve asthma symptoms for those who suffer from it or have family members that do too!
In sleep mode, the unit has the perfect setting for those who need some peace and quiet. Noise levels are low enough (28dB) to hear yourself breathe or even think clearly!  Cleverly and after only 5 seconds without activity from your remote control, the unit will automatically turn off those annoying LED lights!
With the ideal coverage area of 161 sq ft² / 15 m², and a CADR of 75m³ hr/ 44cfm, this air purifier is perfect for your bedroom or small office. When running in the high-speed mode it's possible to enjoy clean fresh air within 30 minutes!
To get the most out of your air purifier you will need to replace the filters (dependant on use) every 6-8 months with genuine Levoit filter replacements. This will ensure optimum performance from your machine. The unit also comes with a 3 pin UK plug.
Levoit offers a 2-year warranty and lifetime support for this product. The company says if you ever have any questions or concerns, the company's customer service team will be there for your needs at all times! As some purchases have reported air quality issues.

Air purifiers with HEPA filters are a great choice for allergy sufferers. These filters can help remove up to 99% of dust, pollen, and other contaminants from the air.
They can also remove many types of odours, including cigarette smoke, cooking smells, pet smells, and more if combined with an activated charcoal filter. 
Therefore when shopping for an air purifier, you'll want to start by thinking about what type of contaminants you're trying to filter.
Different filters are better at removing certain types of particles. You'll also want to consider your budget and look for a filter that has a high-efficiency rating  (True HEPA 99.97%). 
The best HEPA filters for the home will clean the air, remove odours, and be easy to maintain. They can be used in a wide variety of settings, from your home to your car.
If you have any further questions on HEPA Filters or general home or gardening questions, why not check out our FAQ page for possible solutions and answers to your queries.