Reading Time:
8
minutes
There are many people who enjoy bird watching in their garden, and there is nothing more enjoyable than being able to see the birds or other wildlife in the garden up close and personal with a pair of binoculars. So what are the best binoculars for bird watching in the garden?
There are some considerations that need to be made when choosing a pair of binoculars for bird watching, which is why we have created this blog post about the best options and some of the important features to look out for when considering purchasing binoculars for wildlife and or bird watching.
Why are some binoculars very much more expensive you might wonder… and that would be a fair point or question. Well: it is the same principle as to why some large camera lenses might cost a few £100's or less, whilst the same size or length lens and apertures (ie.. 300mm) from other manufacturers cost £1000's: Optical excellence, it's simply that.
We will cover each option in-depth and then provide our recommendations at the end so you can choose what would work best for your needs.
There are several considerations to think about before purchasing a pair of binoculars for bird watching in your garden. We will look at a few of the most important points here in this post.
The first is whether or not you want the ability to zoom (multiple magnifications ie.. 8x – 10x), and then if so, how much zoom? 
It's also important that the lenses have an anti-reflective coating for an optimal viewing experience without any glare or blurring of vision.
Another consideration would be magnification power; many people will opt for at least 8x magnification, but some may prefer as high as 10x or 12x because they need it in order to get a closer look at birds from afar! There should be enough lens separation distance between them so there isn't any distortion when looking through both eyes.
Finally, it's worth considering your own personal needs and or requirements, weight, size, and budget before making a final purchase decision.
The top 7 Things to Consider Before Making a Purchase
Below are our 7 most important things to consider before making a purchase of binoculars for bird watching in the garden
Do you want a pair of binoculars that has the ability to zoom in?
Choosing Your Prism
Magnification
Image Stabilisation
Lens Coating
Binocular Brands (UK)
Your own personal requirements
Standard binoculars are best for viewing wildlife, observing nature and getting a bird's eye view of the world. They have no disadvantages whatsoever because they offer you an 'unobstructed' look at what you're looking at without having to worry about adjusting anything like a magnification or focus settings on your own.
Zoom binoculars might be better if there is something specific that will require zooming in and out constantly while also offering different levels of magnification which can get tiring when using just one lens, but it has many downsides as well such as lower light transmission rates making things more difficult to see during dusk hours; difficulty holding still enough with all those tiny adjustments coming from two lenses instead of one.
Another disadvantage is that the magnification power will be slower and less precise, which means it would take longer for you to focus on something in your view while using these types of binoculars.
I always highly recommend avoiding zoom binoculars because they will never outperform standard binoculars with a fixed magnification.
Regardless of what you plan to use the zooms for, if you're just starting off in birdwatching or astronomy then there's no point getting these subpar products that can't even compare against their cheaper counterparts which have been proven over decades as being durable and reliable in all conditions. I have included a pair in my guide for you to check out though should you want to.
The best and most recommended type of binoculars for bird watching is a standard pair with no zoom abilities.
What Sort of Prism do you Want?
Binoculars are an essential tool for birdwatchers and nature enthusiasts. They come in two varieties – roof prism binoculars, which use straight tubes to lead light directly into your eyes via a set of prisms; or Porro prism binoculars with angled prisms that bounce the scene's light off central objective lenses. Prisms are used in binoculars to correct an inverted image.
BAK4 (Barium Crown Glass materials are found in higher-end binocular prisms construction manufacturers. The least quality option would be prisms constructed from BK7 glass, generally found in the lower-priced binoculars.  Basically together, HD,/EL and BAK4 materials transmit light better, especially in lower light levels.
For better optical quality, (this is where the main cost differences are) the best lenses are constructed from is a high-density glass with the higher end binoculars providing HD, EL or similar in the 'brand model' name normally.
This stands for, in the case of EL Extra-Low Dispersion which minimises chromatic aberration (or colour fringing) and provides exceptional quality optics.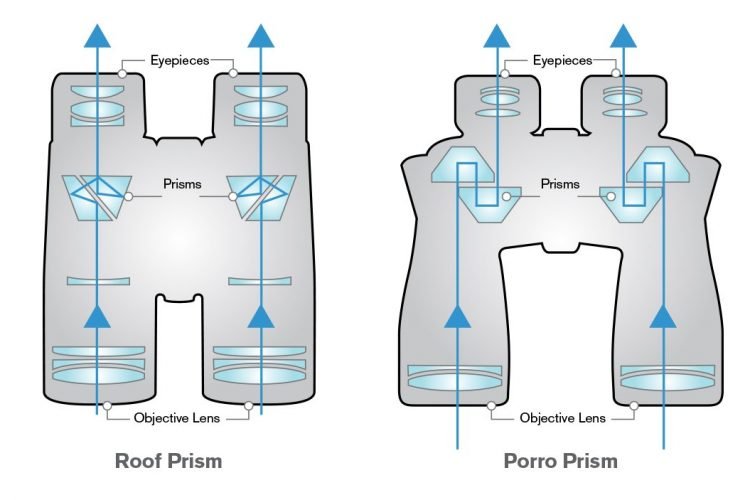 Best Binoculars For Bird Watching In The Garden - Prisms: Roof Prism vs Porro Prism Diagram
The difference between them is size mainly: you're more likely to encounter roof-prism (smaller) than Porro-prism models as they take up less space while being lighter too!
Porro binoculars are the best type of optic for some serious viewing, but they're not right for everyone. Porro's can offer greater magnification and less loss in brightness.
However, there's a trade-off: Porros aren't as compact or easy on the go because you have to adjust them constantly with both hands.
What Magnification Binoculars are Best for Bird Watching?
Standard binoculars with magnifications of at least 8x or 10x power will be perfect for this purpose.
The magnification on the 'packaging' is key to getting a pair of binoculars that will suit you best. 
For example, a magnification of 8×30 means that these binoculars magnify the image by 8x (eight times). There's a whole range of magnifications available so pick one that suits your subject, as we mentioned earlier on 8x and 10x would be the best binoculars for bird watching in the garden.
The 30 refers to the diameter of the front lens (also known as an objective lens), which would be about 30mm in our example – with larger diameter lenses gathering more light! So 10 x 42 would magnify the image 10x and let in more light than 8 x 30.
Binoculars With Image Stabilisation?
Image Stabilization (IS) is an optical technique that reduces camera shake in order to produce sharper images. Binoculars with this feature have an element called a "gyroscope" which makes the image appear still.
A gyroscope is like a spinning top, it's what keeps the binoculars level by countering any shake that you might experience while viewing through them and it also moves to counter any changes in direction too! A great feature but adds to the cost if you are on a budget.
There are three main types of lens coating for binoculars:
Coated lenses will offer less glare and reflections, which is good if you plan on using your binoculars a lot in overcast or rainy weather.
Uncoated lenses have no anti-reflective properties but they do make the image brighter – so it's a trade-off.
Fully multi-coated lenses will offer the best reflection and glare reduction without any loss of brightness, but they are more expensive than coated or uncoated lenses.
What are the Best Binocular Brands on the UK Market?
There are any number of great brands on the UK market: If you're looking for small, lightweight binoculars, Bushnell is an excellent choice and are well priced. These will be great for bird watching in the garden!
We also recommend Nikon, they are a top brand that offers an extensive range of binoculars to suit all budgets.
If you're looking for something more high-end and expensive then look to Swarovski or Leica – both brands produce fantastic products with amazing optics. However, as is often the case, you get what you pay for with respect to size, quality and features and these high end binoculars are expensive.
Binoculars: Your own Personal Requirements
What you need from your binoculars is personal and will depend on your requirements and budget.
As far as the binoculars are concerned, I recommend that you should choose a 'standard' binocular with a 'roof' prism, something with at least an 'objective lens' diameter of 42mm or more (the larger the number means it gathers more light) and have a magnification of 10x. This would be a good set of binoculars if you intend to use them for bird watching in the garden.
Picking the best binoculars for bird watching in the garden is a difficult task as there are so many brands and types on offer.
I hope this buyers guide has helped to summarise some of your options in order that you can pick the perfect pair to suit your needs!
In a hurry?
If you don't have much time, use the link below to quickly find out my 'Top Pick' for 'Best Binoculars For Bird Watching In The Garden ' available for you on Amazon. You can be assured we only recommend products based on their quality, usability and value for money...
- 'Best Overall'- Swarovski Field Pro EL 10 x 42
Best Binoculars For Bird Watching In The Garden - Top 3 Comparison Table
Product Image
Best Overall
Best Runner Up
Best Under £120
Model/Make
Swarovski 10 x 42 Field Pro EL
Celestron 71332 Nature DX
Best Overall
Product Image
Model/Make
Swarovski 10 x 42 Field Pro EL
Best Runner Up
Product Image
Best Under £120
Product Image
Model/Make
Celestron 71332 Nature DX
Last update on 2022-06-21
The 8 Best Binoculars for Bird Watching in the Garden
Swarovski 10 x 42 Field Pro EL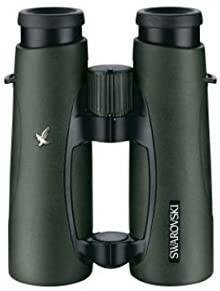 The green rubber-coated Swarovski's 10×42 Field Pro EL Swarovision binoculars are quality binoculars with high-performance, optics. They are multipurpose and reliable, suitable for use both during the day and at twilight.
The binocular's large objective lens diameter of 42mm provides an extremely wide field of view (6.4°) and bright, clear images with outstanding colour reproduction.
These binoculars feature superior ergonomics that will keep your hands comfortable for long periods of time. This wrap-around grip allows you to hold them particularly steady in your hand.
The focusing wheel is both non-slip and solid, providing you with the ultimate user experience.
In addition to being water-resistant and fog proof, the 'Field Pro' binoculars also contain Super ED glass in their 'objective lenses' and 'Phase Correction' coatings throughout.
The "EL" in the name stands for "Extra-Low Dispersion," which are proprietary Swarovision glasses that minimize 'chromatic aberration' as well as maintain colour fidelity. Large 'eye relief' offers a full 'field of view' for those wearing glasses.
Not only do these binoculars provide high-quality colour correction, but are outstanding for observing over long distances. This makes them ideal for birdwatching and other outdoor activities where you need to see detail at a distance as well as close up 6ft (1.5m).
Although the 'optics' of these binoculars are hard to fault and surpass, some users have found some 'splitting' issues with the rubber coating and the 'objective lens' covers break off. The lens cover issue happens often with almost all manufacturers covers over time and use, as they are made from soft rubber/plastic these days. 
These high-end binoculars come with a great water-resistant field case, complete with integral 'objective lens' covers, soft neck flexible strap connector and eyepiece covers that fit on the strap.
Warranty is 14 days, from the date of purchase.

Nikon Monarch 5 10 x 42 Binoculars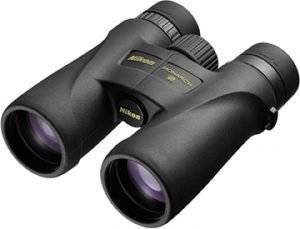 The Nikon Monarch 5 10 x 42 binoculars are a lightweight, compact binocular that provides bright, sharp images.
The fully multi-coated lenses increase light transmission and reduce reflections to provide high contrast images with improved brightness, clarity and colour fidelity due to ED (Extra-low Dispersion) glass which also corrects any chromatic aberrations.
Phase-correction roof prisms ensure higher resolution with less colour fringing (chromatic aberrations) than standard roof prisms. The Monarch 5 features BAK4 multilayer coated roof prisms are able to withstand a great deal of shock without deforming or coming apart.
With a good close focusing distance of 8ft (2.5m) These binoculars are waterproof and fog-proof because they are nitrogen-filled and O-ring sealed. These great features protect the binoculars against water, fog and dust.
The long eye relief design ensures a clear and wide field of view, even for eyeglass wearers, making them an ideal binocular for bird watching. These binoculars are also recommended for hiking, travelling, stargazing or any other outdoor activity. 
The rubber (Black) armouring allows you to grip the binoculars comfortably even when your hands are wet or moist.
The Monarch 5 10 x 42 binoculars have a lifetime warranty that covers any defects from materials or workmanship (applies to the optical system components only) otherwise 12 months from the date of purchase.
A carrying case, neck-strap and 'objective' lens caps (tend to break off over time and need to be repaired/replaced if needed) are supplied with the Monarch 5's.

Celestron 71332 Nature DX 8 x42 Binoculars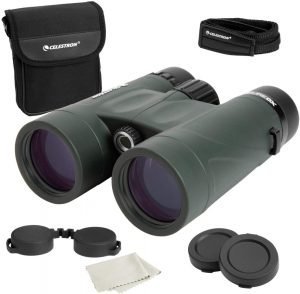 The Celestron's Nature DX 8×42 binoculars are the perfect combination of premium build, portability, and price.
These green Nature DX binoculars feature fully multi-coated optics for increased contrast and resolution.
Phase coated BAK-4 prisms provide better colour correction and superior image sharpness.
These binoculars also allow a close focus of 6.5ft (2m) to get you up close and personal with your subject matter without having to be right on top of it!
Comfortable twist-up eyecups with multi-stop function ensure proper positioning of the eyes for eyeglass wearers and non-eyeglass wearers alike.
The polycarbonate housing is covered in a  comfortable rubber armour coating that protects the binoculars while providing a firm grip. 
The Celestron's other features include them being waterproof and fog proof as they are nitrogen purged and sealed.
The Nature DX binoculars are not the lightest binoculars we review in this post but are compact, weighing in at 33oz (950g), however, they are still okay for hiking, sporting events or any other situation where you're out and about with your binoculars.
Included with the binoculars is a compact carrying case, objective lens caps, an eyepiece rain-guard, a neck strap, and a lens cloth.
Celestron's offers a 'lifetime' warranty on all their optics and or 12 months from the date of purchase for the binoculars.

Vortex Diamondback HD 10x 42 Binoculars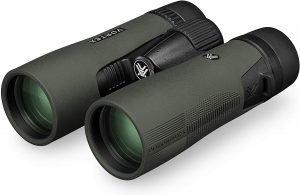 It was a very close call between the Nikon Monarch 5's and these black Vortex Diamondback HD 10x 42 binoculars which have fully multi-coated HD optics, and an 'ArmorTek' ultrahard scratch-resistant coating, which has been applied to the lenses to protect them from the elements.
The dielectric coating on the roof prisms provides bright, clear, colour-accurate images and the phase correction coating delivers exceptional resolution, cuts chromatic aberration and provides outstanding colour fidelity, sharpness and light transmission. Some customers have noted though slight chromatic aberration in very strong light.
 These roof prism binoculars are lightweight, compact and ergonomically designed for comfort. The ocular lens barrel is 'threaded' for use with a tripod to ensure accuracy of alignment.
The binocular body features 'rubber' armouring which provides both secure slip-free grip and external durable protection.
The binocular's light but strong 'magnesium' body (603g) has been purged with argon gas, which prevents internal fogging over a wide range of temperatures.
Being waterproof, the binocular o-ring seals are a must if you want a quality product. The seals prevent moisture and dust or any kind of debris from entering your binoculars, the Diamondbacks are fully sealed.
The binoculars also have multi-position eyecups that can twist up and down to provide comfortable viewing with or without spectacles. The diopter (located on the right eyepiece) adjusts for differences in a user's eyes. A centre focus wheel adjusts the focus of both binocular barrels at the same time.
A propriety housing for your binoculars and protecting them from the elements while keeping them close at hand is imperative when in the field. The Vortex GlassPak binocular harness will do just that, this 'harness' is shipped with your binoculars. The Glasspak accommodates your binoculars, keeping them snug and secure while out and about in nature. Although some customers found the straps less than strong. 
A Limited Lifetime Warranty from Vortex Optics covers all parts including the prisms and objective lenses (excluding normal wear items such as straps).

Tasco Essentials 10-30 x 50 mm Variable Power Binoculars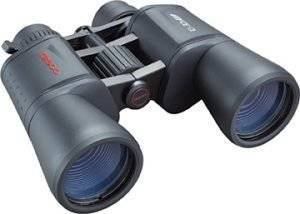 Weighing 26.5oz (750g) the 'waterproof' Tasco Essentials 10-30x 50 variable power zoom binoculars use the Porro prism system.
Built with high-quality optics, the Tasco's have a rugged construction, with multi-coated lenses that deliver a bright, clear image even in low light conditions. These optics also bring good colour rendering and contrast to your images for binoculars in this class and price range.
The fully coated BK7 Porro prisms provide increased light transmission for an exceptionally bright view.
Tasco Essentials 10x30mm Binoculars feature a fully adjustable diopter for perfect right and left eye focus, fold-down eyecups for use with or without glasses.
The black rubber grips and chassis give these binoculars a classic look and the variable power zoom from 10x to 30x allows for precise zooming at all times, giving the 'variable' power you need for different scenarios. Focusing is via the centre focus wheel which is fast, while also giving you the precision of pinpoint focus accuracy. 
However, some users, not the majority did find that once you moved away from 10x magnification and started to zoom, the binoculars, lose the ability to focus clearly. Being quite large 9in (23cm) to hold for long periods the Tasco Essentials 10x30mm binoculars come with a carrying case, neck strap and lens covers.

Zeiss Terra ED 10x42 Binoculars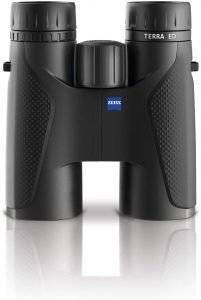 The Zeiss Terra ED 10x 42 binoculars are built for bird watching. These compact binoculars are, light, robust and sleek, with a state-of-the-art look, combined with high optical performance.
These binoculars are all about the 'glass'. They feature Schmidt-Pechan roof prisms and Schott ED lenses with an advanced ZEISS hydrophobic anti-reflective coating to provide clear images, free of distracting reflections. The 'objective lenses' were specially developed to optimise image contrast.
The increased light transmission (88%) allows you to observe in less than ideal lighting conditions without loss of sharpness or brightness. Long hours spent observing, won't produce annoying eye fatigue because of the ergonomic eyecups
A comfortable easy to grip, fast focusing mechanism makes it easy to get the right focus quickly so you can enjoy your favourite birds in their natural habitat without missing any of the action.
The Zeiss Terra ED's also offer an extremely broad field of view: (1,000 yds – m) (330 ft – 110 m) that lets you catch sight of tiny details quickly, so you can get as close as possible to your favourite feathered friends in their natural habitat without missing any of the action.
These binoculars are also waterproof and fog-proof thanks to the nitrogen purging and dust seals
The Zeiss Terra ED 10x 42 binoculars weigh 25.6oz (750g) which is not too heavy if held for any length of time, have a focus range of 30m > infinity, with a close-focusing distance of 5.3ft (1.6m).  The 'dioptre' adjustment (-3.0 | +3.0 dpt) on the right eyepiece allows you to view comfortably.
The Zeiss Terra Ed's are shipped in 'black' with a robust semi-hard case, strap, lens covers and cleaning cloth. We were unable to determine any lifetime warranty for these binoculars over and above UK standard requirements on this type of product.

Kylietech 12x 42 Binoculars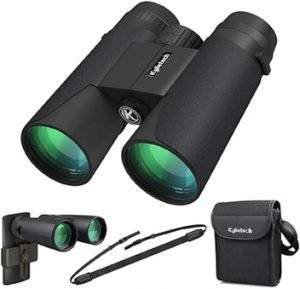 The Kylietech 12x 42 binoculars have a 12x magnification. They deliver the best-in-class clarity from the 42mm FMC (Fully Multi-Coated) green lenses to improve light transmission, clarity and contrast.
These FMC (Fully Multi Coated) lenses reduce reflections for HD images. So your images come with lifelike details and edge sharpness, with no colour distortion and no glare.
The Kylietech's 12x 42's are made from high-quality material that is waterproof, fog-proof and anti-slip for all weather conditions. Its BAK4 roof prisms provide you with better optical properties giving the sharpest image possible.
Eye relief in the form of large 3/4in (21mm) large eyepieces, larger than many other binoculars provides a pleasant viewing experience and are especially user-friendly for those who wear glasses.
These Kylietech binoculars are 'O' ring sealed, which means you need not worry about the rain, dampness, or dust getting into your bin's, as the binoculars are completely dustproof, waterproof and fog proof. This is due to the fact that besides the 'O' rings, the 'chassis body' is purged with 'nitrogen' offering good weather and anti-fog properties.
Externally, the 'black' non-slip rubber armoured body provides a 'firm grip' even in damp conditions while making sure your binoculars can absorb any shocks if dropped.
The Kylietech's binoculars can also be used with a 'tripod' mount, (not supplied) this is very convenient when you want to watch something for a long time or from/to a regular spot.
Another great little feature, which is becoming ever more popular with some nature enthusiasts is taking photos through your binoculars with your smartphone. The Kylietech 12x 42's comes with a 'smartphone adapter' making this possible. The adaptor is compatible with the iphone X, 8plus, 8,7plus, 7, 6, 6s, 6plus, 5, 5s, Samsung GALAXY S6, S6 Edge, S5, Note, LG, HTV and Sony the manufacturers advise.
Packaged with the binoculars is a  neck strap, cleaning cloth, carrying Bag (with strap ), eye lens covers, objective lens covers and smartphone adapter.
Finally and amazingly the Kylietech binoculars come with a lifetime warranty (registration needed) on the objective lens and prisms, 5 years warranty on all other parts.

Bushnell - Legend L-Series Binocular - 10x 42
The Bushnell Legend L Series 10x 42 Binoculars are a top choice for birders and nature enthusiasts.
These black 10x 42mm binoculars feature BAK4 roof prisms, which provide razor-sharp resolution with natural colours and high contrast.
These binoculars have a smooth central focusing wheel, with a locking eyepiece diopter and multi-coated lenses; which ensure maximum light transmission, while the ED 'objective lens' glass ensures optimal colour fidelity and sharpness even at dusk and in low light conditions.
The optical system also offers innovative performance features like RainGuard HD which repels water and drizzle from the lens surface to maintain a clear view during wet weather conditions, while the BAK-4 prisms are sealed from any moisture that may cause internal fogging.
Eye relief in the form of 3/4in (18mm) eyepieces, provides a pleasant viewing experience and are especially user-friendly for those who wear glasses.
Furthermore, the Legend L Series binoculars offer a wide field of view for maximum clarity and enjoyment. The high-quality ergonomic design means maximum comfort, with the anti-slip grip which keeps them steady in your hands during use, as they weigh just 660g.
A 30-year damage (no questions) warranty from Bushnell ensures that you can enjoy these binoculars for years to come. Some users have had some issues with quality, but this is far and few between as today it seems to be the norm with many products; generally quality is good. 
The L series comes shipped with a carrying case, objective lens covers and eyeglass covers and neck strap.

When you're ready to buy a pair of binoculars, it can be difficult knowing which ones are the best binoculars for bird watching in the garden.
We've put together a binoculars 'buyers guide' that will help you find the perfect binoculars for you and your budget. Whether the price is most important or usability, we have something on our list for everyone! So take some time to read through this post before making any purchases – you won't regret it!
If this article has helped you in any way then please share it amongst your family and garden-loving friends or anybody who might be looking at getting a pair of binoculars. 
Finally, you can always pop over to our FAQ page to find out more about binoculars, and a whole host of other answers to your gardening questions and queries.