Reading Time:
12
minutes
With the ladies Euro football reaching its climax and the Football World Cup taking place in Qatar in November/December this year; there is a lot of football fever going around amongst the youngsters at the moment.
While it's tempting to go out and buy a 'real' football goal, it can be a better idea to choose a more proportional and portable one best suited for the garden instead.
They're light, quick, and easy to erect. Most are weatherproof, so suitable for all weathers if you decide to leave them out in the garden. Another great benefit with some of these types of garden football goals is that they come with a 'convenient' carrying bag as well; so you can use them, not only in the garden but at the kid's friends, the beach, a park or just about anywhere.
If you're not sure which garden football goals to select? Then read on for some useful tips and the pros and cons of The 8 best garden football goals for 2022.
The Best Garden Football Goals
If you don't have much time, use the link below to quickly find out my 'Top Pick' for the Best 'Garden Football Goals' available for you on Amazon, the worlds biggest online shop. You can be assured we only recommend products based on their quality, usability and value for money...
- 'Best Overall'- The FORZA Football Goal [6ft x 4ft]
The Best Garden Football Goals - Our Top 3 Picks
Product Image
Best Overall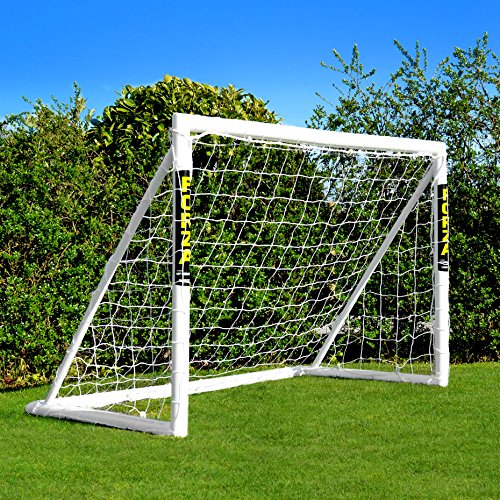 Runner-Up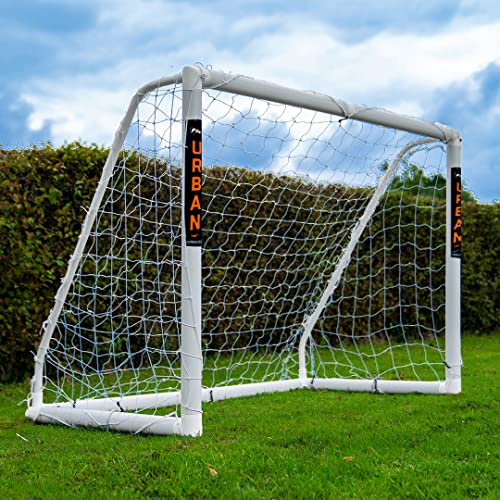 Best Under £40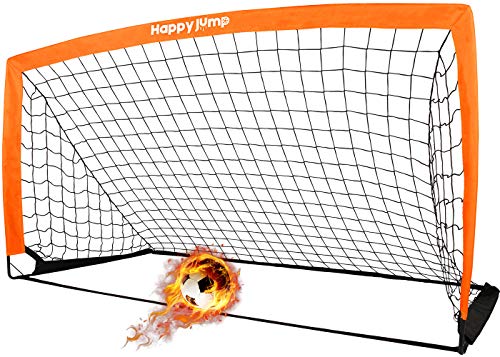 Additional Football Package
Best Overall
Product Image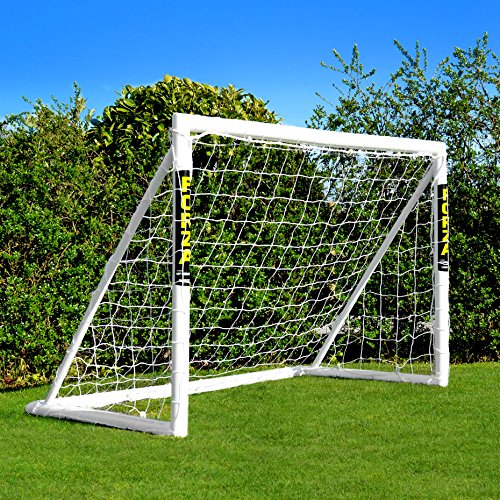 Additional Football Package
Runner-Up
Product Image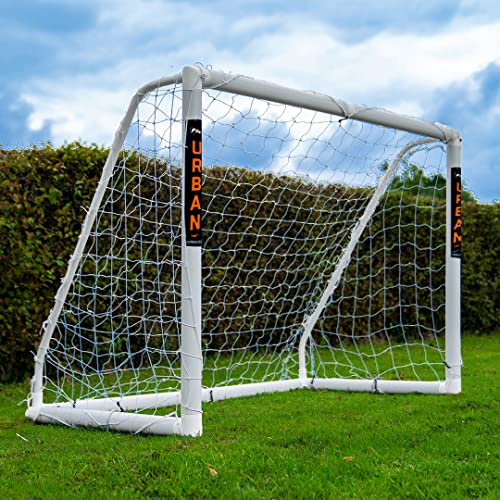 Additional Football Package
Best Under £40
Product Image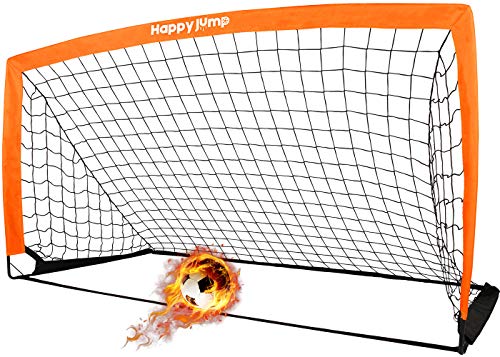 Additional Football Package
Last update on 2022-08-14
Forza Football Goal - 6ft x 4ft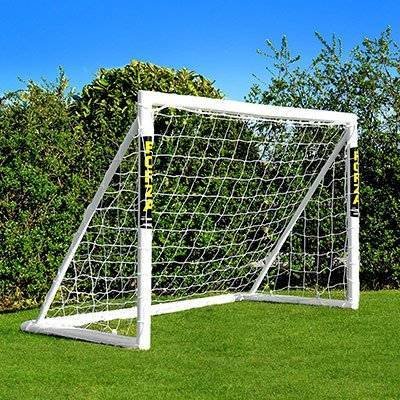 The free standing uPVC FORZA Garden Football Goal is a fantastic outdoor soccer goal and is an ideal choice for encouraging youngsters to be active outdoors.
The FORZA is available in a variety of sizes, from 5ft to 16ft in size (W), however this particular garden goal comes in at 6ft (W) x 4ft (H) x 3.1ft (D) – (183cm x 122cm x 94cm)
Its sturdy 70 mm uPVC tubed construction, makes it incredibly durable and guarantees supreme durability, whilst retaining a lightweight nature and meeting all safety standards. 
100% weatherproof, the FORZA 6ft x 4ft garden goal also comes with a UV treated 2mm heavy duty soccer net, protecting it against sun damage & rot. Net clips and anchor pegs are also included with the garden goal.
As with all FORZA garden goals it features the 'essential' button locking system. This innovative locking design will remain stable during the 'game' as the system bonds PVC posts together, providing increased strength, stability & as well as a simple assembly.
The FORZA Garden Football Goal 6ft x 4ft is one of the best-selling goals in the UK. It's not only affordable, but it comes with everything you need to set up your pitch in just minutes. This goal is perfect for aspiring young footballers and is specifically designed for use by children under the age of 7, it may be too small for older children. The garden goal also includes a garden soccer ball, target net/sheet, and carrying case.
The FORZA garden football goal also comes with a 1-year manufacturer's warranty.

The Best Garden Football Goals: The FORZA 6x4 Goal Post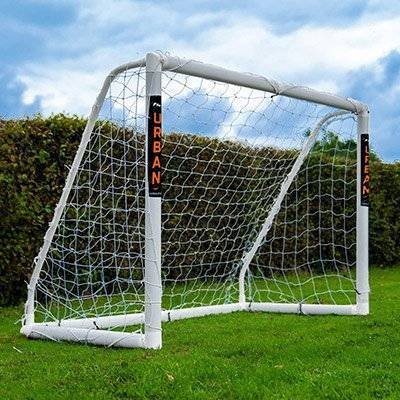 The Football Flick Ultimate All Weather uPVC Football Goal once erected can be left outside all year round, whatever the weather.
It features sturdy 70 mm thick high impact uPVC plastic posts with reinforced corners and the 'urban' locking system for rigidity and stability.
Available in 4 various sizes from 12ft/8ft/6ft (W) to 4ft/6ft (H). This 8ft (W) x 4ft (H) x 3ft (D) model is ideally suited for larger gardens, and children from around 7-10 years of age.
This garden goal is 100% weatherproof and comes with a UV-treated 2 mm thick soccer net to protect it against sun damage and rot.
Net clips and anchor pegs are also included with this garden goal.  It takes less than five minutes to erect, so if you need to take it down, then it will not be too much trouble to erect again.
The Football Flick Ultimate garden football goal, is a sturdy goal that can be moved around the garden without requiring any tools.  If needed, you can use this garden goal for training games, or simply just let the kids play football.
For your  peace of mind, and as expected from one of the industries leading  brands, a 12 months manufacturer's warranty is provided with this garden goal.

Best Garden Goals: How To Build a Football Flick Urban Goal
Samba Locking Football Goal - 8ft x 6ft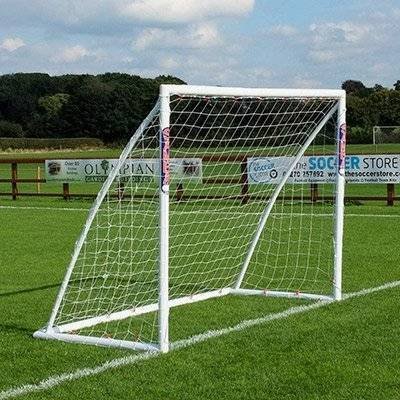 The Samba 8ft (w) x 6ft (h) x 4.25ft (d) Trainer Goal is the perfect choice for kids of all ages wanting to play football in the garden. This super garden football goal will provide hours of fun to enjoy the beautiful game.
Samba garden football goals are designed to not only withstand all the UK's 'weather conditions' but are also maintenance free.
The goals corners are nearly twice the thickness as their competitors goals. These thicker corners make the goal much stronger and longer lasting. Samba's garden goals are very lightweight, and the frames are constructed of shatter-proof uPVC, with a precise 'locking system' which by its sheer nature, adds strength and durability to the garden goal.
This strength allows for the most 'direct' and hardest of shots against the frame without issue, even from adults!!
The Samba garden football goal has an extra heavy-duty net, made from 2.5 mm rot proof twine, with 4in x 4in (10 cm x 10 cm) squares. The manufacturer advises these criteria meets the new head entrapment safety guidelines.
Samba ships with this model a COMPLETE GOAL SET, which includes the goal frame, strong rot proof net, net clips that attach the net and strong sturdy ground anchors to secure the goal in place. The garden goal is easily assembled following the manufacturer's easy assembly instructions.

The Samba Locking Football Range of garden goals features sizes which include the 8ft x 6ft, goal (this model) 8ft x 4ft, and 12ft x 6ft. Other garden goals models are also available, including portable pop-up options, goal accessories and designs to suit every budget and space.
These Samba goals are ideal for use in a garden, school, or another outdoor environment where kids can play freely. These goals are great for beginners and experienced players alike. 
With Samba's 12-month guarantee, you can have peace of mind knowing that you're buying a high-quality, durable football goal from a recognised manufacturer that will stand up to the elements.

The Best Garden Football Goals : Samba Goals
Quickplay Kickster Fun Goal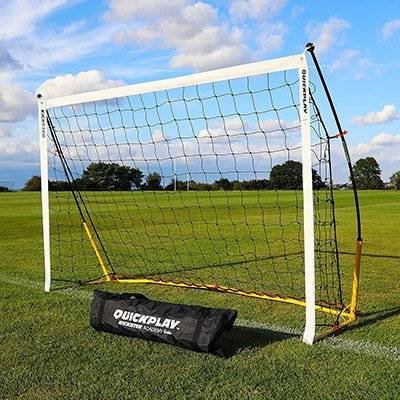 When it comes to the best garden football goals, the 6ft (1.83 m) x 4ft (1.22 metres) Quickplay Kickster Fun Goal by Quickplay Sports is one that should catch your eye.
The Kickstarter garden football goal, besides being a 'quality' product, is all about its durability and portability.
The manufacturer boasts that this garden goal requires no set up instructions and takes just 90 seconds, yes 90 seconds to erect.
The Kicksters 'durability' and 'portability' is made possible, due in no small part to Quickplay's FLEXI POST technology, which combines steel and fibreglass; with a 'flexible fabric' crossbar and post system.
Using this patented technology, you can set up a quick 'football goal' that you can then take down and fold up into the Kickster easy-open carry bag with shoulder strap, which is included; making it easy to transport anywhere. Even kids can carry the goals around and without having to struggle with a 'complicated' instruction manual. This garden goal is very portable and can even fit into the boot of the family car!
The net is easily attached to the goal, thanks to an elastic shock-absorbing cord. It takes only seconds to attach the net, making it an excellent choice for garden games. Thanks to its compact size, Quickplay goals can be easily stored away when not in use; four of these goals can be stored in comparison to that of a single uPVC goal.
This goal is well suited for playing in the garden, beach, and the park; the garden goal is ideally suited for kids between the ages of 4–7 years and juniors 7–13 years. It is also a superb target practice goal for footballers of all ages.
There is a 12-month limited warranty on this product from the manufacturer, this warranty however excludes things like the nets, stakes, and bags which are subject to general wear and tear.
You can extend your warranty for an additional year (up to a maximum of 730 days) by visiting the manufacturer's website and joining their mailing list.

The Best Garden Football Goals : Kickster Fun Goal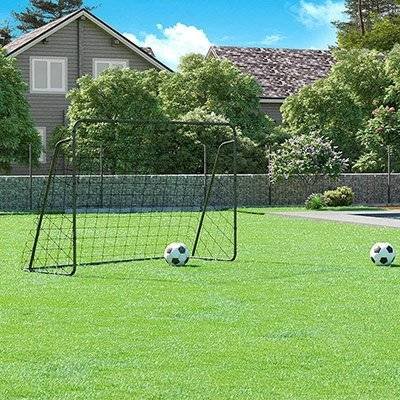 If you're planning to set up a garden football goal, then this SONGMICS 7ft x 4ft x 2.5ft (W x H x D) garden goal could be an excellent choice if you want a goal that is both lightweight and long-lasting.
This garden football goal is constructed from and finished with high quality materials; the steel tube frame has been powder-coated (black or white) and completed with a 'wear resistant' PE (polyethylene) goal netting (4in x 4in holes) the netting is also black or white.
The goal netting is easily fixed to the goal frame by hook-and-loop fasteners so you can assemble and remove it in no time.
The goal has a very stable 'triangular' structure on each side, this coupled with the 4 supplied stakes help you fix the soccer goal onto the ground securely.
This soccer goal is simple to assemble, and simple to take apart, all tubes are 'clearly' numbered and are connected by an 'interlocking' system. The manufacturer also provides assembly instruction in several languages besides English if required; these include Italian, German, French and Spanish.
Included with the goal are the necessary screws, stakes and hook and loop fasteners to ensure your goal is secured correctly; unfortunately, a carry bag is not supplied. The Songmics garden football goal offers a great balance between structural integrity and durability and is also easy to maintain.
Designed and suitable for the use by children (3 years and above) and adults alike, it's a great option for your back garden.
It's designed for easy setup in under five minutes and is suitable for both garden and park training. which makes it an ideal option for a soccer training ground or a simple garden football game. Once set up, it's ready for use in no time.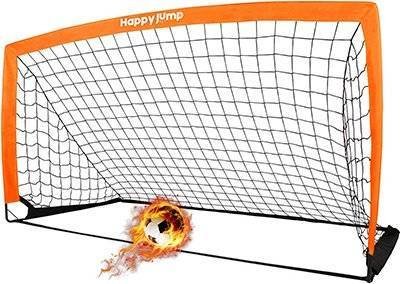 Whether you want a portable goal or a permanent one for your garden, a Happy Jump Garden Football Goal could be the ideal choice for all kids and juniors.
With easy instructions to follow, setting up and taking down this 6'6″x 3'3″ x 3'3″ (W x H x D)  garden football goal is simple even for the kids to do. It's very lightweight, portable, and just perfect for daily garden football skills practice.
It is made from solid quality materials like the upgraded 8 mm fibre poles, giving the frame greater strength.  The 'goal net' is made from a durable 'Dacron' material, making the net super strong. However, a few purchasers have noted that the net started to 'frey' in places; generally though nearly all who have bought this garden goal were happy with their purchase.
The fibre poles, once put together,  slide inside strong 400D Oxford fabric, which is used for the pole sleeves forming the goal frame. This fabric is able to handle all weather conditions and lasts for many years.
Bungee cords with high tensile strength and thick straps are used in the pole tubes to connect frames. These are 'thicker' bungee cords than others makes utilising the same method of erecting goal frames.
The frame's L-shaped connections are made of high-grade metal materials, giving excellent corrosion resistance and are able to withstand long-term exposure to the outdoor environment. For additional stability in gusty weather, the 'Happy Jump' goal has 2 x stability triangles and is fixed to the ground with 4 x galvanised metal stakes; ensuring stability in all weathers and being struck by footballs.
The 'Happy Jump' is very portable, so much so that the kids can easily transport this garden goal anywhere they please. If you do not want to use it in the garden, it can easily be carried on the shoulder (weatherproof carry bag included)  to the local park, school playground, beach, or other indoor and outdoor locations. This goal also fits perfectly in a small car's boot.
One little drawback is a manufactures warranty, (over and above UK statutory requirments) we were unable to ascertain if one was available for this product.

The Best Garden Football Goals : Happy Jump
Bayinbulak Portable Mini Goal
If you're looking for a very, very simple portable garden soccer goal, then the  Bayinbulak Soccer Goal is right up there with them at the top of the 'pop up' class.
The Bayinbulak Soccer Goal is a very portable, durable, and simple to set up and fold down goal, it's long-lasting, and effortless to transport.
The soccer goal can be folded away into a compact carrying case (supplied)  that allows you to easily store the football goal when not in use; and is perfect for any football enthusiast.
It is surprisingly light, weighing only 600g and measures just 1.1ft x 1.1ft (34cm x 34cm) when folded. You can even let your kids carry it if you don't have a goalkeeper!
Durable Dacron material makes this football goal's netting twice as thick and stronger than regular goal netting. The black high-density polypropylene webbing wrapped around the frame ensures a long-lasting frame with less wear and tear. This goal is built to last and withstand the toughest of kicks.
Anyone who loves football will appreciate this goal by Bayinbulak. This pop up goal is the perfect portable goal for practice drills, training, or having fun playing football with friends in the garden, park, or even on the beach.
The package includes a 3ft x 2.2ft x 2.2ft – (100 cm x 70 cmx 70 cm ) (W x H X D)  pop up goal. In addition, 2 x 8 mm support rods, 4 x galvanised steel pegs (with storage bag) to anchor your goal to the ground and help stabilise the football goal during storms or strong winds.
Also included is a carrying case and of course simple illustrated instructions on putting up and taking down the goal. The goal is available in both lime green and the spectacular orange colour.
The mini goal is suitable for children of ages between about 3, 4 and 5 years.
We were unable to find any manufacturer's warranty for this product over and above the UK statutory requirements.

The Best Garden Football Goals : Bayinbulak Soccer Goal
Wilton Bradley Goaline Kids Pop-Up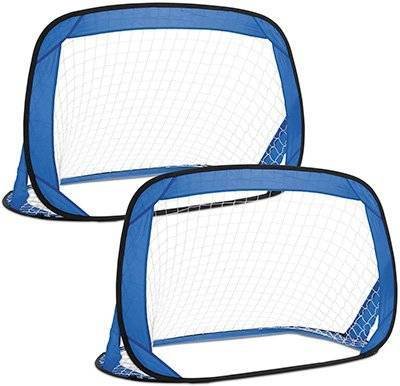 Another one of the Best Garden Football Goals, worth considering, and measuring only 3ft 9in x 2ft 6in x 2ft 6in (W x H x D) or (140 cm x 76 cm X 76 cm) is the pop-up goals from Wilton Bradley; as this time you get 2 garden goals for the price.
If you're looking for an ideal way to start exposing your youngsters to the beautiful game; then there is no better way than starting them off with a pair of  Wilton Bradley Goaline Kids Garden Soccer Goals for a full scale match.
These pop-up mini-soccer goals can be used in the garden, park, or the beach, and they come with a handy carry case.
The goals could not be simpler to erect. The goals come in a small, compact and easy-to-carry zip bag. This allows for easy transportation to any make-shift football pitch.
The kids will be smashing balls and making saves right away after stepping foot in the garden or arriving at a park with these super 'pop up' football goals. They just open the bag, put them on the ground, and watch them pop up. Recommended ages for use are from around 3-7 years.
Included in the package are 2 x pop up goals, securing stakes and poles to secure the goals to the ground and instructions.
We were unable to find any manufacturer's warranty for this product over and above the UK statutory requirements.
All in all, despite some users finding it difficult to pack the goals away, and the odd quality issue; for the price you pay you really can not go far wrong with these super little kiddies goals.

If you're a parent then chances are your kids love having fun with a football. It's a great way to spend some time together and to keep them occupied; its also a great way to encourage them to kick a ball around and give them some excersise at the same time. 
You can do all this with a 'garden goal' that can be set up in your garden, beach or local park. We have given our views on what is currently available, you will be suprised at what is out there for you and your family to enjoy the beautiful game.
If you have any further questions on the best garden goals or general home or gardening questions, why not check out our FAQ page for possible solutions and answers to your queries.