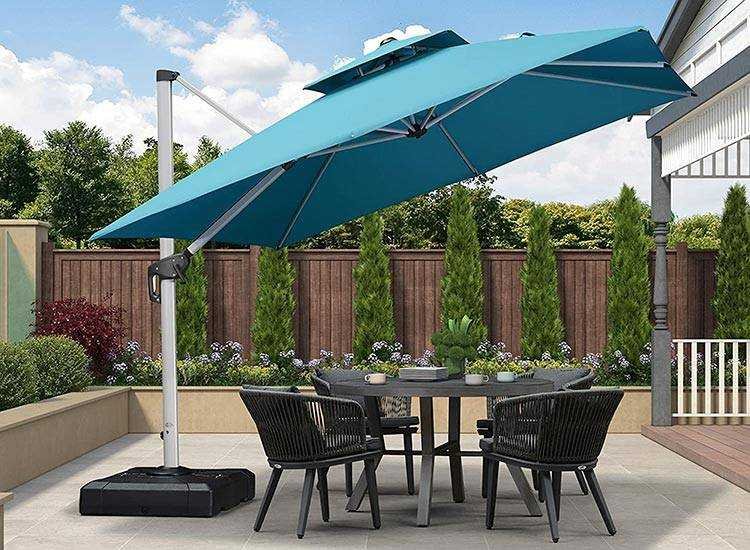 Cantilever Garden Parasols What You Need To Know
Cantilever garden parasols are popular for several reasons. They are easy to store and assemble and provide protection from UV rays. Many different materials are used for cantilever parasols. You should research the materials used before purchasing one for your garden. This article will discuss the main characteristics of these types of overhanging garden parasols.
Cantilever garden parasols are a great way to shade large areas while entertaining guests. They are flexible and can be tilted and swivelled, so they can shade a larger number of people and objects.
They're easy to assemble and have an offset canopy for versatile placement. The tilt-and-crank mechanism is built into the pole and allows you to adjust the canopy in various positions. The canopy can be tilted at various angles for different types of weather conditions.
These cantilever garden parasols usually come with a base unit and weights. However, you may find you have to purchase extra parasol weights to ensure you secure your new canopy. But the benefits far outweigh the costs.
So if you don't plan to use a garden umbrella often, an easy-assemble, cantilever garden parasol might be the perfect choice.
Cantilever Garden Parasols Made For You and Your Garden
Easy to Store
A cantilever garden umbrella can be stored away easily. To store your parasol requires just a few simple steps to be carried out.
Firstly make sure your garden parasol is dry before folding it away and storing it. This prevents any rust on the metal parts, also remove the bottom portion of the pole if it is a two-piece model. This will allow any water that may have 'seeped' in to dry out when you remove the bottom half of the pole.
Once dry assemble again, as you may want to buy a cantilever cover to protect it; this will last one or two seasons if used carefully. A polyester cover is the next level up, which includes a pull string at the bottom for quick tying and a lined and breathable cover is the final choice, where moisture may escape but no moisture may enter.
Once a cover is fitted, your garden umbrella can be stored/left in position or simply removed (after the base weights are removed) and stored in a secure dry location.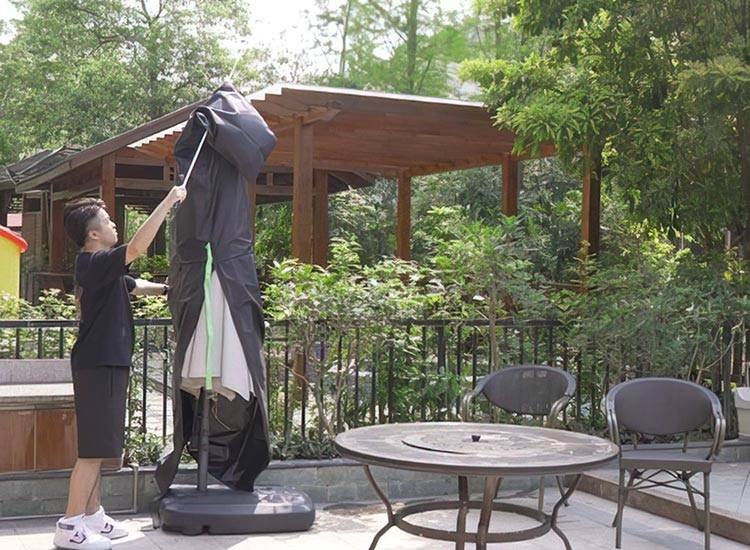 All About Cantilever Garden Parasols: Place a Weatherproof Proprietary Cover Over Your Parasol In-Situ
Offers Protection From UV Rays
Cantilever garden parasols are often used for protection from the sun's harmful UV rays. In fact, these umbrellas offer better protection than many patio umbrellas do.
The highest protection offered is UV50+. The next best level is UV30+. Most patio umbrellas don't offer much protection, so it's important to check the specifications of your parasol before buying it.
For example, the VOUNOT brand produces a parasol in five colours: black, stone, taupe, and orange. It has a crank handle mechanism, top vents, and an adjustable tilt. Most importantly, the canopy is UV50+ and comes with a three-metre water-repellent cover, so a good all-around package.
If you have a garden with high levels of UV exposure, you'll appreciate the parasol's ability to protect you from harmful UV rays.
Made From Various Materials
The construction of a cantilever garden umbrella varies depending on the material used. The strongest parasols are made of stainless steel, but their other materials, including bamboo parasols. Hardwoods and eucalyptus are also sturdy choices.
Parasols made of these materials are durable and are available in many styles. The tensile strength of bamboo is superior to that of steel, and it also has an impermeable protective layer.
Cantilever garden parasols are commonly made of aluminium or steel. The latter is an excellent choice because it doesn't rust and is lightweight.
Unlike plastic and aluminium parasols, wooden poles are not as durable as steel, and they can possibly snap during a 'strong' wind.
If you are investing in a cantilever garden parasol yourself, you may want to consider investing in a parasol that is made from stainless steel or aluminium for durability.
Colourful
If you want a colourful cantilever garden parasol to complete the look of your outdoor space, consider the colour of your building structure. Choose from a variety of warm shades that will create a lively atmosphere, or choose 'cool' blue tones for a more tranquil environment.
Black parasols are especially good for absorbing the sun's rays, however, black garden parasols can make the canopy feel warmer below, so choose a lighter shade instead to stay cooler.
Choose from contemporary or traditional styles for your outdoor space. If you're planning to hold a B-B-Q or a party, a large garden parasol can protect you from the sun's rays while giving you and your guests plenty of shade. Some cantilever parasols even have built-in solar-powered LED lights to keep your outdoor space lit up at night, they actually turn on when the sun sets.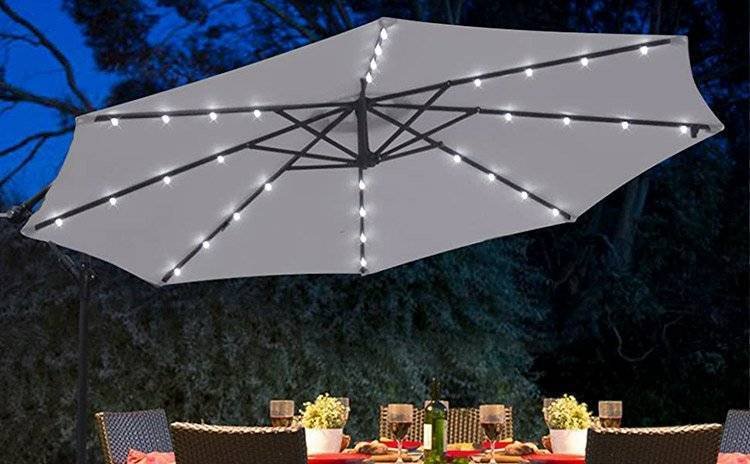 Cantilever Garden Parasols: Some Garden Parasols Have Solar Powered LED Lighting.
Leaning
Cantilever garden umbrellas are the most versatile of garden parasols, offering many different functions. They can 'lean over' garden furniture, or rest on walls. They also have a unique weighted base, so you can screw them into decking or walls.
The garden parasols are designed not only to rotate 360 degrees but to tilt up to 180 degrees as well for 'optimal' shade control. A cantilever garden umbrella is more versatile than a traditional umbrella as it can be angled to provide shade from both the sun and additional protection from the wind and rain.
It is however typically heavier and takes up more space than a traditional garden brolly, so check the available space before buying one to make sure it will fit.
FAQs
What Base Do I Need For A Cantilever Parasol?
The weight of your parasol base is determined primarily by the size of your canopy. A 50-kg base is required for a 3.5-metre canopy, a 40-kg base for a 3-metre canopy, and a 30-kg base for a 2.8-metre canopy.
You may add extra weight bags to your existing base if you require more weight.
Are Cantilever Parasols Any Good In Wind?
The cantilever parasol is an excellent option for wind resistance since it is suspended and supported by a pole placed to one side, rather than in the middle of the canopy. Its unique design provides strength, stability, safety, and versatility.
What Is The Best Colour For A Garden Parasol?
Because of their ability to absorb ultraviolet (UV) light, parasols are available in an assortment of colours, with black absorbing up to 90% of the sun's light. While black is rarely chosen for garden décor for its connection to nature, a parasol in this colour absorbs the most UV light.
Colours can dramatically improve and enhance an outdoor setting, making it appear bigger or livelier.
Colours influence our mood in a significant way. By using bright colours such as orange, red, or yellow parasols, we can energise a space, while a green, navy or light blue parasol in a lighter tone will produce a calming, comforting experience.
Furthermore, the brighter and lighter the colour, the more cheerful and optimistic you will feel.
What Is The Difference Between The Cantilever Parasol & Banana Parasol?
There is no difference only in name. Cantilever parasols are parasols with adjustable canopies that block out the sun effectively. The canopy is connected to an arm that stretches or leans out over the area you want to protect from the sun. This kind of parasol is also called banana or hanging parasol.
Are Cantilever Umbrellas Worth It?
Some of the most technologically advanced cantilever garden parasols are available on the market today. These umbrellas/parasols provide sun protection in addition to flexibility and stability, guaranteeing that you receive the protection you desire when and where you need it.
Conclusion
The popularity of cantilever garden parasols in the home's entrainment areas can not be denied. With their functionality elegance, and abundance of colours, these garden parasols are seen in homes, on patios and in gardens up and down the country.
We have hopefully given you some food for thought about what you can expect from a cantilever garden parasol ensuring it's right for you.
We hope you have found All About Cantilever Garden Parasols helpful and look out for more tips from garden to kitchen. Visit our FAQ page for more information on a whole host of garden information and jargon which you may find interesting.